As if getting across bumper to bumper traffic around the country's CBDs wasn't bad enough, it's now been revealed motorists are being slugged more for parking than ever.
A new RACQ report shows hourly parking rates have increased by almost $10 in the Brisbane, Sydney and Melbourne metros in the last eight years.
The survey also revealed the cities flashing the most expensive parking. Brisbane overtook Sydney for the highest average weekday hourly parking rate of $28.71 across CBD car parks. The one-hour parking rate for Sydney was $28.42, while Melbourne was markedly cheaper at $21.54.
Brisbane's off-street hourly rate increased by 1.4% since 2017, and 1.7% for two hours, well above inflation.
The River City also recorded the highest average weekday 30-minute parking at $16.98, versus Sydney and Melbourne which both dropped in price to $12.50 and $9.41 respectively.
The Sydney CBD came out as the most expensive from two-hour parking and over, with prices doubling the one hour rate to $56.66 for two hours, compared with $46.64 in Brisbane and $42.62 in Melbourne.
At this rate, catching an Uber to the city and back might be a cheaper alternative.
Sydneysiders are also paying more for four-hour weekday parking, recording an average cost of $76.86, with Melbourne charging $69.09 and Brisbane $68.57 for four hours.
Lastly, Sydney takes the crown for dearest eight-hour weekday parking (max rate) charging motorists $77.74 per day, followed by Brisbane with $72.52 and Melbourne at $70.52. That means, over two-thirds of the average daily cost of all-day parking is accrued in the first two hours.
In terms of on-street parking, the Brisbane CBD actually came out on top with the lowest rates at $4.90 per hour, while Melbourne recorded $7.00 and Sydney CBD $7.20 per hour.
Why is parking so expensive in CBDs?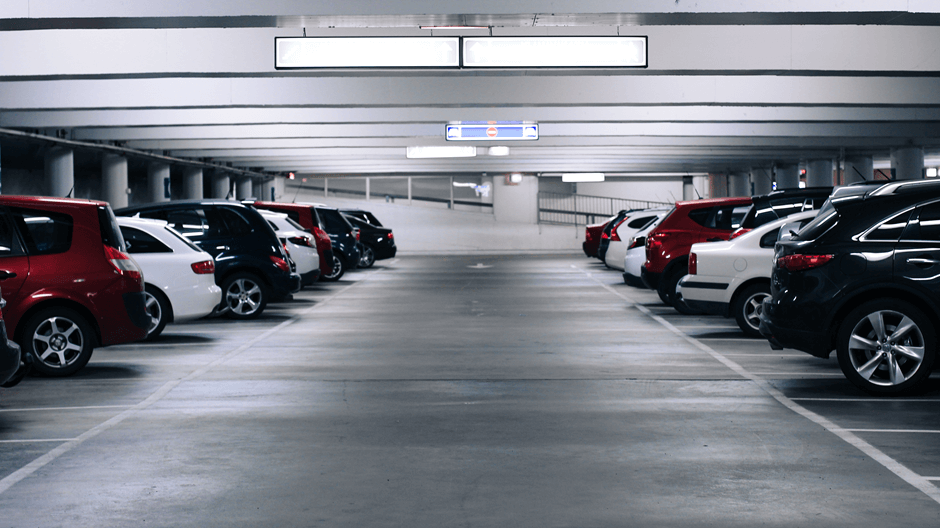 Car parks have become a prized commodity in big cities. So much so, that in 2016, a two-car space on Sydney's Bond Street, was listed for sale for a cool $400,000, over a third of the city's median house price. More people are visiting, living and working in CBDs, while car parks are becoming scarce, so when demand outstrips supply- prices go up.
This trend is showing no signs of slowing down. According to the Australian Bureau of Statistics (ABS), employment in the Brisbane CBD is expected to reach 467,197 people by 2031, a growth of 160,754 from 2011.
The Victorian Government introduced a congestion levy in 2005, to reduce traffic in Melbourne by charging an extra tax on off-street car parking spaces, so car park operators reacted by hiking up prices. Calls have been made for the Queensland Government to follow suit with its own congestion levy for Brisbane, while Sydney has had its own traffic tax since 1992.
Most off-street car parks in CBDs are privately owned, so operators essentially have free will to set their own fees. The RACQ suggests the lack of competition is also behind the rise in parking prices. As a rule of thumb, council-owned car parks are cheaper.
CBD parking rates- 2010-2018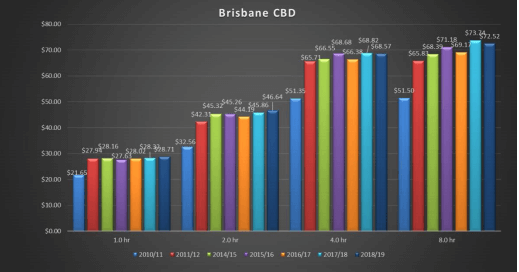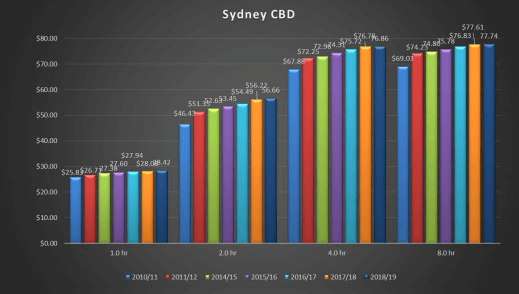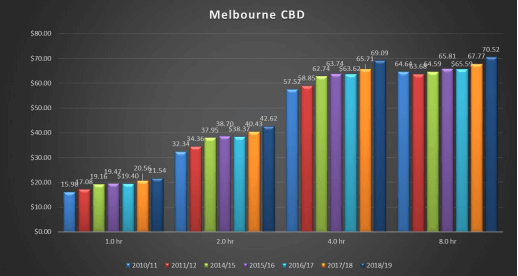 Source: RACQ (2018)
Five tips on how to save on parking
Take advantage of early bird specials (entry before 9am).
Obtain discounts by pre-booking a car park online.
Take public transport when you can or carpool with friends or colleagues.
Get tech savvy: apps like Kerb show car parks available in real time with prices, while Divvy connects drivers with listers of available parking spots in commercial buildings or apartment blocks.
Plan ahead: if you work in the CBD, investing in a monthly parking pass could save you big bucks.
Cheap off-street car parks in Brisbane CBD
| | |
| --- | --- |
| Car park | Casual parking price |
| 123 Albert St Car Park | From $3 |
| 119 Charlotte St Car Park | From $5 |
| AM60 Car Park | From $5 |
| Gold Tower, 10 Eagle Street Car Park | From $5 |
| Waterfront Place Porte Cochere Car Park | From $5 |
Cheap off-street car parks in Sydney CBD
| | |
| --- | --- |
| Car park | Casual parking price |
| Citigroup Centre Car Park | From $0 |
| 383 Kent St Car Park | From $5 |
| Citipark Car Park | From $5 |
| Angel Place Car Park | From $5 |
| The Domain Car Park | From $6 |
Cheap off-street car parks in Melbourne CBD
| | |
| --- | --- |
| Car park | Casual parking price |
| 485 La Trobe St Car Park | From $5 |
| 62 La Trobe St Car Park | From $5 |
| T&G Building – 161 Collins St Car Park | From $6 |
| 11 Exhibition St Car Park | From $6 |
| Scots Church St | From $6 |
N.B. Prices current as of October 2018.
Sources
RACQ- Brisbane, Sydney and Melbourne CBD Off-street Casual Parking Prices (2018).
State Revenue Office Victoria- Car Parks (2018).
Brisbane City Council- Invest in Brisbane Inner City (ABS statistics).
Parking Australia – The biggest challenges facing the parking industry (2016).
Secure Parking-Parking Solutions (2018).
Did you find this article interesting or helpful?