Have you ever considered taking the school run literally and jogging to pick up the kids to avoid bottlenecks?
Or dread the morning commute to work; the slow crawl on the freeway?
Well, brace for some bad news. Motorists haven't seen the worst of it yet.
A new Road Congestion in Australia report, conducted by the Australian Automobile Association reveals traffic in our capital cities is getting worse, while peak AM and PM speeds are fast declining.
Figures show Melbourne recorded a speed decline of 4km/h to 59.9km/h in the last five years – the largest speed drop among all major cities.
Sydney's average speed dropped by 2km/h to 58.2km/h in 2018 alone. Traffic was worse in the afternoon with a PM peak speed of 55 km/h. But Adelaide has taken the crown for Australia's slowest moving city with an average peak hour speed of 54.3km/h.
N.B. Congestion was measured by calculating average speeds as a percentage of the posted speed limit on arterial roads.
Which Australian cities were worst-hit by congestion?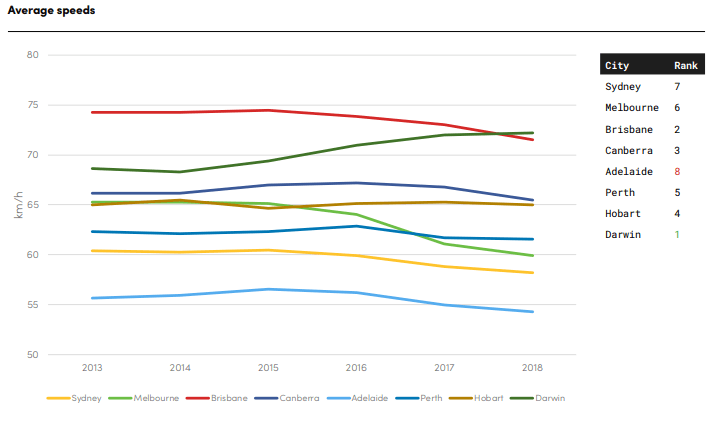 Source: Road Congestion in Australia 2018
Meanwhile, free-flow speeds are in free fall across the board by 4.8%. Motorists are pumping the brakes even in low traffic times (i.e. when picking a midnight soft serve from Maccas). Melbourne's free flow speeds were the worst hit, with a 3.8% drop in 2017-2018. However, Sydney remains Australia's most congested city when average speeds are compared to free-flow speeds.
The report also suggests travel times are becoming more variable, thus less predictable. This means planning how much time it will take you to drive anywhere will feel more like trying to guess lotto numbers.
Brisbane's traffic unreliability increased by 1.2%, making it the worst hit. Darwin had the most predictable city road network.
Travel time loss/gain for a 5km trip
Lost time on a commute per annum*
Sydney
11 sec
88 min
Melbourne
24 sec
195 min
Brisbane
9 sec
75 min
Canberra
3 sec
22 min
Adelaide
9 sec
71 min
Perth
3 sec
25 min
Hobart
0.2 of a second
2 min
Darwin
-13 sec
-102 min
Source: Australian Automobile Association (2018), city analysis data for 01/01/2013 – 30/06/2018
* Travel time for a 5km trip, taken twice per day, five days per week, for 48 weeks.
Source: Road Congestion in Australia 2018
What is the true cost of congestion?
Besides costing drivers hours of lost time in traffic and litres of wasted fuel, congestion cost Aussies $16.5 billion in 2015, according to the Bureau of Infrastructure, Transport and Regional Economics. The price of congestion is expected to double between $27.7 and $37.3 billion by 2030, without major policy changes. The government has already committed to a $1 billion Urban Congestion Fund from the 2018 federal budget.
Traffic congestion is also hurting businesses, with more than $3.37 billion lost in wasted labour across Australia's biggest cities, according to a Cost of Congestion report by TomTom Telematics. Extending the time spent on roads by an average of 27 minutes per day across Australia's major metros is costing businesses an average of $8.20 per vehicle each day.
What's causing congestion on our roads?
It's a mixture of factors, and all are interconnected. Australia's capital cities have recorded a staggering population growth in the last few decades. In fact, Melbourne, Sydney and Brisbane, accounted for more than 70% of the country's population growth in the 2016-17 financial year. Melbourne's population increased by a record 125,000.
More people in cities means more urban development, and since our population is growing at such a rapid rate, our infrastructure is constantly playing catch up with the extra number of cars on the roads.
Is traffic really that bad in Australia?
Well, Aussies think so. A Global Commuter Pain Survey conducted by IBM in 2010 reveals around half (48%) of the 1,556 drivers polled said traffic in their city was becoming worse and 15% reported congestion was basically hell on roads.
Most Australian drivers (82%) found aspects of their commute frustrating, citing factors such as stop start traffic (57%), low speeds (36%), aggressive or rude drivers (30%) and unreliable journey times (26%). Brisbane drivers were the most disgruntled, with 90% of respondents reporting increased stress due to traffic, followed by Adelaide (81%), Melbourne (78%), Sydney (74%) and Perth (73%).
In terms of world ranking Australia isn't doing particularly well either. Sydney ranks as the 29th most congested city in the world, out of 189 surveyed in the Tomtom Traffic Index. Melbourne and Brisbane were better placed, ranking 58th and 96th respectively.
Five top tips to avoid congestion
Use real-time traffic and dynamic navigation while driving.
Don't always follow routes suggested by navigation systems.
Assess traffic and weather conditions before departing.
Consider a different departure time to avoid peak time delays.
Consider other modes of transport (bike, public transport, or even by foot).
Sources
Australian Automobile Association- Road congestion in Australia (2018).
Department of Infrastructure and Regional Development (2015).
Drive- How much road congestion really costs (2018).
IBM- Traditional fixes not enough to solve transport crisis (2011).
TomTom Telematics- Overcoming the cost of congestion for businesses (2018).
Did you find this article interesting or helpful?