Watching old movies set in the future, and reading science fiction classics paint a picture of incredible technology: flying cars, superfast trains in cylindrical tubes, and self-driving, automatic cars. If current research and technology is anything to go by, a future that might have been considered a fantasy is set to become a reality.
New transport technology currently being developed around the world is poised to revolutionise the way we travel and change the world. There are some exciting possibilities, like supersonic trains and flying cars, but some serious questions about the impact these new travel technologies will have.
Currently, self-driving cars are on the way, as well as self-driving cars that can fly. Supersonic trains are also coming, which could completely revolutionise long-distance travel. So far, these technologies are not commercially available, but all of them are at various stages of testing and trial.
The car that drives itself
What was once the 'Google self-driving car' has now been established as an independent company called Waymo in 2016. In 2009, the Google self-driving car project began1, with lofty dreams of being able to produce a safe car that can drive itself. The plan is to make roads safer, simplify travel, and save commuters time.
This has long posed a number of questions about the safety and viability of letting a car drive itself. Will it run you off the road if oncoming traffic gets in your way, causing serious injury or worse? Will the technology work?
Over the past nine years, Waymo and the Google self-driving cars have come a long way, with multiple models being field tested in the USA. Currently, Waymo is looking for people to join its pilot program in Phoenix's metropolitan areas to get feedback on how their self-driving cars perform in the real world2.
Autonomous vehicles are predicted to be a potential gold mine for national economies. A report from Strategy Analytics predicts that by 2050, self-driving cars and other vehicles could add $7 trillion US Dollars to America's economy3. While this will create new jobs and industry, it could potentially see other jobs disappear or be replaced by a machine.
There are also serious questions about the impact self-driving cars would have on others on the road. Professor of ethics at Monash University, Robert Sparrow, has raised questions about how the free market might impact the use of self-driving cars.
Sparrow cautioned that, once the roads are full of self-driving cars, passengers might be able to pay more to get other road users out of the way so they have a shorter commute4. This will create an unequal playing field and opens up more questions about what a future full of automatic, self-driving cars might actually look like for ordinary people.
Flying cars in New Zealand
As if self-driving cars weren't enough of a radical change to the way we will travel in the future, self-driving, flying cars are on their way as well. While several attempts have tried and failed to produce a safe, self-flying electric car, American manufacturer Kitty Hawk has been able to more than prove the concept.
Experimentation began in 20105. The goal was to create an autonomous vehicle capable of taking off and landing like a helicopter, and then flying like a plane. Called Cora, the electric self-driving flying car pas a passenger capsule between two sets of wings covered in propellers that give it the ability to fly.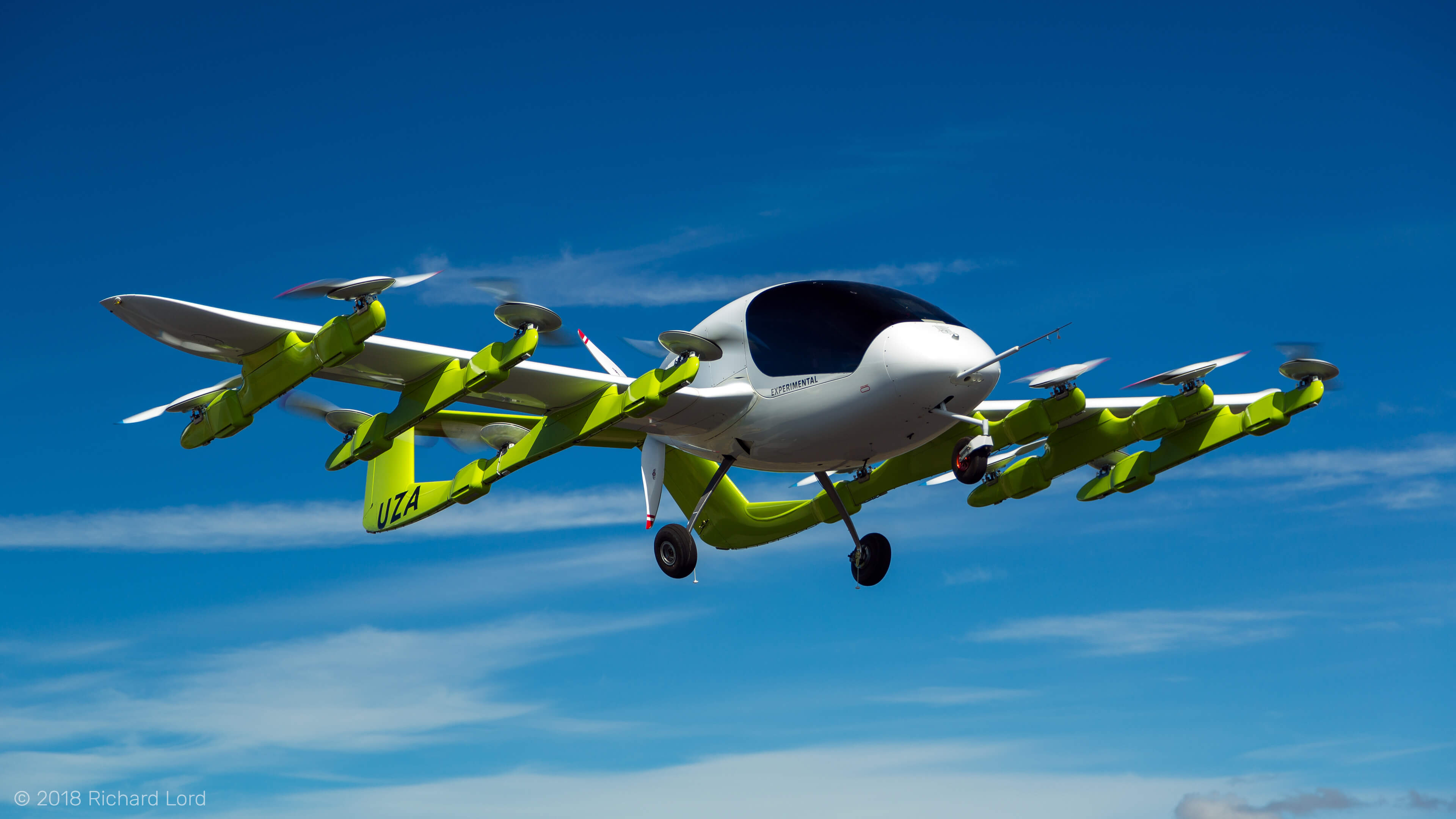 Cora prototype in New Zealand. Photo by Richard Lord, courtesy of Zephyr Airworks
The New Zealand government and Air New Zealand have now partnered with Kitty Hawk's New Zealand operator called Zephyr Airworks to further develop Cora and expand its capabilities. The aim is for Air New Zealand to be able to produce the world's first ever air taxi service with a fleet of Coras. So far, the Cora project has flown over 700 test flights6 around the world.
There are a number of unknowns to watch for in the future. When Cora becomes commercially available, will people need a pilot's license? What safety features and regulations will need to be made? Will Coras fly in built-up city centres? What about strong winds? Will specialised infrastructure like landing pads need to be built for them?
For those who have dreamed of being able to fly, Kitty Hawk's Cora project looks set to make those dreams a reality, once all the kinks and safety protocols are worked out. The partnership with Air New Zealand and the New Zealand government is set to fast-track testing to ensure Cora is safe.
Supersonic trains
Back on the ground, another type of travel technology is rearing to make long distance travel so much faster with supersonic trains. It is called the Hyperloop One7.
The Hyperloop is an electric powered train that travels through a low-pressure tube. The tube protects the passenger pods from weather and other hazards, and the tube can be built as underground tunnels or specially designed tracks above ground.  Hyperloop uses magnetic levitation to float the pod down the track. It is also set to be fully autonomous, emission-free, and capable of 1080 kilometres per hour8.
Beginning in 2013 when investors and visionaries Elon Musk and Shervin Pishevar came up with a concept for the Hyperloop, the project has garnered international attention and gone through years of experimentation, development and funding. In 2017 Virgin Group partnered with Hyperloop One, further lifting the project's profile and making commercial operations that much closer to a reality9. The project has currently raised over $295 million USD since 201410.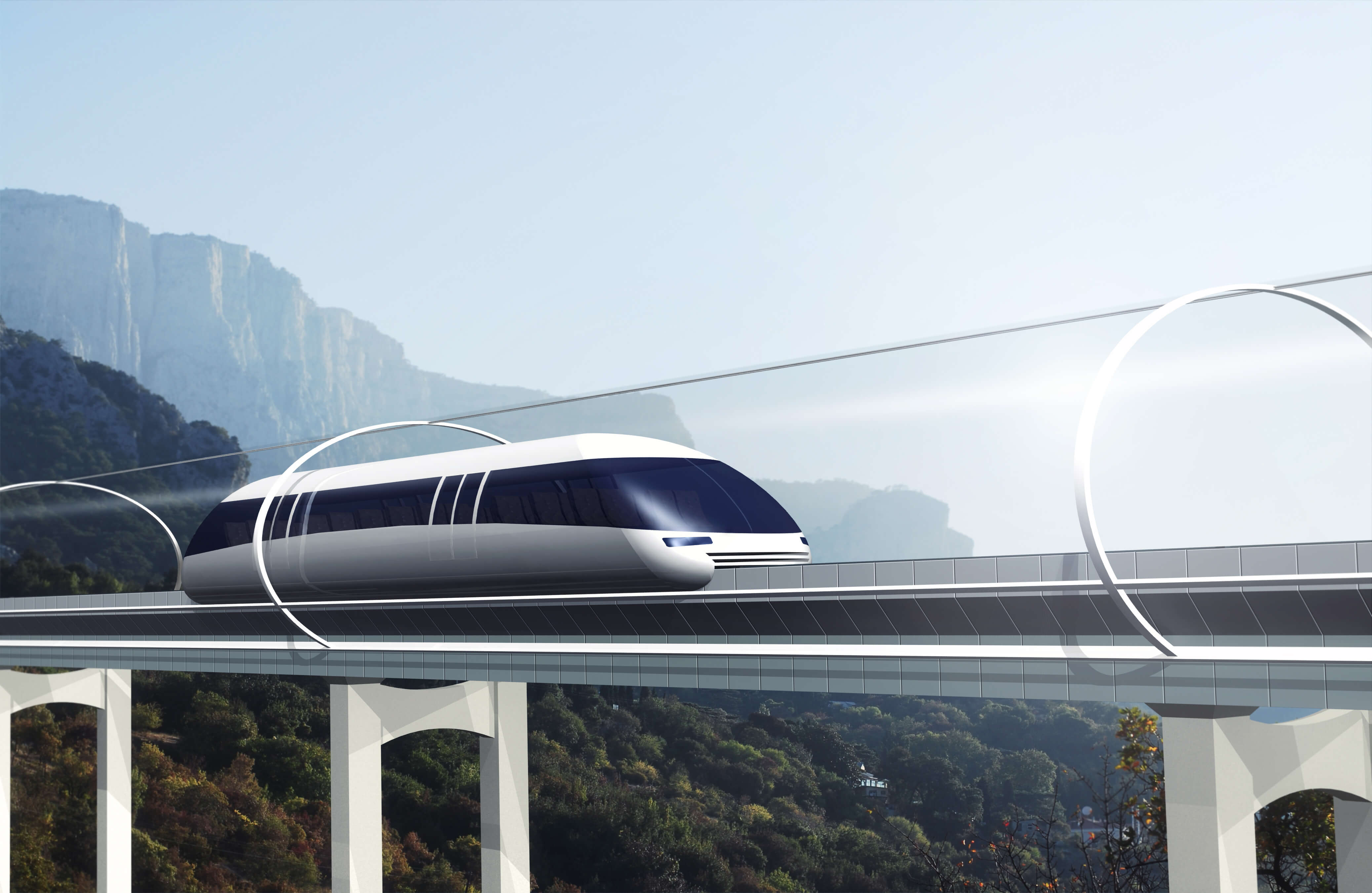 Concept art of a supersonic train using magnetic levitation
The implications of this new transport technology are huge. At no cost to the environment, it could see Australians cross from one side of the country to the other in just a couple of hours. There are a few hurdles the project will have to overcome first.
Virgin's Hyperloop One hasn't undergone any human testing yet, and it remains to be seen what the G-forces involved will be. The design team at Hyperloop One is promising it won't produce any more G-forces than catching a jet plane, with plans to further decrease G-forces to make sure the experience is safe and tolerable11.
The potential impact of supersonic trains could mean a huge boost to the economy, creating jobs and speeding up transportation. Questions remain on any potential downsides to the new tech, and whether it will leave minor cities and country towns behind as major cities swell.
The future is automated
These new transport technologies are ambitious and haven't worked out all the kinks, but their engineers and developers suggest that they will be on their way soon. The aim across these three vehicles of the future is to simplify transport and reduce our impact on the environment.
Even when the safety concerns are addressed and infrastructure is ready, it will probably be a while before these revolutionary technologies become the norm. Once it is safe, feasible, and ready to go, its impact on society may not be fully understood until after the technology is already in place.
It will be interesting to see what the insurance premiums of an automated vehicle will be compared to the regular cars of today. At Compare the Market, we know car insurance for regular cars can be a bit confusing, so we have answered an extensive range of frequently asked questions to help you learn more.
One thing for sure is, whether we like it or not, self-piloting vehicles are on the way, with plans to change the world as we know it.
[1] Journey, Waymo. Waymo.com/journey/. 2018.
[2] Early Rider FAQ, Waymo. Waymo.com/apply/faq/. 2018
[3] Accelerating the Future: The Economic Impact of the Emerging Passenger Economy. Robert Lanctot. Strategy Analytics. 2017.
[4] Giving way to the wealthy – faster commutes for those prepared to pay. Robert Sparrow. Monash University. 2018.
[5] You belong in the sky. Kitty Hawk. Cora.areo/milestones/ 2018.
[6] Partnering with Air New Zealand, Kitty Hawk. Cora.areo/blog/partneringwithairnewzealand/. 2018.
[7] Our Story Timeline. Virgin Hyperloop One. Hyperloop-one.com/our-story. 2018.
[8] Facts and Frequently Asked Questions. Virgin Hyperloop One. Hyperloop-one.com/facts-frequently-asked-questions. 2018.
[9] Our Story Timeline. Virgin Hyperloop One. Hyperloop-one.com/our-story. 2018.
[10] Facts and Frequently Asked Questions. Virgin Hyperloop One. Hyperloop-one.con/facts-frequently-asked-questions. 2018.
[11] Facts and Frequently Asked Questions. Virgin Hyperloop One. Hyperloop-one.com/facts-frequently-asked-questions. 2018.
Did you find this article interesting or helpful?