Have you ever logged into your online banking portal and thought, "I don't remember making that transaction!"
In most cases, you probably just forgot about that cheeky latte you bought over the weekend. As a worst case scenario, however, there's a chunk of money missing that had nothing to do with your caffeine habit.
We're spending our money in an increasingly cashless world. Card payments went up 12.4% between 2016-17, and direct debits increased by 13% – according to the Reserve Bank of Australia.
In fact, 85% of us have contactless 'tap and go' debit and credit cards, as of 2016.
Most of us understand the importance of monitoring our own finances, but just how closely do you keep track of your spending habits?
More importantly, would you notice if money came out of your account?
To unravel this nerve-racking query, we've looked into some of the easiest ways to monitor your finances using several money management tools, provide some handy tips on how to keep your sensitive details safe, and discuss what to do if your account is hacked.
Why it's important to check your account regularly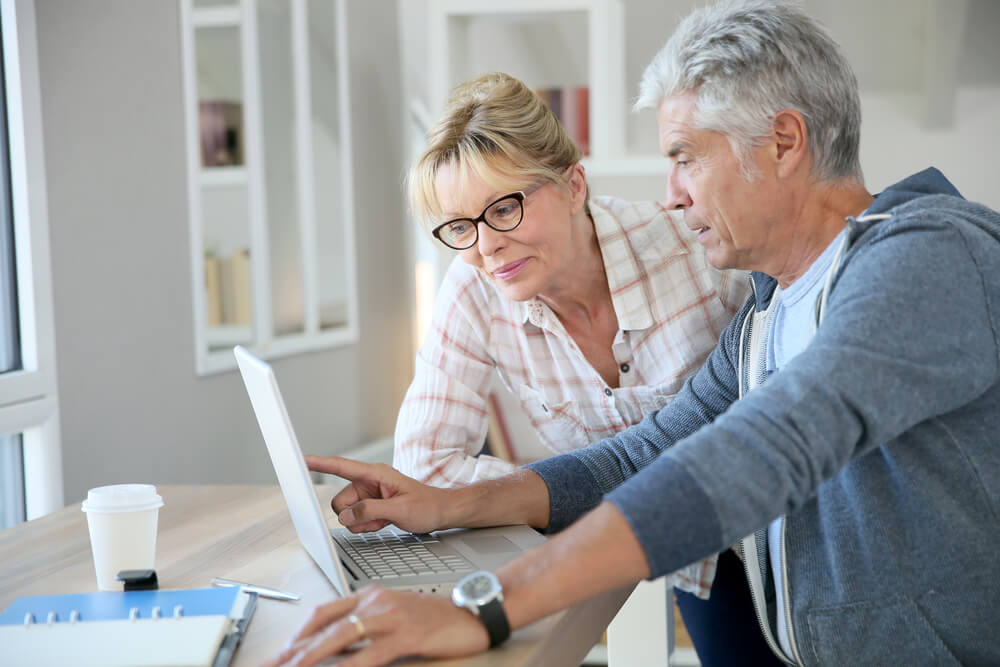 How often do you check your account or receive your bank statement – daily, weekly, monthly? Keeping regular tabs on your finances is a smart idea for a number of reasons. Not only does it help you track your spending, it also allows you to assess your expenses, check that your income is deposited in the right places, and identify fees or debits you are being charged. It also helps ensure your account hasn't experienced any suspicious activity.
Banks today are usually very good at detecting questionable activity on your account. However, some breaches in security may go undetected, which is why it's imperative to be proactive and up-to-date with your account – particularly since smaller deductions may not be as noticeable.
In fact, a recent survey commissioned by comparethemarket.com.au revealed that around 42 per cent of Aussie credit card holders had their details stolen in the past.
This survey asked 1,577 Aussies how much money was swiped from their credit card(s). For more than 2 in 5 Aussies, $500 or more was stolen, which is as much as a new Smartphone or TV! We've visualised how much was stolen below: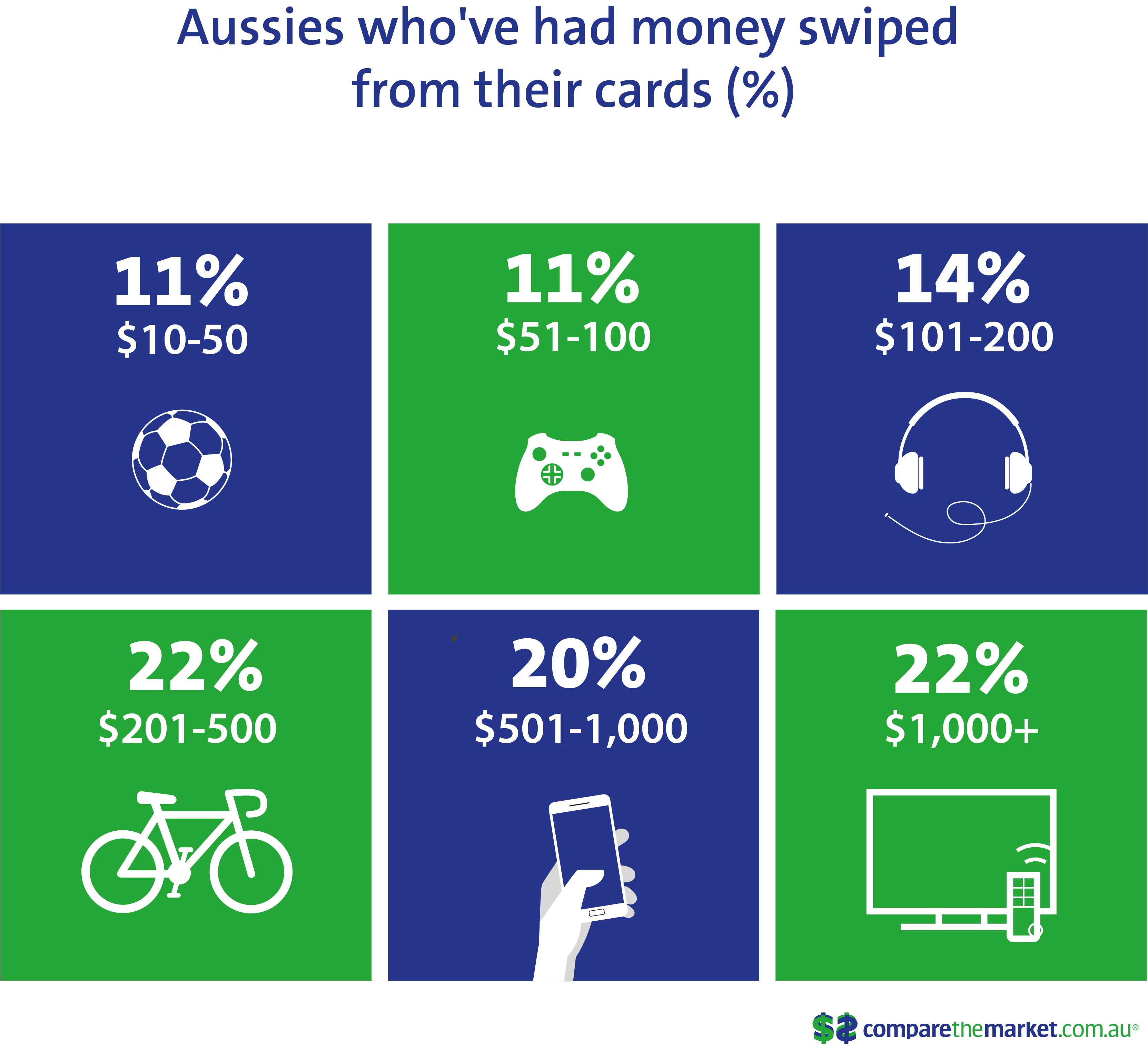 Source: Pure Profile 2017
How to keep on top of your account
Being watchful of your day-to-day expenses doesn't have to be a difficult task, particularly when devices like smart phones and tablets are widely accessible. Ultimately, It doesn't matter how tech savvy you are, because chances are there's an app available that can help make your life a little easier. We've listed two of our favourites below.
Two of the best free money management apps & savings tools
TrackMySPEND, Australian Securities & Investments Commission (ASIC). TrackMySPEND allows you to keep tabs on your personal expenses, implement budgets (with the help of some templates), record costs for special occasions, and allocate money for smaller everyday overheads that can be difficult to monitor. You can set spending limits, view your expenditure history, and much more with this (free) handy app.
Your bank's apps or online tools. Depending on your bank, you may have free access to tracking apps. These money management apps can be directly linked to your account, and can categorise each debit or credit card transaction. It might be a good idea to have a browse on your financial institution's website, or ask about their money management tools in person the next time you're in queue.
What to do if your credit card or account is hacked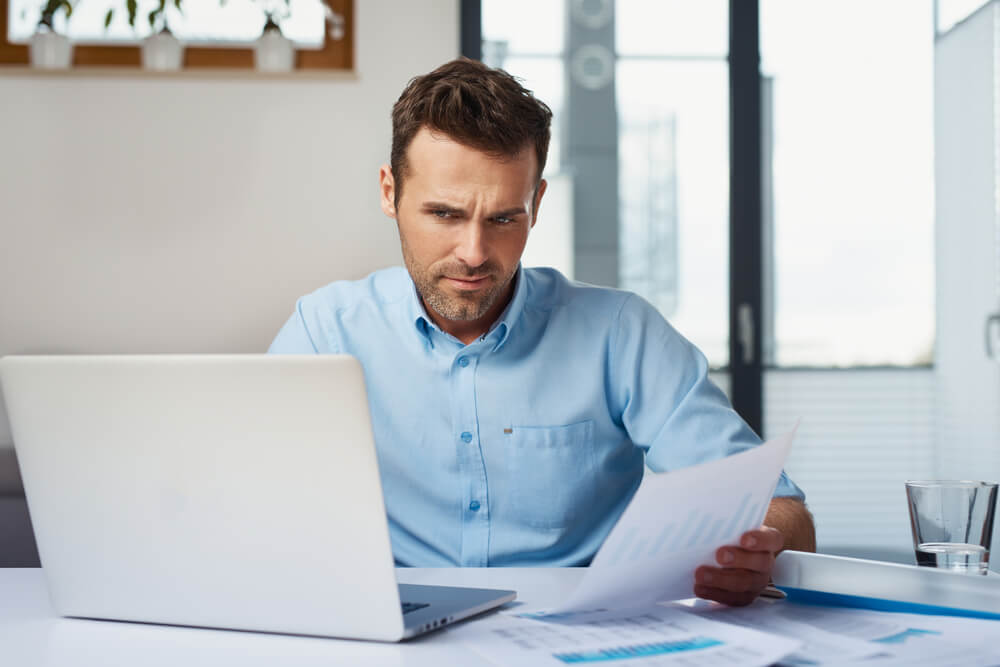 As we leap further into the digital space of banking, there's no shortage of ways we can protect ourselves. If you detect suspicious or unusual activity on your account, it's vital to contact your bank immediately.
If you observe any suspicious or fraudulent transactions on your account, you should:
Contact your bank as soon as you notice anything out of the ordinary.
Provide your bank's fraud detection department with precise details about the transaction(s) in question.
Keep in regular contact with your bank (they will probably update you on the claim's status).
Track your direct debits, and notify the companies of your updated details (once your claim has been resolved and you've been issued a new card).
Ensure your new account's password or credit card's PIN isn't vulnerable, and meets the minimum safety requirements according to your bank's security standards.
Most banks have their own processes in recovering lost funds, so make sure you're fully aware of what your financial institution requires from you in the event of your account being compromised.
How being vigilant with your money pays off
While it's promising that banks are continuously improving their security capabilities, your vigilance may identify a problem your bank has not yet picked up on.
To highlight this risk, our survey results allowed us to gain a better insight into who notified them first after their credit card details were stolen. The results indicated that more than half noticed fraudulent activity before their bank did.
Additionally, we asked how long it took for the funds to be reimbursed by the bank and found that:
27% were reimbursed straight away,
29% were reimbursed after a couple of days,
25% were reimbursed after a couple of weeks,
14% were reimbursed after a month, and
5% were not been reimbursed at all.
Money habits are evolving. What does that mean for you?
It's clear that our spending habits have changed tenfold in the past decade. If you refer to the table below, you'll get an idea of just how quickly Australia's payment methods are changing.
Consumer Payment Methods in Australia* (Per cent of number of payments):
| | | | |
| --- | --- | --- | --- |
| Method | 2010 | 2013 | 2016 |
| Cash | 62% | 47% | 37% |
| Debit, credit/charge cards | 31% | 43% | 52% |
| BPAY | 3% | 3% | 2% |
| Internet/phone banking | 2% | 2% | 1% |
| PayPal | 1% | 3% | 3% |
| Cheque | 1% | 0.4% | 0.2% |
| Other** | 1% | 2% | 4% |
* Excludes payments over $9,999
** 'Other' methods include prepaid, gift & welfare cards, bank cheques, money orders, Cabcharge, & other online payment methods excluding PayPal
Source: Reserve Bank of Australia (RBA), How Australians Pay: New Survey Evidence (2017)
These figures might indicate why the Australian Payments Network reported a massive uplift in demand for EFTPOS terminals across the country from 2007 to 2017 (628,819 to 959,500).
Furthermore, the number of automated teller machines (ATMs) compared to the number of point-of-sale devices (EFTPOS) is staggering, and it also reflects our shift to contactless and card-based transactions.
With technological progress shaping the way we spend our money, Australian consumer trends will surely be impacted by instant banking technology, such as the New Payments Platform – a system which allows customers to transfer funds immediately.
Our spending habits continue to evolve and have changed rapidly since a decade ago. With credit and debit cards fast on the rise as preferred methods of payment, there is an increased element of risk.
Since we are already using credit cards so much we should consider using the points to our advantage too.
So, here are a few final tips to keep your finances safe.
Take care of your computer. Does your PC's browser or firewall require an update? Ensure your settings allow automatic updates, and use secure websites (ones with https:// at the beginning of the URL).
Keep your banking details secure. It goes without saying but keep your PIN, login details, security questions, and other private information to yourself. Never document your passwords.
Update your password frequently. It's generally a good idea to update your password every three months. Avoid using your name, date of birth, and try including numbers, capital letters, or symbols if applicable.
Keep a closer eye on your bank accounts by using our handy Budget Planner to identify your spending habits. That way you'll sleep easier knowing that any suspicious activity on your accounts shouldn't fly under the radar.
Sources:
Australian Securities & Investments Commission (ASIC), MoneySmart, Checking Your Bank Statement (2018)
Survey conducted by Pure Profile, 1,577 participants surveyed, commissioned by Compare the Market (2017)
Australian Payments Network, Device Statistics (2018)
Australian Payments Network, Making Payments Thrive, Annual Review (2017)
Reserve Bank of Australia (RBA) Monthly Statistics (2016)
Did you find this article interesting or helpful?