It's that time of year when you should be asking "What should I spend my tax return on?" There are things we want and things we need but planning out our money expenses comes first. Some may want to spend their tax return on a luxurious shopping trip or a trip away, while others think long term and invest straight away. But what's the right thing to do?
According to ASIC's MoneySmart poll that asked over 2000 Australians how they used their tax refund in August last year, there were a variety of answers:
29% said they paid their bills
21% saved the money
16% didn't receive a refund
13% paid towards loans or credit cards
9% paid towards home loans
5% said they spent it on a holiday
5% used the money on other things (which included on an engagement ring, education, car registration and parties)
2% said they spent it on household appliances
With so many options to choose from when it comes to spending your tax return, it's never an easy task! To help out, we've compiled two lists to direct your spending into the right avenue. Instead of starting off with what you should spend your tax return on, let's start with the more common mistakes we all make. So what things should you not do with your tax return?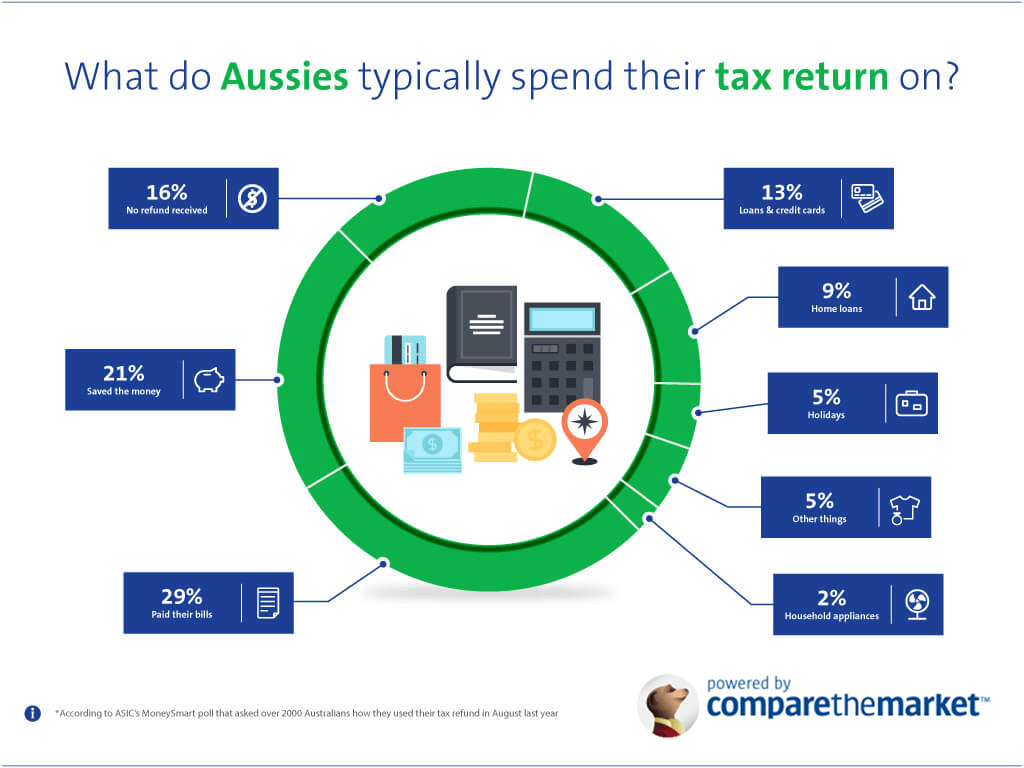 Five things not to spend your tax return on
Buying lots of fun things: Quite often than not, we focus our attentions on buying frivolous things with our hefty tax return and why not? When the money comes rolling in, it's time to try out that new fancy Italian restaurant that just opened up and didn't you need a new leather sofa? Even though it's nice to treat yourself now and again, blowing hundreds of dollars of tax return on food, clothes and travelling could leave you feeling broke and regretful.
Buying a new car: Upgrading your old automobile may seem like a good idea at the time but when weighing up other options, car expenses quickly add up. Buying a new car means added fuel costs, maintenance, registration, add-ons and the list goes on. Putting a pause on that new vehicle could save your tax return from disappearing entirely, along with the possibility of your car eating away at your paycheques down the line too.
Choosing a direct deposit into a checking account: This may seem like the way to go when first receiving your payment; however, we constantly use our accounts to pay for things (besides our savings account). Over a couple of months, we could've spent that entire tax return on lunches, movies and birthday presents straight from our checking account without even knowing! It's safer to stick to the savings rather than the spending account.
Shouting your loved ones things: When we first get that tax return, we tend to be a little more generous to our loved ones. We shout them dinner and drinks and even get them a few nice things. This is not an entirely bad idea but don't go overboard! Save some aside and remember to prioritise some of your needs too.
Committing the tax refund before you receive the money: When you're anticipating a nice tax return to come in, it becomes a lot easier to justify buying unnecessary purchases. So instead, pretend the money isn't going to come and stick to your established budget. Try not to spend until the tax return is physically in front of you.
As we inevitably grow older, we understand the value of money that little bit more and how precious its impact is upon our lives. So after mulling over the short-term prospects, it's time to take a look at what you should be spending your tax return on.
7 ways to wisely spend your tax return
Build an emergency fund: Without a go-to emergency fund in place, you're just one surprise expense away from spiralling down into a financial disaster. Having a couple of months' worth of savings in an easily accessible account can soften the monetary blow if an emergency were ever to happen.
Eliminate your debt: The next best thing you can do with your tax return is to reduce any high-interest debt you may still have. By starting to pay off that home loan, student loan or credit card debt, you're clearing your financial history and easing the pressure to pay people back. Don't have debt stuck in the back of your mind any longer.
Spend it on something you really need: Have you put off checking that sore tooth at the dentist? Needing some warmer winter clothes? Taking care of the essentials is an important factor to consider, so spend that refund on things you most definitely need.
Starting your savings account: We all have plans to travel, buy a house, go to a concert or buy that motorbike. You may not have nearly enough to do all of those things now, but with a savings account, over time you'll slowly reach that ultimate goal. Putting some of your refund money away now could mean that trip to France by the end of the year. Start your saving here with our budget planner – your goal won't seem too far away!
Donate to charity: When we have a tight budget to work with, making charitable donations usually isn't at the top of our list. But there's still a chance to be a "Good Samaritan" this time round by donating your refund towards a worthy cause. Not only will you feel great about your charitable actions, but the repercussions of your donation can help your community immensely.
Start a new business: Have you been looking for that bit of extra cash to take your business idea to the next level? Well guess what, you have some tax refund available to start investing in that dream venture. It's a great opportunity to turn your refund into income for years to come.
Splurge a little: You've been working hard all year round and finally have a little something extra in your pocket; it's time to treat yourself. Don't feel guilty to spend your tax refund on something fun like a weekend away or on some new designer shoes or sunglasses. You deserve it! Just don't get too carried away with your new found money and end up blowing it all in an afternoon of shopping.
So save, splurge, donate, invest or pay people back; the choice is entirely yours! Just remember that your tax return could be a blessing in disguise so make sure you plan your spending and choose wisely.
Did you find this article interesting or helpful?