Loyalty clubs – love them or hate them, it's safe to say they're here to stay. A recent study compiled by Directivity, Citrus and First Point Research and Consulting titled 'For Love or Money 2015' features some interesting insights around the use of loyalty programs by Australians. We take a look at the findings to decide whether or not loyalty clubs are worth your time.
The rise and fall of loyalty programs
The aforementioned report surveyed 1,387 Australian consumers over the age of 18 on all things loyalty and customer rewards-related. Those who compiled the report compared findings from the same study conducted in 2013, documenting the changes over the last few years and illustrating behavioural changes and shifting attitudes.  Here are some of the most interesting takeaways.
Banks are making great strides with their loyalty programs, with ANZ Rewards and Westpac Altitude Rewards comprising two of the top rankings in terms of how members perceive the program's overall quality. They were followed by Coles flybuys, then The Coffee Club VIP program.
48% of surveyed members stated that loyalty programs are improving year on year. That's an impressive increase of 17% in just two years.
Related: Are you loyal to organics? Read our blog about what Organic is and is the cost is justified.
Surprisingly, the number of shoppers who prefer a physical loyalty card to keep in their wallet is growing (67% in 2015, up 10% from 2014), while the number of people wanting a mobile app is dropping (10%, down 2% since 2014).
While consumers enjoy loyalty programs, they do not enjoy receiving updates on the company or excessive communications as part of their loyalty membership.
Having too many cards in their wallet and a struggle to earn enough points were two major reasons behind shoppers ceasing loyalty program membership in 2015.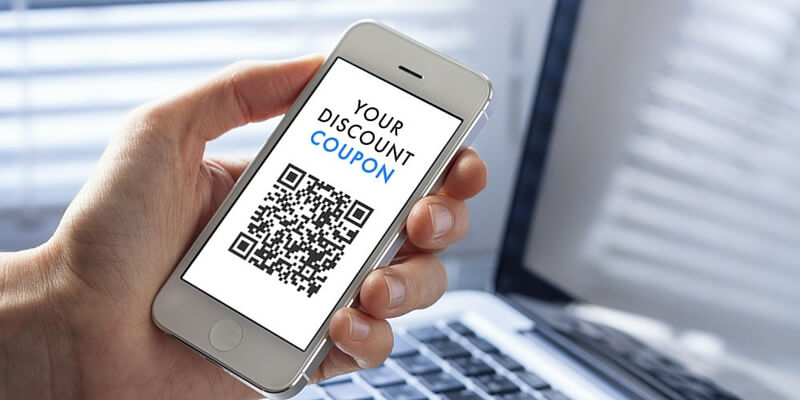 What is in it for shoppers?
So, customers are quite impressed with the offerings of both financial institutions and supermarket chains, and think these programs are improving year on year. Clearly there's some value to be derived from these programs.
The benefits of loyalty schemes for the retailers themselves are glaringly obvious; with customer retention, increased spending, and valuable consumer insights being some of the pros. However, many Australians wouldn't opt into these programs if there wasn't something in it for them! Some common reasons include:
To save money: plain and simple. Repeat purchases may lead to dollars off in the future, percentage discounts, or vouchers.
To earn points that can be redeemed on other product or rewards.
To connect with brands they love.
The next question is which brands are doing a great job in this space…and who's dropping the ball?
Case study #1: Woolworths/Qantas club backlash
While the attitude towards these loyalty programs is (for the most part) wholeheartedly supported, there are some who don't feel all warm and fuzzy towards particular schemes. One such company that received a lot of flak from customers, and some undesirable media attention in late 2015, was Woolworths on its revised rewards scheme and removal of the popular Qantas frequent flyer points partnership.
Major news outlets including ABC News and the Sydney Morning Herald reported on the retailers' decision to scrap the popular consumer rewards program and replace it. Woolworths customers weren't impressed with the changes, which would see them earning Woolworths dollars on orange ticketed items; a far cry from the previous benefits. The supermarket chain has since extended their agreement with Qantas for another few years to combat customer dissatisfaction.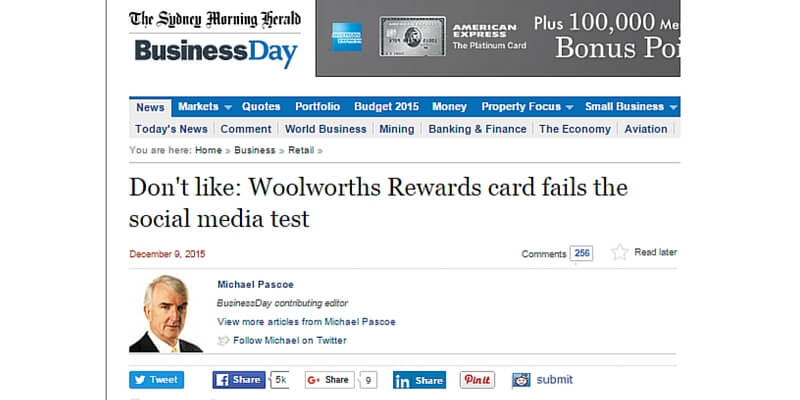 Image source
This incident and the response that followed raised some interesting points about the habitual nature of shoppers using schemes like this. Existing programs are so deeply ingrained in the shopping process for some that any effort to remove or overhaul them may undermine how (and why) customers shop with these brands.
This was proven with Woolworths through very clear opposition to the changes from some of their reported 9 million loyalty program members. That sure does say something about loyalty in the Aussie retail market: these reward schemes can keep customers coming back, but changing them may leave a large percentage of (previously loyal) shoppers feeling disgruntled.
Case study #2: Coles keeps customers satisfied
Coles flybuys remains an exceptionally well regarded program, topping one particular list in the For Love or Money report in both 2013 and 2015. Survey participants were asked to list programs they knew that (they thought) were doing a very good job – Coles Flybuys came out on top both years.
There's quite a difference between those listed in the top 3 positions, as Coles flybuys program sits ahead of all the other products, followed by Woolworths – everyday rewards and then Qantas Frequent Flyer . Unlike the proposed Woolworths scheme, Coles flybuys points can be earned for every dollar spent, not just specific ticketed items, and the extension to Coles liquor brands and sister companies like Kmart and Target seems to make for a successful mix.
Customers have praised Coles for the successful initiative, with comments like:
"Very interactive and keeps me involved week by week. Others are very passive and wait for me to come to them."

"They are generous."
The program has been running for more than 20 years.
The value of disloyalty
The benefits for businesses and customers taking part in the loyalty exchange are plentiful, however retailers need to heed caution when implementing or changing incentives, to ensure the customers aren't scared off. But perhaps more important is how you – the shoppers – interact with these programs. Yes, there is certainly much to be gained if you're smart and considerate. However, that also means you must continue to be mindful to not overspend simply for the instant gratification of gaining 'points'.
It's ultimately up to you whether it's worth staying loyal to one brand. In our humble opinion, however, it doesn't hurt to shop around – especially since many of these loyalty programs are free to join.  Disloyalty may sound like a dirty word, but being mindful of what other retailers are offering could save you plenty of money throughout the year.
Did you find this article interesting or helpful?