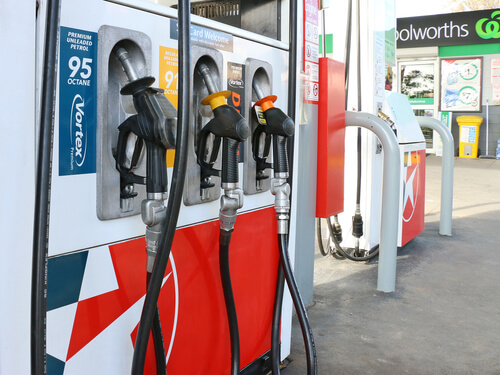 Motorists can breathe a sigh of relief with unleaded petrol (ULP) prices expected to fall across the nation just in time for the long weekend. While the average ULP cent per litre (cpl) across the major five cities was 3cpl higher yesterday than the average across the September quarter, prices are dropping by the day, as each city is currently at the peak of their price cycle or on a downward turn.
Free comparison website comparethemarket.com.au analysed prices from 25 June to 25 September 2016 against prices over the last few days, and where each city is sitting in the price cycle using a real-time Australia-wide pricing data service which is linked to their website.   The data shows the cheapest and more expensive petrol sites in price bands to easily highlight where motorists should go to buy fuel and those areas they should avoid.
Current unleaded (ULP) prices – Sydney, Melbourne, Brisbane, Adelaide & Perth
Results show that on Sunday 25 September the most expensive capital city for ULP was Sydney, which averaged 130.0cpl, while the cheapest fuel on average was available in Perth at 104.4cpl. Adelaide was the second most expensive at 128.9cpl, with Brisbane next at 113.4cpl and Melbourne second cheapest at 110.0cpl.[1]
Abigail Koch, spokesperson at comparethemarket.com.au, says, "There is a general downward movement in the price cycle across all cities, which is welcome news for Aussie motorists wanting to fill up for any long weekend road trips.
"Adelaide is currently sitting at the top of its cycle, so we expect prices to drop in the next few days in the lead-up to the long weekend. Brisbane and Melbourne are in similar boats where both cities have already seen prices dropping from their peak at the beginning of September, and this trend will continue over the next week too.
"Sydney's price cycle appears to be shortening, so although prices are currently at their peak, they too should start to fall over the long weekend and into the first week of October.  Perth, which has a predictable seven day price cycle, will see prices at their cheapest on the Monday after the long weekend, so Perth motorists should fill up for the week ahead as they'll jump up again on Tuesday as everyone heads back to work."
The city sub-regions most likely to be cheapest in Sydney, Melbourne, Brisbane, Adelaide & Perth
Based on September quarter figures, the cheapest areas in each capital city were Salisbury in Adelaide at 111.1cpl; Bayside in Brisbane at 113.8cpl; Frankston and Cranbourne in Melbourne at 111.7cpl; Bankstown in Sydney at 112.6cpl; and Warwick in Perth at 114.4cpl.
The city sub-regions most likely to be expensive in Sydney, Melbourne, Brisbane, Adelaide & Perth
While the immediate price cycle is trending downwards across mainland Australia[2], some people are having to fork out more than others at the bowser. Over the last three months Sydney's Northern Beaches averaged the highest petrol price in the country at 118.4cpl.  Second most expensive across the 5 capital cities was Perth's Claremont and Cottesloe regions at 118.2cpl.  Adelaide's Elizabeth, Burnside, Brighton and Mitcham are consistently tracking at the lowest average fuel price according to the quarterly tracking data at 112.4cpl. The second cheapest sub-region was Melbourne's Greensborough/Ivanhoe at 115.5cpl.
"It looks as though all motorists across the country will be able to take advantage of reasonably priced fuel before they go away for the long weekend," says Abigail. "But I would urge motorists to shop around.  There are plenty of apps and free fuel comparison sites such as comparethemarket.com.au, which monitor prices in each city. There's little room for loyalty and if the cheap fuel is not too far away, go for it."
Unleaded averages in major cities over the September quarter (25 June-25 September):
| | |
| --- | --- |
| City | Quarterly ULP average (clp) |
| Adelaide | 111.9 |
| Brisbane | 115.6 |
| Melbourne | 114.1 |
| Perth | 115.4 |
| Sydney | 115.1 |
Quarterly ULP prices (25 June-25 September) – most expensive sub regions with the highest average unleaded petrol price in each major city:
| | | |
| --- | --- | --- |
| City | Sub region with highest ULP average | Sub region ULP average |
| Adelaide | Elizabeth/Burnside/Brighton/Mitcham | 112.4 |
| Brisbane | South Brisbane | 116.7 |
| Melbourne | Greensborough/Ivanhoe | 115.5 |
| Perth | Claremont/Cottesloe | 118.2 |
| Sydney | Northern Beaches | 118.4 |
Quarterly ULP prices (25 June-25 September) – cheapest sub regions with the lowest average unleaded petrol price in each major city:
| | | |
| --- | --- | --- |
| City | Sub region with lowest ULP average | Sub region ULP average |
| Adelaide | Salisbury | 111.1 |
| Brisbane | Bayside | 113.8 |
| Melbourne | Frankston/Cranbourne | 111.7 |
| Perth | Warwick | 114.4 |
| Sydney | Bankstown | 112.6 |
*Original data supplied by MotorMouth Pty Ltd
About comparethemarket.com.au
Comparethemarket.com.au is a comparison website making it easier and quicker for Australians to compare and buy products and services they rely on in their everyday lives. Whether you're looking for a good deal on your car insurance, health cover for you and your family, the lowest fuel prices in your area, or an energy provider that suits your needs, then go to comparethemarket.com.au. It's a completely free service and enables Australians to make purchasing decisions with greater knowledge.
[1] This data is taken from a one-day snapshot on 25 September, 2016 – and doesn't take into account each cities price cycle.
[2] Note that each city is subject to its own price cycle.
Did you find this article interesting or helpful?