25 weird and wonderful ways to get moving
Home > Blog > 25 weird and wonderful ways to get moving
It's easy to get into the same routine week-in, week-out and start to feel uninspired about exercise. If you feel the gym is getting boring, it's raining outside and a running is off the cards, or tackling the wind on your bike fills you with dread, why not get a new activity in the calendar this weekend?
Whether you're feeling like a touch of adventure, have had a stressful week, or are just bored of the same routine, these activities will have you swinging from the tree tops – literally! Click the activity below to go straight to that section, or keep going and browse all 25.
New and exciting ideas to get you started
1. Swing you ways to fitness with a flying trapeze class

Taking to a trapeze could be the closest you'll get to flying, with acrobatics thrown in for good measure. It may feel a little strange at first, but once you're used to sitting on the trapeze and falling into the net, more advanced moves await. In the first session you may even find yourself completely letting go and being caught by an instructor.
Flying Trapeze lessons are great for toning, balance and even stress relief. There aren't many activities you can literally let go in a safe and fun environment while getting a work out.
There are plenty of places offering flying trapeze and other circus skills in Australia. A couple of favourites are the Fly Factory in Melbourne, and Circus Arts that offer classes in Sydney, Brisbane and the Gold Coast.
2. Get your rocks on and climb

Climbing and bouldering are different activities cut from the same cloth. Indoor climbing involves harnessing up and having a buddy take care of your ropes while you scale walls of varying heights, often around 15 metres. With bouldering you are harness free and keep your feet much closer to the ground. The walls have differing overhangs, starting at about 10 degrees, and the ground is covered with spongy mats for when you let go.
Both these activities are a full body work out, from your fingers to your toes. You'll likely be mixing cardio with muscle toning, and even relying on your mental toughness and problem solving too.
There are many climbing and bouldering gyms in and around Australian cities, here are just a few:
Climbing: Melbourne: Hardrock  | Sydney: Sydney indoor climbing gym | Brisbane: Rocksports
Bouldering: Sydney: 9 degrees | Brisbane: Urban Climb
You don't have to be a mountain goat to hit the gym this weekend. Whether you're bouldering or climbing, you'll find a wall to suit your skillset.
3. Monkey around while staying fit
Swinging from the tree tops certainly isn't for the feint hearted, but you've always got the backup of the safety wire. Tree top obstacle courses involve navigating a series of logs, robes, ladders and flying foxes to reach the end. Use you balance, strength and mental toughness to prevail!
Tree Top Adventure Park operates in Newcastle, Sydney and the Central Coast, even providing adult only night time courses so you can navigate the trees with only your head torch. If you're in Perth, Tasmania or Melbourne, Trees Adventure offers a tree top adventure to remember.
4. Tumble, hula and juggle your way to fitness

Ever watched circus performers doing multiple backflips, hula hooping with every body part and juggling fire? You too can learn these skills and more by heading to you nearest circus school. Literally learn the ropes, hone your balance and core strength, all whilst having a blast.  The following locations offer a selection of circus skill classes to get you started.
Melbourne:  Circus Oz | Sydney: Circus Arts | Brisbane: Circa
5. Bounce your way into great shape

Don't be fooled into thinking that a trampoline fitness class is a breeze, these cardio workouts are not for the faint hearted (or faint stomached)! These high intensity, but low impact workouts involve stretching, twisting and a whole lot of bounce.
Melbourne, Adelaide, Brisbane, Gold Coast & Perth: Bounce Inc 
6. Snipe and splat your mates whilst burning calories

If you're searching for a one off fitness activity that brings out a competitive team spirit, why not call your local outdoor paintball arena? Run the gauntlet to capture the flag, or get your breath back and snipe your opposition – this is a tactical workout that focuses the mind and body. Check out these three locations from around Australia.
Melbourne: Snipers Den | Sydney: Ultimate Paintball | Brisbane: Brisbane Paintballing
7. Outdoor laser tag is good clean fun

If paintballing leaves you black and blue, or you'd rather keep your kicks clean, outdoor laser tag is a good alternative. There's still the fresh air, running, sniping and comradery, but you'll stay relatively clean and without any painful memories. Check out the map above for some locations.
8. Tough Mudder is exactly what it says on the tin
You may not be able to add Tough Mudder to your weekend schedule, but it's certainly an alternative workout! There are two course lengths to choose from, 10 and 18km, and even a women's only event known as Muderella. The 10km course would likely not require much training from a person of good fitness, but it's advisable that the 18km participants do some training to prepare them for the physicality of the obstacles. Tough Mudder isn't a race, but don't let that fool you into thinking it's a breeze. This event is a great work out and a great opportunity for some team building.
Tough Mudder is held at various locations including South East Queensland, Sydney and Melbourne. Visit
9. Surf the waves whilst strapped to a kite

If you've never heard of kite boarding you could be missing a trick. A cross between kite flying and wakeboarding, this sport is adrenaline fuelled and a whole body work out. It's not impossible to teach yourself to kiteboard, but there are plenty of places Australia wide offering lessons for the budding boarder – here are three:
Melbourne: Kite Republic | Sydney: Kite Boarding lessons
10. Ride the waves with the wind in your hair

Many know what windsurfing is, but not so many have given this sport a go. If you're looking to get out in the elements and learn how to use wind power to have you skimming along the waves then perhaps a windsurfing lesson could make the weekend list. With no motor it's really you and one of nature's most powerful elements, which can clear the mind as well as challenging the body.
Here are three locations where you can learn to windsurf:
Melbourne: The Zu | Sydney: Sailing School | Brisbane: Wind-Surf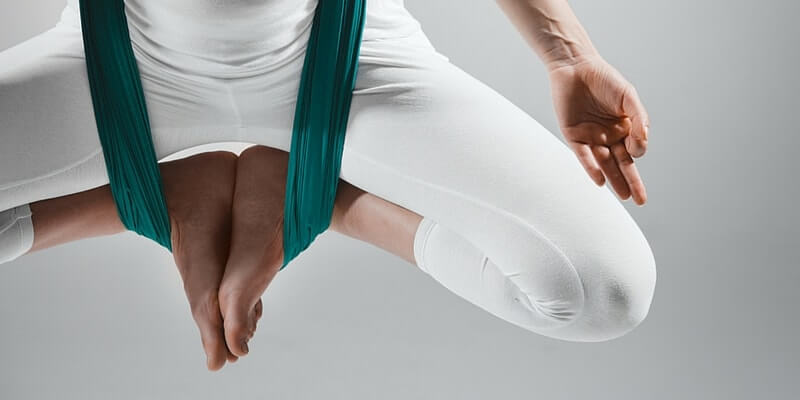 Activities to calm your mind
11. Hanging like a bat has its perks

A relaxation activity list isn't complete without mentioning Yoga, and there are so many new variations on the norm popping up. Arial yoga is one such type, and it involves doing familiar yoga poses with the aid of a large piece of silk attached to the ceiling. This might not sound relaxing in the slightest, but with the guidance of an instructor you'll soon get the hang of it.
Check out this video for a flavour of what you could expect form Arial Yoga.
Like all yoga, it's all about listening to your body and only taking the practice as far as you feel comfortable – there's no requirement to be super flexible. It will likely take a few sessions to get used to baring your weight in the silk, but Arial yoga can add a new dimension to your practice or be a one off activity when you'd like to see the world from a different perspective.
Check out your local Ariel yoga studio:
Melbourne: Body Flow Yoga| Sydney: Sky-Lab | QLD: Flight Skool (multiple locations)
There are now so many different styles of yoga to choose from, partner, Hip-hop, Barre, Paddle board and even Doga (dog yoga – yes, it's a thing) – why not try them all!
12. Frisbee isn't just a kids game – it's a fun-packed workout!

Perhaps the greatest thing about playing a game of Ultimate Frisbee is that it doesn't require much equipment, which means it's a cheap way to let off steam with a group of friends. All you need is 8 cones, a Frisbee, a field, and some buddies. There's no referee in Ultimate Frisbee, so you need to make sure every player knows the rules.
Related: Fitspiration: Six of the best Aussies to follow on social media
13. Meditate your way to a stress free day

Meditation is certainly becoming a more popular practice in the west, with courses aimed at making you more body and mind aware. Just like yoga, there are various styles to try such as primordial sound meditation, mindfulness-based stress reduction, Zen, Transcendental, and Kundalini Yoga. Free classes can often be found, and if you find meditation is for you, many centres offer courses.
If you're interested in exploring meditation, perhaps take a look at these free classes in Melbourne, Sydney and Brisbane.
14. A spin class with a twist

If you're one of many that suffer from joint pain, and need a relaxing way to sooth away the day with some cardio, finding your local aqua spin class could be your answer. The water supports your weight meaning there is less pressure on your body, but also adds resistance to make it a good workout. Classes can offer interval training just like a normal spin class, and you're able to adjust the bike resistance to suit your level.
AquaBuzz offer classes in 4 states in various cities.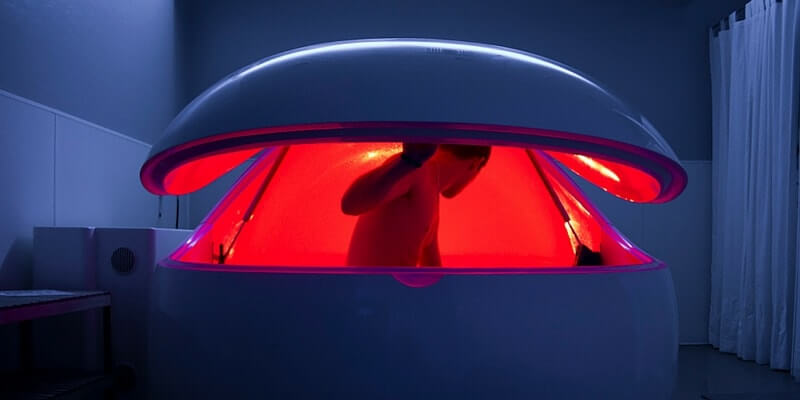 Image source
15. Float away the week

So it might not help you to lose any extra pounds, but sensory deprivation tanks are popping up all over Australia, and many swear by their ability to relieve stress. The tanks are soundproof and filled with Epsom salt heated to body temperature to create an immersive experience. 'Floats' often last an hour, though you can book a longer time.
Many who have tried float tanks report feeling weightless, with a sense of not being able to tell where their body starts and the water begins. Once the float is over, it's also normal for your body to feel quite heavy.
Melbourne: Beyond Rest | Sydney: Sydney Float Centre| QLD: Sensory Deprivation Brisbane
Beat the boredom with these activities
16. Dancing wakes up the body and mind

There are so many styles of dancing, all needing dedication and time to get to even an intermediate level. If you're feeling flat, taking up a new dancing style can give you focus while getting fit. However, if you want to skip the learning and just have fun, a dance fitness class might be up your street. A popular style is Zumba that combines hip-hop, soca, samba, salsa, merengue, mambo and others for a high energy workout.
To find a Zumba class near you, it's as easy as entering your address into the search on their website.
In addition to Zuma there are lots of other dance fitness classes like Jazzercise, Konga and even Bollywood style fitness.
17. Turn off the lights and dance till you drop

Ever wished you could just go dancing without having to learn any steps or have any judging eyes upon you? No Lights No Lycra believes anyone can dance and provide spaces to let it happen. There are so many locations in Australia and worldwide that host this event, so it's likely there is one near you. The idea is that you turn up, pay around $7, and have access to the space for one hour. The lights are off and music is playing, the rest is up to you.
It might be a bit strange at first, but if you embrace the concept and let go it can be a great way to let off steam and express your inner dancer.
18. Hoop till you droop

You may have tried hula hooping as a child and forgotten just how much fun it is, or just fancy giving something new a try.  Most classes are set to groovy music and instructors will have you hooping like a pro in no time.
With lots of moves to learn to keep things interesting, and a great core work out, hoola hooping is great for all ages and fitness levels.
Melbourne: Hoops Thighs Buttocks & Hoop Sparx | Sydney: Hoop Empire
19. Take pole position and learn to dance
Pole dancing might not be the first fitness activity that comes to mind for many of us, but this is a full body work out that also helps coordination, strength and flexibility. Pole Fitness Australia says pole dancing classes are a good way to lose your inhibitions in an environment that is about exploring who you are and having fun. Don't be fooled into thinking this is a girls only activity, guys can pole dance too!
Melbourne: Pole Divas | Sydney: Studio Verve| Brisbane: Pole Fitness Australia
20. The most fun you can have with a paddle without getting wet
Table tennis, or ping pong for the outdoor types, is a sport that lots of people can play at a very basic level without much practice. A doubles game with three friends will give all players a good work out whilst having a blast. Ping pong may not require a high level of strength, but as the table area is so small the body doesn't have much time to react, so hand eye coordination and speed are certainly tested.
Here are the basic rules:
There are so many places to enjoy a game, from entertainment venues to outdoor tables and sports centres. Check out Popp.net for outdoor table locations Australia wide and head to your local this weekend – all you need is some bats, a ball, and an opponent!
21. Knock your boredom out of the park

If you've always fancied trying out martial arts, or want to work on your self-defence skills, then perhaps try visiting your local training gym. There are so many different disciplines to choose from, including:
Judo
Kickboxing
Karate
Aikido
Taekwondo
Brazilian Jiu-Jitsu
Boxing
Wresting
Another popular style is mixed martial arts, or MMA. One of the fastest growing sports in the world, MMA combines elements of many of the disciplines above. You may have seen the UFC (Ultimate Fighting Championship) on TV, the premier organisation for MMA. No need to worry though, you're not going to be thrown into the ring until you're ready.
Training gyms will teach you the basics of the style you choose, many even offering free taster classes.
Melbourne: Absolute MMA | Sydney: Igor MMA | Brisbane: Integrated MMA
22. No better way to spend a windless day

Paddle boarding involves standing on a large board with one long paddle, propelling yourself through the water. Most that attempt it are standing within the first hour, but it takes much more practice to ride the waves, and even more to train your pooch to join you!
Paddle boarding helps your balance, works out your core and improves your strength. If you really want to test your balance, paddle board yoga could be the one to make your weekend list.
Melbourne: Stand-up Paddle HQ | Sydney: Manly Kayak Centre| Brisbane: Bay Island Paddle Boards and Kayaks
23. Your own naturally powered boat

If you're up for a little adventure this weekend, why not hire a kayak and take to the water. There are so many stunning locations around Australia for Kayaking, and you can make your time as strenuous or relaxing as you like.
Kayaking is a low impact sport that uses almost every muscle in the upper body, some lower core muscles and a good deal of leg power. Once you learn the technique you can expect to cover around 8km/h if you're of a good fitness level, but kayaking isn't all about the workout. It's also a great way to explore and find a peacefulness that only being on the water can bring.
There are plenty of spots to hire a kayak around the Aussie coast, here are just three.
Melbourne: Extreme Watersport | Sydney: Sydney Harbour Kayaks | Brisbane: Kayak Hire Brisbane
24. Sail into stress free fitness

Gliding along the water and taking in the sights, sailing is the work out you didn't know you were getting. The action of pulling ropes and controlling a large vessel is a high intensity activity, guaranteed to get the heart racing. With the wind in the sails and the salty sea air in your face you'll likely find that sailing is good for the mind too. According to Health Fitness Revolution, the salt in the air can help the body absorb oxygen, which increases serotonin levels, the chemical responsible for making you feel good.
Get inspired with this video from AusSea Sailing School
Melbourne: Royal Melbourne Yacht Squadron | Sydney: AusSea Sailing School | Brisbane: Queensland Cruising Yacht Club
25. Create sweet music

Did you know playing a musical instrument burns calories? If you don't fancy adding another sport to you schedule, what about giving your creative side a go? According to calorielab, playing the drums can burn over 200 calories an hour, a piano comes in at 102, and a trombone at 170!
Depending how far you want to go, you could take a few lessons to get started and then go it alone, or keep it up for longer term structured learning. This will work different parts of the body depending on the instrument, but what's for sure is that if you stick with it a real sense of achievement awaits.
Finding your passion
Hopefully this list has given you some inspiration to get out there and try something new this weekend. Remember, lots of places have introductory offers so you can try lots of activities to see what floats your boat with only a small expenditure. There are so many great things to try that will leave your body and mind feeling great, and finding the ones for you is part of the fun.