We visit our GPs for various reasons – the common cold, vaccinations and general health check-ups, just to name a few – but which health issues are our doctors worried about the most?
In the Health of a Nation 2018 report released in September, the Royal Australian College of General Practitioners (RACGP) revealed that mental health and obesity were the top two health issues that concern Australian GPs the most.
When asked what patient health issues they believe are the biggest cause of concern for the future, roughly half of the respondents identified mental health, while 45% stated obesity. Other issues that a significant number of GPs flagged in this study were diabetes (18%), aged care (14%) and drug addiction (12%).
Here's a closer look at the five health issues GPs are concerned about the most and how they may affect you.
Mental health
Mental health issues are common among Australians, as it's been estimated that roughly 45% will deal with some form of mental illness in their lifetime, along with 2-3% suffering from more severe conditions.1
Unfortunately, for many younger Australians between 15 and 45, mental health issues can cause problems in many parts of their lives and even lead to self-harm. In fact, suicide was the leading cause of death for people in this age range in 2016,2 which is likely one reason why it's a common cause of concern for Australian GPs.
If you or someone you know struggles with mental health, visit lifeline.org.au for additional help and resources or call 13 11 14.
Obesity
Obesity is a global epidemic that significantly impacts Australians, as the Australian Institute of Health and Welfare (AIHW) found that almost two-thirds of the nation's adults were found to be overweight or obese in 2014-15.3
People who are medically obese are at risk of developing further complications, as it has been linked to heart disease – Australia's leading cause of death – along with Type 2 diabetes, high blood pressure and various other health concerns.2
Obesity can be treated in numerous ways – from exercise and lifestyle changes to bariatric surgery in more extreme circumstances. Each case is different, so it's important to always consult a GP for advice before undergoing any of these changes.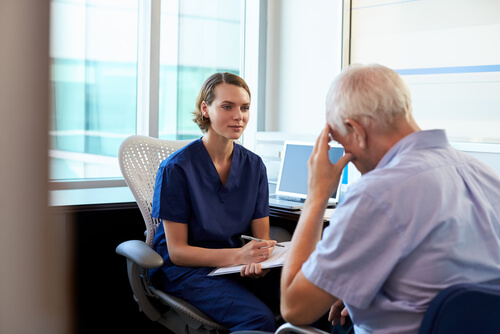 Diabetes
Diabetes comes in three different forms – Type 1, Type 2 and gestational. According to Diabetes Australia, approximately 1.7 million people have diabetes in Australia, and roughly one person gets diagnosed with the condition every five minutes.4
If not managed properly, diabetes can progressively cause complications such as heart disease, nerve damage, loss of sight and various other ailments.5 The impact these complications have on the public health system, along with the overall prevalence of the condition, could be key reasons why GPs consider diabetes one of Australia's most concerning health issues.
Learn more about how to manage diabetes from Diabetes Australia.
Aged care
The demand for aged care in Australia has gone up significantly, as the AIHW revealed that there were almost 70,000 home care recipients over the age of 65 in 2017.6 This was an increase of more than 30,000 recipients on 2007.6
Fees for aged care can significantly impact not just the bank accounts of the recipients, but their families as well. Expenses can commonly include a basic daily fee – which is 85% of the recipient's pension rate ($50.66 per day on average), a means-tested fee, accommodation costs and any additional services.7
Want to learn more? Visit the Australian Government's My Aged Care site for more details.
Drug addiction
Drug addiction has various forms, including misuse of prescription medication, illicit drug use and alcohol abuse. Drug-related deaths were at a 20-year high in 2016, with 1,808 deaths recorded2 – however, drug use doesn't just affect the addict. 1.8 million people were found to be a victim of illicit drug-related incidents in 2016 – an increase of roughly 200,000 on the 2013 figures.8
If you know someone who might be affected by drug addiction, ReachOut Australia has resources about how to tell when people have drug problems and much more.
What GPs believe needs the most attention from the Federal Government
While the GPs surveyed believed top health concerns such as mental health, obesity, aged care services and drug addiction should be prioritised, Medicare rebates stood out as the main issue they think requires action on a federal level, with almost a quarter of survey participants believing it to be the top priority.
A key reason for this could be that Medicare can influence whether patients can receive care in areas GPs are most concerned about. In fact, AIHW found that almost one in 10 Australians claimed rebates on mental health services in 2015-16.1
With further attention on Medicare rebates, the number of people seeking treatment could increase even more, as it would be less likely to impact them financially.
When it comes to your health, what concerns you most? Make sure you chat about it with your GP the next time you see them!
Sources
Australian Institute of Health and Welfare, Mental health services – in brief 2017
Australian Bureau of Statistics, Causes of Death, Australia, 2016
Australian Institute of Health and Welfare, Overweight & obesity
Diabetes Australia, Diabetes in Australia
Mayo Clinic, Diabetes
Australian Institute of Health and Welfare, Older Australia at a glance
My Aged Care, Basic daily fee for aged care homes
Australian Institute of Health and Welfare, National Drug Strategy Household Survey (NDHS) 2016 – key findings
Did you find this article interesting or helpful?