Our home is girt by sea
Whether it's the beach, a river or your backyard pool, water is a way of life for many Australians.
You only have to think about destinations like Bondi Beach, Margaret River or the Whitsunday Islands to get an idea of just how much waterways play a part in our lives. From world-class beaches to pristine estuaries, people can cool off almost anywhere. However, amidst each watering hole or waterside activity there are various dangers to look out for – some more obvious than others.
According to the Royal Life Saving Society, there were 249 drowning deaths in Australia between July 2017 and June 2018.
Unsurprisingly, two in five of these drowning deaths occurred in summer.
With 85% of our population living within 50 kilometres of the coast, these figures aren't hard to believe, and it's not only drowning you have to worry about.
As the mercury begins to rise, we've unpacked some important information about keeping safe in the water this summer.
Who is most at risk in the water?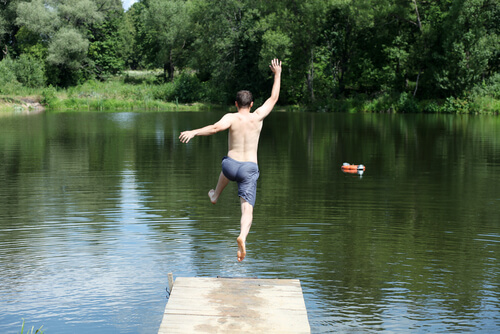 From a young age, Australians place a lot of importance on water safety, and for good reason too. Whether it's learning how to calmly navigate a rip at the beach or keeping a watchful eye on your children swimming, being aware of certain risks may just end up saving yours or somebody else's life.
This might explain why swimming was the number one out-of-school physical activity for Aussie children in 2017.
Here are some key findings from the 2017-2018 Royal Life Saving Society Report.
Which age groups are affected?
The Royal Life Saving Society report uncovered that 72% of drowning deaths in Australia were males, with 35-44 year olds recording the largest number of deaths (39). Not only were the number of deaths a worrying trend, non-fatal drowning accounted for 551 hospitalisations in the same period.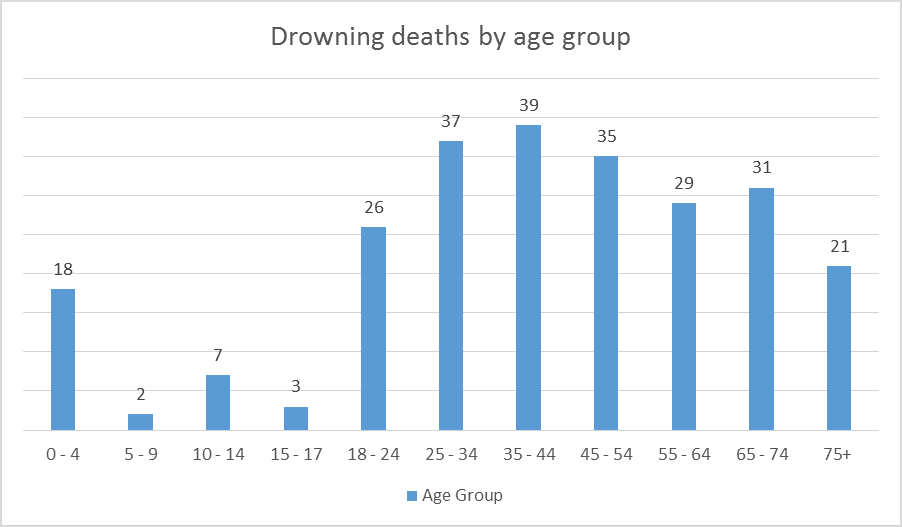 Source: Figure 5, Drowning Deaths by Age Group, 2017/18, Royal Life Saving Society Report.
States and territories
New South Wales recorded the highest number of drowning deaths, but was 11 incidents down on a 10 year average. In fact, only the Australian Capital Territory witnessed an above average spike in deaths compared to other states and territories.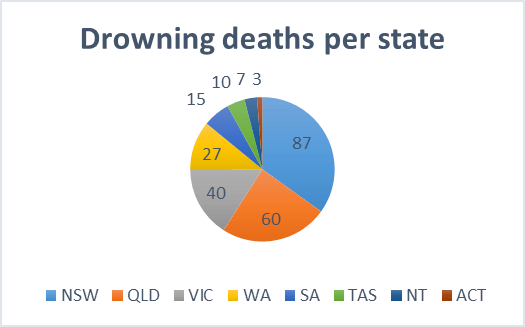 Source: Figure 3, Drowning Deaths by State and Territory, 2017/18, Royal Life Saving Society Report.
Day, time and season
The weekend proved to be the deadliest time of week for drowning deaths, while 42% of deaths occurred in summer. More than half of fatal drowning incidents in 2017-2018 occurred during the hours of noon to 6pm.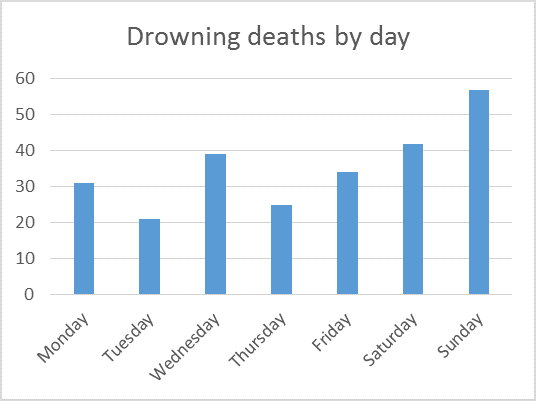 Source: Figure 7, Drowning Deaths by Day of Week of Incident, 2017/18, Royal Life Saving Society Report.
What do drowning incidents cost our nation?
The Royal Life Saving Society estimated that drowning deaths and non-fatal incidents across Australia costed society roughly $1.5 billion in 2017-2018 due to years of life lost, disability and other long-term health complications. As you can see, all drowning incidents have a financial impact on Australia's economy, which is just another reason why water safety is so vital to communities.
This information comes after the Federal Government announced a $36.9 million commitment to long-term funding for water safety initiatives like the Beach Safety Equipment Fund, Kids Alive Do the Five and the River Black Spot Program.
What to look our for in and around water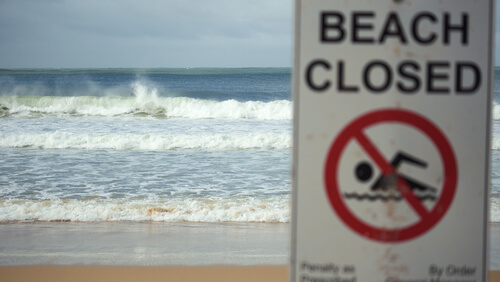 Whether you're swimming, surfing, fishing, boating or even sunbaking, you should take a few precautions for the upcoming holiday season.
Beach
Before entering the water, always read beach warning signs or condition reports from surf life savers. Beach conditions may look calm on the surface, but underwater currents (rips), jellyfish, blue bottles and sandbanks are often difficult to spot. If there are no condition reports visible, ask a local or nearby surf lifesaver.
Swim between the red and yellow flags
Beachgoers need to swim within the red and yellow flags, as these areas of the beach are patrolled by surf lifesaving personnel. If you're ever caught in a dangerous situation, all you need to remember is to remain calm and place your hand up in the air for patrollers to know you require assistance. Never, under any circumstances, swim outside of these flags. On average, 10 people are rescued every day at an Aussie beach.
Avoid swimming alone, at night and under the influence of drugs or alcohol
It's best to never swim alone, however if you happen to be by yourself, swim within proximity of other beachgoers. Swimming after dusk is a no-go zone as beaches are normally unpatrolled and unpopulated. It's also advised to steer clear of swimming if you're under the influence.
Contrary to popular belief, Aussies have a higher chance of being stung and killed by a bee than being killed by a shark. That's not to say don't be vigilant, but with much of Australia's beaches either drum lined or fitted with safety nets, your chances of encountering a shark are slim. In fact, only three people die on average each year from shark attacks in Australia.
Throwing in a line off the rocks may seem harmless, but according to the report, six people between the age of 25 and 64 died in 2017-2018 as a result. The unpredictability of seas, tides and rocks can be deadly if you're not careful, such as large waves knocking you off balance, causing you to slip and fall to your death.
Slip, slop, slap and wrap
Most of us know the jingle. Australia has extremely high and damaging UV rays, and can be very harmful to your skin without proper protection. So, slop on some sunscreen, slap on a hat, slip on a shirt or "rashie" and wrap on your sunglasses. If possible, find a shady spot or bring an umbrella, and if sunbaking, remember to lather on a new coat of sunscreen frequently.
Pool
Ensure your pool meets council safety standards
If you have a pool, you're more than likely aware of the safety precautions your local government has in place. Fencing that is of particular height and is non-climbable, as well as necessary resuscitation signage are usually prerequisites to owning a pool in your home.
Children are unpredictable at the best of times. Be sure to keep a watchful eye on your kids or have a responsible adult watching over at all times. According to Royal Life Saving Australia, more than 330 children under the age of five drowned at home in the past ten years.
Be aware of slippery surfaces
Express caution around slippery surfaces, particularly pools, where you can easily lose your footing and injure yourself. Be sure to remind children that running or playing near wet surfaces can be dangerous.
Be first aid and CPR competent
When things go wrong, seconds count. Make sure you have sufficient first aid training and learn how to resuscitate adults, as well as children. Your quick thinking may just save a life.
Creeks, rivers and streams
Never swim during or immediately after a storm
Storms usually bring heavy rainfalls that can amass large amounts of water unknowingly downstream. This means that swimming in lakes, rivers or creeks can turn into deadly rapids without warning. Storms can also wash large branches, rocks and other hazards downstream which swimmers can potentially dive into or become wedged under.
Remember to pack essentials
Whether the inland watering holes are off the beaten track or near suburbia, it's a wise idea to pack a first aid kit, as well as essentials like water and sunscreen. Most inland destinations will not be supervised by lifeguards, so coming prepared is always a safe bet.
Do not frequent areas with "no swimming" signs
Besides sharks, Australia's top end is filled with a scaly predator that can quickly turn a camping trip into a nightmare. Both freshwater and saltwater crocodiles are native to the Northern Territory, Northern Queensland and North Western Australia. If there's a sign stating not to swim, do not swim under any circumstance.
Boating and recreation
Enjoy the open waters with a bit of peace of mind and always wear a lifejacket. It doesn't matter if you're deep-sea fishing or jet skiing, a lifejacket may be the difference between you surviving an ordeal at sea or not.
Do not operate a vessel under the influence of alcohol and drugs
Much like driving, operating a sea vessel is extremely dangerous if you're under the influence. Not only will you be putting your own life in danger, you will be putting the lives of others at risk. To avoid this potential conundrum, stay under the limit, hire a responsible (and sober) skipper and stick to water safety regulations (i.e. speed).
Document and monitor your whereabouts
If you're planning on hitting the open seas or large inlets, make sure you let somebody know of your intended location. Modern technology like radar transmissions, walkie talkies, flare guns and mobile phones are also worthwhile taking on a trip. You never know when you may need to send a distress beacon.
Sources
Clark GF & Johnston EL (2017), Australian State of the Environment 2016: Coasts, Independent Report to the Australian Government Minister for Environment and Energy, Australian Government Department of the Environment and Energy, Canberra.
Royal Life Saving Society – Australia, Royal Life Saving National Drowning Report 2018, Sydney Australia.
Department of Health, Minister for Regional Services, Minister for Sport, Minister for Local Government and Decentralisation, Senator The Hon Bridget McKenzie, 'Long-Term Government Funding to Prevent Drownings', 2018.
Australian Government, Department of Health, Health Direct, Beach Safety, 2016.
SBS News, 'How Many People do Sharks Kill in Australia Each Year?', 2016.
Royal Life Saving Australia, Home Pool Safety Checklist.
Royal Life Saving Australia, Fact Sheet No. 27, Beach Safety, 'Staying Safe at Australia's Beaches', n.d.
Did you find this article interesting or helpful?