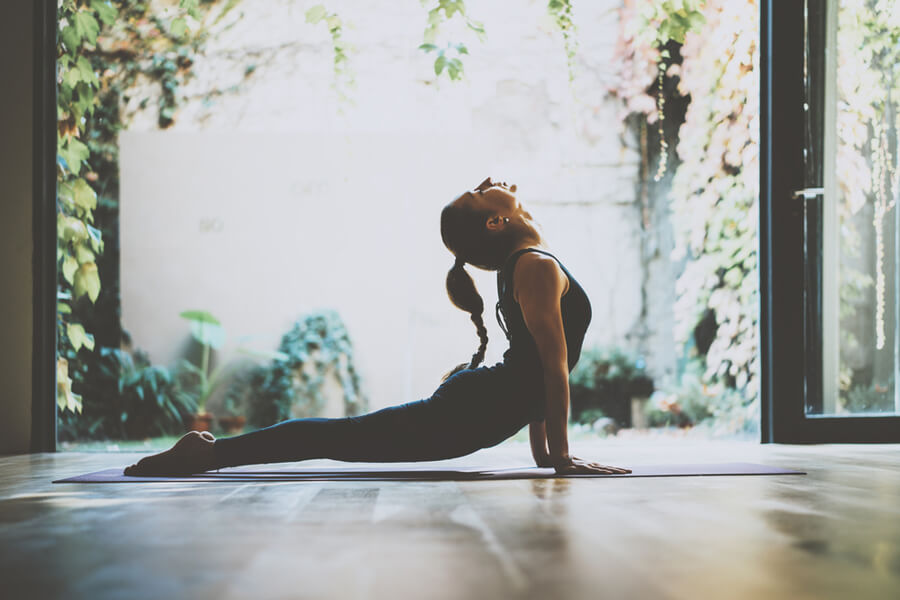 With more and more of us staying home and unable to hit the gym, it can be easy to start feeling a little unmotivated.
While we can't control the lockdowns or gym closures, we can control how we react. And one of the most proactive measures for physical and mental health is exercise.
We've assembled a truckload of resources, including the benefits of staying fit, top at-home workouts and hints to keep you on your A-game during the lockdown.
Ready? Let's do this!
The benefits of keeping fit through home workouts
Moving more and sitting less will reduce your risk of chronic disease and unhealthy weight gain, and will help you build strong muscles and bones, according to the Australian Government's Department of Health.[i]
Additional benefits include:
helping prevent mental health issues (lower the risk of anxiety and depression)
helping take your mind off external stresses
enabling you to feel a sense of accomplishment.
So, what are some endorphin-inducing at-home workouts you could try?
Top five at-home workouts for self-isolation
1. Stretching
Sounds simple right? But stretching is one of the most beneficial activities for your muscles and joints – especially when you're stuck at a desk or couped up inside all day.
Here are two resources on stretching and flexibility, including an instructional YouTube video and a visual slideshow on dynamic stretching for beginners.
2. Walking
The Department of Health recommends 30 minutes of moderate exercise (such as walking) about five times per week.i Not only is a walk good for your waistline, but it's also good for your mind. Just be sure to follow the latest government advice on self-isolation if you're unwell, as well as social distancing practices.
In fact, you don't even have to leave the house to get your steps in. You could walk up and down the stairs or around the backyard. Get inventive!
Fun fact: In Japanese culture, there's an activity called 'Forest Bathing', where devotees take slow walks through the forest to reconnect with nature.
3. Online yoga classes
Do you want to practice yoga from home? Well, if you've got an exercise mat and a computer screen, you can!
No matter your fitness or skill level, there's an online class to suit you. Some of the most popular online yogis include Alo Yoga and Yoga with Adriene.
Or, perhaps you prefer Pilates? In this case, you should check out Blogilates.
4. Callisthenics (bodyweight exercises)
The following bodyweight exercises can be completed at home without gym equipment:
push-ups
sit-ups
squats and lunges
shoulder presses
chin-ups/pull-ups (bar required)
bicep curls.
For extra assistance, construct makeshift weights, and incorporate everyday household furniture or items into your home workout, e.g. bicep curl a backpack. You can also use some resistance bands to increase the intensity of your home workout.
Need a structured program? Checkout Official Thenx and Urban Strength. Or try the towel workout – using only (you guessed it) a towel!
5. Cardio
Any type of movement will increase your heart rate and burn energy (and hopefully, fat). Here are some high-intensity movements you can do from your home or backyard:
running or sprints
jumping jacks or running on the spot
mountain climbers
skipping rope
shadowboxing or hitting the heavy bag
riding a stationary bike.
Need an online fitness PT? Try some of YouTube's top fitness influencers like The Body Coach or Pamela Reif. What's more, major Australian fitness companies like F45 are also starting to offer online workouts. There are no excuses not to work out from home!
Have you heard of fitness apps?
No gym equipment? No problem
Here are three tips for making your own makeshift weights and gym equipment:
load bags or backpacks with heavy items to make your own dumbbells;
use the broomstick as a barbell; and
use two sturdy chairs as dip bars.
Looking for cost-effective gym equipment for your home workout? Buy some resistance bands, kettlebells, fitness balls, medicine balls, gym mats, foam rollers, chin-up bar or some small hand-weights.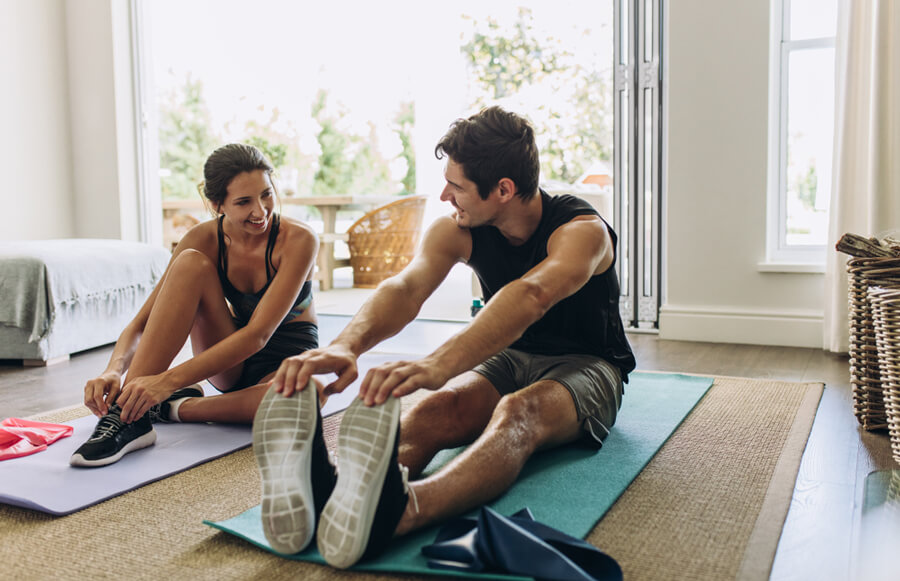 Five bonus tips for a healthy mind, body and soul
1. Keep your diet in check
When it comes to nutrition, focus on the following three rules:
eat well. Where possible, try and eat plenty of fresh fruit and vegetables. Try to limit fried foods and overly processed foods;
eat less frequently. Try to set regular mealtimes to avoid over-eating or boredom eating; and
drink lots of water. Just keep sipping on your water bottle throughout the day. The benefits include more energy, higher alertness and increased metabolism.
2. Make time for quiet
It's essential to take some time away from streaming services and practise some mindfulness. Check out Sam Harris' Waking Up app or Headspace for guided meditation.
3. Phone your family and friends
Connection is a fundamental human need. And, with social distancing rules, it's more important than ever to pick up the phone or start a video chat!
4. Interact with your pets
Animals are amazing creatures for human companionship. Whether you have a dog, cat or a goldfish, animals have a strange and wonderful way of lifting our spirits.
5. Challenge your mind
Going stir-crazy, bonkers or bananas? You need to engage your brain and give it something to do! Here are a few ideas you can try:
play around with puzzles, board games and crosswords;
read books or listen to audiobooks;
learn a new skill, e.g. cooking, yoga or a foreign language; and
declutter your home and tidy up.
Now could be the time to do the things you always wanted to do but kept putting off.
The final word
Social distancing is tough! But it's never been more important to keep looking after your physical and mental health. After all, we're lucky to live in the age of technology – never has it been so accessible to stay fit, without leaving the house.
What have you done to look after yourself today?
Sources
[i] Australian Government. Department of Health. https://www1.health.gov.au/internet/main/publishing.nsf/Content/phy-activity. 2019.
Did you find this article interesting or helpful?