Imagine taking a thousand dollars out of the bank and throwing it away. Crazy right? That's what the average Australian household chucks away in food annually. Australians waste about 4 million tonnes of food every year, from the production phase all the way through to our homes. To put it another way, the average household brings 345 KG into the house that doesn't get eaten – that's a lot of heavy lifting!
What are we wasting?
A third of this wastage is fresh food; this includes fruit, vegetables, meat and dairy products, equating to over 100kg in total. Another hundred kilos is scrapped leftovers that nobody wants, and the rest is made up of packaged food, drinks and frozen foods – that's some expensive garbage! The figures don't look great, so here are three easy ways to reduce waste and make savings.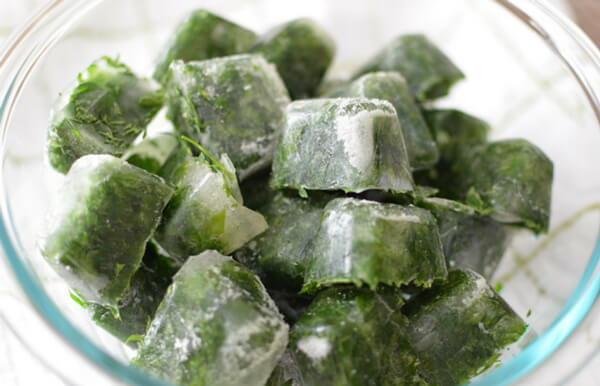 Image source
Ice cube herbs for savings and a flavour boost
Buying fresh herbs from the supermarket can really add up. At around $3 per packet, herbs like basil and coriander are expensive and don't last long once out of the ground. These soft leaf herbs have a short shelf life, but don't let this put you off splurging on fresh green once in a while, as there are ways to make fresh herbs go much further. Give what you're not going to use in the next couple of days a rough chop, load up ice cube trays with the herbs and water or olive oil, and then pop them in the freezer. It's so easy to pop a couple of basil cubes into spaghetti, or throw a few frozen coriander blocks into a soup – they're quickly in the freezer and save on cooking time!
What you could be wasting:
Throwing away half a bunch of basil could waste $1.50 per week, and that's only for one herb. By freezing the left overs, you could use one full bunch every two weeks, reducing waste and spending.
Savings per month: $6
Savings per year: $78
What Else Could You Be Freezing?
When it comes to cutting down on food waste, the freezer is your best friend. Any soups, salsas, sauces, leftover dinners, bread, stocks, fruits and vegetables can freeze well in the appropriate storage – usually glass containers, which can then be used at a later date.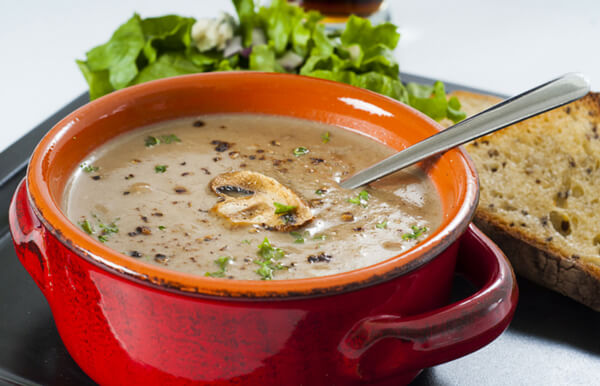 Soup it!
Making soup from left overs is a great way to make significant savings. There are so many fresh ingredients that can be made into soup when they are heading to the bin, like carrots, pumpkin, mushrooms, and tomatoes. There's so much variety, and some great flavours just waiting for the blender. A simple soup can be put together quickly with only a few simple ingredients – a little oil, an onion, your past-best veggies, a little stock, and a few herbs and spices. You may be surprised just how much you can make quickly, and if you only add the cream when serving, any left overs can be popped in the freezer.
What you could be wasting:
Prepacked mushrooms are around $5 per kilo at their cheapest, and often go a little dry and unappetising after a few days. Souping these when they're are past their best could mean you never have to buy tinned again – if you usually buy one tin of soup per week, significant savings can be made.
Savings per month: $16.45
Savings per year: $199.68
Looking to buy private health insurance? Start by comparing policies from our range of providers
Meals – To plan or not to plan?
Planning simple meals ahead of time, or even cooking them in advance and freezing them can be a great way to keep the goodness of fresh foods intact. A good way to structure meal planning is to plan around the shelf life of products, using what will go off quicker first. However, planning for the whole week at once isn't for everyone. If you're a little more spontaneous in the kitchen, try to have a few staple ingredients in the pantry to make quick wholesome meals that use up what you have in the fridge.
Here is a great infographic courtesy of Cook Smarts, detailing the shelf life of the more commonly used produce.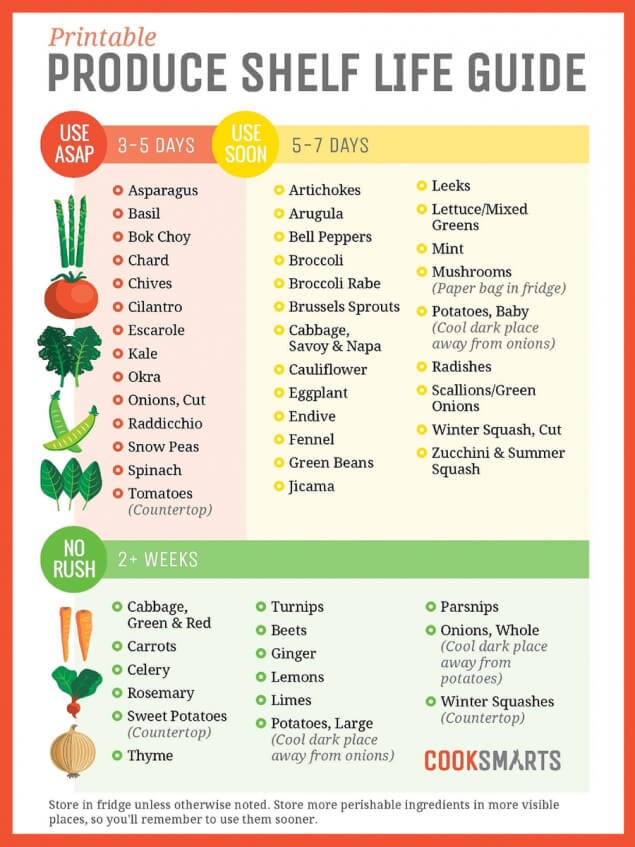 If the end of the week is looming and there are lots of veggies left over, a simple stir fry is great if it's warm outside, or a vegetable pie if it's been a chilly day. Both these meals need only a few ingredients and can use up any meats and veggies that need eating. For the stir fry you only need a little soy to liven things up, and frozen sheets of puff pastry easily top a pie mix in minutes.
What you could be wasting:
All the veggies in the fridge can be used for pies and stir frys, so savings can be made on pre-packaged goods. A Stir fry pack can cost $4, and a ready-made pie for four can be around $8. Say you don't need to buy one of each per month, and only use food that would have otherwise been thrown away…
Savings per month: $12
Savings per year: $156
The final word…
Making a few easy adjustments to buying and cooking habits can go a long way to making some great savings. From knowing what to freeze, to having recipes on hand that use up meat and veggies, there's lots of ways to reduce waste and save cash. Not only can these tips save money, they're also likely to be better for your health as you may need to buy in fewer takeaways throughout the week. Keeping your body and wallet healthy is easy with comparethemarket.com.au, compare health providers to get the best deal for both.
Did you find this article interesting or helpful?