While recent research has shown smaller airports don't have the same impact on the locals' mental health (i.e. annoyances or sleep disturbances) as larger scale airports[1], the pros of living next to an airport are thin compared to the cons. While you can get cheaper real-estate, the noise pollution caused by aeroplanes from both large and small airports can seriously impact your physical health[2].
The most significant toll is on our hearts. Repeated and prolonged exposure to aircraft noise has been linked to hypertension and high blood pressure, which can lead to cardiac arrest[3]. In her research, Dr Charlotte Clark from Queen Mary University of London noted that aircraft noise increases the risk of stroke, heart attack and high blood pressure by 7-17%[4].
It isn't just our heart health that aeroplane noise affects. Prolonged exposure can lead to stress, poor concentration, interrupted sleep, cognitive impairment, communication difficulties and hearing loss[5]. Aircraft not only cause noise pollution but air pollution as well, by increasing the amount of carbon monoxide in the air. Exposure to carbon monoxide can exacerbate problems for those with asthma[6].
So, what's being done to reduce the incidence of health issues?
What's being done to reduce noise pollution?
Airlines around the world are working on phasing out louder aircraft for modern, quieter ones[7]. When it comes to the future, aircraft will be designed to be faster and quieter than current planes, even at supersonic speeds.
The Australian Government is aware of the problems caused by aeroplane noise, and the Aircraft Noise Ombudsman (ANO) manages noise complaints about commercial flights and Australian Defence Force aircraft[8].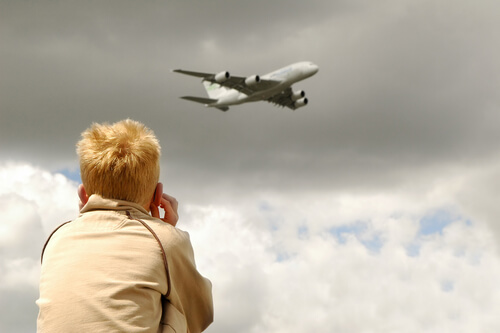 Liaising with airlines, airports and the Defence Force, the ANO has undertaken actions such as diverting flight paths away from residential areas where feasible, especially at night[9].
The aviation industry itself has also been reducing noise by developing new technology, improving current flight paths and operating procedures. These methods include:
Increased aerodynamic designs in modern and future aircraft, such as turbofan engines and noise dampening lining in engines.
Adjusting flight paths and noise corridors to avoid residential areas as much as possible.
New take-off and descent methods to reduce noise without sacrificing safety, passenger comfort or efficiency. This involves reduced thrust when taking off and using a special descent method on approach known as Continuous Descent Approach.
Advanced GPS systems to allow aircraft to fly along designated flight paths, avoid obstacles and noise sensitive areas with greater accuracy. This is known as Smart Tracking[10].
What can you do around the home to reduce the effects of noise pollution?
First things first: if you are worried about the impact of aeroplanes on your health, you should speak to a healthcare professional. They will be best equipped to give you the right advice about how to mitigate any conditions you may have.
While aeroplanes continue to become quieter, they can still cause irritation and health problems. There are a few steps you can take to make things more peaceful at home if noise pollution from aeroplanes is bothering you:
Dual-paned windows, certain insulation and weather stripping can help block out noise as well as the heat and cold[11]. This makes it an excellent option for those who live near an airport or under a busy flight-path.
Having peaceful background noise playing can help drown out the irritating noise of an aircraft. When at home, listening to music or an audiobook with noise-cancelling headphones can help make your day more peaceful.
If you renovate your home to account for plane noise, make sure you consider how this will affect the property's value. If you plan on renovating your home, make sure you understand what your home and contents insurance will and will not cover. To learn more about the risks and details of renovating a building with a home insurance policy, see our handy guide.
Sources
[1] Annual Report 2017-2018. Aircraft Noise Ombudsman. 2018.
[2] New Developments. Aircraft Noise, Airservices Australia. 2018.
[3] How to Reduce Noise Pollution's Negative Effects. Elizabeth Scott. Verywellmind.com. 2018.
[4] Aircraft noise at small airports and mental health. David Wright, BioMed Central. 2018.
[5] Aviation Noise Impacts: State of the Science. Mathias Basner et al. National Center for Biotechnology Information. 2017.
[6] Aircraft noise and health effects: Recent findings. Civil Aviation Authority. 2016.
[7] Aircraft noise effects on health. Charlotte Clark, Queen Mary University of London. 2015.
[8] Health effects of environmental noise pollution. Australian Academy of Science. 2018.
[9] Airports, Air Pollution and Contemporaneous Health. Wolfram Schlenker, W. Reed Walker. Review of Economic Studies. 2015.
[10] Buying a House Near an Airport? Consider These Factors? Jean Folger. Investopedia. 2017.
[11] About Us. Aircraft Noise Ombudsman, ano.gov.au/about. 2017.
Did you find this article interesting or helpful?