There's absolutely no shame in being typical…average – run of the mill. But lots of Aussies shoot for the stars, always aiming to do better than the generation before. Good for them! They follow in the footsteps of many 'greats' before them. One of them is meerkat company owner Aleksandr Orlov.
As head meerkat for a leading Australian comparison service, Mr Aleksandr has made a name for himself in the business world because of his tenacity as a business-kat, and his good humoured (some would say 'laissez-faire') approach to life.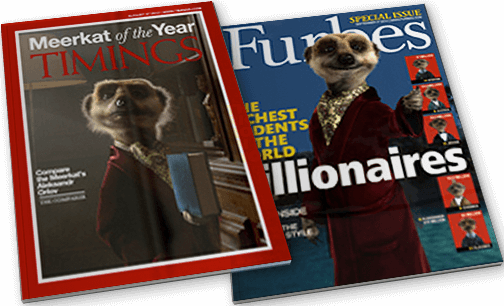 How does he do it? We'll dig deep into this, all so we can help you transform yourself from a regular Aussie…into a Bosskat.
Be stylish
How to emulate Aleksandr's Orlov's signature style
Looks aren't everything, but taking care of yourself is! If you look after the way you look, you'll feel better about yourself – and people will notice.
"First impressions are always important at new business. That's why I am book myself into the fur-dressers for mani-claw, pedi-claw and whisker straightening."
Here's how you can dress for success as a hard-working meerkat.
… Or, if you want to forge your own path, there are some fantastic style resources for Aussie (humans) too!
Ladies, shop simple! Aleksandr Orlov goes to work in a dressing gown, and is clearly the epitome of style. That said, you don't necessarily need to go over the top to look great.
Check out some of the great casual outfits being sported in the Perth Street Fashion blog –these outfits are unlikely to cost you an arm and a leg! Perhaps a bit of op-shopping will yield some new options for your wardrobe?
If you want to take things up a notch (and show everyone who's in charge), Mitchell Oakley Smith – "global-roaming journalist, editor, author and curator" – has plenty of high class inspiration of strong, well-dressed women from around the world to help you stand out.
Lads, suit up! There are few situations (social and professional) where a nice suit doesn't make you look like a boss. Sure, the Aussie climate is poorly suited (pun intended) for such outfits, but stick with natural fibres and open weaves and you are good to go!
Want to see how a suit should hang from a man? Kolonel Mustard can show you how to pull it off in style.
Then, head to Art of Manliness to learn more about picking a pair of leather shoes.
Have attitude
Introducing positive affirmations into daily routine
Let us rephrase this, have a good attitude. In the New Year, for example, Mr Aleksandr kicks of the year thinking of all the great things that could be in the future.
"New year is time for new smoking jacket, new fur cut and new beginnings!"
Not only does this keep you in a positive mood, it can also ward off certain mental illness factors. In a 2015 study of Australian men's mental health, five strategies were found to be most effective for the management and prevention of depression.
taking time out,
rewarding myself,
keeping busy,
exercising, and
spending time with a pet.
Frankie speaks directly to women, from founders Louise Bannister and Lara Burke. Their mission statement from the beginning was to produce a publication with "great affordable fashion, sweet art, interesting reads, real people and pretty photography". It achieves on all fronts, and has great ideas for taking some time for yourself, as well as staying engaged with the world around you.
Be savvy
Start your day off right to thrive professionally.
Intelligence and ambition are both important attributes for any of us to continue succeeding in life. Mr Aleksandr continues to move forward with new ventures and projects, with his tenure as CEO of comparethemarket.com.au being the most radical to date!
"Word of my new business venture is spread. I am just like the Sir Branson, except fur is all my own."
Mr Aleksandr starts his morning every day with the following three rituals.
A cup of caterpillar tea as soon as he gets up.
A chat with co-workers about how the company's going (and drop off laundry to Sergei).
He 'check perimeter of building for mongoose'. We keep telling him they're not indigenous to Australia, but he does it anyway.
Your routine can set you up for success for the day, so let's tune it up by looking at how the pros do it! Thanks Business Insider for the inspiration.
Start the workday with an early morning workout, and catch up with your co workers for a twice-weekly breakfast – to make sure you're on track to meet goals for the week.
BlueChilli's COO Tony Burrett and Chief Growth Hacker Alan Jones
Make a list of all the crucial things you need to accomplish that day (make sure they're SMART goals). Then, do a lap of your workplace – catching up with your peers and seeing what their challenges are for the day.
Vinomofo CEO Andre Eikmeier
Before starting work, check out social media, news, and any emails you missed from the night before. It's a smart idea to start your day off as informed as you possibly can be.
OneShift CEO & Co-founder Gen George
Be social
The wonders of working 9-5
Mr Aleksandr is a good boss, and he's also a great guardian to Oleg, apparently!
"I am very good at multi-task. I take care of baby Oleg, drink tea, read newspaper… Is how I manage to be so successful in life."
As of a few years ago, more than 1 in 5 Aussies spend 50+ hours a week at work, and 3 in 10 end up working on the weekend, according to 'Advance Australia Where?' by Hugh Mackay. You can't always control how long you'll spend at work, but you can make every effort at home to get some time with your family.
Try to hang out with every member of your household for at least 30 minutes per day. Talk to your closest friends once a week, and host something once every few months – maybe a BBQ, or a picnic. It's good for your health and wellbeing, and you'll feel more connected with the world.
Did you find this article interesting or helpful?