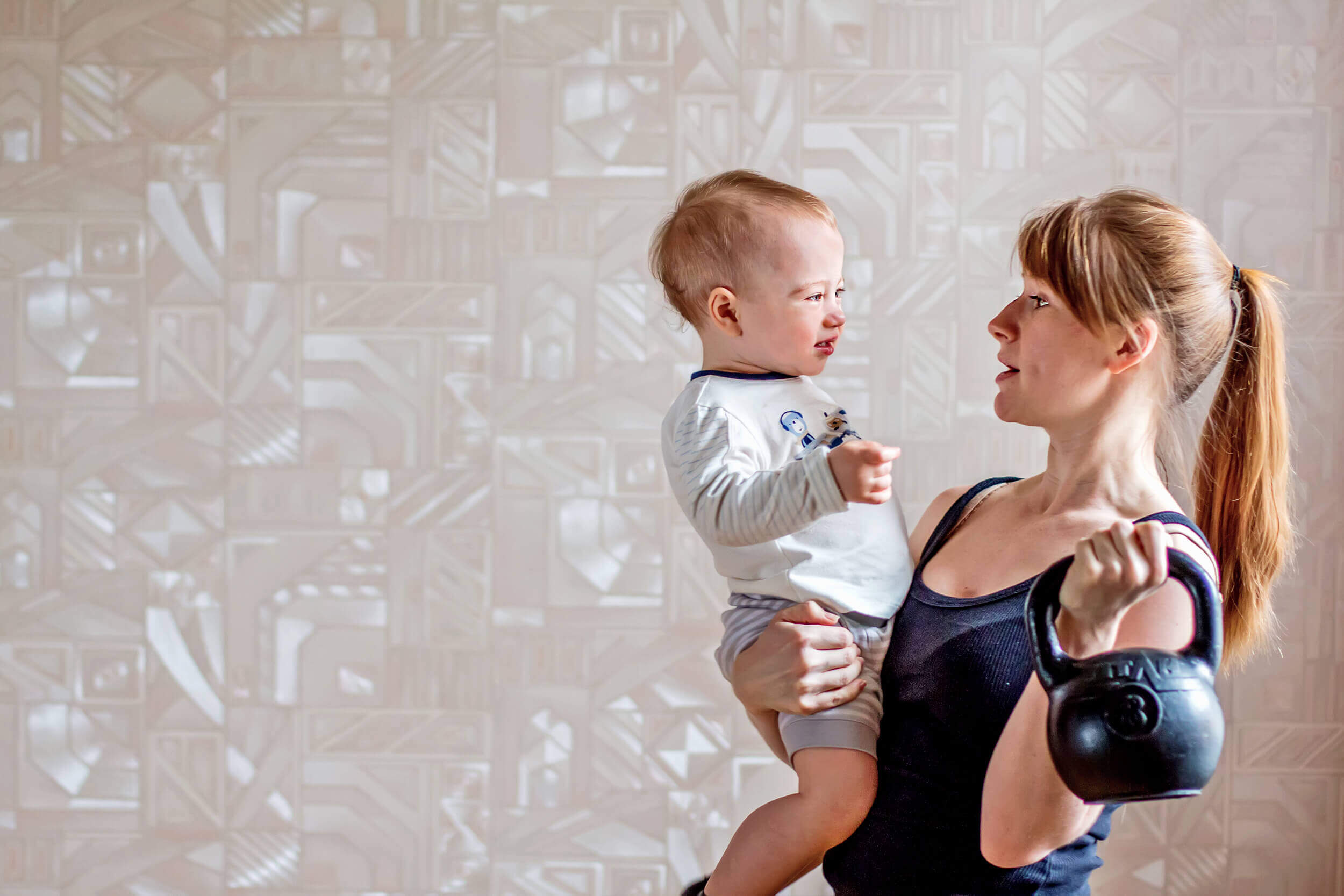 Getting outside and exercising isn't the problem for new mothers to overcome; rather, it's the solution to a range of issues after birth. That doesn't mean mums can start their journey to fitness immediately.
Here's an uncomfortable truth about one such obstacle: 1 in 3 new mums will wet themselves unintentionally, according to two Women's Health Physiotherapists. If you're squirming right now, don't worry – there's a way to avoid this.
Exercise after birth is healthy, but it can be difficult to deal with:
Your body needs time to recover from pregnancy. That's why you should only attempt certain exercises in the first 12 weeks.
Making time can be tricky, and summoning the energy can be a Herculean effort.
Why it's important to exercise in the lead up to the birth
What was Charlotte wrong about in Sex and the City? Aside from her choice in men, one Victorian physiotherapist argues it's her attitude towards exercise during pregnancy. Charlotte was afraid to go out and jog once she fell pregnant.
"Despite what Charlotte thinks, exercise is vital during pregnancy," says Jessica Fishburn, Physiotherapist and Director, Gen Health Hamilton.
"It promotes a healthy gestation period, healthy birth and improved recovery post delivery, both vaginal and caesarian."
[click_to_tweet tweet="Was Sex and the City's Charlotte wrong about exercising when pregnant? Absolutely."]
Some women make the mistake of continuing intensive exercise. Amanda Brearly, Director of Aquamums and a physiotherapist specialising in prenatal and postnatal care, cautions against this.
"Many women will need to modify down from what they're doing," she says.
"(So) probably stop doing CrossFit."
She suggests 30 minutes of low impact, moderate intensity aerobic exercise, as per advice from the Obstetrics Colleges worldwide.
But what happens after the baby comes and all your free time evaporates into thin air?
An expert's timetable for post-partum exercise
If you're eager to get fit after having your baby, you'll need to be more careful about how you exercise in the immediate future. If you and your partner have particularly busy lives, try to tag-team babysitting duties while the other goes out for a walk, or ducks into the gym.
In any case, new mums should start with the basics when considering a post pregnancy workout.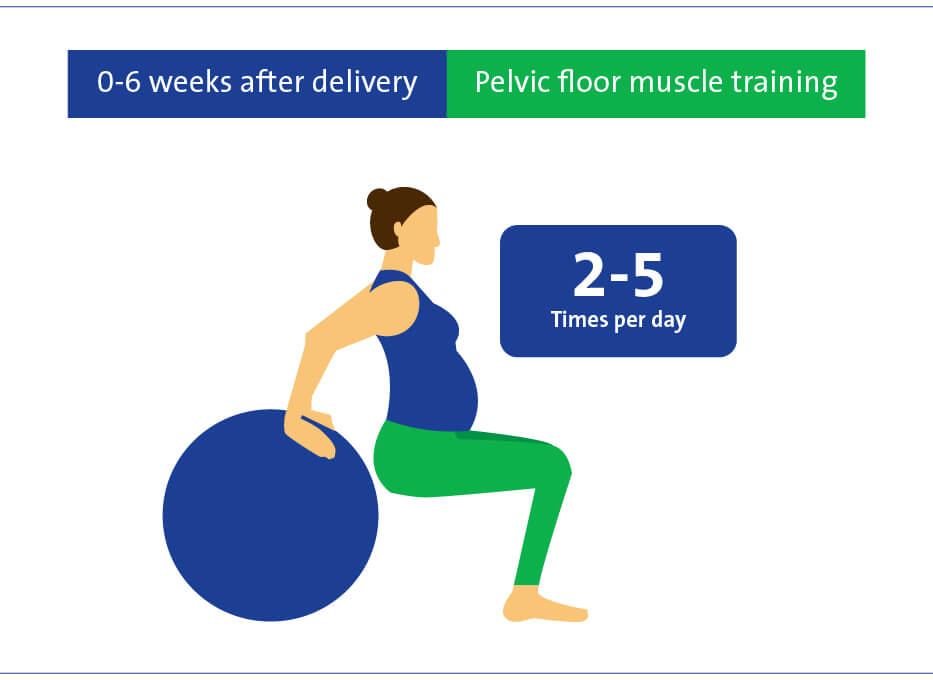 In the first six weeks post-partum, focus on pelvic floor stabilisation and some gentle walking to maintain your fitness. Try the following exercises.
Pelvic floor muscle training (try these exercises)
Post-natal abdominal stabilisation
Walking (one of the best ways to get out of the house!)
"It's always a busy period, you don't have time to do much," says Amanda, "but walking the baby in the pram is essential."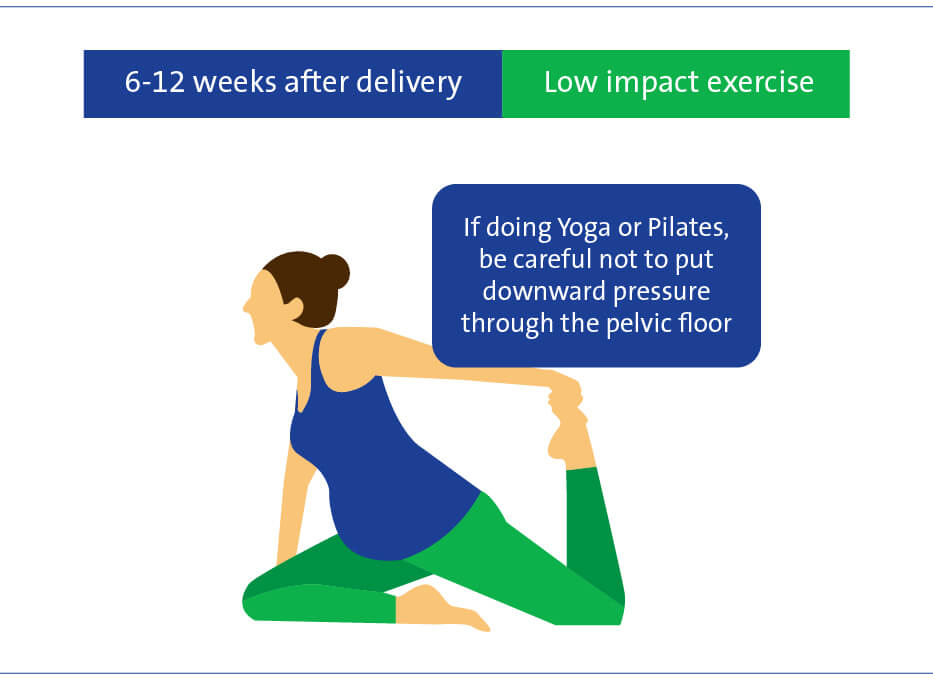 Get clearance during your standard six-week post-delivery check-up to start low-impact exercise. If approved, try the following:
Continue pelvic floor / abdominal stabilisation
Walking
Swimming (once bleeding has stopped)
Post-natal Yoga & Pilates, provided you don't brace, or put any downward pressure through the pelvic floor
Swimming makes for a fantastic, low-impact exercise option for new mums. It also offers a great change of scenery for any mums getting cabin fever.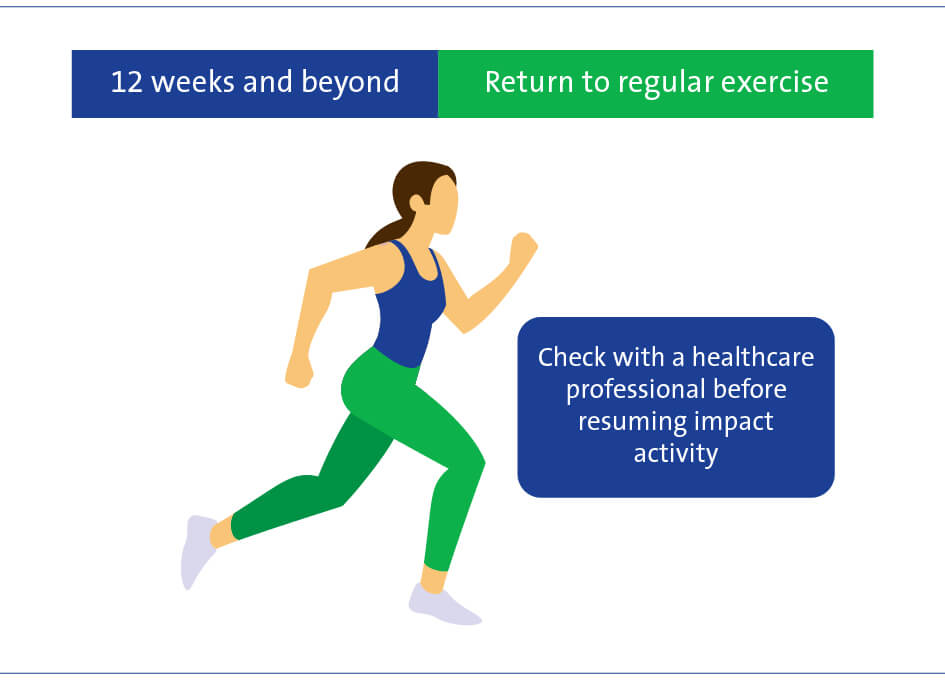 Once you reach 12 weeks post-partum, you should prepare to resume regular exercise. "It should always be a gradual return in terms of intensity," says Amanda.
"Before you get back into high impact exercise, it's advisable to have a check-up with a women's health physio regarding abdominal strength and pelvic strength, making sure there's no incontinence."
"I put them through a very scientific test," says Jessica, "Ten Star Jumps without leakage. This is usually around the 12-week mark."
According to the Australian College of Obstetric and Gynecology, you should consider attempting 20 – 30 minutes of exercise per day, most days of the week – unless directed otherwise by a healthcare professional. If this activity only amounts to gentle walking and pelvic floor exercises, then so be it!
Are you worried about moving too fast? BetterHealth.vic.gov.au lists some warning signs to look for:
Heavier lochia flow (discharge from your uterus)
Increased fatigue, aches and pains
Lochia colour changes (pink or red)
"Those (pelvic floor and abdominal strengthening) exercises should continue for everyone forever," suggests Amanda.
"If we could all do those exercises, we'll be in better health as we age, when incontinence can be a major problem."
Can I exercise after a caesarean??
Nearly one in three children in Australia is delivered through caesarean. So, chances are, at least 32% of our readers will be asking whether or not they can perform the exercises above. Turns out, they needn't worry.
"C-Section mothers are limited to lifting anything greater than their baby," advises Jessica, "(but) otherwise they are right to abide by the other exercises, especially activation of the deep abdominal muscles. It promotes a quicker recovery time."
A caesarean is a surgical operation, which means you should treat the recovery as such. However, your path to recovery doesn't necessarily need to exclude exercise.
How to escape the house after your first baby
If you're worried about how you're going to summon the energy to get out of the house, remember that exercise can boost your vitality. The Better Health Channel backs this up, stating that post-natal exercise relieves stress, raises your energy levels, and helps prevent postpartum depression.
"The hardest part of exercises post-partum is starting. Yes, you have a new bundle of joy who wants your undivided attention, but be selfish," Jessica advises.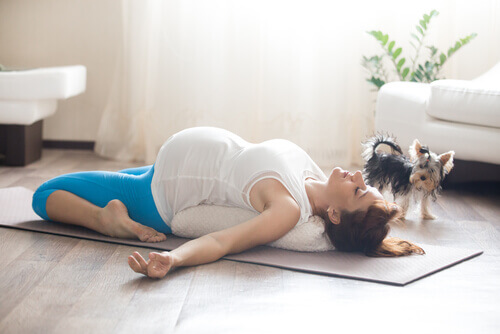 So, how can you escape the four walls you've been confined to for weeks, and not feel guilty about it?
Amanda recommends water-based therapy. Swimming is ideal for new mums, as it is low impact activity that gets you away from the home environment. Regular hydrotherapy can help you build up your core strength and balance again, and it offers a good opportunity to interact with some adults again!
Jessica swears by gentle walks on a regular basis. You can go at your own pace, join in with groups, or even just experience a little alone-time. Wendy Powell of Mutu Mamas agrees, stating that walking helps restore normal function to your pelvic floor and your core.
There are countless group classes available for new mums that fully endorse you bringing your child along. Kanga Training is one such option, which offers classes and personal training across the country. The best part is that this workout includes cradling your bub in front of you – so no one misses out!
We want to hear about your experiences post-partum! Let us know how you managed to get back into exercise post-partum by leaving a comment on our Facebook page.
Did you find this article interesting or helpful?