Some cancer patients could one day be spared chemotherapy, thanks to a new clinical trial being rolled out in 40 hospitals across Australia.
The new blood test could determine the risk of cancer recurrence in patients after having tumours surgically removed, by detecting circulating tumour DNA in their blood.
According to the Walter and Eliza Hall Institute (WEHI), researchers found from a study of bowel cancer patients that the risk of cancer recurrence with a positive test result for the circulating DNA was more than 80%, while those with a negative test result had just an 8% chance of a tumour coming back.
Australia has one of the highest rates of bowel cancer in the world, with more than 15,000 new cases diagnosed every year. Health experts hope the new blood test could be used by oncologists in the future to advise bowel cancer patients whether they need chemotherapy.
More than 2,000 people are expected to participate in the trial, which began by testing early stage bowel cancer patients in 2015 and determining whether these patients can be divided into 'high risk' and 'low risk' groups. The trial was also extended to women with ovarian cancer and soon to pancreatic cancer patients also. Clinical testing is expected to continue until 2021.
What is the significance of the new blood test?
Until now there was no way to reliably map out patients' risk of cancer recurrence after surgery, which means many early stage cancer patients who have surgical treatment, receive precautionary (and possibly unnecessary) chemotherapy.
Walter and Eliza Hall Institute clinician scientist associate professor Jeanne Tie said the test will ease the burden on our healthcare system from patients undergoing treatment they may not need.
"We would hope that we could reduce the number of patients getting chemo by at least half, which will definitely save healthcare dollars significantly because bowel cancer is such a common cancer," she said.
Tie said experts hope the test could also help reduce chemotherapy times for patients in the future.
"Everyone gets about six months of chemo, and when we stop it we never know if they've benefited from chemo because there's no test that can measure the effectiveness of chemotherapy in real time," she said.
"So potentially we could test the patient every month or every three months while the patient is on chemo or at the end of treatment to see if the patient's DNA was present in the beginning and still present at the end or half way through treatment. Then we would know if the chemotherapy is not effective and if we should be using another type."
How will the blood test benefit Australians?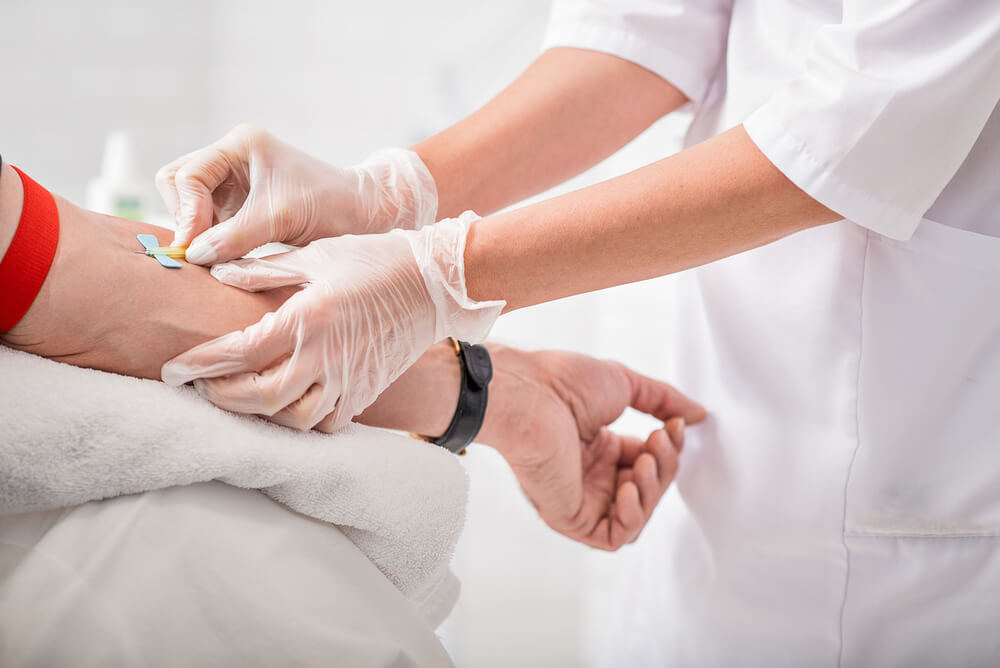 The Cancer Council estimates the direct cost of cancer to the Australian economy is well over $5 billion, taking into account public hospital costs, the cost to Medicare, pharmaceuticals costs, medical intervention etc. In 2008, the assessed health system cost of cancer treatment was $33,400 per patient over a lifetime, of which $5,000 was paid by individuals.
The new breakthrough could not only revolutionise cancer treatment in the future but also save Aussies millions of medical costs in the process.
Need a way to help pay for the cost of in-hospital treatment? Consider a product like private hospital insurance.
How many Australians are affected by cancer?
The most prevalent cancers in Australia are prostate, breast, bowel, melanoma and lung cancer; accounting for about 60% of all cases diagnosed.
In 2018, around 138,000 new cases of cancer will be diagnosed in Australia, with that figure set to increase to 150,000 by 2020.
One in two Aussies will be diagnosed with some type of cancer by the age of 85.
It's estimated over 48,000 Aussies will die of cancer in 2018.
Australia beating cervical cancer
Not only are we making headway with the new blood test trials, Australia is also set to become the first country in the world to eradicate cervical cancer by 2035.
New research published in the Lancet Public Health journal forecasts that if we maintain vaccination rates and screening coverage at their current rates, cervical cancer could be virtually eliminated over the next 20 years. The report predicts cervical cancer rates will drop to less than six in 100,000 by 2022 and will then be classified as a rare cancer. By 2035, there will be fewer than four new cases per 100,000 women in the country.
Around 930 new cases of cervical cancer were diagnosed in 2018 (so far). This comes after Australia transitioned to a new five-yearly HPV cervical screening last year, testing women aged 25-74 for the presence of HPV, the virus that causes almost all cervical cancers.
Sources
Walter + Eliza Hall Institute of Medical Research- Cancer blood test trialed to prevent unnecessary chemo (2018).
Cancer Forum- Impact of financial coast of cancer on patients: The Australian experience (2017).
Cancer Council- Facts and figures (2018).
Australian Government, Cancer Australia- Cervical cancer statistics (2018).
Lancet Public Health-The projected timeframe until cervical cancer elimination in Australia: a modelling study (2018).
Did you find this article interesting or helpful?