Another new school year has begun, and amidst all of the organising and general chaos, you also need to assemble healthy lunches that don't break the bank.
Finding the right balance between nutritious foods and foods that aren't expensive can be difficult for many Aussie families already feeling the pinch. The Royal Children's Hospital in Melbourne released their 2017 National Child Health Poll, which included findings about the food children eat. Here are some key results:
nine out of 10 school-aged children don't eat enough vegetables;
sixty-seven per cent of parents struggled to find out how much added sugar is in their children's food;
seventy-seven per cent of parents believe that unhealthy food is cheaper than healthy food; and
over 40% of children in preschool received treats like chocolate regularly during the week.[1]
Meanwhile, it's becoming more common for day-care centres, kindergartens, pre-schools and primary schools to implement different food plans and requirements for lunchboxes. These guidelines help ensure children are eating healthy food, and they're designed to limit allergic reactions.[2]
In particular, the Victorian Government's Healthy Choices guidelines are based on the 'traffic light' system, which places different foods into different categories, based on how healthy they are. Foods in the green category, including fruit and vegetables, are the best choice and should be eaten every day.
The amber category includes foods with saturated fats that should be chosen in moderation (i.e. savoury breads or regular fat milk). Unsurprisingly, the red category includes unhealthy food that should rarely be consumed, like chocolate and soft drink.[3]
All of this can feel quite overwhelming, especially when you're busy trying to keep a household afloat. So, we've prepared a list of healthy meals and snacks that are easy to prepare and won't strain your budget.
Simple, affordable and healthy lunchbox ideas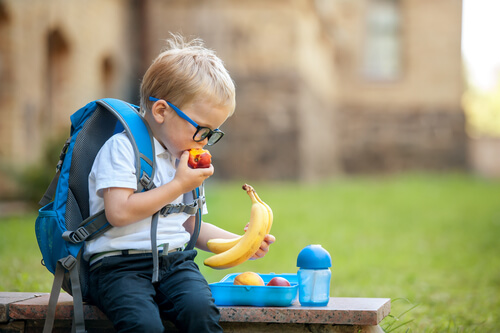 Children have different nutritional needs that allow their bodies to grow and develop. Your child may also have allergies or subscribe to a particular diet, which may mean they can't eat gluten or consume animal products. As such, make sure you adapt our lunchbox ideas to foods that best suit your child's needs.
Most of the following ideas are based on recommendations from the Victorian Government's Healthy Eating Advisory Service. The Healthy Eating Advisory Service recommends including at least one fruit, one dairy product, one grain food (like a sandwich or rice), water, a serve of vegetables and meat, or a meat alternative.[4]
Cut up some carrot or celery into sticks and serve with a small tub of dip – hummus is a great option. Using small containers for the dip can help a regular tub last for the week.
Sliced capsicum and cucumber are fairly versatile. They're crunchy and flavoursome, easily standing as a snack on their own, or in a sandwich or wrap.
Sliced wholemeal bread is great for sandwiches or burgers. Be sure to look for loaves with high amounts of grain, or are high in fibre.
Cheese and crackers are a lunchbox classic, but pre-packaged ones can be high in sugars. Cutting up a slice of regular cheese with wholegrain crackers is a healthier way to go, and depending on the brands you buy, needn't be expensive.[5]
There are so many ways to fill a sandwich to make a healthy meal. Top options include eggs, ham, lettuce and cheese. Sometimes they can include leftovers from dinner the night before.
The Healthy Kids Association suggests meals that include multiple food groups, like spaghetti with vegetables in the sauce or a pasta salad.[6] That way, your child gets some vegetables and grain food together. Just make sure the food can be kept cool if need be.
Fresh or tinned fruit is healthier than dried fruit, which is usually high in sugar. When buying groceries, look for fruits that are in season and on sale.
Baked beans are also an affordable option for lunchboxes. Store leftovers in an air-tight container in the fridge to avoid food spoilage.
Tinned fish is a versatile option for lunches. Tinned seafood can be combined with carrot or celery sticks, and used on bread for sandwiches. Bear in mind the juices can leave the bread soggy, so it's best to fully drain the tin when preparing the sandwich, and layer the bread with iceberg lettuce; this creates a barrier between the bread and the fish. If you have older children, let them spread the fish out onto a slice of bread at school by giving them a fork or a spoon.[7]
Overall, limit fatty or sugary foods associated with obesity and other health problems, and look to include more vegetables, fruit, grains (bread, pasta and rice) and protein foods, such as nuts, lentils, legumes, eggs and meat.[8] Just bear in mind that nuts, eggs and other foods may not be allowed in your child's school, depending on their peers' allergies.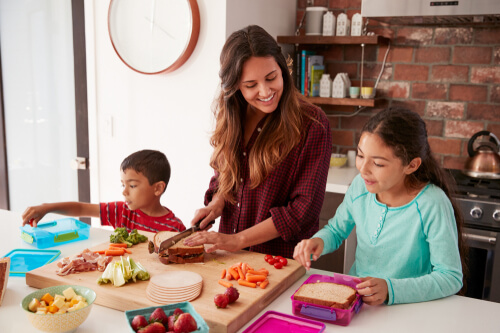 But what if my child is a fussy eater?
We get it; it's worrying – and, yes, frustrating – when your child comes home with a lunchbox that looks like it's hardly been touched. While it's normal for younger children to be fussy when it comes to food, this can make it tricky to tick off your day-care, kindergarten or pre-school's lunchbox requirements.
When you prepare food for lunchboxes, try including your children in some way, such as giving them options to choose from or helping them prepare meals.[9] By involving them in this way, the food will more likely seem fun and interesting.
For other tips on dealing with fussy eaters, you can view the Department of Social Services' Raising Children page on fussy eating for additional information and advice.
How should my child store their lunch at school?
It's important to ensure that your child's lunchbox is kept cool to prevent food from going bad, which can lead to food poisoning. Food safety recommendations include:
choosing an insulated lunch box with a freezer pack or room for a frozen water bottle
washing your hands before preparing the lunchbox
ensuring perishable foods like eggs, meat or dairy have been refrigerated for at least four hours before being packed.[10]
To help make lunchboxes easier to pack and to control portions, try using containers to pack inside the lunchbox – even stainless steel bento boxes are becoming popular in sustainable circles. Keep in mind that smaller children will typically need smaller-sized food that is easier to eat and handle.[11]
Sources:
[1] Aussie parents struggle to make healthy food choices for their kids. The Royal Children's Hospital Melbourne. 2017.
[2] Menu planning guidelines for long day care. Healthy Eating Advisory Service, Nutrition Australia, Victoria State Government. 2016.
[3] Traffic light system. Healthy Eating Advisory Service, Nutrition Australia, Victoria State Government. 2016.
[4] Healthy lunchboxes. Healthy Eating Advisory Service, Nutrition Australia, Victoria State Government. 2019.
[5] What can I put in my child's lunchbox? Dietitians Association of Australia. 2019.
[6] 10-day lunch box menu. Healthy Kids Association, 2016.
[7] Ibid.
[8] Packing healthy lunches for children. Raising Children Network, Department of Social Services. 2014.
[9] Fussy eating. Raising Children Network, Department of Social Services. 2017.
[10] Lunch box tips. Better Health Channel, Victoria State Government. 2011.
[11] Back to school: Simple lunchbox tips for children and teens of all ages. Emilia Terzon, ABC Radio Darwin, ABC.
Did you find this article interesting or helpful?