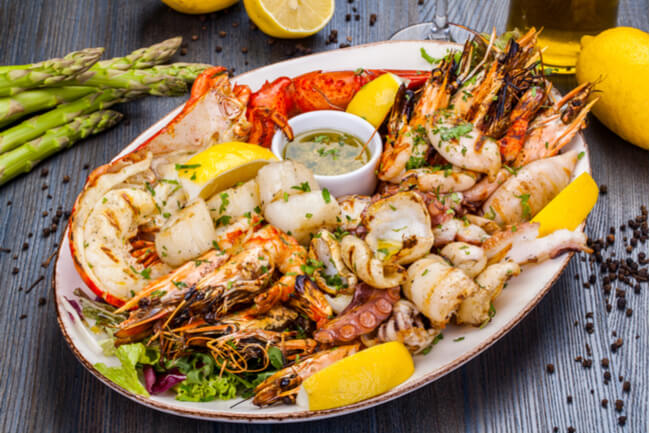 Seafood is as much a traditional Easter food in Australia as chocolate eggs and hot cross buns, but it's also the one staple that can make or break your budget.
In fact, according to the Australian Bureau of Statistics (ABS), Australians across the eight capital cities spent a weighted average of $323.96 on fish and seafood in 2017.[1]
Getting seafood right comes with many questions. When should we buy our Easter seafood? What types should we buy? Where should we buy it from?
To answer all your questions and more about all things seafood for Easter, we spoke to Jason Simpson from Fraser Isle Spanner Crab on Queensland's Sunshine Coast. With 30 years of seafood knowledge and experience behind him, Simpson gave us his top tips for Easter seafood.
Tip 1. Don't shop at the very last minute
'Everyone leaves it until the last minute, so there's always crowds,' Simpson said.
'I would be buying high-quality frozen fish well before Easter. That involves you asking your fishmonger, "Do you have any sea-frozen fish fillets?"'
'"Sea-frozen" means while they're [the fishing boats] at sea, they've caught the fish fresh, filleted the fish, and frozen the fish on the boat the same day.'
Alternatively, Simpson suggests buying your fish two days before Easter to further avoid crowds and potentially have your pick of the fish on display, as any fish displayed on the Thursday before Good Friday was probably there the day before.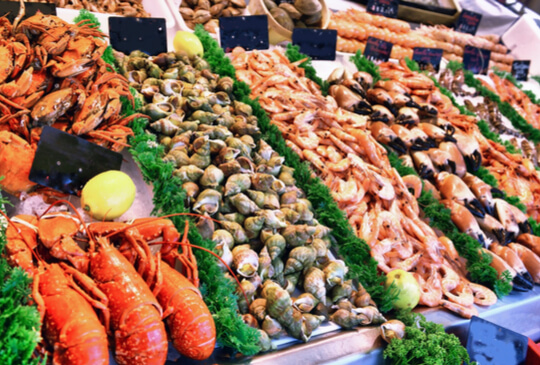 Tip 2. Choose the best seafood for your table and your budget
Small prawns are Simpson's top pick for both best eating and best budget, thanks to their sweet taste.
'Bay prawns (small prawns caught in the bay) are generally about four or five different species, all juvenile, and they're cheap. You can get them for around $10 per kilo, and they're so good to eat.
'Juvenile species – small prawns, small scallops, small oysters, small fish – are all generally superior eating, in my opinion.'
And, if you're more traditional when it comes to Easter feasts, Simpson also gave us his top picks for fish:
Whiting fillets – 'I don't think you can go past them; they're good value, and they're generally butterflied.'
Albacore tuna – 'If you want a tuna-type steak, Albacore tuna is exceptional value – if you can find it, but you have to cook it so it's rare. Otherwise, it's too dry.'
Sardine fillets – 'They're oily, they're tasty and they're very good for you.'
Gurnard fillet and Mahi-mahi – 'Both are beautiful, white fillets.'
Leatherjackets – 'They're a beautiful eating fish and just great value.'
Why is seafood good for you anyway?
Seafood has several health benefits, according to the National Health and Medical Research Council (NHMRC).[2] A reduced risk of older adults developing dementia is associated with eating fish more than once a week, while eating fish more than twice a week may also reduce the risks of cardiovascular disease, stroke and macular degeneration. The NHMRC recommends that we aim to eat two serves of fish (preferably oily) each week.
According to the Australian Dietary Guidelines, fish are a source of energy (kilojoules) as well as nutrients including[3]:
Protein
Selenium
Zinc
Iodine
Vitamins A and D
Omega-3 LCPUFAs (all indigenous Australian fish contain this nutrient)
The Dietary Guidelines further states that the current, average weekly consumption of fish by adults in Australia will actually need to increase by at least 40% to meet the recommended intake; the recommended intake is different depending on your age and sex, but you can find out how much fish you should be eating in the Dietary Guidelines.

Tip 3. Avoid the popular seafood picks for Easter
'Fish like barramundi, snapper and salmon are popular with fish lovers because that's what they're comfortable cooking with,' Simpson explained. 'So, demand exceeds supply and the price goes through the roof.'
When commercial fishing boats are targeting these common species, like snapper, Simpson said a lot of bycatch species are also caught.
Bycatch is non-commercial species that are either caught by a fishery and then returned to sea, or killed or injured by interaction with fishery equipment.[4] The Australian Commonwealth has listed more than 2,000 species as bycatch, and these species can include invertebrates and coral, as well as larger wildlife, like birds and reptiles.
As Simpson explained, because these species aren't commercially recognised (i.e. they can't be brought back and sold), most of them are returned to the ocean and don't survive the encounter.
This is why Simpson says Australians should buy species that aren't the most popular.
'Think outside of the box; there are so many other species of fish out there,' he said. 'Try to pick fish from your local coastline. As long as the fish is in good condition and fresh, you should have a pleasant eating experience.'
Tip 4. Shop local for some of the best Easter seafood
To find fresh seafood and to support your community, Simpson said shopping local can be key.
'Every bit of fresh, local fish you buy means you're not supporting imported fish, which at this stage makes up 70%* of all fish consumed in this country.'
By buying local, Simpson said Australians would not be adding to the immense pressure on foreign fisheries to supply us with so much imported fish.
Seafood Industry Australia (SIA), the national body representing the seafood industry, is also urging customers to buy local, Australian seafood this Easter, reiterating that Australian seafood is sourced using responsible and sustainable methods.[5]
*Corroborated by the Australian Department of Agriculture and Water Resources[6]
Tip 5. Get creative with your leftovers
Once Easter has come and gone, you could be left with a fridge full of leftover seafood you'll need to use quickly before it goes off.
'My hint would be to make a fish pie,' Simpson said. 'It's easy, and it's always a crowd pleaser. Just throw your seafood into some pastry with a creamy Mornay sauce and peas; people will love it!'
Mr Simpson also had one final tip for us ahead of the holidays.
'Don't wait for Easter or Christmas to eat seafood. Eat it every week!'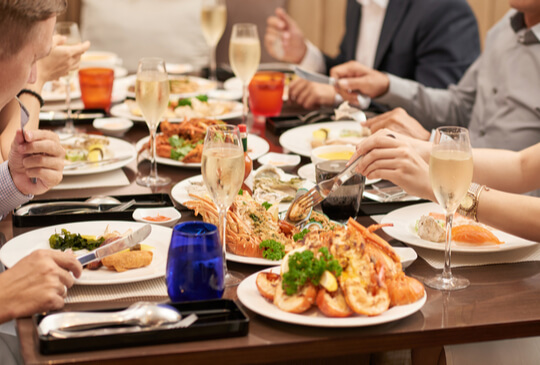 Sources
[1] Based on the weekly, weighted average expenditure on fish and seafood of the eight capital cities in the September quarter of 2017. Australian Bureau of Statistics – 6473.0: Consumer price index, 17th series weighting pattern, 2017. Table 5: CPI average weekly household expenditure, September quarter 2017, Eight capital cities and Weighted average of eight capital cities ($). Sourced April 2019.
[2] Based on material provided by the National Health and Medical Research Council. 'Lean Meat and poultry, fish, eggs, tofu, nuts and seeds and legumes/beans', published on eatforhealth.gov.au in June 2017. Sourced April 2019.
[3] National Health and Medical Research Council – Australian Dietary Guidelines: Providing the scientific evidence for healthier Australian diets, published February 2013 in Canberra. Sourced April 2019.
[4] Australian Government: Department of Agriculture and Water Resources – Commonwealth Fisheries Bycatch Policy: Framework for managing the risk of fishing-related impacts on bycatch species in Commonwealth fisheries. Second Edition. Published November 2018. Sourced April 2019.
[5] Seafood Industry Australia – 'Hop to it and 'Ask for Aussie seafood' this Easter, says peak-body'. Media release, published April 2019. Sourced April 2019.
[6] Australian Government: Department of Agriculture and Water Resources – Australia's seafood trade. Updated July 2017. Sourced April 2019.
Did you find this article interesting or helpful?