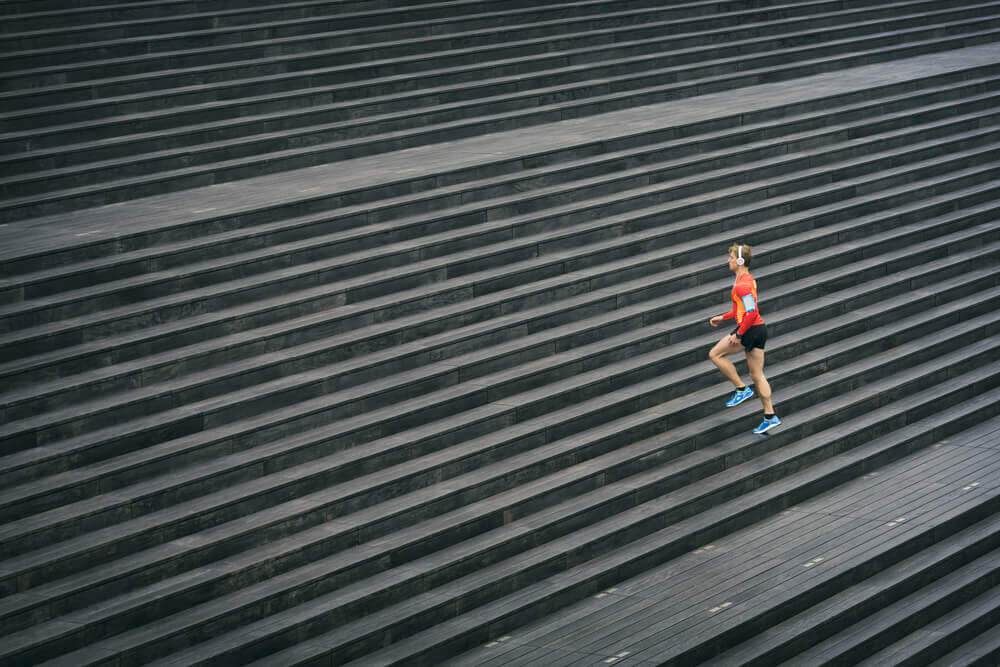 Years ago, men and women had fewer resources to help them become fit, healthy and happy. In fact, we'd have to get professional advice to set us on the right path.  Today, we enjoy such advice from countless books, websites, and smartphone apps – often for free! In fact, the iTunes and Google Play had 165,000 Health apps in their stores as of 2015.4
But having your choice of 1,000's of apps is enough to give anyone 'analysis paralysis'. So, we've picked the cream of the crop for you.
Click the below boxes to see our top choices. There's a lot to choose from, so we also explain later in the article how to get the most out of our list.
A healthy diet means something different to everyone; one person's Paleo is another's weekend of dieting 'sin'. We don't prescribe to one diet over another, but rather just one simple philosophy: burn off more than you eat, and eat plenty of fruit and veges throughout the day. That can be tricky though, so here are some apps to help you find the right balance
Personally, we struggle to think of new recipes to cook each night – let alone healthy ones. That's part of the brilliance of this app. Not only does it offer a huge variety of recipes (and we mean huge), it also details just how healthy they are, and suggests options for anyone with intolerances/certain preferences.
If you're ready to get serious about dieting, this app does a great job of keeping you honest. It tracks your eating habits, and encourages you to make healthy eating choices. Nothing is quite so effective at motivating you to do better as seeing the extent of your Sunday afternoon snacking!
| | | | | |
| --- | --- | --- | --- | --- |
| App | App store rating | On Google Play? | On iOS? | Price |
| Yummly | 4.5 / 5 | Yes | Yes | Free |
Enter your preferences, and Yummly will come up with personalised recipes. Our preference was for recipes that must include bacon, but sadly this wasn't an option…we won't hold that against it, because it did find us a wicked tasty margarita and balsamic pizza recipe. Great for anyone with food intolerances.
| | | | | |
| --- | --- | --- | --- | --- |
| App | App store rating | On Google Play? | On iOS? | Price |
| Water Balance | 4.2 / 5 | Yes | Yes | Free |
Men require about 2.6 litres of water per day, and women require 2.1. Some of us are pretty diligent about getting our daily intake, while others struggle. Water Balance is handy because not only does it measure how much water you're drinking, but it also records the amount of water in your coffee, tea, etc, and lets you know how hydrated you are.
| | | | | |
| --- | --- | --- | --- | --- |
| App | App store rating | On Google Play? | On iOS? | Price |
| Drinks Meter | 4.2 / 5 | Yes | Yes | Free |
The goal of this app is simple: if you see that your peers in Australia, or across the world have drunk far less than you have typically, then it's probably a good indication to slow down! While you should always listen to your body first and foremost, Drinks Meter keeps you honest by providing feedback on your drinking, and tell you what kind of toll it has on your health overall.
Whatever you diet consists of, it means little if you don't move around a little as well. Beyond appearance, exercise has unique, wonderful benefits: you'll feel happier, you'll live longer, you'll have more energy – there's almost no downsides. It's hard to find the time for it though, so here are our choice of apps to get you moving.
| | | | | |
| --- | --- | --- | --- | --- |
| App | App store rating | On Google Play? | On iOS? | Price |
| Runtastic Push Ups | 4.5 / 5 | Yes | Yes | Free (pro versions available) |
Herschel Walker was an American Football player who sported a seriously impressive physique. But growing up, he didn't have weights, or workout equipment. So, he did thousands of pushups and sit ups per day to keep himself strong. Unorthodox? Sure, but if your form is good, it's a great way to grow a large number of muscles! Even if you're not aiming for 1,000 (i.e. most of you), Runtastic Push Ups can help you reach new heights when it comes to how many push ups you can do.
Ready to learn how to do the perfect pushup? Runtastic shows you how.
| | | | | |
| --- | --- | --- | --- | --- |
| App | App store rating | On Google Play? | On iOS? | Price |
| Zova | 4.5 / 5 | No | Yes | Free (pro versions available) |
Zova may sound like an alien curse word, but it's actually an app with a vast array of workouts. Whether you're into straight up cardio, bodyweight exercises, or a combination of both: it can help you unravel the mysteries of getting super fit. That in itself may seem like an alien concept, but we swear it's not that complicated!
Strava makes you feel like a superhero. Did you walk up a particular hill for the first time? Congratulations, that's a new personal best! Nailed your afternoon jog? Now you're the fastest in the neighbourhood. Strava tracks your runs, shows you where you performed at you best (and worst), and ranks you based on that performance against other users. Get competitive while you get fit!
| | | | | |
| --- | --- | --- | --- | --- |
| App | App store rating | On Google Play? | On iOS? | Price |
| Pocket Yoga | 4.4 / 5 | Yes | Yes | $2.99 |
What could be more zen than doing some downward facing dog in the conference room during a lunch break? With Pocket Yoga, you really have no excuse for not making time to get flexible.
| | | | | |
| --- | --- | --- | --- | --- |
| App | App store rating | On Google Play? | On iOS? | Price |
| Zombies, Run! | 4.3 / 5 | Yes | Yes | Free |
There's nothing more relaxing than a peaceful, afterno…OH MY GOD, ZOMBIES! RUN!
…Wouldn't that make you run faster? Turns out it does, and this app will make you believe that zombies are chasing you. Now, get to stepping – before the walkers get you.
People underestimate the importance of maintaining a happy, healthy mind. There are no easy solutions to some problems, like depression and anxiety, but at the same time there are so many ways you can help yourself battle them every day! Whether you're keen to feel happier, less stressed, or just get a better night's sleep, our list can help you out.
| | | | | |
| --- | --- | --- | --- | --- |
| App | App store rating | On Google Play? | On iOS? | Price |
| Sleep Cycle | 4.5 / 5 | Yes | Yes | $1.49 |
Most of us experience a night where – despite plenty of sleep – we've woken up feeling absolutely rubbish. This is partly because we drift in and out of deep sleep. Sleep Cycle wakes you up at a point where you're naturally drifting out of the deep, and so it's much less jarring, and you wake up feeling pretty amazing.
| | | | | |
| --- | --- | --- | --- | --- |
| App | App store rating | On Google Play? | On iOS? | Price |
| Headspace | 4.4 / 5 | Yes | Yes | Free (pro versions available) |
Many of us experience a bit of stress, especially if we lead a busy life. It pays to take some time every day to simply sit and…be. Headspace lets you do that. A gentle voice walks you through the process of sitting and meditating in an effort to achieve a little peace and quiet. If it helps Emma Watson swears by it. We think it's magic too.
Some Aussies indulge in something called negative self-talk, where we belittle ourselves for seemingly bad choices. This starts a cycle of stress and anxiety, and a great way to rid yourself of it is to get it off your chest…and into your phone! Download Worry Time and record those worries into your phone. This helps you acknowledge the concern, get on with your day, and address it later on if necessary.

| | | | | |
| --- | --- | --- | --- | --- |
| App | App store rating | On Google Play? | On iOS? | Price |
| The Check-in | 4.6 / 5 | Yes | Yes | Free |
It's often the people we're closest to that are the hardest to approach with a difficult conversation. The Check In can help you breach tricky subjects about mental health, and (importantly) gives you some next steps.
Our relationships with others define everything about us. If you're looking to improve your relationships with others, whether it be your friends, family, or co workers, these apps will serve you well.
"Did you remember the eggs?" "You didn't tell me to buy eggs." "I did so! I left a note on the fridge!" "I haven't been home – you knew I'd be out all day!" "This never would have happened if we had just downloaded Bring! Shopping List! It lets you share shopping lists between users." "Why didn't you mention this earlier?" "…I left a note about it on the fridge."
| | | | | |
| --- | --- | --- | --- | --- |
| App | App store rating | On Google Play? | On iOS? | Price |
| Avocado | 3.9 / 5 | Yes | Yes | Free |
Keeping in touch with your significant other when you're away can be tough. If you want to stay involved in their lives, Avocado helps by syncing up calendars, providing a private space to message them, and more. It's all encrypted too, so you don't have to worry about your private messages being discovered.
| | | | | |
| --- | --- | --- | --- | --- |
| App | App store rating | On Google Play? | On iOS? | Price |
| Choremonster | 3.7 / 5 | Yes | Yes | Free |
There are countless ways to incentivise your kids to do housework. One of the more fun ways to go about it is to 'gamify' the experience, and Choremonster lets you do just that. Assign chores to the kids, and they get points and rewards for completing them – simple, but fun!
Check out their cheeky instructional video on how to brush your teeth – it really shows off the tone of the app!

Taking an active role in your child's education will drastically improve their learning outcomes long term. But, it can be tricky to figure out how you can help, and where they're up to in schooling. This app can help you jump in and help at any point in their primary or secondary schooling, and will suggest how you can work it into your busy routine.
Because we're just so nice, we've got a few final apps to share with you. They don't fall easily into any one of the above categories, but they can help you in so many ways.
| | | | | |
| --- | --- | --- | --- | --- |
| App | App store rating | On Google Play? | On iOS? | Price |
| Streaks | 4.5 / 5 | No | Yes | $4.00 |
Streaks functions as a little, virtual pat on the back when you behave yourself. Worked out 5 days in a row? You're on a hot streak! Got your chores done before midday on the weekend? You're ahead of last week's record, and you have more free time now! Essentially, Streaks rewards the 'ritualisation' of good habits. The rest, is up to you.
| | | | | |
| --- | --- | --- | --- | --- |
| App | App store rating | On Google Play? | On iOS? | Price |
| QuitNow | 3.8 / 5 | Yes | Yes | Free |
Despite our great advancements in technology and healthcare, quitting smoking is still pretty difficult. But, it's certainly not impossible, and QuitNow helps distract you when cravings hit, and shows you just how far you've come each day. Savour the wins, and you'll soon be on your way to a smoke-free existence.
How health apps encourage us to be better
The best apps put you in the driver's seat
One study listed the most frequent behaviour-change techniques used in health and fitness apps: 1
Feedback on performance (64%)
Self-monitoring (62%)
Specific goal setting (40%)
Developing strong internal motivation will help you achieve your goals. If you're not motivated to achieve, you simply won't – an app won't change that. So, set SMART goals for everything you do: simple, measurable, achievable, realistic, and time-based.
Don't go it alone
The study we mentioned earlier states that 37% of health/fitness apps use social support techniques to get people to use their app.2
One health and fitness expert summed this up perfectly: 2
'In my 10 years of experience evaluating what creates long-term health-and-fitness success, the single most important factor is having a support system.'

– Wayne Andersen, MD
When we partner up for fitness & health goals, we'll typically have greater success long term. Can your friends keep you honest in moments of weakness? If so, use that to your advantage!
You don't need to download all these apps
That would be crazy! In fact, it's counterproductive. Instead, start by setting yourself a couple of high-level goals. Then, break those down into achievable steps.
At this point, start looking through these apps, and see how they may be able to help you achieve those goals. One senior researcher at the University of South Australia noted that you should…3
'… Scrutinise which interactions will help us change our health behaviours … to achieve what experts call "sustained engagement".'

– Carol Maher, School of Health Sciences at University of South Australia
We putting this together for anyone and everyone
You don't have to be a health & fitness superstar to use this list. We made sure we put in the legwork to find apps that will help you achieve healthy, lasting change. If you find it's helped you out personally, hop onto our Facebook page and let us know!
Sources
http://ijbnpa.biomedcentral.com/articles/10.1186/s12966-014-0097-9 (2014)
https://experiencelife.com/article/strength-in-numbers-the-importance-of-fitness-buddies/
http://www.smh.com.au/comment/why-health-apps-are-bad-and-why-im-hooked-20160411-go3cm6.html
http://www.medscape.com/viewarticle/851226
Information regarding smartphone applications current as of 11/08/2016.
Did you find this article interesting or helpful?