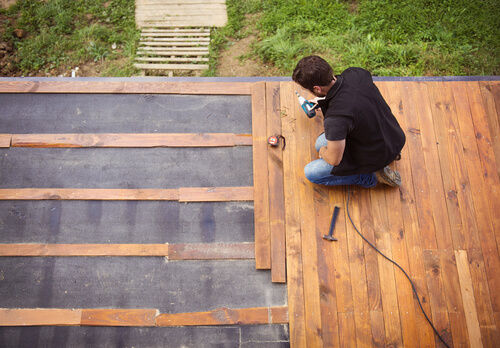 One of the most common oversights that renovators make is to assume their home and contents cover is adequate enough for their property in any circumstance, when it just isn't the case. Home renovators have to start understanding what is and isn't covered in their home and contents insurance, to ensure they are prepared in the event of any on-site mishaps.
Home renovators have to start understanding what is and isn't covered in their home and contents insurance, to ensure they are prepared in the event of any on-site mishaps.
In most cases, there are two types of policies needed to adequately cover any renovation risks: your own home and contents cover, and cover taken out by the builder. If you are the builder, you will need to take out builders' cover in addition to home and contents cover.
We uncover the 10 most surprising financial risks to renovators this spring; you'll want to write these down!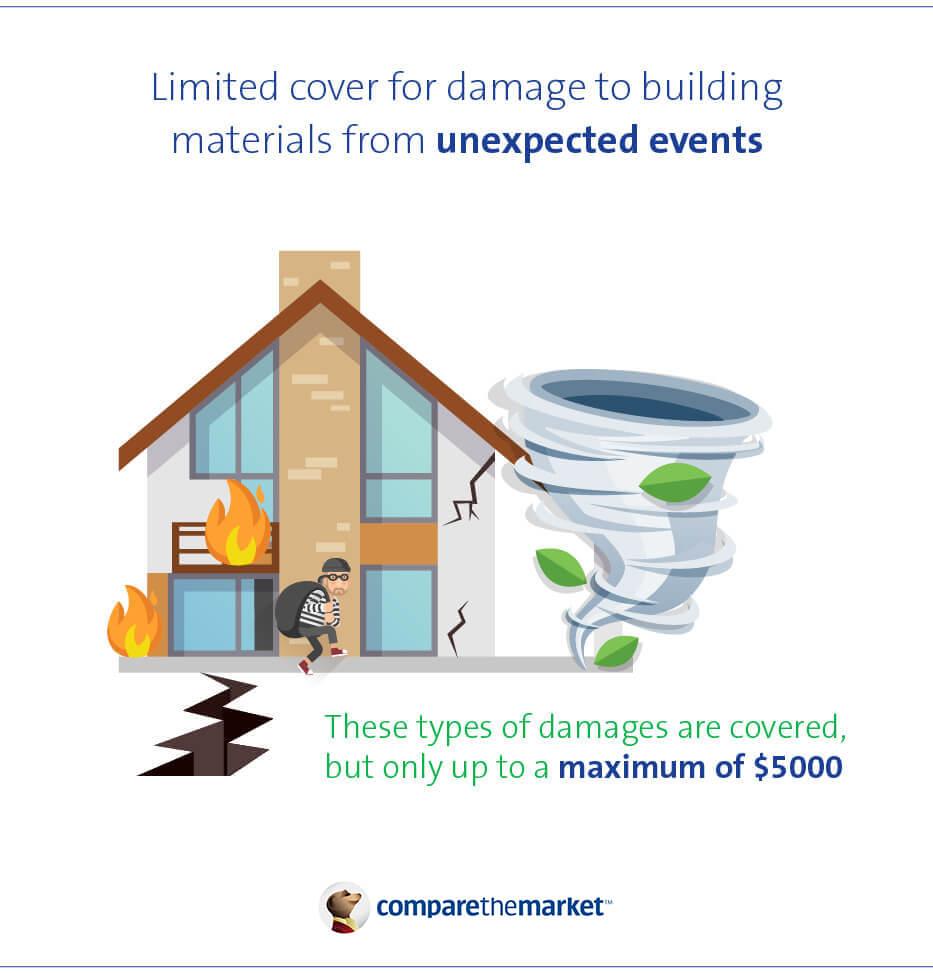 1. Your renovation might not be covered if you don't notify your insurer
In the case of some policies, if something goes wrong during your renovation you might not be able to make a claim if you haven't informed your insurer about a renovation taking place. Some policies require you to list any work as an extra.
2. Some policies will lapse if a home is vacated for longer than a specific period
Thinking of vacating while renovating? Maybe think again. Homeowners should check their policies first to see if this might be the case. Some policies might lapse if homeowners vacate for more than 60 days.
3. Claims over $50,000 are not usually covered
The majority of home and contents policies do not cover homeowners for claims that occur during renovations in excess of a set amount, for example amounts over $50,000. Renovations over $50,000 will categorise homes as 'building sites'. It may also compromise the homeowners' legal liability cover, which protects them against claims for certain injuries suffered on the property.
4. Limited cover for damage to building materials from unexpected events
Damage to building materials by listed events (as determined by the insurer) can include break-ins, fires, earthquakes and accidental damages. These types of damages are covered, but often only up to a maximum of $5000. Homeowners should seek the cover that that suits their needs and their budget.
5. Most policies won't cover homeowners undertaking or supervising renovations
If homeowners are undertaking any part of the renovation themselves, or coordinating as a project manager, they may need builders' insurance on top of their home and contents cover.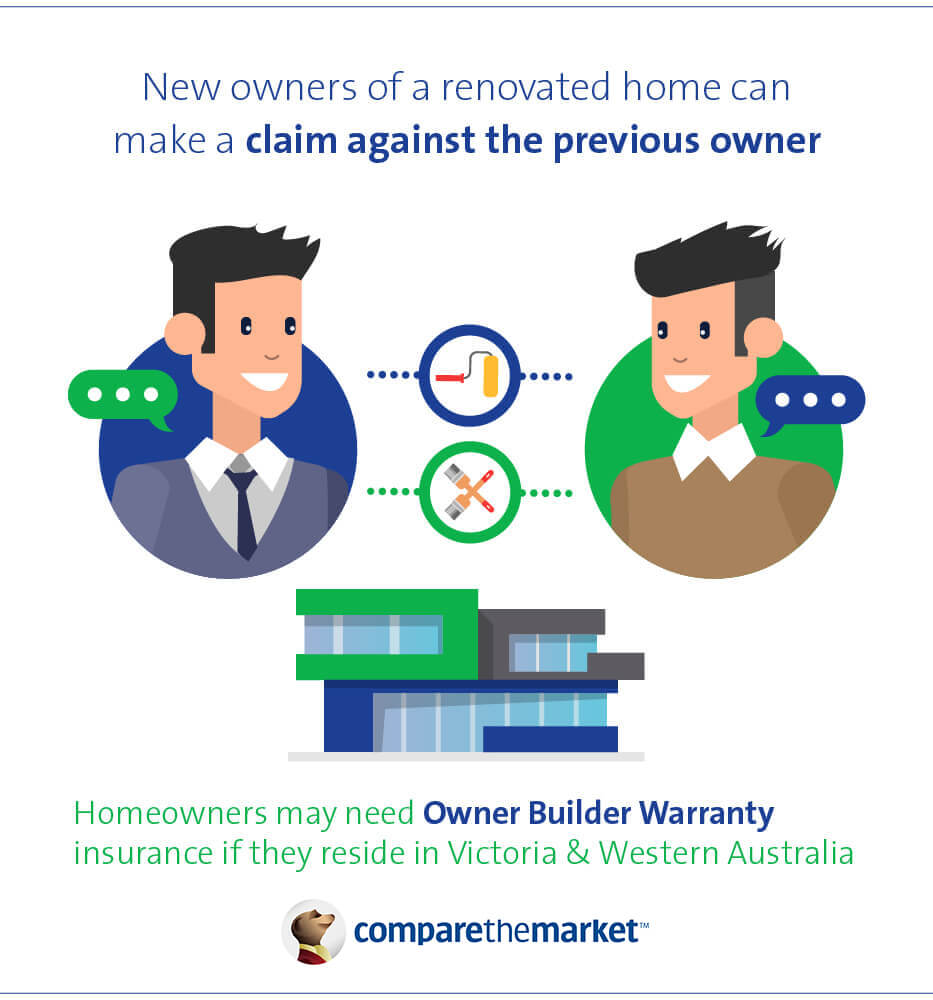 6. New owners of a renovated home can make a claim against the previous owner
Homeowners selling a home they recently built or renovated may need Owner Builder Warranty Insurance to protect themselves against potential claims made by the new owner if they discover defects in the work they carried out. Owner Builder Warranty Insurance is only a requirement in Victoria and Western Australia if you have renovated your property and then sell it.
7. Homeowners aren't covered against incomplete or defective work if their builder hasn't insured the project
Not many homeowners know that it's compulsory for builders to have their own Builders Insurance if the residential work is over $12,000. This protects the homeowner if the builders don't complete their work or the renovations they have done are defective; therefore homeowners must check the builders' policy is up to date. For some policies, cover is a requirement for:
ACT & SA – residential building work valued over $12,000
VIC – work valued over $16,000
WA & NSW – work valued over $20,000
8. Limited or no cover for repairs to inherent works
Most policies exclude the builder's cost to repair faulty work when the defect has been caused by previous workmanship or materials. Some insurance policies will not cover any of the costs to correct a defect, and any of the damage caused by it. Other policies provide limited defects cover, where it is excluded, but the resulting damage arising from faulty workmanship is insured. Homeowners must therefore read their policy to check what is covered.
9. Homeowners aren't covered if work is abandoned after 30 days
A builder's insurance policy might not accept claims for any damage arising out of abandonment of the renovation work exceeding 30 consecutive days, which could leave some owners in a sticky situation. It's advised homeowners check their policy fully covers them for renovation costs, or look for another policy which will.
10. The policy is affected if the value of the home changes
Once the home renovation is complete, homeowners will need to revise their home and contents cover to ensure it reflects the new value of the home, which will have changed, hopefully for the better.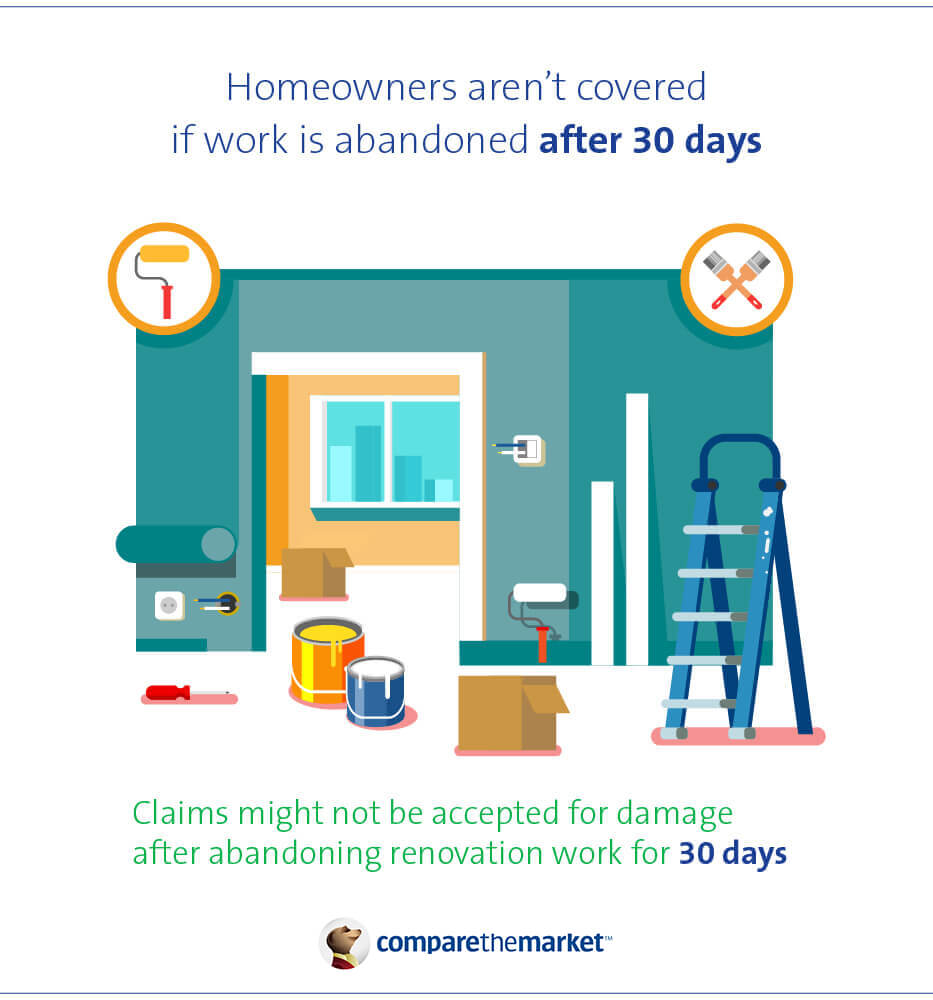 The best thing you can do to remove all doubt about insurance matters is to check your policy documents and call your provider directly to discuss the intricacies of what you have and what you need.
Did you find this article interesting or helpful?