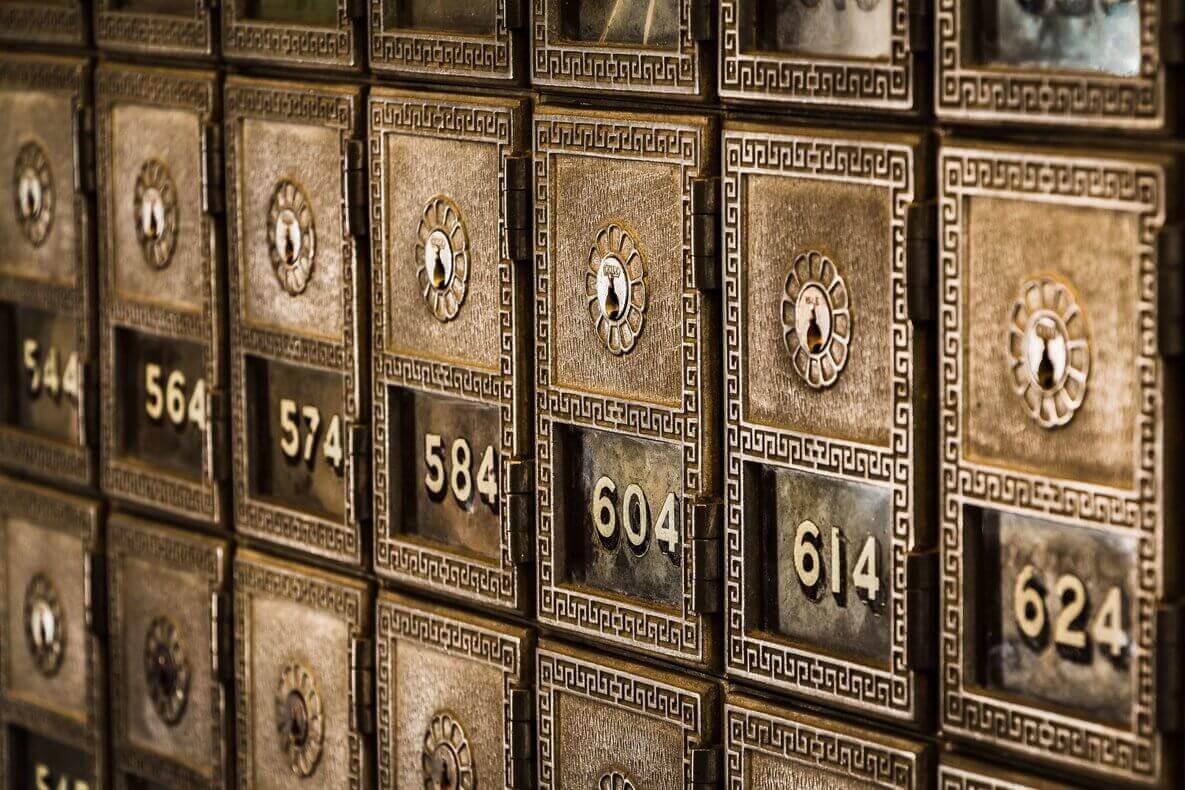 An average of 15% adult Australians hope to win money in order to fund their retirement. Damningly, 24% typically prioritise saving for holidays, versus 12% who save for a house. It all points to an interesting truth: not all of us care about saving money. Perhaps we just need some advice in order to succeed.While it's all well and good to save our loose change, adding a little structure and healthy competition to the task can make the process a whole lot easier.
While it's all well and good to save our loose change, adding a little structure and healthy competition to the task can make the process a whole lot easier.
If you need some encouragement to stick to your savings plan, the 52 Week Savings Challenge may be the thing for you. The stepped dollar saving initiative helps you put aside $1,378 in one calendar year that can go towards your next holiday, that luxury item you can never seem to justify or even your Christmas shopping.
Get a headstart on 2017 and discover how this challenge works and what easy sacrifices you can make to meet your savings targets.
How does it work?
The 52 Week Savings Challenge works by using a weekly incremental savings plan. Each week of the year is assigned a dollar amount – week one is $1, week two is $2, and week 32 is $32 and so on. Using a jar, money tin or piggy bank, save weekly and work towards the end of year goal of $1,378.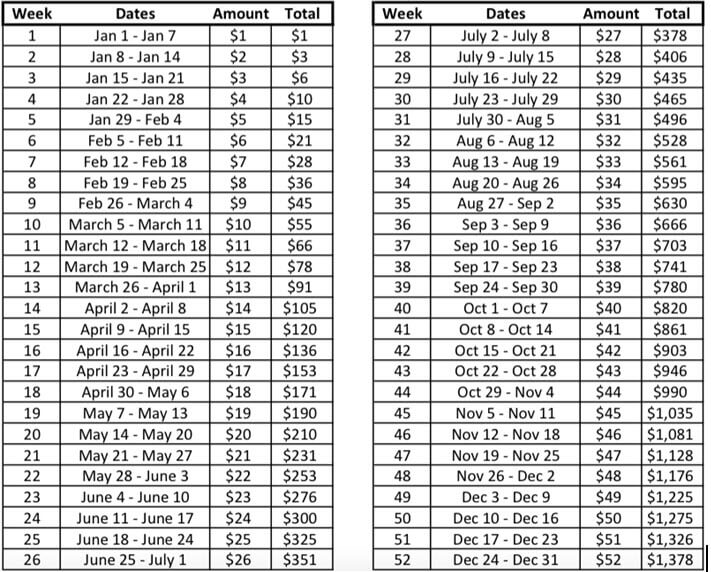 Kaylie Tekelenburg from LIFE AS YOU LIVE IT first tried the 52 Week Savings Challenge a few years ago and based on its success and effectiveness, continues to do so every year. We spoke with Kaylie for insight into her experience, reasons for taking up this approach and how she's encouraging others to give it a go.
Compare The Market: Kaylie, what inspired you to create the 52 week saving challenge?
Kaylie Tekelenburg: "Realising that I had no cash stored away for Christmas shopping, and inspired by similar money saving ideas on Pinterest, I crafted together a template that followed each week of the year in dollar increments. It was easy for me to put a couple of dollars away each week and not spend them, knowing that in the end I would meet my $1,378 goal!"
Compare The Market: Tell us about the response to you sharing the challenge on LIFE AS YOU LIVE IT.
Kaylie Tekelenburg: "I never thought that posting about how I was going to save money that year would bring such volume to LIFE AS YOU LIVE IT. Over the course of two+ years, I have had innumerable inquiries, especially in January when the challenge 'starts'. Due to high volume and many, many requests for customised templates, I put together a few different templates that cater to different saving plans.
Compare The Market: Which template is the most popular?
Kaylie Tekelenburg: Out of the templates that I offer for downloads, the dollar increment saving plan remains to be everyone's top choice, while the quarter template is popular for the children. I always let people know that if they don't keep much cash on hand, they are allowed to get cash back at some stores when using a bank card.
Compare The Market: What have you managed to save up for by taking part in the challenge?
Kaylie Tekelenburg: "I have successfully participated in the challenge a few times myself where the funds have gone towards Christmas presents, a new laptop, and this year I'm working towards a vacation!"
Compare The Market: What's your advice for anyone wanting to give it a go?
Kaylie Tekelenburg: "I have found that working for something over a longer period of time and saving up for it in cash is so much more rewarding than tacking it onto a credit card. I encourage anyone and everyone to give this challenge a go, no matter what increments they choose to do!"
Related: 25 home-made products that will save you $150
4 top tips for participants
It all sounds pretty simple, doesn't it? Well, the hard part is sticking to your savings plan. To help out, we've assembled a few tips to keep you on the straight and narrow.
Print off your checklist for weekly satisfaction. There's nothing more satisfying than marking things off a checklist. Once you've determined your savings plan, print a copy of the spreadsheet and cross, tick and highlight as you make progress throughout the year.
Avoid temptation with a money tin. Don't dig into your loot before the end of the year; purchase a money tin you can only open with a can opener. This will deter you from pulling off the lid and loaning money to yourself!
Introduce some healthy competition. Rally your colleagues, family and friends and get them on board with the challenge too. Not only will you all be working towards a common goal, but you'll have a regular reminder to make instalments.
Don't be too hard on yourself if you miss a week. Any savings you set aside will help down the track. If you find yourself falling behind, put money in the piggy bank for a few weeks at a time to catch up.
What will I have to sacrifice to make it happen?
At this stage, you may be wondering what you might be able to forgo to meet the weekly targets. Here are a few recommendations to get you started:
Examples of sacrifices and swaps to save money
| | | | |
| --- | --- | --- | --- |
| Month | Week | Saving | Sacrifice |
| January | 4 | $4 | Kick start your savings by ditching the morning takeaway coffee on the way to work |
| February | 8 | $8 | Bring a packed lunch to work one day this week instead of buying it out |
| March | 12 | $12 | Have one less cocktail during Friday happy hour |
| April | 16 | $16 | Avoid a bottle of wine with dinner this week |
| May | 20 | $20 | Skip one casual exercise class and go for a run instead |
| June | 24 | $24 | Borrow a book from a friend or your local library instead of purchasing one from a bookstore |
| July | 30 | $30 | Wash your car at home this week instead of paying to have it professionally cleaned and vacuumed |
| August | 35 | $35 | Ditch the manicure this week and DIY instead |
| September | 38 | $38 | Stay in and cook instead of ordering home delivered pizza for the family |
| October | 43 | $43 | Ride to work this week instead of catching public transport or paying for parking |
| November | 46 | $46 | Steer clear of toll roads and take the scenic route |
| December | 52 | $52 | Swap two cinema tickets and a combo deal with one large popcorn and two drinks, with a movie night from the comfort of your own home |
TIP: For some extra motivation create your own list like the above with suggestions of sacrifices and swaps that can be introduced weekly to help you stay on track. You may also find these ideas not only will save you money but will encourage other positive and healthy behaviour, like cooking at home more, reducing your caffeine or alcohol intake and getting out in the great outdoors.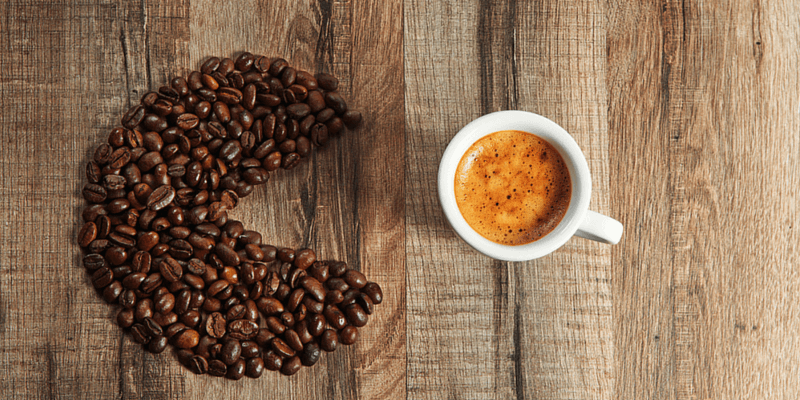 New ways for you to save
What works for others may not work for you. This doesn't have to be the standard 52 week incremental plan you follow, but rather a source of inspiration. As Kaylie explained, the incremental 52 Week Savings Challenge is by far the most popular option. If this doesn't suit your needs, there are a number of alternatives that can bring the same result.
Give up a regular 'luxury' purchase
Select a small item you purchase on a regular basis, such as your morning coffee and give it up during certain times of the year:
| | |
| --- | --- |
| Week 4 | 1 coffee less this week |
| Week 8 | 2 coffees less this week |
| Week 12 | 3 coffees less this week |
| Week 16 | 4 coffees less this week |
| Week 20 | No coffee during the working week |
| Week 50 | No coffee for a work fortnight. |
Save fortnightly or monthly
If the thought of having to remember to put money aside each week is a barrier to commitment, you may like to make some adjustments to the saving plan and pay in fortnightly or monthly increments instead of weekly. To do this, you would simply combine the dollar amounts for the fortnight or month. In April, for instance, you would need to save $62. This may be easier to manage if your pay run is less frequent.
Clear out spare change
At the end of each week, empty your pockets and wallets and assess the contents. If you have $13 spare, you may like to cross off week 13, if you have $22 cross off week 22 and so forth.
Go backwards
Having put more and more away each week may be a barrier to you committing to the challenge. If this is the case, you might like to flip it on its head and go in reverse, starting with the highest amount in week 1 (that being $52) and reducing the amount each week so it gets easier every time.
What about this Christmas?
Christmas is stressful at the best of times, from juggling work and social commitments and festive celebrations, wrapping up loose ends before your workplace closes for the year and preparing to visit (or host) relatives on the 25th. That's not to mention the financial pressure many feel during this period.
Taking part in a saving challenge like Kaylie and thousands of others can alleviate the pressure and remove the burden you feel during this time so you can spend more time enjoying Christmas, not dreading it.
Buying new gadgets this Christmas? Ensure it is covered by insurance. 
Estimate how much money you need for Christmas this year and how many weeks remain. From there, you can calculate how much you'll need to put away each week to cover the costs. You may like to chip away at the average dollar amount each week or allocate varied costs per week depending on other financial commitments. For instance, if you have several bills due in the same week you may like to contribute less to your Christmas fund that week and make up for it the following week.
New habits for the New Year
Many Australians start saving for Christmas in the final months of the year. On average, $400 – $500 is spent on Christmas gifts for loved ones. While it may be too early to start the 52 week saving challenge for 2017, and too late to jump on the 2016 bandwagon, it's never too soon to introduce new habits and create your own mini challenge in the meantime.
Did you find this article interesting or helpful?