Home is usually our happy and safe haven. We invest time and money into where we live and for good reason. But what if your home was unknowingly causing you harm?
Households can harbour all sorts of nasties like asbestos, chemical dusts and residues. However, there is one particularly common culprit you should look out for: mould.
Mould is a fungal growth caused by excess moisture, which is why you'll find it more commonly in bathrooms, kitchens and buildings with water damage.
Toxic mould has been linked to a range of illnesses, including asthma, headaches, chronic fatigue, mild allergies and other severe conditions like chronic inflammatory response syndrome (CIRS).
According to MouldLab, around 25% of the population is genetically-predisposed to biotoxin illnesses, caused by prolonged exposure to mould and mould spores or fungus.[1]
In 2017, the National Association of Tenants' Organisations surveyed over 400 tenants across Australia and found one in five respondents reported medium to severe levels of mould damage in their rentals. [2]
In some cases, participants described being hospitalised for lung infections, respiratory issues and even pneumonia, due to mould exposure in their homes.
The World Health Organisation (WHO) estimates that between 10% and 50% of indoor structures in Australia have prevailing dampness especially in humid coastal areas and near river valleys, while one-third of new buildings in Australia may be affected by condensation problems. [3]
Tenants' Union of NSW Senior Policy Officer, Leo Patterson Ross, said tenants often reported feeling ill because of mould exposure in their homes.
"We often hear of people with asthma and other breathing conditions being affected," he said.
"What we also know is that tenants who are facing health issues find it much harder to deal with the problem than owners, because of their limited rights and ability to enforce them."
According to the Australasian Society of Building Biologists (ASBB), mould is also frequently found during pre-purchase house inspections, particularly in older homes or newer apartments lacking adequate ventilation. [4]
Who is responsible for fixing mould damage in a rental?
Tenancy laws vary between states and territories, but according to the National Association of Tenant Organisations (NATO), the onus on testing for mould and ticking any health and safety requirements is on the landlord or property owner. A landlord has a general obligation to provide a tenant with a reasonably clean, habitable and structurally sound premise.[5]
So, if mould in your rental was the result of a leak in the roof (for example), your landlord would be responsible for remediating the damage. Renters experiencing issues with lazy landlords can always contact Fair Trading or apply to civil and administrative tribunals, which can order landlords to undertake repairs.
On the other hand, tenants are responsible for minor repairs and keeping habitability standards under their contractual obligations. If mould was the result of neglect on the tenant's part, for example getting carpets wet or not aerating bathrooms, then the tenant would be responsible for the fix.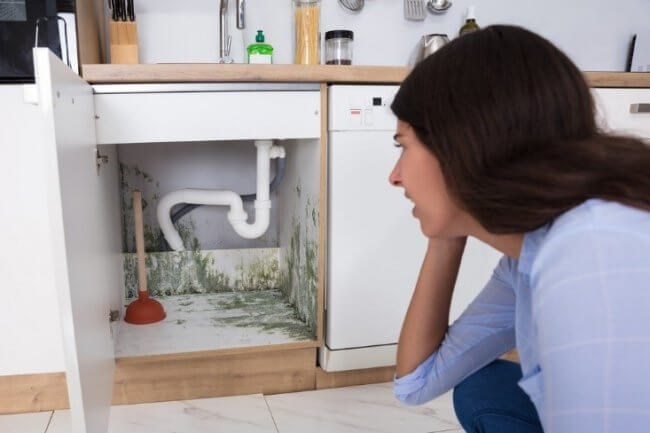 Does your home insurance cover mould damage?
Typically your home insurance will not cover mould damage, removal or cleaning; even if it resulted from an insured event like a burst pipe or flooding.
Home insurance doesn't cover mould damage because it is a common occurrence, especially in Australia where humidity is high. However, mould damage can be prevented by tending to the problem as soon as it's noticed and taking adequate steps to prevent the growth in the first place.
A useful tip for landlords or property owners is to set up inspections during cooler months when homes are more prone to condensation from indoor heating, etc. This could help with mould control and anticipate any issues or repairs, or address any concerns with tenants.
What causes household mould?
In residential buildings moisture can result from any of the following:
design or construction flaws
inadequate maintenance
leaking pipes, rising damp in basements or ground floors
water seeping from damaged roofs or around window frames
undrained sinks or baths
regular flooding and water seepage
lack of ventilation
moisture build-up in sub-floor areas.[6]
Tips on how to remove mould from your home
consult a mould removal specialist
use hospital grade disinfectants to remove mould build-up in the most affected areas
for routine clean-up of mouldy surfaces, use diluted bleach, vinegar, tea tree oil, hydrogen peroxide or baking soda
invest in a dehumidifier.
Sources:
[1] MouldLab- submission to the inquiry into biotoxin illness in Australia (2018).
[2] National Association of Tenants Organisations- submission for inquiry into biotoxin-related illnesses in Australia (2018).
[3] Report on the Inquiry into Biotoxin-related Illnesses in Australia (2018).
[4] Report on the Inquiry into Biotoxin-related Illnesses in Australia (2018).
[5] New South Wales Government- Mould (2018).
Did you find this article interesting or helpful?