Heritage-listed homes are important remnants of our nation's history, offering insights into bygone eras. In fact, there are over 100,000 of these 'character properties' throughout Australia.[1]
While many heritage-listed homes are re-purposed into museums, some are bought by everyday Aussies looking to retain a piece of history. However, because of their historical significance, there are many restrictions around what you can and can't do while you're renovating.
So, check out our quick guide to renovating a heritage home if you're thinking about buying or modernising a classic Queenslander or an old home in a 'timber and tin' suburb.
What's a heritage-listed home?
A heritage-listed home is a property or building recognised to have historical or cultural significance by your state/territory and local government, that is worth preserving for future generations.[2]
A property is formally recognised as a heritage home when it's listed on:
the heritage schedule or register of your local council's city plan
your State Heritage Register
the National Heritage List.[3]
Rules and regulations for renovating a heritage home
You'll need development approval from your local council and state or territory's heritage council when you want to alter or renovate a heritage-listed home.
You'll also need to submit a heritage impact assessment or a management plan, outlining how the renovations will affect or enhance the heritage status of the property and summarise what exact changes are proposed.[4]
Maintenance and repairs don't typically require approval, and there are usually grants available to help heritage homeowners restore their properties.
What you can and can't do to a heritage-listed home will vary between state/territory and local councils. Rules generally revolve around preserving the style and appearance of the property, especially at the front of the home, and keeping a balance between the old and the new.
Examples of what you might be able to do include:
using traditional finishes like oils and waxes
using a limited colour palette
maintaining the aged patina of fabrics and other materials
repairing instead of replacing when possible.[5]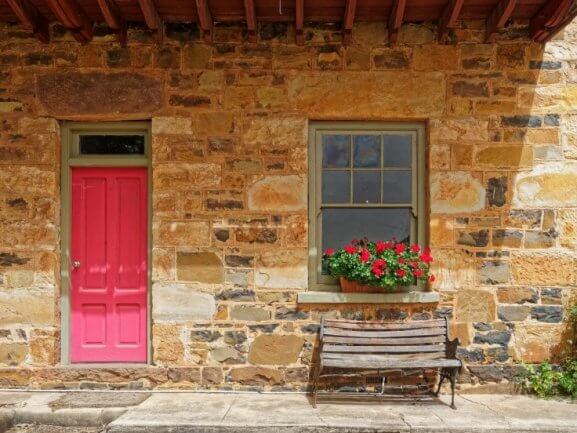 What you can do when renovating a heritage-listed home
Make it safe and liveable
Buying a heritage-listed home doesn't mean you have to live in the past. You may be able to install utilities and necessities of modern-day living like gas, air-conditioning, phones lines, internet connections, fire alarms etc.
Installing or upgrading electrical wiring is also important. This can be done if the wiring is concealed and original fittings are kept intact. You should hire a professional to do the work to make sure the building's materials aren't damaged in the process.
To upgrade plumbing, you may also need a qualified plumber.[6]
Upgrade fittings and fixtures
Provided the changes don't compromise the original character of the house, you may be able to upgrade roof vents, ceilings and wooden floors, and add modern light fittings where originals can't be retained.
You shouldn't try to alter the home's heritage features, but rather complement them. Ornate ceilings, fireplaces and decorative cornices are part of a heritage property's charm, so you should keep and enhance these.
Rotten windows can also be replaced, but with some from the same era (or made to look like from the same era). You may also replace the gutters with steel, not powder-coated aluminium and fit your house with new furniture and furnishings like carpets, curtains etc.[7]
Renovate some rooms, but not all
Generally speaking, you can always renovate the kitchen, bathrooms and laundries if you don't detract from the original appeal of the house.
You can revamp these rooms with a design that amplifies the original character of the house, with contemporary touches. So, you may be able to add a splashback, upgrade hinges and benchtops and buy new appliances for a new kitchen, for example.
While you usually need to preserve the periodic style of living rooms and bedrooms, small renovations are allowed to keep these rooms in prime condition.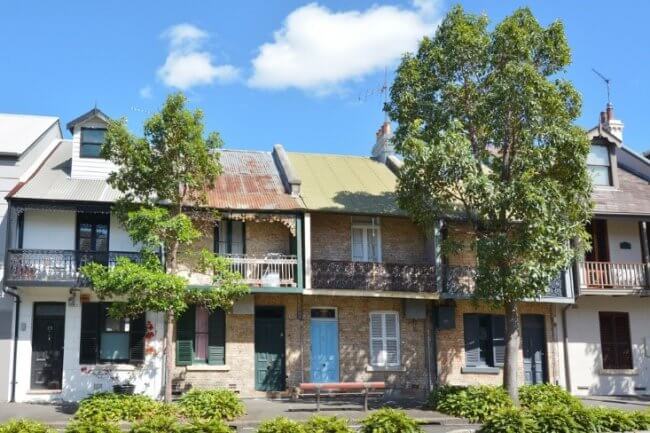 What you can't do when renovating a heritage-listed home
Change the exterior
As rule of thumb, a heritage house's façade, including the detailing, is off limits unless you're undertaking repairs or maintenance. So, rendering the exterior, for example, is strictly prohibited. That's because the way that the home looks from the street usually has to be maintained and anything that you do to the exterior should respect or enhance its original elements, not hide them.
So, if you're going to give the walls a fresh lick of paint, you may need to stick to the original colour scheme of old Australian houses. If you need to replace a deteriorated fence, you'll need to use timber pickets similar to the style they had in the era when it was built; the same goes for the roof and every visible element of the home exterior.
You would also need to use like-for-like materials to fix outdoor fixtures and cracked balustrades etc.[8]
Alter the original structure
Generally, you need to preserve the structure of the front rooms of a heritage-listed home. But you may be able to create an open-plan living in the rear of the home, providing you obtain the right permits.
If you're looking to add extra living space, you could take down a wall separating two bedrooms to turn it into a big master bedroom, or perhaps install bifold doors to your patio. You might even like to add a second storey to the attic or a staircase at the back of the home etc.[9]
Will I pay more in insurance premiums if I own a heritage-listed home?
Insuring a heritage-listed property is harder than a standard home and not all insurers will take on that responsibility. Heritage-listed homes are usually also more expensive to cover as the cost of repairs is generally significantly higher due to the types of materials needed to restore the property to its prior conditions.
The age, construction and structural condition of the home will also impact your policy, just like with any other dwelling.
Insurers are concerned with assessing the risk profile of your home by estimating the potential for loss and what the replacement value could be should something happen, like a fire, flood or storm.[10]
N.B. Compare the Market has partnered with an insurance broker, who may be able to cover this kind of risk. When you use our  home and contents comparison tool, you'll be offered a referral to this insurance broker on the results page.  
To ensure your home and belongings are properly covered at a great price, it's crucial you compare home and contents policies to see what's on the market. We make this easy, thanks to our free comparison service, where you can compare a wide range of cover options from our panel of trusted insurers. It only takes minutes!
Sources:
[1] Government of Western Australia Heritage Council- Insuring your heritage-listed property (2019).
[2] Brisbane City Council- Heritage questions and answers (2019).
[3] Office of Environment & Heritage- Heritage listing explained (2019).
[4] Queensland Government- Heritage homes development approvals and exemptions (2019).
[5] Hi Pages- How much does it cost to renovate an older or heritage listed house? (2019).
[6] Domain- What can you do to a heritage-listed home? (2015).
[7] Grace Peters Construction and Demolition- Character and heritage-listed buildings Brisbane (2015).
[8] Hi Pages- How to work with heritage listed homes (2018).
[9] Arrive Home- Tips and ideas for renovating a heritage house (2017).
[10] Government of Western Australia Heritage Council- Insuring your heritage-listed property (2019).
Did you find this article interesting or helpful?