Squatting in Australia has a history dating back to the early 1800s. As European settlers pushed into the vast interiors of the country, some opportunistic pastoralists went beyond the established boundaries, claiming pieces of land for themselves.
While squatting isn't as common in today's standards, every so often a case comes along and raises a few eyebrows.
Take the property investor who recently claimed the rights to an abandoned house in Sydney's inner-west, worth more than $1.6 million. Under adverse possession law, informally known as "squatting law" or "squatter's rights", a squatter can claim for possession of a title according to the cases' respective state or territory's governing acts.
Let's explore the governing acts regarding adverse possession in Australia to better understand this puzzling area of property law.
Are there laws protecting squatters in Australia?
The short answer is yes, however it isn't as easy as it sounds. For those hoping to lay claim to a small fortune overnight, there are specific laws applicable to each state and territory and the rules relating to the acquisition of land in these circumstances are stringent. The person holding the land must have total physical control over the land and other evidentiary matters relating to possession of the land are essential.
It's important to note that whilst the claims are made through the various land titles legislation in each state, the following acts provide the time limits within which claims on privately-held titles may be made. Generally, claims may not be made on crown land (i.e. land or property that is owned by the government) with the exception being in New South Wales and Tasmania where if a person holds land through adverse possession for 30 years, it may be possible to make an adverse possession claim.
| | | |
| --- | --- | --- |
| State or territory | Legislation providing time limits for a claim | Do trespassers have squatter's rights? |
| New South Wales | Limitation Act 1969 | Yes, a claim can be filed after 12 years following 1 January 1970. |
| Victoria | Transfer of Land Act 1958 | Yes, under eligible circumstances, an occupier can obtain a piece of land after 15 years. |
| Queensland | Limitation of Actions Act 1974 | Yes, under applicable circumstances, an action to recover land can take place after 12 years. |
| Western Australia | Transfer of Land Act 1893 | Yes, under eligible conditions a claim can be made after a period of 12 years. |
| South Australia | Limitation of Actions Act 1936 | Yes, a claim may be made under specific circumstances after 15 years. |
| Tasmania | Limitation Act 1974 | Yes, a claim may be made under eligible circumstances after 12 years. |
| Australian Capital Territory | Land Titles Act 1925 | No, claims cannot be made in the Australian Capital Territory. |
| Northern Territory | Trespass Act | No, claims cannot be made in the Northern Territory. |
Given the complexity of adverse possession rules of law under the various State and Territory laws in Australia, all of the above details are provided as informational only.
Why do people turn to squatting?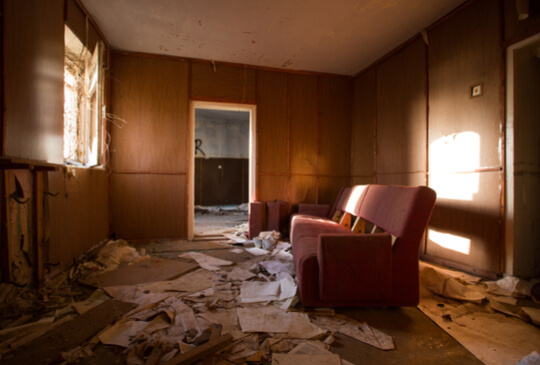 Unfortunately, one of the main factors private dwellings become prone to squatters is due to homelessness. In 2016, more than 116,000 Aussies experienced homelessness, a 4.6% increase since 2011. Other reasons may be as a result from:
financial hardship and the rising cost of living
domestic violence or family disputes
alcohol or drug abuse
a reluctance to obtain a home loan
opportunistic intentions.
As Australia's public housing continues to burst at the seams, there is a substantial number of people at risk. According to the Australian Council of Social Service (ACOSS), crisis accommodation services have turned away more than 50% of applicants seeking a place to call home in 2018, due to a lack of housing resources.
Despite the Federal Government allocating $4.6 billion over three years to help combat this issue, there are no signs of homelessness figures reducing. In fact, every state and territory has witnessed a rise in homelessness, with the exception of Western Australia and the Australian Capital Territory, from 2011 to 2016.
As of June 2017, there were more than 142,000 people on public rental housing waiting lists. Although these statistics are slightly down since 2013, the increase of Aussies doing it tough on our streets may indicate that the problem isn't going away on its own.
How to keep squatters out of your property
To avoid leaving your property as a potential target for squatters – legal or illegal – it's best to have some safety measures in place. You can safeguard your premises from any unwelcome visitors by:
securing your doors and windows with deadlocks and safety screens
installing security devices, such as a home alarm system, motion-sensor lighting or security cameras
checking your property regularly, or if you live interstate, ask a trusted family member, friend or property manager to inspect
keeping your property well maintained to ensure the home doesn't look unoccupied
clearing mail from the letterbox frequently, so it doesn't pile up.
If you are dealing with squatters, it's recommended you take any necessary eviction steps applicable to your state or territory immediately, including contacting the local authorities.
The best way to cover your investment property
If your property is vacant for a certain period of time, you might invalidate your insurance. Many landlord insurance policies have general exclusions around unoccupied homes, and will usually specify a maximum number of days that your property can be left unoccupied (i.e. 90 days).
If you're looking to protect your investment property, and the possessions inside the property, you should consider landlord insurance. We understand the risks involved with property investments, which is why it's necessary to choose a policy that covers everything suitable to your financial circumstances and goals. At the end of the day, you've worked hard to acquire an additional source of income. Therefore, we strongly advise risk-proofing your four walls and roof with a level of cover that'll allow you to concentrate on more important things in life.
Sources:
National Museum of Australia and Ryebuck Media Pty Ltd, 'Investigating Pastoral Settlement in Australia in the Nineteenth Century', 2006.
Australian Broadcasting Corporation (ABC), 'Squatting Laws and Being a "Legal Squatter" Are Still a Thing in 2018 – This is Why,' 2018.
Victorian State Government, Environment, Land, Water and Planning, Land Titles, Adverse Possession, 2018.
Australian Bureau of Statistics (ABS), 2024.0 – Census of Population and Housing: Australia Revealed, 2016.
State Library New South Wales, Find Legal Answers, Chapter 5: Boundaries, Adverse Possession, 2018.
Queensland Government, Queensland Legislation, Limitation of Actions Act 1974, 2018.
Government of Western Australia, Landgate, Land Titles Registration Policy and Procedure Guides, POS-01 Adverse Possession, 2017.
Government of South Australia, Attorney-General's Department, South Australian Legislation, Limitation of Actions Act 1936, 2007.
Tasmanian Government, Tasmanian Legislation, Limitation Act 1974, 2018.
ACT Government, Land Titles Act 1925, 2018.
Northern Territory Government, Northern Territory Legislation, Trespass Act, 2016.
Australian Bureau of Statistics (ABS), 2049.0 – Census of Population and Housing: Estimating Homelessness, 2016.
Australian Council of Social Service (ACOSS), Housing and Homelessness, 2018.
Australian Government, Budget 2017-18, Reducing Pressure on Housing Affordability, 2017.
Homelessness Australia, Homelessness Statistics, n.d.
Australian Government, Australian Institute of Health and Welfare (AIHW), Housing Assistance in Australia, 2018.
Did you find this article interesting or helpful?