Throughout our lives, as we work, relax, adventure and spend time with people, we try to find meaning in our every day actions. Happiness is what we strive to achieve and hope to feel in every activity we take part in. But how do we measure this happiness? How do we measure what matters most to us? Do we all want something different in life?
OECD's Better Life Index – What do the results say?
The age old question of "what is the meaning of life" often relates to our happiness levels and how fulfilled we are in our lives compared to the rest of the population. We try to gain happiness through a variety of different actions such as earning money, making positive relationships and feeling secure in our environment. The Organisation for Economic Cooperation and Development's (OECD) Better Life Index attempts to answer the big question of happiness through asking members of the public to rate 11 topics that have been identified as necessary for general wellbeing. Subjects include health, housing, life satisfaction and income. With tens of thousands of responses from a variety of people across the world, there is an array of answers to paint a picture of what values most in life for different countries.
Taking a closer look at our home country, Australia performs pretty well in many measures of well-being, compared with other countries in the Better Life Index. If we break down the data to income, employment, education, life expectancy and sense of community, we see some interesting data figures.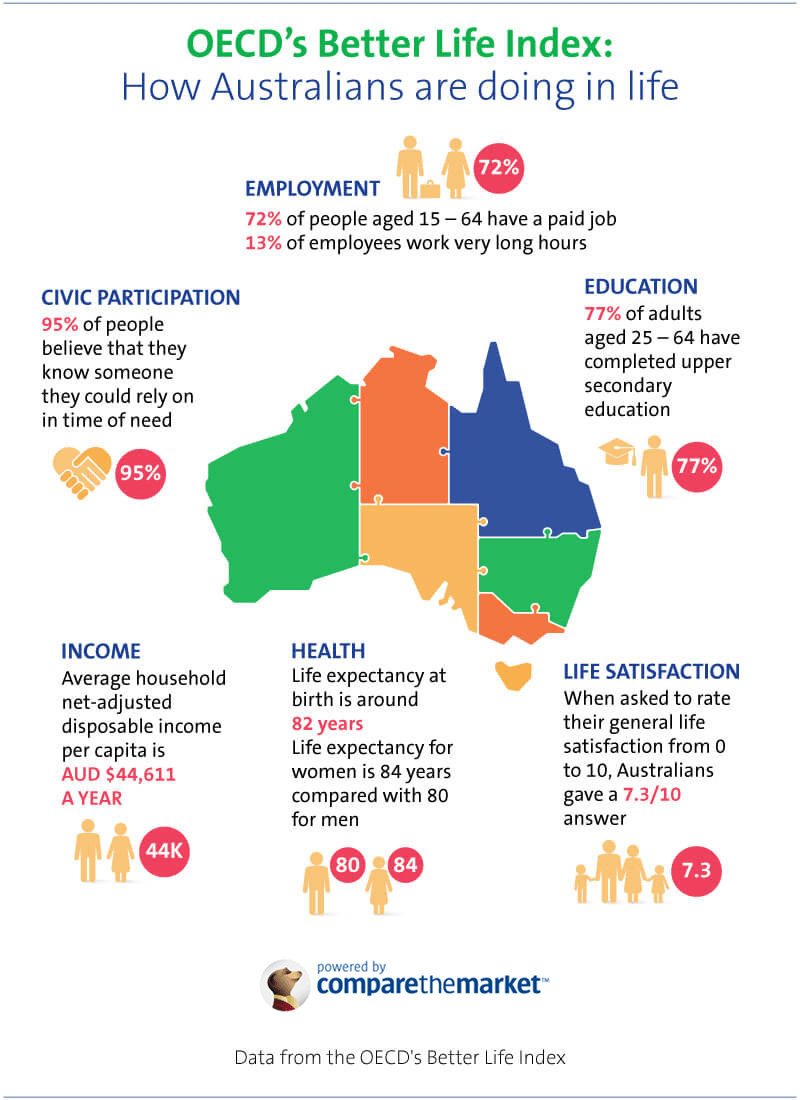 INCOME: When it comes to money, the average Australian household disposable income per capita is AUD $44,611 a year, compared to the OECD average of AUD 39,036 a year.
EMPLOYMENT: Around 72% of people aged 15 – 64 in Australia have a paid job, which is above the OECD employment average of 66%. 13% of employees also work very long hours.
EDUCATION: 77% of adults aged 25 – 64 have completed upper secondary education. This is similar to the OECD average of 76%.
LIFE EXPECTANCY: Life expectancy at birth in Australia is around 82 years, two years higher than the OECD average of 80 years. Life expectancy for women is 84 years and 80 for men.
COMMUNITY PARTICIPATION: 95% of people believe that they know someone they could rely on in time of need. This is higher than the OECD average of 88%.
OVERALL: Australians are fairly satisfied with their lives. When participants were asked to rate their life satisfaction from 0 to 10, Australians gave a 7.3/10 answer. Not too bad!
What do we value most? The answer: Work-life balance
But after analysing the OECD's data, we need to ask: what matters the most to us? Interestingly, according to the Better Life Index findings, we rank work-life balance right at the top of our priority list. We may be doing well in terms of civic engagement, income, education and employment but when asked what we value the most in our lives, work-life balance is the highest-rated topic for Australia.
Is this true for everyone? It's time to move away from the data and get some opinions straight from the source. Meet Fiona and Andrew, two everyday working Australians who prioritise their values differently and try to balance their work lives as best they can. Their pursuit for happiness comes in many different forms.
Fiona Melville – Animal attendant
Fiona Melville is a 23 year old animal attendant who lives with her partner in Brookfield. She cleans cages, walks and cares for dogs and says she absolutely loves her job.
"I definitely think I balance my work life and home life really well, I take the time for my partner as well as my pets. For me, family is of course number one priority but then my animals come a close second," Fiona explains.
"Of course income is something that is also important to me as it is for most people. I do love my job intensely and my life but having a higher pay would of course help! Other than that, family, animals and income are what I base my life values around."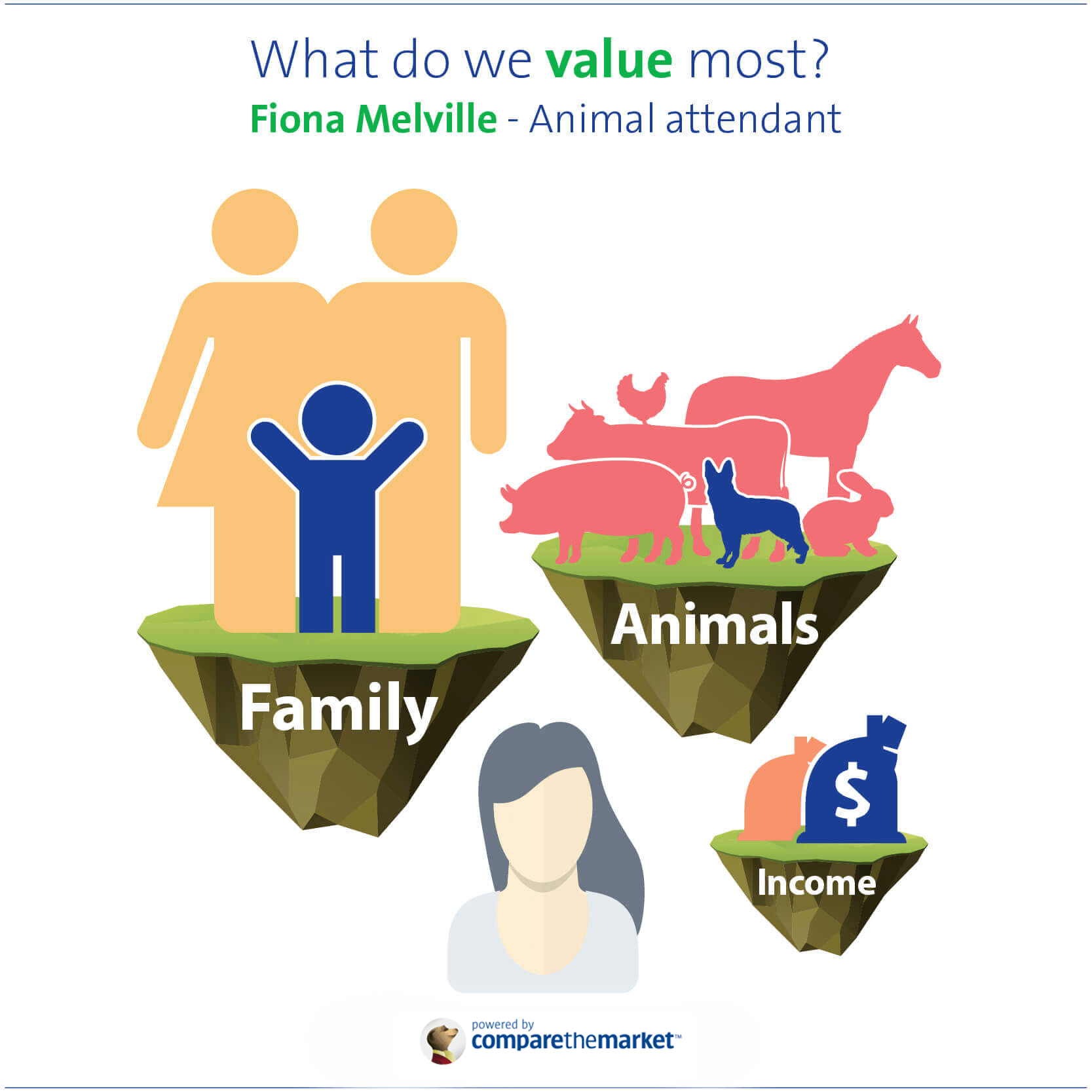 Fiona adds that her work life never interferes with her home life as she never has to take work home and all her pets that are waiting at home makes her even happier after a long day at work.
"I think it is interesting that work-life balance is what Australians value the most but then I think about it and realise that I have a solid balance in life as I love my job, home life and pets and this does give me purpose and happiness. But it is still interesting that a work balance takes priority as this is your whole life happiness we are talking about," she says.
"In the end, everyone needs to take the time for their own wellbeing and ensure they're happy with everything going on in their life. Otherwise, you won't feel fulfilled in your job or home life. Managing the stress through balance is what can ultimately bring happiness to your day to day routine."
Andrew Zeppel – Sales engineer
Andrew Zeppel is 56 years old and has been working from home in Adelaide for over 10 years as a system and sales engineer in data collection. He explains that he is very content with working from home and believes his work-life balance is managed well.
"I absolutely love the quieter environment of working from home compared to the noisy offices. The only travel time I actually do is when I visit customer sites, otherwise, my home is my place of work," Andrew explains.
"I am very satisfied with my work and life and for me; my values are faith first, then family, community and helping others. I also work towards having a happy retirement, letting go of the small stuff and making do with what you have instead of chasing consumerism. I also really enjoy supporting overseas projects; I think you need many values and interests in life to keep you occupied."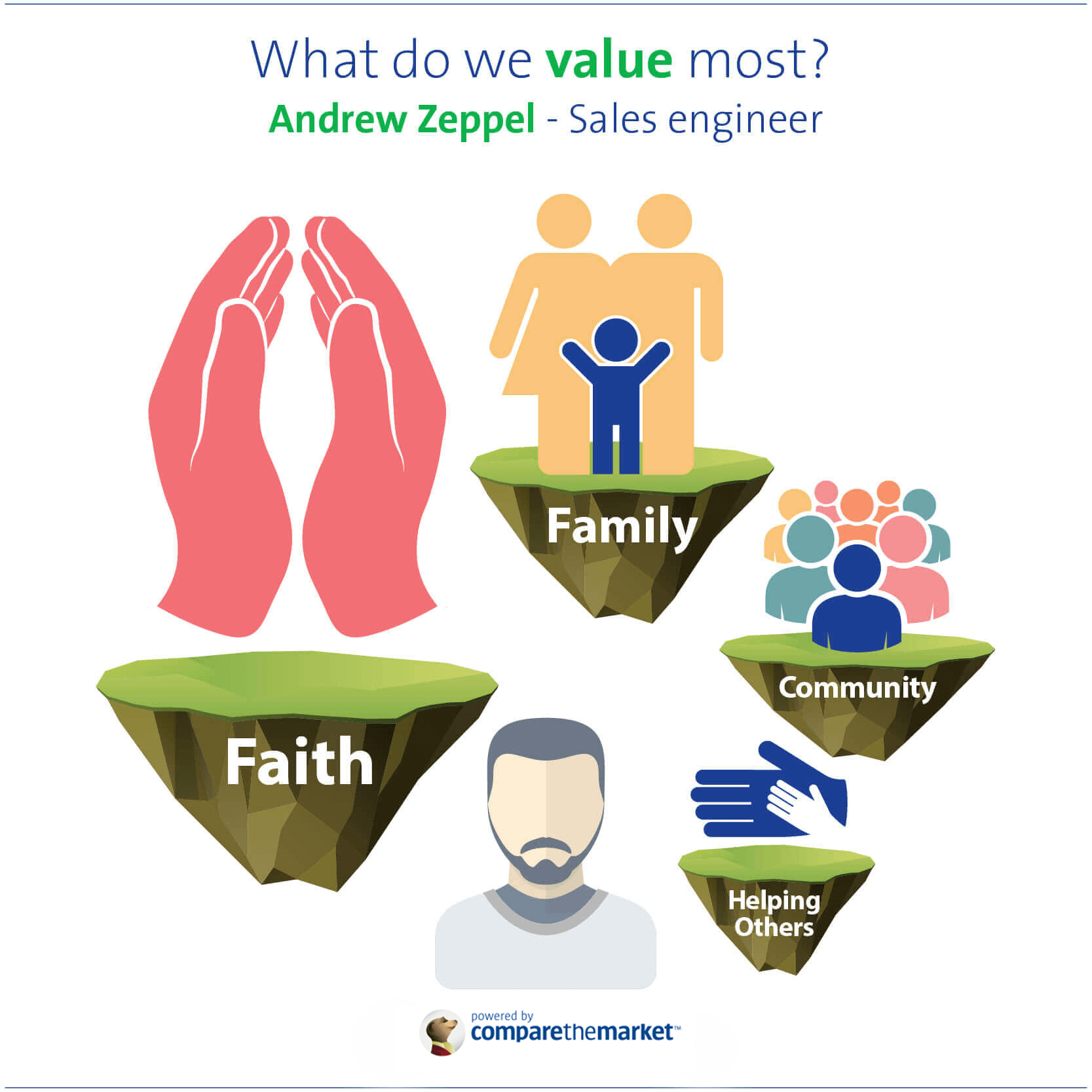 Andrew goes on to say that it's not all about your identity at work. It's more about balance and pursuing other activities.
"I think we all need to be reminded that work isn't everything, so many people get consumed with their job and forget about their family and friends and what matters most. You end up losing your identity in the process," he says.
"For me, very occasionally will work take over my family or down time because I have other values that are also important. I think everyone needs to remember this!"
Everyone has their own ideas of what should matter most in life and what values should remain as a top priority. However, everyone's happiness depends on different aspects of life. It may be income, a secure job, community or even your pets; as long as you feel fulfilled and that your life is valuable, then you're on the right track to finding happiness every day.
Did you find this article interesting or helpful?