We are all aware that the gender pay gap issues still affect women today, but not many of us are aware that this gender gap also extends to superannuation.
This gender gap is apparent in both the number of men and women who own super accounts and the balance of those accounts. However, research suggests that this gender gap has started to even out over the last ten years.
But how far have we really come, and how much further have we to go before we reach true gender equality in superannuation?
Why does the superannuation gender gap exist in the first place?
Industry SuperFunds suggests there are a number of factors that can affect the superannuation gender gap.
The gender pay gap (lower wages). In August 2018, women employed in full-time work earned an average of $244.80 per week less than men, according to the Australian Government's Workplace Gender Equality Agency (WGEA).
Unfair tax concession structures. Women receive only one-third of government tax concessions. Men earn the rest.
Women are more likely to pause their careers or take more time off work. For example, to become the primary caregiver for their families.
Women typically retire earlier than men. According to the Australian Bureau of Statistics (ABS), the average age of women who retired from the labour force in 2016-17 was 52.3 years, whereas the average age of men who retired in the same time period was 58.8.
Women more commonly work in lower paid industries. These include sales, administration, and community services.
Type of employment. Fewer women occupy senior executive and board positions (which are better paid), and women make up the majority of part-time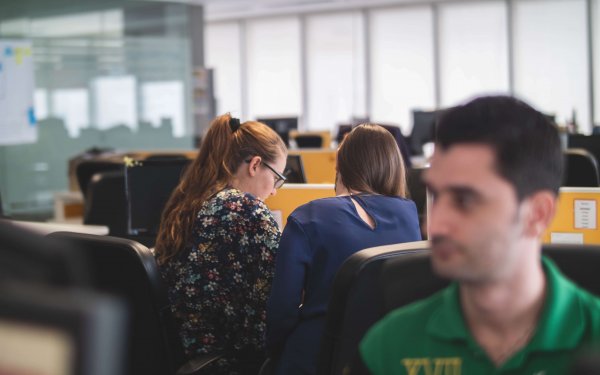 According to the WGEA and the ABS, the gender pay gap has been between 15% and 19% for the past 20 years. In August 2018 this gap remains at 14.6%, meaning women earn on average $244.80 per week less than men. By women earning a lower wage throughout their working life, it will inevitably lead to a lower superannuation balance by the time they come to retire.
Industry SuperFunds further calculates that a woman aged 29-34, who puts her career on hold for just five years to care for her family, could miss out on almost $100,000 of superannuation earnings. This is, of course, a significant sum to potentially lose from a retirement saving.
The ABS reported that, of the 1.9 million women who retired in 2016-17, 46% of those women retired aged less than 55 years, whereas only 25% of the 1.7 million men who retired in 2016-17 were less than 55 years old.
Like Industry SuperFunds, Roy Morgan also attributes the superannuation gender gap to the types of employment men and women undertake. Forty-six per cent of working women are employed in part-time jobs, which have less hours, pay, and superannuation contributions than full-time work. Only 20.4% men are employed part-time.
How much has the superannuation gender gap closed in the past ten years?
Roy Morgan released research in 2018 based on interviews with over 500,000 Australians about their superannuation, gathered over the last decade: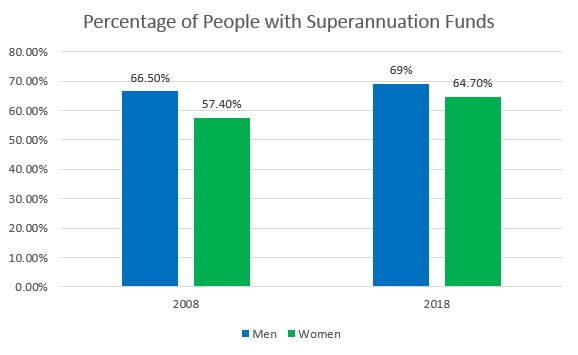 Since 2008, superannuation figures have changed drastically.
The number of women who have a superannuation fund has increased by 7.3% since 2008, more than double the growth rate of men with funds, which have only risen by 2.5%.
The balance of these accounts has also increased. Women have seen a massive 87% increase in the amount of super they're earning, compared to Australian men whose superannuation has only increased by 53%. However, there is still a $49,000 gap between men and women's balances.
Despite this, women in 2018 are gradually closing the gap, now earning 72.2% of the male average in superannuation, compared to 59.1% in 2008.
Where do we go from here?
Although we still have a long way to go until we achieve 100% equality in both pay and superannuation, we can still enjoy the improvements this past decade has brought to women's superannuation funds and balances.
A combination of publicity and awareness of the issue since 2008, as well as the continued effect of the compulsory superannuation legislation introduced in 1992, have helped to increase both men and women's superannuation. As of June 2018, the Australian Taxation Office reported that over 15.6 million Australians have a superannuation account.
We can only hope that these factors will continue to produce positive changes in the coming decade and that the superannuation gender gap will close even further by 2028.
Sources
Roy Morgan – Women closing the superannuation gap. October 2018
Industry SuperFunds – The Gender Super Gap. December 2017
Workplace Gender Equality Agency – What is the gender pay gap? Accessed October 2018
Workplace Gender Equality Agency – Australia's Gender Pay Gap Statistics. August 2018
Australian Bureau of Statistics – Retirement and Retirement Intentions, Australia, July 2016 to June 2017. December 2017
Australian Taxation Office – Super accounts data overview. October 2018
Did you find this article interesting or helpful?