N.B. Prices are subject to change at any time. Prices are accurate at 21 January 2019.
Australia Day is fast approaching, which means our beautiful parks and beaches are going to be packed with revellers. If you're keen to sizzle some snags on the 'barbie' or head to the beaches and parks, you're going to need a few of the essentials.
With this in mind, you don't want to be slugged at the checkouts, which is why we've slapped together 10 Australia Day necessities you can grab for a bargain.
1.      Sunscreen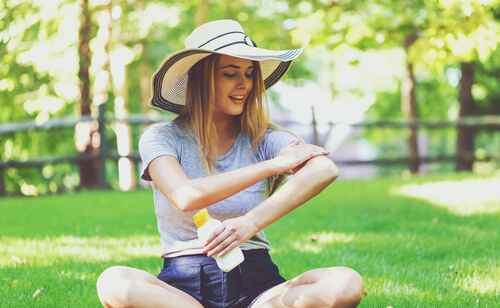 Australia Day is best enjoyed in the great outdoors, meaning you're going to lather on some sun protection. Given that Australia has the highest melanoma rate in the world,[1] you'd have to be an absolute galah to go without.
Make sure you get yourself a water-resistant, broad-spectrum sunscreen that's either SPF 30 or SPF 50, as per the Skin Cancer Foundation's recommendations, and don't forget to reapply every two hours or straight after a swim.[2]
Nivea Sun SPF 50+ Protect & Moisture Lotion Pump 1L – $16.99 from Chemist Warehouse
2.      Swimmers
What better way to cool off than a dip in the pool or swim in the ocean? If you're in need of a new set of swimmers, there are a few options available for men and women, depending on whether you want to cover up or are comfortable in a pair of budgie smugglers or a bikini. If you need a whole set, it might be easier to buy everything at once, but if you only need a new rashie or board shorts, be sure to check out the following options.
| | |
| --- | --- |
| Women's swimmers | Men's swimmers |
| Bikini Top – $10.00 from Kmart | Swim Briefs – $6.00 from Kmart |
| Bikini Bottom – $10.00 from Kmart | Elastic Waistband Swim Shorts – $12 from Kmart |
| High Waist Briefs – $12.00 from Kmart | Active Swim Short Sleeve Rash Vest – $15 from Kmart |
| One Piece Racer Bathers – Black – $18.00 from Target | |
3.      Esky and ice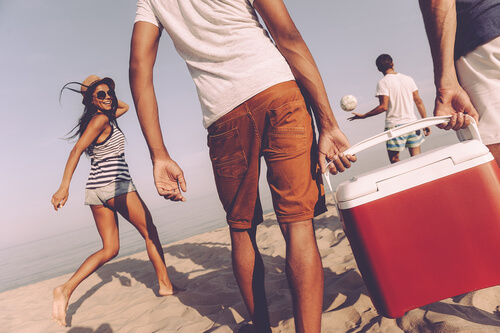 Whether it's icy cold drinks or prawns and lamb chops, you're going to need an esky and ice to keep them cool. The best part? You don't need to spend an arm and a leg for them!
Willow 10L Cooler – $20.00 from Big W
Pack of 3 Ice Blocks – $4.00 from Target
Bells Ice 5kg – $4.50 from Woolworths
4.      Sausages
Snags are a mainstay of Australian backyard get-togethers, so it's no surprise they made our list for top Aussie Day necessities. Choose from beef, pork or even chicken, and remember; they're best grilled over a BBQ and presented on white bread with onion and sauce. Just don't forget the butter and cooking oil!
Brannans Thin Sausages 500g – $2.00 from Aldi
Essentials White Sandwich Slice Bread 700g – $1.25 from Woolworths (tying with Coles' White Sandwich Bread for the same price and size)
MasterFoods Tomato/BBQ Sauce – $1.47 from Coles
Essentials Table Spread Soft And Spreadable 1kg – $1.60 from Woolworths (tying with Coles' Smart Buy Regular Spread 1kg – $1.60)
Essentials Blended Vegetable Oil 750ml – $2.25 from Woolworths
Brown Onion 1kg – $1.50 from Woolworths
5.      Lamb chops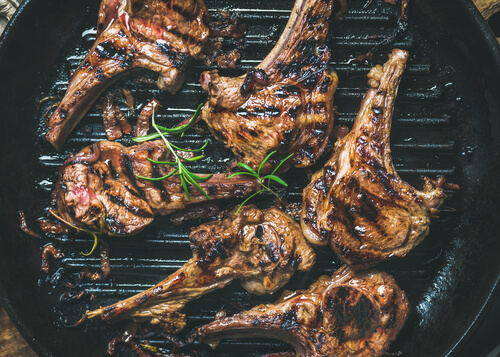 Another meaty dish beloved by many Aussies (and an Australia Day must if you listen to Sam Kekovich) is a juicy lamb steak that can stand proud on a plate next to some assorted veggies, or find its way into a scrumptious burger.
Woolworths Lamb Leg Steak 300g – $7.50 from Woolworths
6.      Lamingtons
Legend has it that lamingtons were made by mistake by the cook serving Lord Lamington, the Governor of Queensland, from 1896 to 1901. On the other hand, our Kiwi friends from across the Tasman claim it's a spin-off from their earlier dessert known as a Wellington cake.[3]
Regardless of its true origins, Aussies have loved it for over a hundred years, becoming a featured treat on many Australia Day spreads.
Woolworths Lamingtons 6 pack – $2.50 from Woolworths, tying with Coles' Jam Lamingtons 6 Pack 350g for the same price.
7.      Pavlova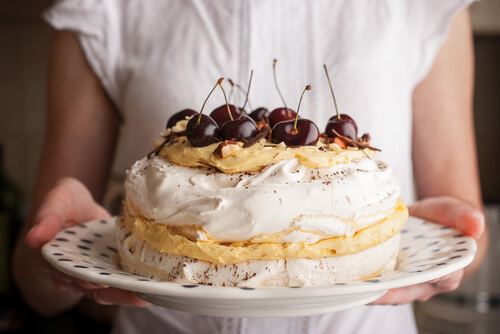 This show-stopping dessert is beloved around the world, but perhaps nowhere more so than Down Under. For those who like to show off their culinary capabilities, pav can be made from scratch with a range of ingredients. Alternatively, you could buy a premade base and top with cream and fruit as you please.
Coles Pavlova 500g – $5 from Coles
Coles Simply Light Thickened Cream 300ml – $1.65 from Coles (tying with Woolworths Light Thickened Cream for the same price and size)
Fresh Cherries – $15.00 per kg from Woolworths
Coles Green Kiwifruit 8 pack – $4.50 from Coles
8.      Drinks
No matter what you get to eat, you'll want something cool and refreshing to wash it all down. Of course, this wouldn't be an Australia Day essentials list without beer, but soft drinks are also a viable option (especially if you're driving your family or mates around). Be sure to check out your local bottle-o for their prices on beer, wine or spirits.
Woolworths Lemonade Bottle 1.25L $0.90 from Woolworths
Coles Tropical Fruit Drink 1L – $1.10 from Coles
9.      Plates and cups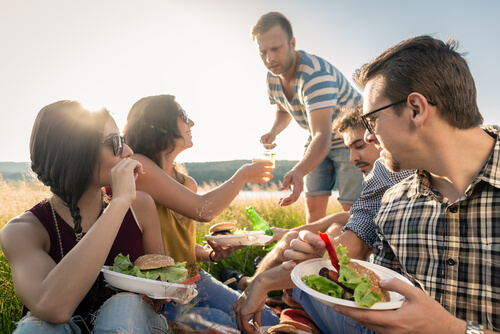 Now that you've got your food and drinks sorted, you need something to serve it on. Rather than risk bringing your own plates which could get broken or lost, as well as having to be washed up, we recommend saving yourself the trouble with disposable plates, cups and cutlery. Just be sure to put them in the bin and properly recycle when you're done!
12 Pack BBQ Plastic Plates – $4.00 from Kmart
White Paper Dinner Plates 50 pack – $3.00 from Coles
Smart Value Large Plastic Cups – 20 Pack – $2.00 from Big W
Clear Cutlery Set 24 pack – $2.00 from Coles
10.       Folding chair or picnic blanket
Park bench space is going to be as rare as finding a convenient parking space on Australia Day. So, if you want to avoid standing up all day, why not bring your own? Come equipped with a folding chair or a large picnic blanket so you can kick back and relax.
Folding Beach Chair Blue Stripe – $24.99 from BCF
Sperling Picnic Rug 1.5 metres x 1.3 metres – $10.00 from Big W
Picnic Rug Large – $15.00 from Kmart
There you have it! Our top 10 Australia Day essentials at a good price will help you enjoy Australia Day – without having to break the bank. For even more savings tips, check out our practical money tools to see how else you can achieve more bang for your buck.
[1] Welcome to SunSmart. SunSmart Victoria. 2019.
[2] Ask the Expert: Does a High SPF Protect My Skin Better? Steven Wang, Skin Cancer Foundation. 2018.
[3] Lamington invented in New Zealand, new research proves 'beyond doubt'. Olaf Priol, The Guardian. 2014.
Did you find this article interesting or helpful?