If you've found yourself at the end of Cupid's bow, there's a strong chance you've already red-circled 14 February on your calendar.
Valentine's Day is fast approaching and loved-up couples are already scrambling to reserve the last table at their favourite restaurant and order their dozen reds with the local florist.
This is because the majority (80%) of Aussie couples consider Valentine's Day a special occasion, but one in five choose not to celebrate it.[1]
For some, it's a day of crass commercialisation, fraught with many expectations, rather than a celebration of love. So, now is as good a time as any to join the anti-expensive-Valentine's movement to save money!
Here's why we should break up with the typical Valentine's Day.
Valentine's Day hurts your bank
We suspect whoever said you couldn't put a price on love was born before Valentine's Day became an expensive, heart-shaped celebration. Or, maybe this was the belief during a time when we could still pick roses from a neighbour's backyard for free and make chocolate from home.
But, times have changed, and Valentine's Day is now a day of mass consumerism and feelings of obligation, burning a hole in couples' hip-pockets.
Based on previous expenditure, lovebirds should expect to spend over $136 to treat their significant other on V-Day, according to a survey by CommBank. As a collective, the nation splashed over $23 million on the big day in 2017. We spent $13.6 million on dinners, $7 million on drinks, and $3.2 million on flowers![2]
A four-year study (from 2013 to 2016) of consumer spending in the two weeks leading up to Valentine's Day found men forked out more on average for the big day ($123.10) compared to women, who spent $90.54.[3]
Below is a snapshot of the average spending for men and women on Valentine's Day.[4]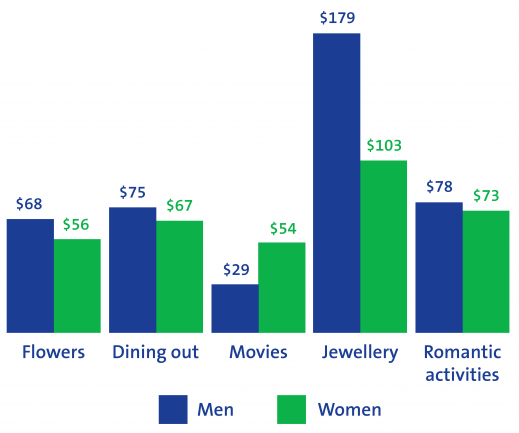 Source: Pocketbook – Valentine's Day Spending Data Surprises (2017).
Another study by Cashless app maker Clipp.co also revealed that 62% of couples who'd been an 'item' for longer than six months thought it was appropriate to spend up to $200 on their partners for V-Day, while those who'd been together for less than three months had capped it at $100.[5]
While love shouldn't be measured in dollars, we know that people feel more pressure to shower their significant other with gifts on Valentine's Day.
According to relationship expert Dr Wendy Walsh, people usually feel a societal pressure to perform on Valentine's Day, especially for men who have been taught to express love through 'a display of resources'.
It seems our relationship with Valentine's Day has become more about meeting expectations and material rewards than anything else. Is it perhaps time to re-evaluate our priorities this V-Day?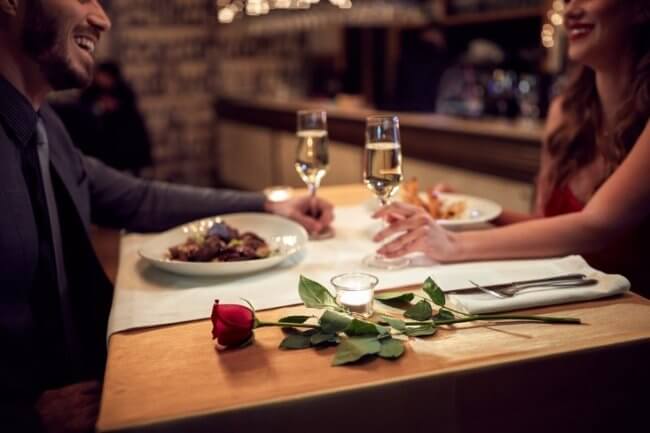 Skip Valentine's Day, not the tradition
For many couples, Valentine's Day has a special significance; it's a day of love, to celebrate your significant other, and the inseparable bond you share or an anniversary.
So, you don't have to ditch the 'holiday of love' altogether, but delaying your celebration by a week or two could help keep your budget in check, especially if you're still recovering from a post-Christmas financial hangover.
Retailers have been known to hike up their prices on the day because the demand for 'romantic' experiences and commodities allows it.
For example, florists experienced a whopping 500% increase in sales on Valentine's Day in 2017, compared to any other day, according to CommBank.[6] Generally, the cost of long-stemmed roses increases three-fold to cover production costs because of the massive demand for red roses on the special day.[7]
These price increases should make you wonder whether you're spending more money because you want to, or out of some sense of cultural obligation. Is battling large crowds in a restaurant (only to be plonked between two tables of loud talkers and paying for a seat) really worth all the fuss and expense? Or, would treating your significant other to dinner and a bouquet of roses on another day be just as special?
Hotels can also mark-up the price of their rooms around Valentine's Day because of the high demand for romantic getaways and one-night stays. Some holiday accommodation providers also make a little extra on the side by offering rooms with Valentine's Day packages that include roses, chocolate and champagne. You could save bucketloads by delaying your romantic stay a few days and by bringing your own goodies.
If you're looking for a good deal on your next stay, you can always compare hotel prices our on free comparison service. You'll be able to collate hotels side-by-side and filter your options by price and features.
Be aware of Valentine's Day scammers
There's no shortage of love in the air on Valentine's Day, with many couples flaunting their relationship in public displays of affection and flooding our social media feeds.
But, for those who haven't yet found their Mr or Mrs Right, V-Day can be a lonely time and create pressure to find somebody who will swoon over you on 14 February.
As such, the Australian Competition and Consumer Commission (ACCC) has warned people to be careful about who they 'friend' online on Valentine's Day. Aussies were swindled out of $24.6 million from dating and romance scams in 2018. Women lost almost four times as much money as men, while those aged between 45 and 64 were most likely to be targeted.[9]
According to the ACCC, dating apps are becoming increasingly popular for scammers, with reported losses increasing to more than 300% over 2017-2018 in cases where the scammer and the victim have met.
To protect your heart and purse strings from scammers this Valentine's Day, here are some handy tips from the ACCC:[10]
don't give you bank details or send money to someone you met online;
use Google's image search to verify the authenticity of photos on social media profiles;
don't share private photos of yourself or use webcams, as scammers might use them to blackmail you;
be wary of people professing strong feelings early on because scammers will try to butter you up to get money;
be suspicious of overseas profiles or anyone who says they can't meet via video chat or in person; and
never meet someone you found online alone.
Sources
[1]
Beer Cartel- 2017 Australian Valentine's Survey (2017).
[2]
CommBank- Love hurts wallets as Valentine's Day spending tops $23 million (2018).
[3]
Pocketbook- Valentine's Day Spending Data Surprises (2017).
[4]
Pocketbook- Valentine's Day Spending Data Surprises (2017).
[5]
The Newcastle Herald- Valentine's Day, some embrace it while others try and erase it (2016).
[6]
CommBank- Love hurts wallets as Valentine's Day spending tops $23 million (2018).
[7]
Adelaide Now- At $990 a bunch, is this Adelaide's most expensive Valentine's gift? (2011).
[8]
The Sydney Morning Herald- Would you pay extra for the window seats in a restaurant? (2018).
[9]
Australian Competition & Consumer Commission- Don't swipe right on a scammer this Valentine's Day (2019)
[10]
 Ibid.
Did you find this article interesting or helpful?