The biggest shopping day (besides Boxing Day) on the retail calendar is upon us – Black Friday! On 23 November, more than half of our population is expected to splash their cash on Black Friday sales, a seven percent increase from last year, according to Black Friday Global Analysis, while over 37% of shoppers will bargain hunt online.1
Aussies spent more than $200 million on the online shopping frenzy in 2017, with stores offering average discounts of up to 50% off.2 The Black Friday Global Analysis predicts Aussie customers could save on average $297 this year on deals.
So, while Black Friday originated in the U.S, more retailers down under are getting on board by offering bigger discounts and slashing prices every year – in-store and online. Google Trends also shows interest in Black Friday has more than doubled in the last five years.3
November retail spending even overtook December sales in 2016, spearheaded by Black Friday, Cyber Monday and Click Frenzy (the sale that stops the nation after Melbourne Cup). The trend gathered momentum in 2017, with seasonally adjusted retail sales rising 1.3% to $26.39 billion.
That means bargain hunters will be out again in full force to score some sweet deals before the Christmas onslaught.
If you want to join the bonanza, here's everything you need to know about Black Friday in 2018.
What you need to know about Black Friday and Cyber Monday
Black Friday is the day following Thanksgiving in the U.S and will officially kick off in Australia on Friday 23 November. It also unofficially marks the beginning of the Christmas shopping period, so retailers gear up by offering huge discounts, in-store 'doorbuster' deals and early bird specials.
Cyber Monday is basically Black Friday online, with retailers continuing their sales on their websites, often through the weekend, with even bigger discounts. This year it falls on Monday 26 November.
What time does Black Friday start and finish Down Under?
There's no set time. In fact some sales have already begun, but most Black Friday sales start from midnight on 23 November in the U.S, so some of our retailers will begin their sales at the same time or wait until start of business at 8am or 9am.
The best sales on big ticket items like electronics and appliances will probably wrap up when retail shopping hours end on the Friday, but most overseas and Aussie retailers will continue their online sales through the weekend until Cyber Monday, when bigger discount should start popping up.
Which popular Aussie stores are offering Black Friday deals?
| | | |
| --- | --- | --- |
| Fashion | Technology and electronics | Children |
| David Jones | Amazon | Cotton On Kids |
| Myer | Kogan | Mr Toys Toyworld |
| Rebel | Ebay | Toyuniverse |
| General Pants | The Good Guys | Kmart |
| Forever New | JB Hi-Fi | Target |
| Zara | Harvey Norman | Big W |
| H&M | Bing Lee | Kidstuff |
What should you shop for?
Everything your heart desires! Black Friday sales offer huge discounts on big ticket items like laptops, tablets and appliances as well as clothing, footwear etc.
Why Black Friday and Cyber Monday matter
Black Friday and Cyber Monday are the zenith of pre-Christmas sales, when (arguably) some of the best deals, discounts and sales coupons are offered. It's a chance to score some bargains and save before we enter the silly season and most expensive time of the year for most.
The history of Black Friday
The term Black Friday was first used in reference to the U.S gold market collapse of 1869. Then in the 1960s, police in Philadelphia began referring to the sales frenzy following Thanksgiving as 'Black Friday' as door busting shoppers and hordes flocked to the cities to kick-start the Christmas season, causing traffic chaos everywhere.4
Today Black Friday is just the day retailers record some of their highest profits from selling more items, products and aged stock at discounted rates, and go from being 'in the red' to 'in the black.'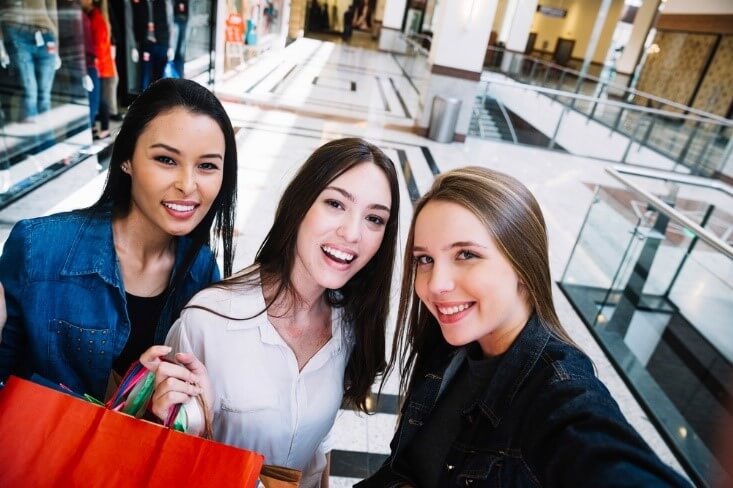 Five tips to save big on Black Friday
Be prepared. Do your research and make a wish list; since many retailers already have their Black Friday discount prices up on their websites, you can save big by comparing deals ahead of the big day, especially when it comes to big ticket items like electronics.
Beware of the time difference. If you're planning on taking advantage of U.S sales and you should because Costco and Walmart never disappoint at this time of the year, make sure you factor in the different time zone, so you don't miss out on sales.
Think beyond Black Friday. Don't forget Christmas is just around the corner and now could be the time to ponder that gift list and see what you can buy at a discount, you'd be surprised by how much you can save.
Check your internet connection. Your online bargain scoring dreams could be crushed if your internet crashes. Many retail sites will experience high traffic on Black Friday through to the weekend, so make sure you have a fast internet connection and back up data just in case. You don't want to be let down at the checkout.
Avoid the crowds and buy online. Most retailers will have both online and in-store sales, but shopping from home may help you make more informed decisions on your purchases instead of fighting crowds at the checkout and buying impulsively.
What to look out for on Black Friday
If you're buying online check shipping costs and make sure your purchase is still a bargain when the charges are applied.
If you're buying from international retailers, foreign transaction fees may apply, so check that your credit or debit card doesn't charge currency conversion fees.
Make sure not to go over your credit card limit and watch out for credit card surcharges when you shop online or in-store. If you're looking to attract reward points as you shop, consider shopping around for credit cards on our site beforehand.
It's easy to get carried away by great offers and discounts but make sure you stick to your budget and don't overspend. Remember, you're not really saving if you're maxing out your credit card buying sale items.
Retailers don't usually offer refunds or returns on sale items, especially international brands, so consider your purchases carefully, check sizes if you're buying clothes and check each store's return policy.
Remember: only shop from trusted and verified websites and avoid giving your personal or card details to unknown sites.
Sources
Did you find this article interesting or helpful?