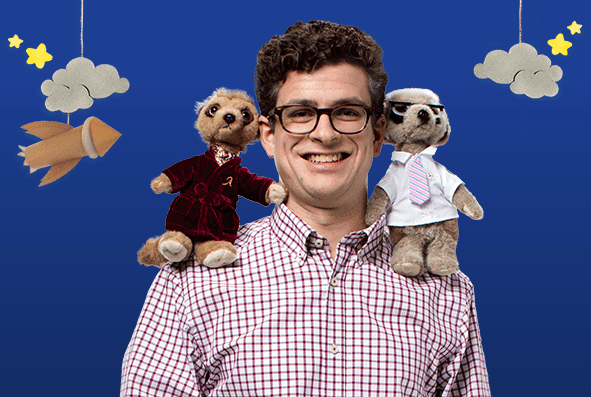 Most handsome founder of comparethemarket.com.au Aleksandr Orlov and his trusty sidekick, Sergei, have landed on Australian shores – in toy form.
The launch of the toys follows the significant fame the comparethemarket.com.au characters have garnered both in Australia and overseas. Aleksandr's favourite quip, 'simples', now appears in the Oxford Dictionary and his novel, A Simples Life: The Life and Times of Aleksandr Orlov, is a best-seller. The meerkat toys were the second best-selling cuddly toys in the UK in both 2015 and 2016 – second only to Disney – with a toy distributed every 30 seconds. The meerkat toys now live in over 6.5 million homes.
In Australia, Aleksandr and Sergei have gained popularity through our TV screens across the country and have more than 100,000 followers on their Facebook page.
Local households will be able to get their hands on one of these furry characters when they purchase health insurance through leading private health insurance comparison service comparethemarket.com.au up until 31 March 2017.
The toys are available to Australian consumers during the busiest time of the year for health insurance purchases. This is the 16th year in a row that the Federal Government is expected to give the green light to private health insurance premium increases, with comparethemarket.com.au predicting the rate rise this April to be around 5 per cent.
Abigail Koch, spokesperson at comparethemarket.com.au, says: "Aussies will be given the option of choosing either Aleksandr or Sergei between the 8 Feb and 31 March when they take out any hospital, extras or combined health insurance policy online or through the comparethemarket.com.au call centre."
A choice between Aleksandr and Sergei will be the toughest decision Aussies will have to make this health season! Aleksandr is widely known as the successful Russian billionaire and founder of the company. His hobbies include fencing, courtyard golf and hallway archery. Aleksandr's sidekick, Sergei, is Head of IT and Head of Tea-Making. Before working for Aleksandr, he personally designed the Mir(kat) Space Station as Head of Principle Design for the Soviet Space Programme.
The meerkat toys are available by redemption after the first payment of a new health insurance policy through comparethemarket.com.au, and only until stocks last. Visit www.comparethemarket.com.au/meerkat-toys/ to find out more and get your claws on a meerkat toy today.
About comparethemarket.com.au
Comparethemarket.com.au is an online comparison service that takes the hard work out of shopping around. We help Australians to quickly and easily compare and buy products from a wide range of providers. Our easy-to-use comparison tool enables consumers to find a product that best suits their needs and their back pocket. We're also in the business of comparing personal finance products, utilities and can help find the lowest fuel prices in your area. Whether it's car, health or home & contents insurance, we provide a completely free service, that empowers Australians to make buying decisions with greater trust, knowledge and savings. We've got your back, simples.
Did you find this article interesting or helpful?