Monday, 2 June 2014 – Nearly two-thirds (60%) of middle-aged men don't bother going to the doctors until they're already sick, and 1% admit to never having seen a doctor in their lives, says new research from price comparison website comparethemarket.com.au.
"Men notoriously only visit the doctor when they know something's wrong, which is a real worry as many men's health issues don't have symptoms until it's too late," said Grant Waldeck, spokesperson for comparethemarket.com.au.
To find out why men don't visit the doctor more regularly, Compare the Market spoke with men's health expert Dr Michael Gillman. "It's a myth that men don't care about their health. There are a range of individual, organisational and social factors that influence men's access to health and medical services. In particular, general practices are often perceived as 'female-orientated' by male patients.
"There are real differences between the psychology of men and women when it comes to their health. Data shows that women aged between 25 and 34 years old are twice as likely to visit a doctor as their male counterparts, and yet men do not live as long and have more health risks than women," said Dr Gillman.
Data from comparethemarket.com.au supports Dr Gillman's opinions as over the past 18 months 61% of customers taking out family and couples health insurance policies were female, indicating that the health of the family is still considered women's territory. Even with single policies, women are somewhat more proactive than men, with 56% of all policies bought by women.
When looking at different age groups, female Gen Zs (18 to 19 years) are twice as likely as male Gen Zs to have purchased health insurance. Data shows that some 69% of Gen Zs that purchased health insurance over the last 18 months were female.
Male Baby Boomers (50 to 68 years) are second least likely to have purchased a health insurance policy (38%), with female Gen Xs (35 to 49 years) the second most likely (63%).
Compare the Market's research shows that 55% of men over 40 years old have private health insurance, and yet just over a third (37%) feel confident their treatment would be covered in the case of serious illness.
Confidence in private health insurance varies greatly between city dwellers and their country-based counterparts. Some 41% of middle-aged men in urban areas felt their health needs would be covered in a crisis, whereas less than a quarter (24%) of men from rural areas have the same confidence.
"Australia is one of the most urbanised countries in the world, which has led to some health disparities between urban and rural communities. Our research shows that men from rural Australia are much more likely to rely on the public health system for help than those from built-up areas," said Grant.
Just under half (47%) of middle-aged men in country Australia said they would turn to the public health system for help if they had a serious illness. This is substantially higher than the 32% of men in cities that indicated they would rely on the public health system for help.
"Studies show that Australian men living in rural areas display reduced help-seeking behaviour, and are much less likely to visit a doctor than their city counterparts. There are some real challenges to encouraging men to be more proactive about their health needs, as talking about health is not considered a normal past time," said Dr Gillman.
Nationally, some 9% of respondents acknowledged that they probably wouldn't be adequately covered in the case of serious illness, but aren't able to afford additional cover.
"We encourage consumers to jump online and use free comparison sites to see if there is a more competitively-priced policy out there that offers more relevant cover for their individual needs. Consumers should pay particular attention to extras as this is where they can tailor their requirements and get the most value from their policies," added Grant.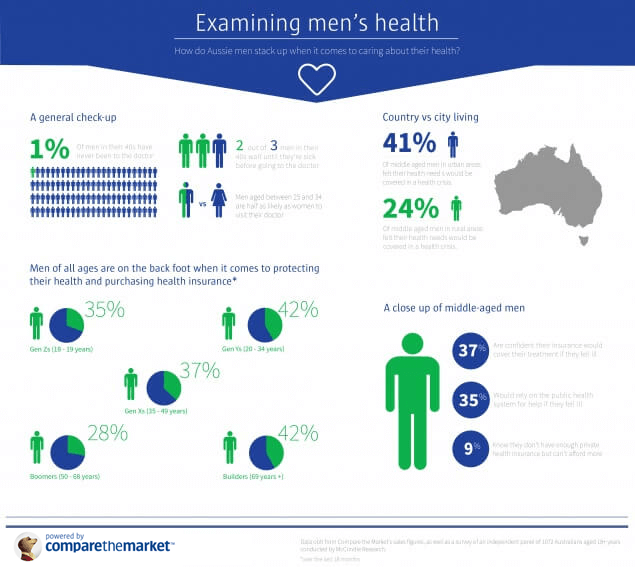 Survey of an independent panel of 1072 Australians aged 18+ years conducted by McCrindle Research. Questions answered online by approximately 50 per cent males, 50 per cent females across all Australian states (35% in NSW, 22% in Vic, 20% in Qld, 9% in WA, 7% in SA, 3% in Tas, 2% in ACT and 1% in NT). Some 79% of respondents lived in an urban setting and 21% lived in a rural setting. Just over a third (34%) were couples, 31% single, 30% couples with children and 6% were single parents. 
Did you find this article interesting or helpful?