3 Sydney Summer Getaways Your Family Should See
Home > Blog > 3 Sydney Summer Getaways Your Family Should See
Summer is here, the weather is hot, and sometimes you just need a little break from the hectic Sydney lifestyle and the never-ending traffic. When it gets to the point where you need to escape the busy streets of Sydney and make the most of summer with a family holiday, it's time to get away! With so many options, where are the best places to take a break that won't break the bank?
When planning a quick break or family holiday where would you automatically think of travelling?
Most Sydney-siders head north and cross the border to one of Australia's most popular holiday destinations – Queensland's Gold Coast. Here you can enjoy the sunshine, the theme parks, the nightlife, and Surfers Paradise beaches.
But where would you consider going if you didn't want to travel all the way to QLD?
Maybe somewhere more local, like Central Coast's Terrigal or The Entrance, Nelson Bay in Port Stephens, Newcastle, or even Jervis Bay in the south. But again, these are major holiday playgrounds and are typically where a lot of families are travelling to for summer.
The problem is, summer is peak season and heading north is a Mecca for holiday goers – it's going to be extremely busy and expensive.
Still stuck for destination ideas?
Compare the Market has your back.
Here are three great places to travel where you and your family can escape the crowds, embrace the summer, and enjoy a quick getaway with family fun options that won't cost a fortune!
1. Cockatoo Island
If you don't want to go far or for too long, this is the perfect place to enjoy some time away from home with your family. It is situated in the Sydney Harbour, only 15 kilometres from Sydney city, and is fairly easy to get to. You can take a train or find the cheapest fuel to drive in and catch the ferry to the home of Australian Ninja Warrior, where you can experience some amazing views of the city and harbour, and learn about convict history at the same time.
Cockatoo Island is a former industrial site which offers many things for families and children to do. If you're hungry, it has a couple of great cafés and even a cheese and wine experience for the adults. There are also some great picnic spots and BBQ areas if you choose to bring your own food. If you want to sleep under the stars, you can camp in the designated area or go glamping; apartments are reasonably priced and heritage houses are also available. This is an unforgettable experience for every family!
2. Wollongong
Wollongong may surprise you as a great place for a longer family holiday. If you decide to head south to this great destination it may only take an hour, and no more than 100 minutes if you want a scenic route. It has great beaches, an amazing food scene, a roster of events, special attractions, parks for the kids, and plenty of activities for the family to enjoy.
There are almost fifty accommodation options for your family to relax in after a fun day of adventure. To find the most competitive prices, compare hotels for free with Compare the Market. Wollongong has something for everyone and is highly recommended for a summer family holiday.
3. Dubbo
If your family is okay with driving long distances in the heat, then Dubbo might just be the place you need to visit! Dubbo will take around five hours of driving out west, and is well worth the trip, but you don't want to break down on your way to a break away, so it might be a good idea to compare roadside assistance that will cover you for this trip. It has many cultural experiences and activities for kids and adults of all ages to enjoy, however you can't go to Dubbo and not visit Taronga Western Plains Zoo. It will make you feel like you're in the Serengeti – you can even sleep there and wake up to exotic animals outside your door!
Dubbo locals love their food and you will too when you experience the markets, vineyards, cafés, and restaurants on offer. When you're ready to wind down, there are around fifty accommodation options for every budget in Dubbo. This is one experience your family will have to see and experience to believe!
Cockatoo Island
If you're looking for a short family getaway that's full of wonder, history, and discovery, and is close to home – look no further than Cockatoo Island!
Where is it?
Cockatoo Island sits in the Sydney harbour and is around 12km to 18km from the city centre, depending on which route you take; however, if you are travelling from a bit further out like the western suburbs or north Sydney, it might be a good idea to compare the cheapest fuel on the way, and choose the most competitive roadside assistance if you get stuck on the busy Sydney roads.
How do you get there?
Getting to the largest island in the Sydney Harbour is quite the adventure, but kayaking the whole family across the bay is not really an option.
It can take 22-25 minutes to get to Woolwich dock from Sydney city, where you can park and catch the ferry or even ferry your car across to the island. You can also catch a train from Town Hall Station to Wynyard Station, walk across to Barangaroo Wharf and catch the ferry from there to Cockatoo Island Wharf – this option will take around 39 minutes from Town Hall Station.
If you don't have a private boat or can't get a water taxi, your best option is to catch public transport in or drive and park outside a ferry wharf, then catch a short ferry ride from Circular Quay, Darling Harbour, Barangaroo, Woolwich, or from a wharf found on the F3 Parramatta River ferry route. If you are driving and parking, it might be a good idea to safeguard your car against the unexpected by comparing and selecting car insurance.
Special attractions
Other than having an amazing view of Sydney city and the harbour, and being the home of Channel Nine's Australian Ninja Warrior and the prisoner of war camp scenes from Angelina Jolie's 2013 movie Unbroken, Cockatoo Island is a former industrial site and has a rich maritime and convict history, which you can explore on your own by foot with an interactive self-guided audio tour – you can't get rid of your phone just yet!
Cockatoo Island is a UNESCO world heritage site for its representation of convict history on transportation, forced labour, harsh living conditions, and prison labour.
What can you do there?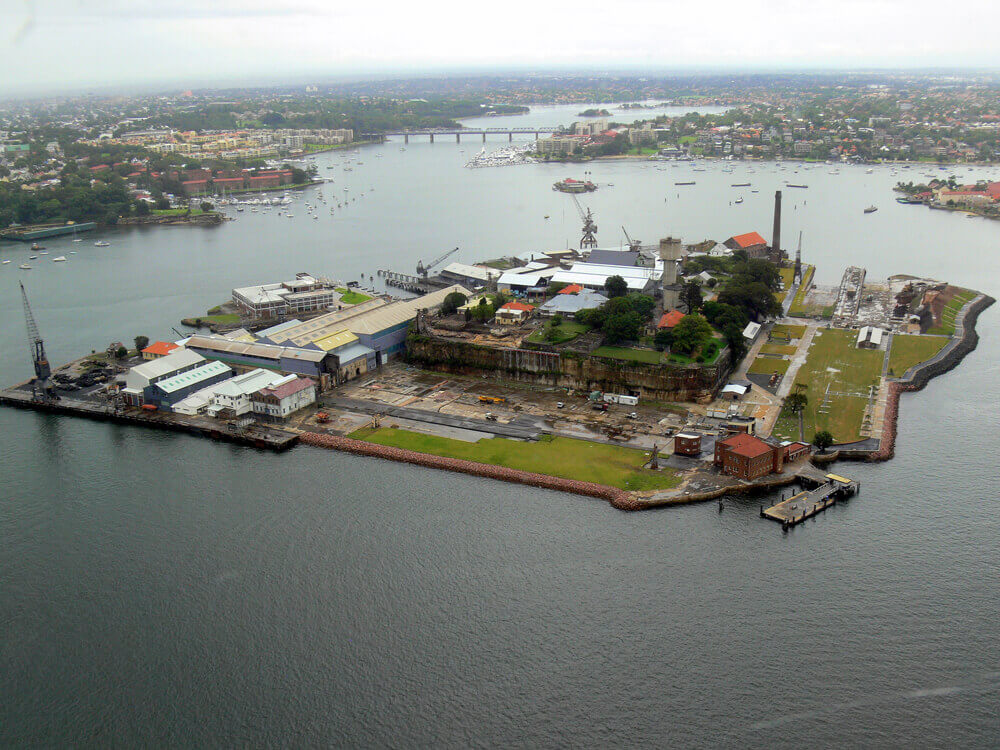 The island also offers plenty to do, including:
kayak around the island (BYO kayak)
challenge each other to a life-size game of chess
play a game of tennis or basketball
relax at campfire sessions during sunset with Australian artists performing intimate songs ($35 general admission)
discover the history of the Biloela Reform School for Girls through a digital fictional drama story while exploring the island which a geolocative app
haunted history night tours (not for the faint-hearted!)
Crooked Characters Tour and Convict Precinct Guided Tour with shipyard stories
dog leg tunnel cinema
restoration workshop
visit the Unbroken Room for free (screening room for the Unbroken movie)
kids Convict Clues Challenge (search Cockatoo Island with an activity booklet pull-out map and learn about life in convict prisons)
kids Ship Shape Challenge (follow the ship trail with an activity booklet and pull-out map and explore machinery and buildings to learn about their history).
Where can you eat and drink?
If you're hungry, you can eat on the island at Marina Café and Bar which is a short walk and has a relaxed environment that is family friendly; it also has an affordable menu which includes all the favourites and Toby's Estate coffee and wine for the adults. You can also dine at Societe Overboard, which is also relatively well-priced and serves gourmet sandwiches, burgers, burritos, BLTs, fish and chips, along with beer and wine.
Adults may want to indulge in a showcase of cheese making talent and great wines at Australian Artisan Cheese & Wine Experience by McIntosh & Bowman Cheesemongers. There are also plenty of picnic spots and BBQ areas (including a campground kitchen for guests) – BBQ packs can also be ordered from Societe Overboard. There are also vending machines and a coffee machine in the campground for caffeine enthusiasts.
Where can you sleep?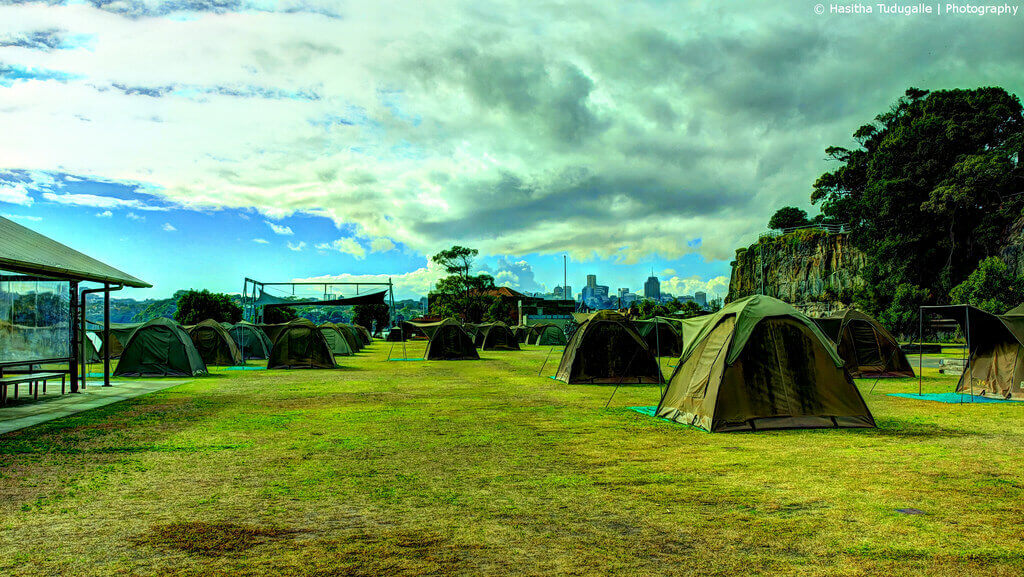 Cockatoo island is the only harbour island where you can stay overnight with a range of accommodation options for all budgets including BYO camping ($12.50 – $45 per night); camping and backpacking packages for those with a smaller budget ($89-$99 per night); glamping (glamorous camping: $130 – $175 per night); moderately priced apartments (fire station studio, garden apartment, or harbour view: $250 – $470 per night); or more expensive four and five bedroom heritage houses ($595 – $895 per night or $3,560 for a week). You can compare hotels and prices with compare the market if you don't want to go camping or glamping.
Cockatoo Island is one of the best Sydney locations to take in and enjoy New Year's Eve fireworks while relaxing in the middle of the harbour – without worrying about crowds, traffic jams, or ways to get home.
There is also a special $229 'stay and play' camping package (save up to $133) for a family of two adults and two children who want to sleep in the harbour under the stars, and receive entry to two of these entertainment activities: Sea Life Sydney Aquarium, Wild Life Sydney Zoo, Sydney Tower Eye with 4D Cinema experience, Manly Sea Life Sanctuary, or Madame Tussauds Sydney.
What should you be aware of?
As a former industrial site, the island may occasionally have uneven surfaces, trip hazards, voids, and cliffs – it's recommended you take care when adventuring on the island and mind your step at all times. To further protect yourself from any mishaps, you might want to consider purchasing travel insurance.
Most of the island has disabled toilet facilities and wheelchair access, although there are some uneven buildings on the island and a steep incline from the lower island to the upper island which may prove a bit difficult.
Free Wi-Fi is available on Cockatoo Island and you can hire and purchase extra bedding and kitchenware from the Visitor Centre.
There are some regulations for island visitors:
Don't bring alcohol (it can only be purchased at the cafés and consumed in licensed areas)
No portable BBQs or lighting of fires
No animals (guide dogs allowed)
No skateboards and roller blades (bicycles and scooters allowed)
Don't smoke in buildings or within 5 metres of cafés
Don't enter construction areas or climb cliffs and historic structures
Don't fish from the island or within exclusion zone
Don't swim outside the designated area
Don't camp outside the designates campground
Permits must be obtained for gazebos, marquees, performing commercial activities, private functions, playing amplified music, and remote controlled vehicles and drones.
While there are a few options for eating, it's recommended you bring food, non-alcoholic beverages, cooking utensils, cutlery, plates, personal items, and a torch if you're camping on the island.
Cockatoo Island is a great family experience that isn't too far from Sydney and has something for everyone.
Visit http://www.cockatooisland.gov.au/ for more information.
Wollongong
Going to 'The Gong' is not usually the first thing that comes to mind when planning a family summer holiday – but it may just surprise you as a great place to get away with the family!
Where is it?
Wollongong is a scenic coastal city with beaches, rock pools, forest trails, and rocky cliffs. It is situated in the south and is around a 90-100km drive from Sydney city, depending on which route you take.
How do you get there?
Travelling to Wollongong can be a fun adventure or a quick ride, depending on what you prefer – or what Sydney traffic dictates. You can fill up a full tank of cheap fuel and cruise down the M1 Princes Motorway from Sydney to get to the Gong in 85 minutes, or around 90 minutes on the M1 (or a bit longer if there's traffic).
If you want a more scenic route, you can drive along the Grand Pacific Drive to take in coastal rainforests, seaside villages, and the famous 665-metre Sea Cliff Bridge along the way – but you might want to make sure you compare and select car insurance or roadside assistance in case something happens on the drive down.
Alternatively, you can take out and catch a flight or take the train to Wollongong, which is located on the South Coast Sydney train line. A train ride from Central Station to Wollongong may take around 95 minutes.
Special attractions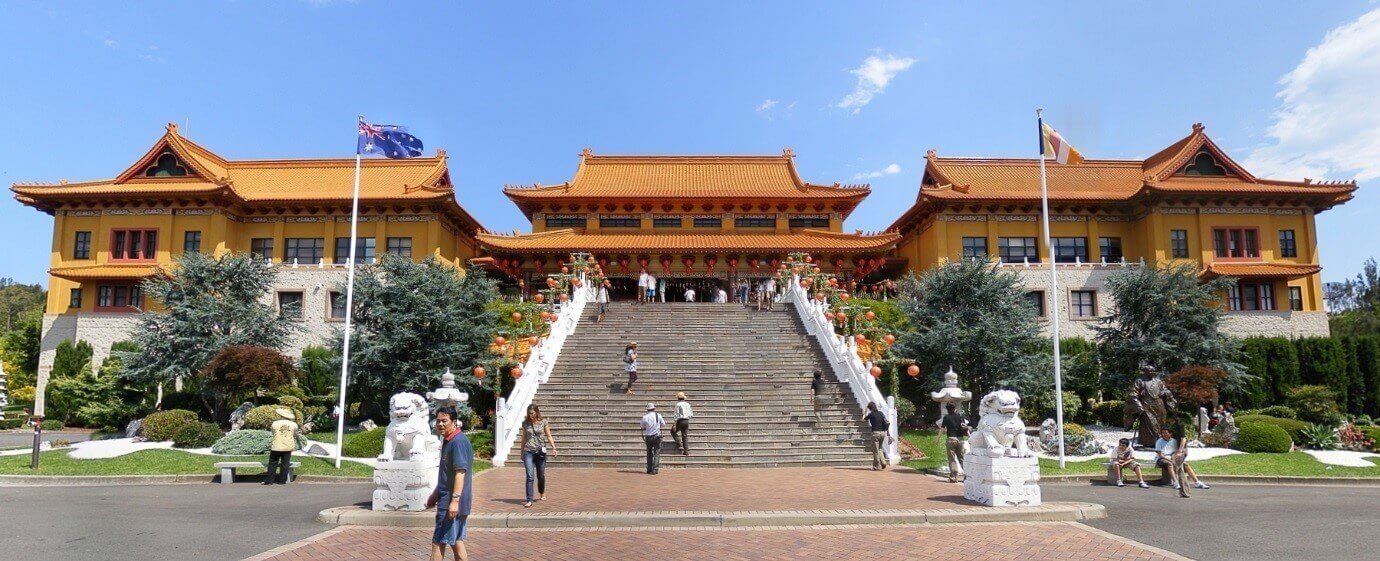 Wollongong is home to beautiful beaches, fun kids' playgrounds, cultural attractions, an amazing food scene, and a roster of great events, while only being a short drive to some family-friendly adventures.
If you want a cultural experience, you can visit the majestic Nan Tien Buddhist Temple in Berkely, which is ten minutes south of Wollongong city – it is the largest Buddhist temple in the Southern Hemisphere and offers amazing architecture, art, exhibitions, festivals, food, lifestyle classes, retreats, and even accommodation.
What can you do on the way to Wollongong?
Symbio Wildlife Park
If the drive is too long and you want to enjoy a family-friendly experience on your way to Wollongong, you can make a detour at the Symbio Wildlife Park, which has daily keeper presentations and hosts koalas, wallabies, reptiles, lemurs, and even meerkats!
Glenbernie Orchard
If you're looking for a snack or something else to do on your way down to Wollongong, you can make a pit-stop at Glenbernie Orchard and go on a special fruit tour where, depending on the season, you can pick peaches, plums, nectarines, apples, or raspberries.
While you're at Wollongong
Kids entertainment
Kids are usually hard to entertain but the Early Start Discovery Space usually holds a January School Holiday program and is an educational, interactive, and fun action-packed experience for little kids (and some adults) – a favourite is the 'tummy tour' where you can crawl through a supersized intestinal tunnel and squeeze out the butt.
Kids can also play 'pirates' in the shipyard, pretend to shop at the local market, build at the construction site, or discover treasures at the archaeological dig. There's also a book nook, digital media lab, and discovery garden where parents can also participate with their children.
There are plenty of parks and playgrounds for kids to enjoy in and around Wollongong, including Stuart Park, Bulli Beach playground, Pinecourt Park, and Austinmer Beach Reserve.
Beaches and pools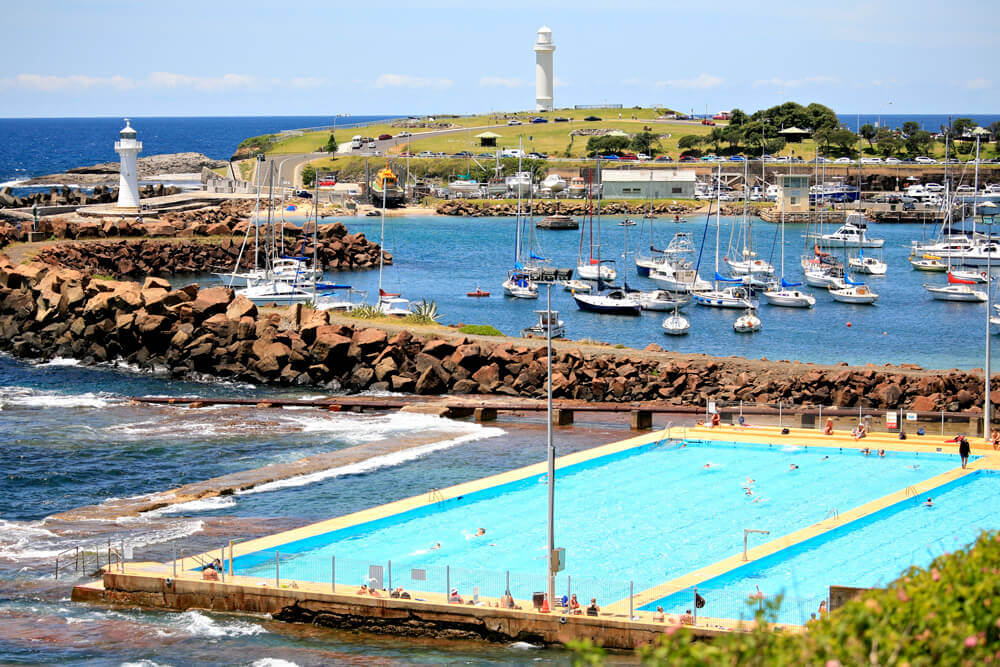 Wollongong is home to 17 stunning beaches with great surf, forest trails, rocky cliffs, and plenty of shade for picnics and golden sand. They are patrolled from September through to April.
North Wollongong beach is a favourite for surfing and is patrolled year-round, however some beaches are not dog-friendly, so it's best to check before taking your pooch along.
If you're not a fan of beaches or would prefer a calmer swimming experience to rougher surf, you might enjoy any of the nine ocean rock pools that can be found along the coast of Wollongong (please note that there are no lifeguards situated at these rock pools).You can also do some laps in a local Wollongong City Council pool if that's more to your liking.
Adventure experiences
If you're into adventure, great places to visit are Hangtime Trampoline Park, which features over 800 square metres of bouncing space, or Hangdog climbing gym with over 100 different climbs on 40 ropes. Inflatable world in north Wollongong is a great alternative for younger kids, although kids and adults of all ages can enjoy it! Canoe and kayak adventure tours are also available in and around the area.
Educational experiences
If you want a more educational experience, you can discover regional information through the Wollongong City Centre Heritage Trail; alternatively the Science Centre and Planetarium can be found in North Wollongong, or you can take the family to the Illawarra Museum, which can be found in an 1882 pre-federation post office.
Arts and culture
If you're into art, Wollongong art gallery or Project Contemporary Art Space is a great place to appreciate the creative work of established and emerging local artists and students alike. Wollongong traditional arts society INC also offers an exhibition with a difference.
Adults entertainment
Adults may also enjoy Breakout Bar & Escape Rooms, where you can have some drinks and take on the adventure of solving Professor B's challenges in a variety of themes. Wollongong also has a rotating roster of events to keep an eye out for – from comedy to music to lifestyle, you'll always be entertained!
Water park
Jamberoo Action Park is a family favourite water park and is only a 30 minute drive south from Wollongong. It may not be the cheapest experience for a big family, but it features an abundance of water slides, rides, and attractions for all ages. It's a fun day out on a hot summer's day, and tickets can be purchased online or at the door.
Outdoor adventure
If you're willing to drive 45 minutes south of Wollongong, your family will be in for a fun outdoor experience at the Illawarra Fly, which includes The Treetop Walk and an exhilarating Zipline experience. After Dark Zipline Tour is also available for those who dare to zipline at night! You can receive 20% off tickets when you purchase them online.
Where can you eat and drink?
You won't go hungry for too long in Wollongong! With over 80 different cultural groups living here, the food reflects diversity, and visitors have many choices to suit all taste buds – it's truly a food lover's dream. You can find many restaurants, cafés, pubs & bars, with a variety of food and drinks to enjoy.
There are many different cuisines to be found in Wollongong, including: Asian-Fusion, Balinese, Cambodian, Chinese, Lebanese & Mediterranean, Macedonian, Thai, Vietnamese, and traditional Italian at Il Nido Trattoria Pizzeria. There are also a couple of leagues clubs and some other great restaurants like Coldwater Creek Restaurant and Bar, Levelone@harbourfront (unique bar, grill & tapas experience), Levendi Wollongong Harbour, Northbeach Pavilion Pizza Restaurant Bar & Kiosk, Steamers Bar & Grill, and The Builders Club.
Fine dining and seafood
If you feel like seafood or want a fine dining experience, you should check out Bombora Seafood, award-winning restaurant Caveau, Harbourfront Restaurant, Lagoon Seafood Restaurant, or Windjammers.
Markets
Wollongong also has Eat Street Markets on Thursday nights from 5-9pm in the western end of Crown Street Mall, and Friday Forage Markets on the lower on end of Crown Street Mall from 9am to 3pm on Fridays.
Cafés
If you're looking for coffee at a nice cafe, these are some of the best Wollongong has to offer: Delano Specialty Coffee, Diggies Café, Earth Walker & Co (farm-to-table café and general store), Lee & Me, Quotes Café, Sublime Point Café, The Green Room City Beach Café, The Living Room Café/bar, and The Social @ IPAC.
Bars and breweries
Adults looking for some local breweries or bars will want to check out Illawarra Brewing Co – Wollongong's original microbrewery, Five Barrel Brewing, Mr Crown Bar, Howlin' Wolf Bar, or Red Square Bar, which specialises in vodka.
Where can you sleep?
Wollongong has almost 50 different places you can stay when visiting so there will always be somewhere you can relax at the end of a fun day. No matter your budget or tastes, you can find and compare accommodation options including eight internationally branded hotels, motels, self-contained or serviced apartments, boutique and luxury accommodation, bed and breakfasts, and tourist parks.
Think of the Gong when you're thinking of getting away with the family – you won't regret it!
Dubbo
Dubbo may not be the first place that comes to mind when thinking of a family holiday, but you may be surprised by what you might find!
Where is it?
If you're looking for a more unique, country experience, you might need to travel a little further out north-west of Sydney (around 400km to be precise) to the heart of Macquarie Valley and the Orana Region, Dubbo, New South Wales.
How do you get there?
You're in for a great family trip if you're willing to drive just over five hours in the car. Given the length of the trip, it's highly recommended you compare cheapest fuel prices and fill up a tank before you head out and return home. You'll be heading out into the remote area of the country so it might be a good idea to protect your journey from any flat tyres or flat batteries by selecting roadside assistance as well. You don't want to break down on your way to a break away!
If you don't want to risk the long drive or still need to compare suitable car insurance options, or just don't feel like driving for five hours, you can also take a six to seven- hour train ride or one hour flight – Dubbo Airport is five kilometres from the town centre and has around 180 weekly scheduled flights in and out of Dubbo.
What can you do there?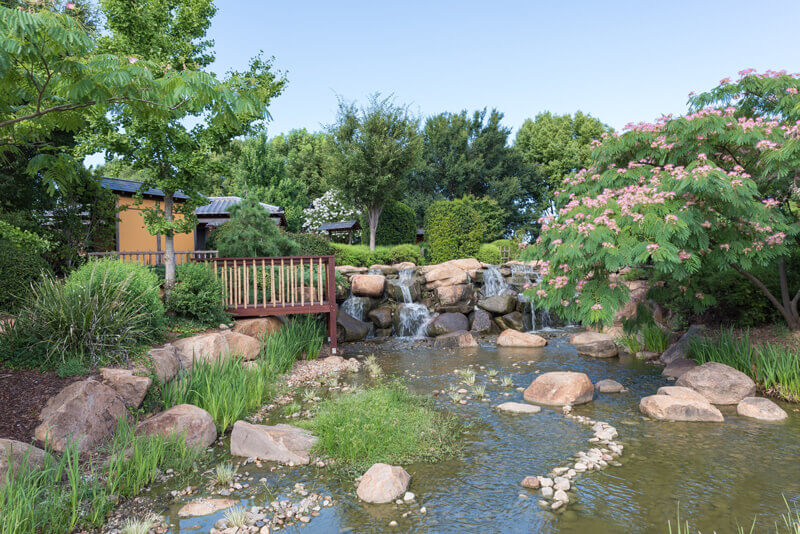 Dubbo has an estimated population of around forty thousand and is a vibrant city with something for everyone. It has a great sense of pastoral history and heritage, which you can experience by trying the Dubbo Heritage Walk or First Lesson Cultural Tours to learn about aboriginal culture.
It is home to beautiful gardens, parklands, and picnic areas to explore and enjoy, including the Dubbo Regional Botanic Garden, the Shoyoen Japanese garden, and the Two Dams picnic ground. It is also home to museums and galleries like the Old Dubbo Gaol with its entrancing night experience, or the Western Plains Cultural Centre.
Families can also escape the heat and have fun with many options for kids and adults alike, including:
Inflatable World Dubbo
Dubbo Aquatic Leisure Centre (10 lane Olympic pool, children's pool, slides, BBQ facilities)
Dubbo RSL Club Resort (gym, indoor heated pool, dining, live shows and family entertainment)
Elston Water Park (for smaller kids)
Adventure Watersports (kayak and stand-up paddleboard hire and tuition)
Bike hire (cycling along the Dubbo River is a fun experience for all)
Bird watching
Dubbo Sportsworld
Dubbo Tenpin Bowl
Flip Out Trampoline Arena
Kidzoo Playhouse Café
Western Plains Riding Centre where you can learn to ride horses
Special attractions
Taronga Western Plains Zoo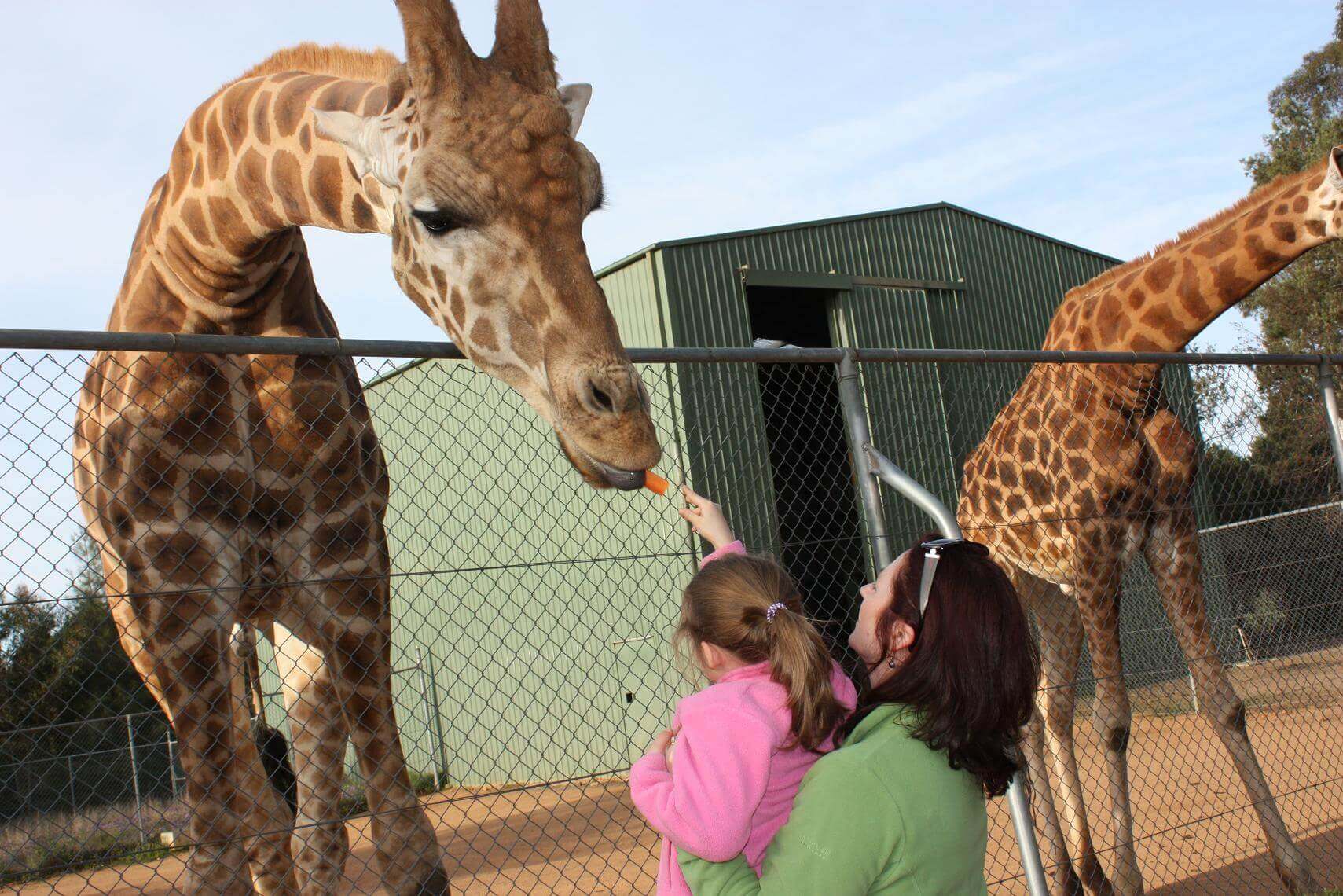 Dubbo is home to the award-winning Taronga Western Plains Zoo, which is an unforgettable experience for all ages. You may have thought you needed to go to the Serengeti in Africa to see giraffes and zebras wandering the plains, but that's not the case!
Taronga Western Plains Zoo cares for 4,000 animals from over 350 species (many of which are threatened species). It's open every day of the year, including Christmas Day, from 9am to 4pm (open 8.30am during holiday periods), and stretches over a six kilometre circuit through natural bushland and large open-style exhibits.
Entry tickets are reasonably priced with adults at $47, children at $26, and infants under four free – you can also save up to 20% on gate ticket prices when you purchase online. Adults and kids alike can discover the fun these school holidays by exploring the park zoo safari style in an electric cart, learning fascinating facts at zoo keeper talks or through a safari audio tour, and seeing exotic animals up close and personal.
You can relax with a meal or coffee at Bakhita's Café in the Savannah Visitor Plaza and you can also sleep overnight and wake up to these exotic animals roaming outside your door at Taronga Western Plains Zoo. Accommodation at the zoo is available but will range in price depending on how you want to sleep. You can choose:
Billabong Camp (sleep under the stars in tents with premium or standard packages – prices vary depending on package inclusions and guests)
Zoofari Lodge (premier luxurious retreat, accommodation, cuisine, and guided tour Safari style experience – price upon request/inquiry)
Savannah Cabins (self-contained cabins for four to sixpeople – including zoo entry, two bedrooms, kitchen, alfresco dining, BBQ, WiFi and Foxtel, located on grassland adjacent to zoo – prices range from $299 – $405 per night).
Where can you sleep?
Sleeping at the zoo isn't the only Dubbo accommodation available for you – with over 50 options for all budgets including inns, motels, private apartments, caravan parks, cottages, lodges, and bed and breakfasts, there are many places for you to relax at the end of the day!
Where can you eat?
Everyone loves food and drinks and the Dubbo locals are no different with markets like Dubbo Farmers Market or Riverside Markets, the Old Bank Restaurant & Bar for great cocktails and food, Two Doors Wine and Tapas Lounge for rustic Spanish food, and vineyards like the Red Earth Estate or the Tombstone Estate for the adults to indulge in a little wine tasting.
You'll also have many food options for all budgets and taste buds – from Thai, Indian, and Chinese, to the Village Bakery Café, Westside Hotel, and The Lions Pride Café & Restaurant for family-friendly modern Australian food for every meat lover – including steak, ribs, and over 20 kinds of schnitzel.
For more elegant, fine dining experiences you can visit Reflections Restaurant, Veldt restaurant, or Red Earth Dining and Piano Bar.
What should you be aware of?
Although a bit of a drive from Sydney, there is nothing much to be aware of. Dubbo is a great experience and is highly recommended for families who are comparing where to go this summer and are looking for a unique, memorable experience and a special family trip!