You've booked your tours, filled out your itinerary and started packing your bags for a cruise holiday… but have you thought about what could possibly go wrong? Hopping aboard a cruise is meant to be fun and relaxing, yet sometimes they can be anything but.
Whether you're cruising the Caribbean, soaking up the Mediterranean, voyaging across the Pacific, or exploring Australian waters, it pays to be prepared in the unlikely event you encounter some of these unfortunate events.
1. Pirates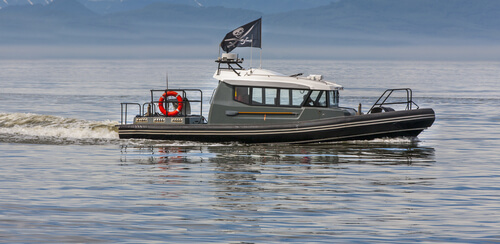 Piracy is not a danger relegated to the swashbucklers of yore but is a crime still carried out across various seas and oceans today. Modern pirates have traded in the cutlass and eyepatches for guns and motorboats, but are still interested in treasure; whether that be hostages, cargo or money.
While pirates can strike vessels anywhere, the most common areas plagued by pirates are:
Indonesia
Somalia
Nigeria
Gulf of Aden
India
Bangladesh
Red Sea
Ivory Coast
Peru
Singapore Strait.[1]
Cruise ships are rare targets for pirates, but they can be attacked. In 2005, the Seabourn Spirit was attacked by pirates in Somalia on its voyage from Egypt to Kenya.[2] Between 2005 and 2012, six cruise ships reported being attacked by pirates, though only the attack on Le Ponant in 2008 was successful. Le Ponant's crew was hijacked and later rescued, and the ship was returned in exchange for a ransom payment.[3]
Cruise ships have a number of avenues to handle pirates, ranging from special maneuvers and outrunning the pirates, to non-lethal devices like water cannons and the Long Range Acoustic Device (LRAD), which uses a targeted beam of painful noise to deter pirates.[4]
2. Illness, injury and falling overboard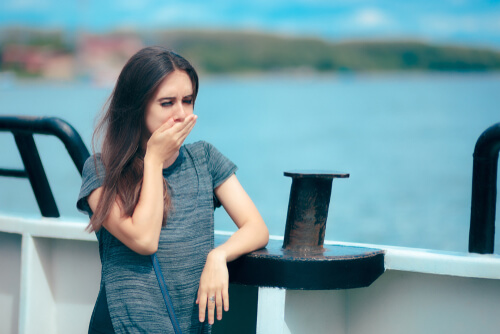 Something that's far more likely to ruin your cruise than pirates is sickness or injury. After all, if you're hurt or need medical care on a ship in the middle of the ocean, you could be miles away from the nearest hospital.
There's a range of different injuries and illnesses that can happen on a cruise. One of the scarier, though uncommon, possibilities is falling overboard.
Between 2000 and 2018, 284 people fell overboard on a cruise.[5]
Considering that, according to Trip Savvy, 20 million people took a cruise in 2018 alone, it's a relatively small percentage of passengers who fell overboard.[6] Even against the number of Australians who went on a cruise – 1.34 million in 2017 – the probability that you'll fall overboard is small.[7]
If you do fall overboard, survive the impact of the fall, and manage to keep afloat in the open ocean, chances of survival without rescue are slim. Within hours, you will begin to become exhausted from treading water. In cold water, you can risk catching hypothermia if you're in the water for 30 minutes or more.[8]
Should the crew be alerted of someone going overboard, the cruise ship could turn around and begin searching, though for how long is up to the captain. The ship usually notifies other ships within a 30 nautical mile radius to keep an eye out.[9]
If you become sick or injured while at sea, you'll be taken to the ship's first aid room or infirmary. One of the most common injuries on a cruise is slipping over and falling on the deck. Passengers and crew alike will have to watch out for the movement of the boat, wet floors, headwinds, and steps. Adults may also find that alcohol on a moving ship doesn't help their balance either.
Cruise Critic notes that most major cruise lines have at least one doctor and two nurses on board. The medical staff will assess your ailments and carry out treatments. In emergencies, the staff will try and stabilise life-threatening injuries or illnesses until you can be sent to a hospital on land or transported back home for care.[10]
If you're travelling while pregnant, you may be barred from boarding the ship, depending on how far along your pregnancy is. Most cruise lines have a health questionnaire for guests to complete when checking-in and preparing to board. For example, Royal Caribbean ships will only let pregnant women on board if their pregnancy is less than 24 weeks.[11]
It's important to note that should your condition require hospital attention during your cruise, you'll have to pay the hospital fees yourself. Even if the hospital you're taken to is in a country that has a reciprocal health care agreement with Australia, the cost of treatment and medical care may not be fully covered, and you could still face out-of-pocket costs.
The Department of Human Services lists 11 countries that have a reciprocal healthcare agreement with Australia at the time of writing:
Belgium
Finland
Italy
Malta
Netherlands
New Zealand
Norway
Republic of Ireland
Slovenia
Sweden
The United Kingdom[12]
If you do become sick or injured while on your cruise, let the ship crew know. Hopefully, you'll be right as rain and enjoying your cruise again in no time.
3. Lost documents and belongings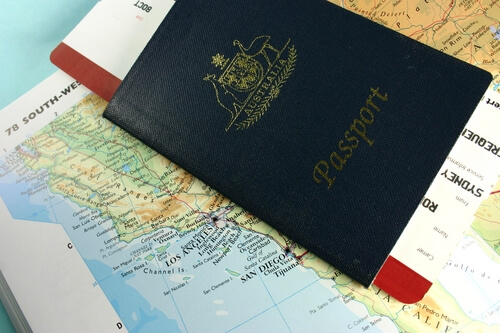 Just like flying to another country, you're going to need to pack your passport and any other travel documents. Losing them on a cruise can cause a giant headache.
Without a passport, visa or other travel documents, cruise lines may not let you on board the ship.
It's also crucial to make sure your passport and travel documents are valid beforehand. Royal Caribbean notes that your passport must be valid for at least six months after the cruise is due to end. Depending on which countries you visit on your cruise, you might also need a visa.[13]
On top of a passport and a visa, you may need proof of vaccination. For example, you might need proof you've had a yellow fever travel vaccination to enter countries such as China, Egypt, Mexico, Cambodia, Belize and the Bahamas.[14]
You might also need some family legal documents if your kids have a different surname to you.[15]
Smartraveller suggests bringing a copy of your passport with you, as some cruises might hold onto your passport when entering a foreign port. This is designed to make it easier for authorities to process visiting passengers.[16]
4. Missing the boat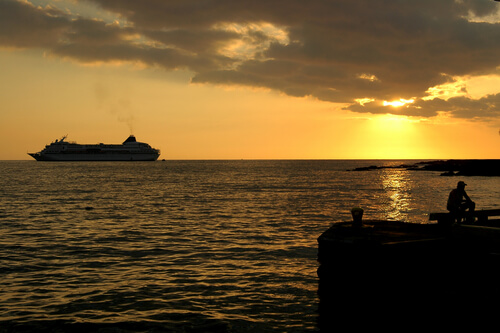 Missing the boat is one of those things that might be funny when they happen to other people, but can ruin your trip when it's your cruise ship sailing into the horizon, leaving you behind on the pier.
Cruise ships have a tight schedule and can only wait at the port for so long before departing. If you're not there in time, the ship will leave you behind.
This can be a costly mistake, as you'll have to pay for last minute alternative transport, and perhaps even accommodation, to help you catch up to the cruise ship. According to Smartraveller, making these arrangements will be your responsibility.[17]
The crew on board will usually call your name over the announcement system to make sure you check-in. If your passport is still on the ship, the crew will generally leave it with the cruise line's agent stationed in the port. This is important, as you'll need your passport if you're going to book a flight to catch up at the next port of call.[18]
It's highly recommended you leave plenty of time to get back on board from where you are in port. If you're flying to a port to catch a cruise, not only will you have to factor in travel time from the airport terminal to the pier, but potential delays in your flight that can make you miss your cruise.[19]
5. Delays and cancellations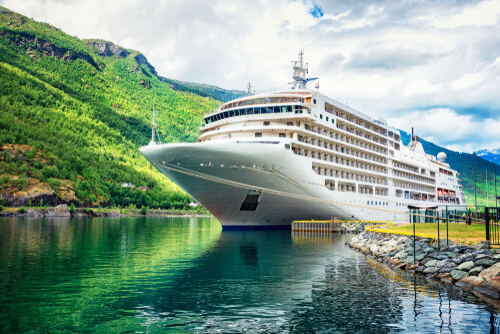 Sometimes, your cruise doesn't even get to leave port and is delayed or cancelled altogether.
There are a variety of reasons why your cruise might be shortened, delayed or cancelled, which can dampen your spirits if you've packed your bags, booked your daily excursions and filled your itinerary with exciting adventures.
Poor weather is one reason why your cruise may not leave the port. When a strong storm or natural disaster like a cyclone occurs, cruise ships will need to act in accordance to protect passengers, crew and the ship itself.
For example, 2017's Hurricane Irma in America caused cruise ships in Florida to cancel their voyages.[20] Back home in Australia, Pacific Dawn had to cancel a port call to Airlie Beach due to Cyclone Debbie, which also forced the Azamara Journey to make port at Mooloolaba instead of the planned visit to Hamilton Island.[21]
Beyond the weather, human error could be at fault. For example, in 2018, Liberty of the Seas had to spend a day at sea instead of docking at Roatan in Honduras because another cruise ship had damaged the pier earlier in the day and it needed to be repaired. In this instance, anyone who had booked day excursions through the cruise line Royal Caribbean was refunded.[22]
Cruise ships will try their best to accommodate guests, and may even provide refunds depending on the situation.[23]
Cruise holidays and travel insurance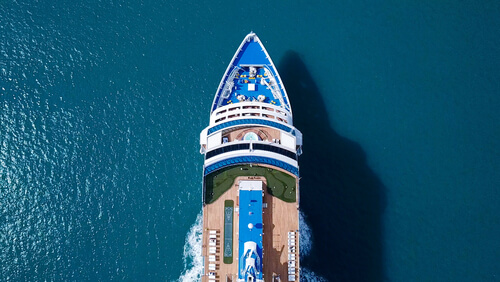 So, you're all packed, you've booked your cruise holiday and you're ready to hit the open ocean, but you're still worried about what can go wrong on the water. If you haven't taken out travel insurance, anything bad that happens can put a damper on your holiday.
The Department of Foreign Affairs and Trade (DFAT) recommends travellers take out travel insurance that provides coverage for cruises.[24] Whether it's embarking for Europe, the Caribbean or Australia, cruise travel insurance may help provide coverage for anything unexpected on your journey.
So long as the event is listed as an inclusion in your Product Disclosure Statement (PDS), cruise cover travel insurance could help pay for medical costs and expenses from injuries, pirates, hijacking, cancellation costs and loss from weather, and some additional expenses if something goes wrong.
Furthermore, travel insurance can also cover your journey before you reach your cruise. This means if, say, a flight cancellation, car accident, riot, strike or natural disaster prevents you from reaching the port, travel insurance could also help cover expenses.
It's crucial you carefully read the PDS, as travel insurance doesn't cover everything. For example, if you're late to your boarding time or re-boarding time while at the port and the ship leaves without you, travel insurance may not pay for the cost of catching up to the ship. Cruise cover may also have some other common travel insurance exclusions as well.
When planning your cruise, make sure you find a policy to cover your needs and destination. That way, you'll have peace of mind when hitting the high seas.
When planning your trip, Compare the Market can help you save time by making it easier to get travel insurance. You can compare travel insurance policies from a range of Australia's leading travel insurance companies with our free comparison service. It is easy to use and only takes a few minutes, so why not see what we have to offer when planning your next cruise getaway?
Sources:
[1] Modern Day Pirate Attacks By Country. Jessica Dillinger, World Atlas. 2018.
[2] WATCH: Cruise passenger films terrifying moment ship is attacked by PIRATES. Claudia Cuskelly, Express. 2017.
[3] Pirates Then and Now: Could Pirates Attack My Cruise Ship? Ashley Kosciolek, Joyce Gleeson-Adamidis, Cruise Critic. 2019.
[4] 18 Anti-Piracy Weapons for Ships to Fight Pirates. Raunek Kantharia, Marine Insight. 2019.
[5] People fall off cruise ships with alarming regularity. Can anything be done to stop it? Rosie SPionks, Quartz. 2018.
[6] 10 Myths About Cruise Ships and Cruising. Linda Garrison, Trip Savvy. 2018.
[7] Australia cruise industry numbers: 1.34 million Australians took a cruise in 2017. Sally Macmillan, Traveller. 2018.
[8] Surviving in Cold Water. Royal Life Saving Australia. 2017.
[9] Cruise Overboards: A Crew Member's Perspective. Joyce Gleeson-Adamidis, Cruise Critic. 2019.
[10] Cruise Ship Doctors and Medical Facilities Onboard. John Roberts, Jeanine Williamson, Cruise Critic. 2019.
[11] May I board a Royal Caribbean ship if I am pregnant? Royal Caribbean International. 2019.
[12] About reciprocal health care agreements. Medicare, Department of Human Services, Australian Government. 2018.
[13] Travel Documentation. Royal Caribbean International. 2019.
[14] Cruise Rules and Regulations, Plus Travel Documents and Information. Elissa Leibowitz, Cruise Critic. 2019.
[15] Travel Documentation. Royal Caribbean International. 2019.
[16] Going on a cruise? Smart Traveller, Department of Foreign Affairs and Trade, Australian Government. 2019.
[17] Going on a cruise? Smart Traveller, Department of Foreign Affairs and Trade, Australian Government. 2019.
[18] What Happens When You Miss Your Cruise Ship? Ben Souza, Cruise Fever. 2018.
[19] Ten Things You HAVE To Do If You Get Left Behind In Port. Millie Finn, Cruise.co.uk. 2016.
[20] What Happens if my Cruise is Cancelled Due to Weather? The Cruise Experts. 2017.
[21] Tropical Cyclone Debbie's impact on cruises in Queensland: New stops and 'cruises to nowhere'. Sheriden Rhodes, Traveller. 2017.
[22] What Happens When a Port of Call is Cancelled. Cruzely, Laisman Publishing. 2018.
[23] What Happens if my Cruise is Cancelled Due to Weather? The Cruise Experts. 2017.
[24] Going on a cruise? Smart Traveller, Department of Foreign Affairs and Trade, Australian Government. 2019.
Did you find this article interesting or helpful?