5 unforgettable travel experiences for people in their 20s
Home > Blog > 5 unforgettable travel experiences for people in their 20s
Keen to get away and experience something new? Perhaps you're looking at your first overseas trip?
Travelling in your 20s can be an exciting time, whether you're travelling with friends or by yourself. It may be the first time you've been able to call the shots on your holiday away, meaning you can really have the vacation you want. So why not take full advantage of that opportunity?
The world is full of many unforgettable travel experiences, it can be hard to choose one. To narrow things down, we've compiled a list of five travel experiences you should consider for your next trip.
Snorkel the Great Barrier Reef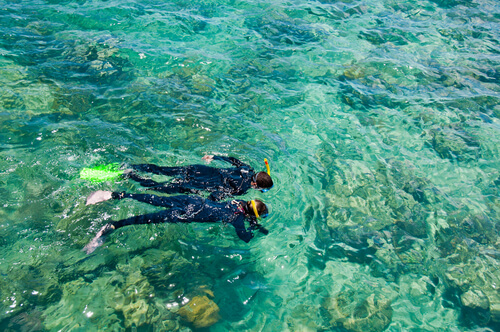 Location: Cairns, QLD, Australia
For a local experience, it's hard to go past the Great Barrier Reef – one of the world's most amazing natural wonders. It is the home of largest coral reef system in the world, along with more than 1,500 species of fish. With so much happening underwater, why not take a look?
Snorkelling allows you to get up close and view the marine life in its natural habitat. Who knows – you might even find Nemo.
When is the best time to experience this?
Usually, the most popular time to go to the Great Barrier Reef is between June and October. During this time, the water is generally clearer – due to less rainfall – giving you a better view of the natural wonders the reef has to offer. While these months generally have cooler temperatures, the weather in Cairns and surrounding areas is warm enough to go snorkelling, with average temperatures around 26-30 degrees.
Important things to know
Stay in the designated areas: As tempting as it may be, try not to stray from the designated snorkelling area. There could be a strong current, which may be hard to swim against.
Follow instructions from your tour guide: Tour guides have vast experience in dealing with the Great Barrier Reef. They know what to expect and how to explore the reef in a safe manner. It's best to always follow their directions.
Be wary of stingers: If you choose to go snorkelling between November and June, you may encounter stingers in the water. In this case, make sure you're well protected by a full body lycra suit, which is generally provided by tour operators.
Be sun smart: It doesn't matter what the season is, the sun can be unforgiving in Northern Queensland. Cover up as much as possible and apply sunscreen to exposed areas.
How do I get there?
Cairns is easily accessible from any major city airport. Once you have arrived at Cairns, you can book a day trip to the Great Barrier Reef through Sightseeing Tours Australia.
Accommodation
There are various accommodation options in Cairns, which you can compare and book using our free hotel comparison service.
Trek through Patagonia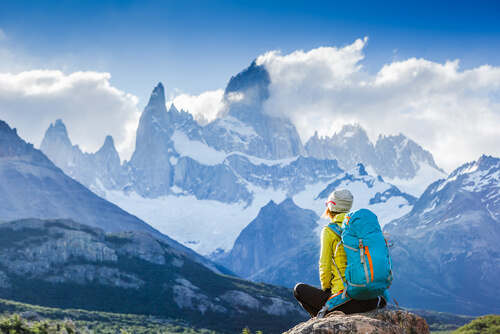 Location: Argentina/Chile border
Wide open spaces of majestic beauty make Patagonia a popular destination for nature lovers – and with around 1.043 million km2 to explore, there's no shortage of adventures to be had.
Amazing glaciers, picturesque rivers, and stunning mountains are just a few of the attractions that you will see while trekking through this region shared by Argentina and Chile.
When is the best time to experience this?
For warmer weather and clearer views, the best time to trek through Patagonia is between November and March. Just keep in mind that this is usually the time of the peak season, so make sure you book your trip and accommodation well in advance.
Important things to know
Dress appropriately: If you plan to go trekking through Patagonia, make sure you wear clothes that can handle rigorous outdoor activity. This includes hiking boots, thick socks, a secure hat, and season-appropriate clothing.
Be sun smart: No matter what season it is, being exposed to sun for long periods of time can lead to sunburn. Make sure you're well covered.
How do I get there?
If you're starting in Australia, flying to Santiago, Chile is probably the most suitable option. From there, you can fly to Punta Arenas, which is the closest airport to the Patagonia region.
Accommodation
Many visitors of the Patagonia region choose to camp, since it can be a great way to experience the natural wonders of the region. Just be wary of the fact that travelling during the peak season (November to March) could mean that vacancies at camping sites might be limited.
If you're someone who can't go without creature comforts, there are various accommodation options available in Punta Arenas. Our free hotel comparison service can help you find one that suits your lifestyle and budget.
Celebrate Day of the Dead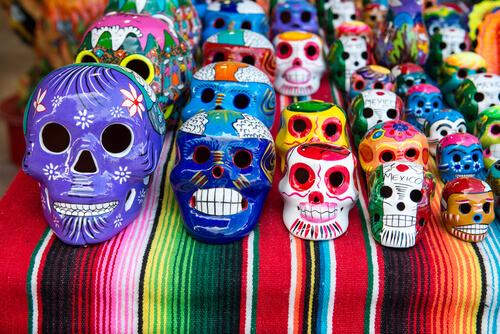 Location: Oaxaca, Mexico
Day of the Dead – or Dia de los Muertos in Spanish – is a Mexican annual holiday where participants remember family members who have passed away.
Unlike a traditional funeral, Day of the Dead is a colourful celebration of their lives, which includes flowers, butterflies, altars, and decorative sugar skulls that represent the lost family members. The idea of the holiday is to appreciate the circle of life and enjoy every moment.
People visiting Oaxaca during the Day of the Dead celebration can see parades of people dressed in traditional Dia de los Muertos costumes, dancing and playing music. Oaxaca is also an excellent location for foodies, with local markets offering some of the finest Mexican cuisine.
If you're looking to remember your lost friends and relatives with a new perspective, Day of the Dead celebrations in Oaxaca, Mexico will offer an experience you'll never forget.
When is the best time to experience this?
Day of the Dead will run from 31 October to 2 November 2018.
Important things to know
It is not Mexican Halloween: Even though it is held on the same day, and participants dress in costumes, Day of the Dead is not aligned with Halloween. It is a time to celebrate the supernatural, not to fear it.
Offer spirits food: It is the custom to leave food and drinks for spirits, as it's believed they will be hungry after their journey back from the afterlife. Mole negro – a complex dish made up of chicken, nuts, various spices, and rice – is a common meal that is often left for the spirits in Oaxaca, along with pulque, a sweet traditional Mexican wine. However, you can leave whatever you think will please your departed loved ones.
How to get there
The most suitable way to get to Oaxaca from Australia is probably via Los Angeles. You can fly from LAX to Xoxocotlan International Airport. While you may be able to fly direct, it's generally more common to have a stopover in Mexico City.
Accommodation
There are numerous accommodation options in Oaxaca, which can be booked and compared using our free hotel comparison service.
Experience Burning Man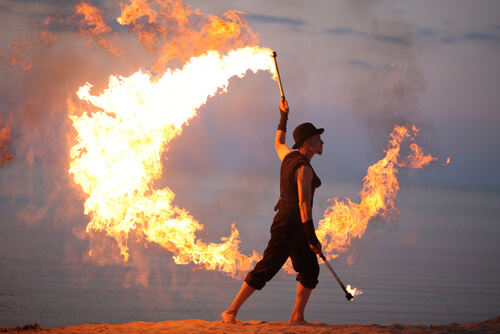 Location: Black Rock Desert, Nevada, USA
If you are artistically inclined or just an aficionado, Burning Man is a unique experience not to be missed. Every year, a temporary city is built in the Black Rock Desert in Nevada.
With its great sense of community, Burning Man inspires artists every year to collaborate and work on projects that aren't limited by factors generally associated with the real world.
Of course, what you take part in is completely up to you. If creating art isn't your thing, you can simply use the Burning Man experience as a reason to camp in the desert and meet some interesting people you otherwise wouldn't have the opportunity to interact with.
When is the best time to experience this?
Burning Man runs from 26 August to 3 September.
Important things to know
Be sun smart: Burning Man is held at the end of summer in the Nevada desert. Make sure you apply plenty of sunscreen and cover up wherever you can.
Bring your own water: Water is not sold at Burning Man, so it's important that you have a substantial supply. It is recommended that you take roughly 5.6 litres for every day you're there. So, if you're there for an entire week, you should take almost 40 litres of water for drinking, and cleaning.
Bring warm clothes for night time: The heat isn't the only thing you need to be concerned about in Black Rock Desert – at night, temperatures can plummet. To be prepared, bring warm clothing to help yourself acclimatise.
Secure your tent: There is a chance that there will be strong winds at Black Rock Desert. By securing your tent, you can keep your accommodation on the ground, where it should be.
Clean up after yourself: There is no garbage collection at Burning Man, so it's your responsibility to ensure that there's no rubbish left in Black Rock Desert.
Hire a car: While it isn't mandatory, having your own transportation is recommended, since you will have to bring a lot of water and supplies, and potentially accumulate a lot of rubbish.
How to get there
Once you have flown into LAX, you can get another flight to Reno (the closest capital city) or San Francisco. From there, The Burner Express, a chartered shuttle bus or plane, can provide return trips to Burning Man from San Francisco and Reno. If this is your preferred option, make sure to book in advance.
Accommodation
Being out in the middle of the desert, Burning Man isn't for a traveller that craves the comfort of a hotel. For others, camping is all part of the experience. Just remember: wherever you camp, ensure that you don't leave anything behind.
Volunteer to help build houses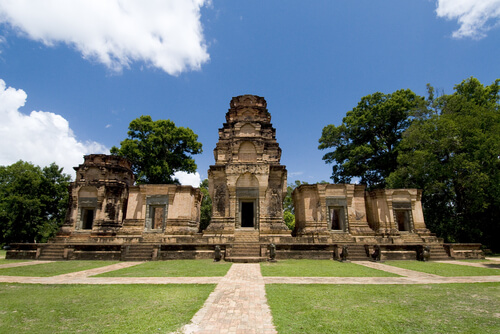 Location: Siem Reap, Cambodia
If you're looking to experience another culture, while making a significant difference to the lives of the less fortunate, house building in Siem Reap could be a rewarding activity for you to partake in.
Organisations such as Volunteer Building Cambodia, Habitat for Humanity, and the Life and Hope Association are always on the lookout for volunteers for their housing projects in Siem Reap. It could be a great opportunity for you to do something constructive and gain a practical skill in the process.
It's not a problem if you have never built a house before, because there will be experienced builders to guide you through the process.
When is the best time to experience this?
Volunteers are needed in Siem Reap all year round, so it's really a matter of preference. However, it's worth noting that the wet season is usually between May and October, and building houses in wet weather is more difficult.
Important things to know
Allow up to five days to build a house: According to the Life and Hope Association, house building usually takes around 3-5 days. This includes one day for buying materials, three days of building, and an extra day for contingency.
Costs: According to Volunteer Building Cambodia, the costs you will have to cover while volunteering include: travel to and from Siem Reap, visa fees, travel insurance, and meals.
How do I get there?
You can get to Siem Reap via the Siem Reap International Airport. From Australia, this trip may have a stopover in Singapore or Hong Kong.
Accommodation
There are numerous affordable accommodation options for families in Siem Reap. Whether you want to stay in a hostel or a five-star hotel, we can help you find a place to stay with our free hotel comparison service.
Want more information on how to plan your trip? Read our ultimate guide to planning a holiday for more travel tips and advice.