5 amazing travel experiences for families
Home > Blog > 5 amazing travel experiences for families
Selecting a holiday destination your entire family will love can often be a challenge. You have to find a place that has a balance of activities that both adults and kids will enjoy; otherwise, you might find the holiday stressful, which defeats the purpose of going on a holiday in the first place.
To ensure you have a great time on your next trip, we have compiled a list of five great travel experiences your family will love.
Visit Disneyland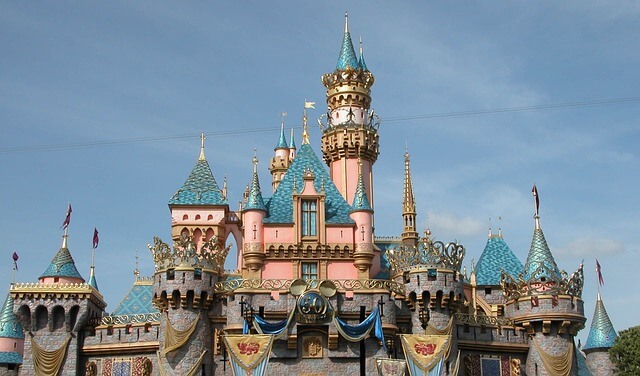 Location: Anaheim, California, USA
Whether it's Mickey Mouse, The Lion King, or Frozen; Disney cartoons and movies have been a staple for people of many generations – and Disneyland is the place where all your favourite characters come to life.
Since 1955, Disneyland has been a must-visit destination for many travellers and is arguably the most iconic theme park in the world. With a seemingly endless variety of rides, shops, and characters for your children to meet, Disneyland is an experience everyone in your family can enjoy.
When is the best time to experience this?
Summer (June to August) is when you will generally get the most out of your experience, since the days are longer and rides are more likely to be open than they would be in winter. However, summer is also the peak season, so going in winter (December to February) could be a better option if you're looking to avoid the bigger crowds.
Important things to know
You probably can't see it all in one day: Disneyland is a massive theme park that can possibly take a few days to fully get through, so it's worth getting a multi-pass to get the most out of your experience.
Parking is free: If you have a rental car, you will be able to park it at Disneyland for free – however, the issue is that when it's busy, this will be subject to availability.
How do I get there?
After flying to the Los Angeles International Airport (LAX), Anaheim is roughly an hour away from Los Angeles. To get to Anaheim, you can catch the LA Metro bus, get an airport shuttle, or book a taxi or rideshare service.
Accommodation
There are a lot of accommodation options in Los Angeles, but it's probably easier to stay in Anaheim or even the surrounding areas in Orange County. Along with being closer to Disneyland, selected Anaheim hotels can also offer you free shuttles to and from Disneyland.
To compare hotels in Los Angeles and Anaheim, you can use our free hotel comparison service.
Visit Warwick Castle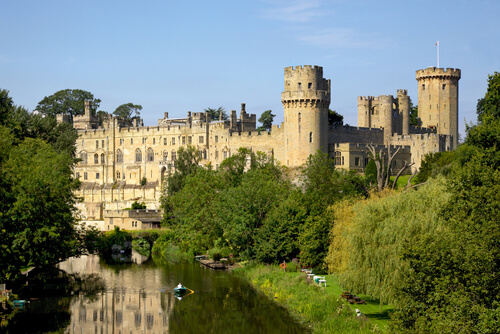 Location: Warwickshire, UK
If you're a lover of medieval history and architecture, Warwick Castle is an authentic throwback experience your family will love. You can learn about the castle's 1100 years of history, go on a scary tour of the Castle Dungeon, or just marvel at the picturesque surroundings.
No matter what time of year you plan to go to Warwick Castle, there is always something interesting for people of all ages.
When is the best time to experience this?
Warwick Castle is open all year round, but opening hours may vary depending on the season. Make sure to check Warwick Castle's opening hours before planning your trip.
Important things to know
Which tickets to buy: Tickets are separated into three different age groups: children (3-11), adults (12-59), and seniors (60+). Children aged two or under can get in for free.
BYO food: Guests are allowed to bring food into Warwick Castle.
Photography: You're allowed to take photos around Warwick Castle, except for inside the Castle Dungeon and the Princess Tower.
How do I get there?
Warwick Castle is accessible from London via train. The direct train from London's Marylebone station to Warwick station tends to take approximately 1 hour 45 minutes. There may also be taxis and rideshare options available – just keep in mind that they might not be the most economical option.
Accommodation
For people looking to experience Warwick Castle further, you can stay in medieval-style accommodation at the castle itself. Tower suites, knight's village lodges, and medieval glamping are all available at Warwick Castle.
If you would prefer more modern accommodation, there are plenty of options in both Warwickshire and London. To find a hotel that suits your family, you can use our free hotel comparison service.
Ride a camel through the outback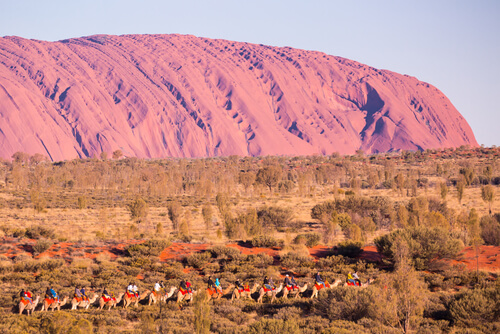 Location:  Uluru, NT, Australia
You don't have to go overseas for an adventure, particularly when your family can explore Uluru in our own backyard while riding camels! It's a great way to see one Australia's most iconic natural wonders, without having to walk or drive through the outback.
Uluru Camel Tours offers a variety of camel riding experiences, including sunrise and sunset tours, along with standard morning and afternoon rides.
When is the best time to experience this?
The best time to experience camel riding in Uluru is between May and September. These are generally the cooler months of the year, so you may not be subjected to the more extreme heat of the warmer seasons.
Important things to know
Book ahead: Spots for camel riding fill up quickly, so make sure you book your experience in advance.
Child participation: Children from aged between 5 and 16 are allowed to participate, provided they are accompanied by an adult.
Be sun smart: No matter what time you choose to travel, there is always a risk of getting sunburnt when trekking through Uluru. Always make sure you are well covered and apply sunscreen to areas exposed to the sun.
Lack of mobile coverage: Coverage can be a big issue if mobile phones are your main method of communication. Perhaps bring other forms of communication just in case (this could be a good time to buy walkie-talkies).
Lots of flies: There's a good chance you could be bombarded with flies during your travels through the outback. It would be a good idea to buy a fly net.
Uluru is sacred: It's seen as very disrespectful to climb Uluru – in fact, the ability to climb the rock will be phased out in 2019.
How to get there
Connellan airport is roughly a 20-minute drive to Uluru and is accessible through other major city airports. Depending on where you're flying from, you may have a stopover in either Sydney or Melbourne.
Once you get into Connellan airport, you can catch a GO Airport Shuttle, or even a free resort shuttle if you're staying at Ayers Rock Resort. Car hire is also available from the airport.
Accommodation
The closest town to Uluru is Yulara, which is about 20km away. There are various hotel options available for families, some of which can be found using our hotel comparison service.
Snorkel the Great Barrier Reef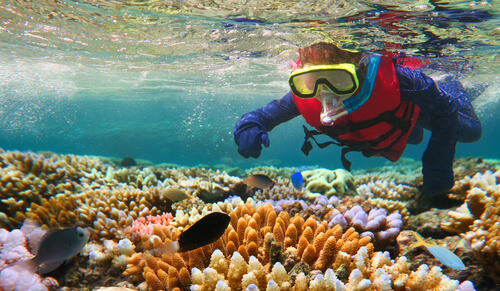 Location: Cairns, QLD, Australia
Is Finding Nemo your kids' favourite movie? Perhaps it's your favourite movie? Experiencing the environment where it was set could be a great reason to go snorkelling in the Great Barrier Reef.
The Great Barrier Reef is not only a popular destination in Australia, but it was also listed as a UNESCO World Heritage Site. With more than 1,500 species of fish, along with 30 different species of dolphins, whales and porpoises, there is plenty of wildlife you can admire when you go snorkelling.
When is the best time to experience this?
June to October is usually the best time to visit the Great Barrier Reef, due to better visibility underwater. The weather in Cairns is usually milder at this time, with average temperatures around 26-30 degrees.
Important things to know
Follow instructions from your tour guide: The tour guide takes you to certain areas for a reason – they tend to know what's safe and what's not. Always follow their instructions, no matter how tempting it might be to do your own thing.
Be wary of stingers: In the warmer seasons, stingers can be a hazard. Always make sure you're well protected by a full body lycra suit, which is usually provided by tour operators.
Be sun smart: The sun in Northern Queensland can be harsh no matter what season it is. Always make sure you cover up and apply sunscreen to areas exposed to the sun.
How to get there
Getting to Cairns is fairly easy from Australian capital city airports which offer regular flights. From Cairns, daytrips to the Great Barrier Reef can be organised through Sightseeing Tours Australia.
Accommodation
There are various accommodation options in Cairns from resorts to hotels, which you can compare and book online using our free hotel comparison service.
Escape to Queenstown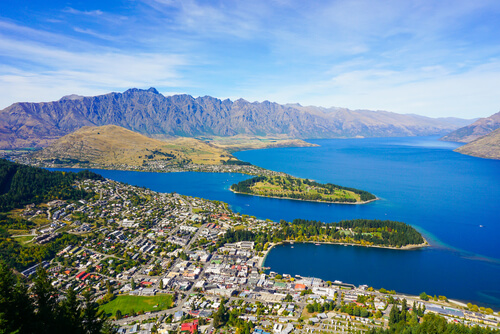 Location: Queenstown, New Zealand
Looking for a destination where it's both easy to relax or participate in an exhilarating activity? Queenstown could be the place to cater for all the personalities in your family.
For the adventurous types, Queenstown is great for hiking, boat cruises zipline tours, and off road tours, with Lake Wakatipu and the glowworm caves being two of the more popular sights for the family to enjoy. If you're feeling particularly daring, bungy jumping and skydiving are also available for the older members of your family.
However, Queenstown isn't a location just for thrills and adventure – it also has plenty to offer in terms of relaxation. Queenstown has scenic cruises, spa experiences, and plenty more to help your family unwind.
When is the best time to experience this?
The best time to visit Queenstown really depends on your preference. During winter (July to August) the ski fields open, while summertime (December to February) is great for hiking and water activities.
Important things to know
If the activities are covered: Queenstown has a wide range of fun activities to participate in, but you may have to check your travel insurance policy to see whether they're covered. To compare a range of policies and purchase cover that includes the activities you want to participate in, use our free travel insurance comparison
You may require a different travel policy in winter: If you're heading over in winter, it might be worth purchasing a travel insurance policy with ski coverage.
How to get there
Flights to the Queenstown International Airport are available from Australian capital cities. Some flights can even be direct from Eastern cities like Sydney, Melbourne, and Brisbane.
Accommodation
Whether you're looking for a hotel, apartment, lodge, or a resort, there are plenty of accommodation options for your family in Queenstown. You can compare a variety of these options using our free hotel comparison service.
Still need more information on how to plan your family getaway? Read our ultimate guide to planning a holiday for more travel tips and advice.