Places like Uluru and the Kimberley are at the forefront of our minds when we think of the Outback – but now the Queensland Government is eager to add the Sunshine State to the conversation.
The Queensland Government's Outback Tourism Infrastructure Fund, or OTI Fund, is a $10 million initiative, spread across multiple projects to attract more tourists to Queensland's Outback.[1] Announced in November 2018, several of these projects began in April 2019,[2] with plans to be finished by 2021.[3]
This is exciting news for tour operators and tourists alike, but why wait until then to see the Queensland Outback? Going off the beaten track is a quintessential Australian experience that you'll never forget.
Here are some of our top picks for Outback Queensland's hidden gems and must-see locations for an epic Outback Queensland road trip.
Mt Isa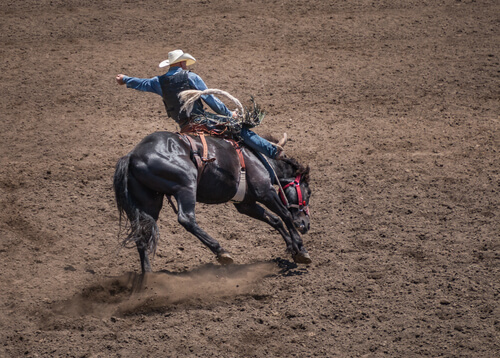 For entertainment available all-year-round, you and your family can get kitted out in hard hat and overalls for the Hard Times Mine Tour, where you will descend underground and learn more about the history of the mine, equipment and what it's like to be a miner in Mt Isa.[4]
Other venues include Outback at Isa, a centre for all your Mt Isa tourism needs. Outback at Isa is home to the Mount Isa Visitor Information Centre, Hard Times Mine Underground Tour, the Mount Isa Regional Art Gallery, the Outback Café and more.[5] Outback at Isa also includes the Riversleigh Fossil Centre, which has ancient fossils and holds tours of the laboratory.[6]
Cobbold Gorge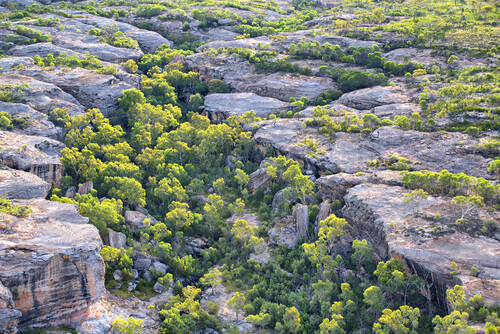 Deep in the gulf savannah region of Far North Queensland, Cobbold Gorge is fairly hidden from view. The jaw-dropping natural beauty of this gorge is best explored on a boat tour. The tour takes you down the winding waters between the tall sandstone cliffs, worn smooth by the water and passage of time.[7]
Up on top of the Gorge, you can soak in the beautiful Outback views and enjoy a bush walk, bird watching or catch sight of other native North Queensland wildlife. Cobbold Gorge is a must-see for nature lovers after the ultimate Outback Queensland experience!
Winton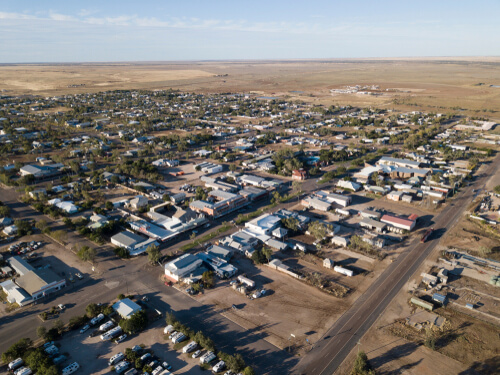 In Australia, there's nothing more iconic than Waltzing Matilda, so why not visit the home of the quintessential Aussie classic? Winton is a small Outback town with a lot of history and is surrounded by the dry arid landscape of Central West Queensland, perfect for those after a taste of Outback Queensland.
At the Waltzing Matilda Centre visitors can learn about the Great Shearer's Strike of 1891 that is believed to have inspired Banjo Patterson. The Waltzing Matilda Centre in Winton is a museum with a range of exhibitions on Winton's history, as well as an art gallery and café.[8]
Winton is also home to the Australian Age of Dinosaurs museum, known for its incredibly detailed dinosaur statues, guided laboratory tours, fossils, skeletons and interactive digging experiences.[9] For those who love science and dinosaurs (and who doesn't love dinosaurs?), this museum is for you!
Adels Grove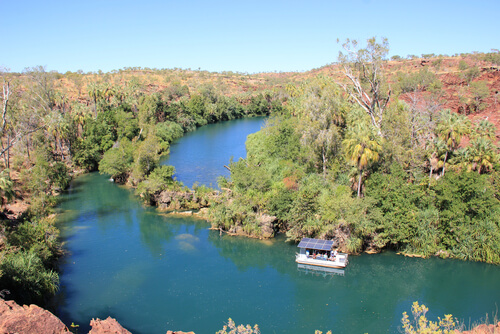 Those who wish to enjoy the great outdoors will want to visit Adels Grove for a classic Outback experience. This desert oasis offers a range of outdoor activities and beautiful scenery all around. Visitors can camp in tents or stay in furnished accommodation with air-conditioned cabins and bunkhouses.
You can cool off from the heat by having a paddle in Lawn Hill Creek. Guided cruise tours of the creek will take you down to Lawn Hill Gorge, offering stunning sights of the red cliffs and teal-coloured water. Alternatively, canoes are available to hire for those eager to explore Lawn Hill Creek themselves.[10]
Other outdoor activities include bush-walking, bird watching and fishing, or just hanging out around the campfire. Harry's Hill is a beautiful spot to watch the sunset and is a short drive away. Guided tours can take you there before returning for dinner at the restaurant for some fine dining.[11]
The Min Min Lights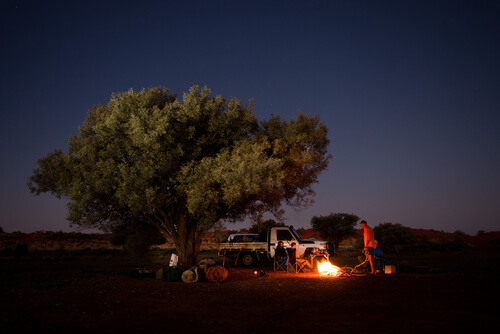 Imagine camping at night out in the bush, only to see a strange light floating above the ground. It may sound like something out of a horror movie or episode of X-Files, but the Min Min Lights are a real-world phenomenon and one of Queensland's oldest mysteries.
Tales of these weird, mysterious hovering lights abound. The lights are described as a fuzzy light or group of lights either white, red or blue that hover above the ground. There are multiple theories about what causes them, from fluorescent gas, bioluminescent bugs or refracted light from beyond the horizon, but none can say for sure what they are.[12]
Best spotted at night around Boulia; there's no guarantee that you'll see one. In Boulia, the Min Min Encounter experience is a show combining animatronics and high tech fibre optic displays to pay tribute to the mysterious lights and offer a unique experience for young and old alike.[13]
Longreach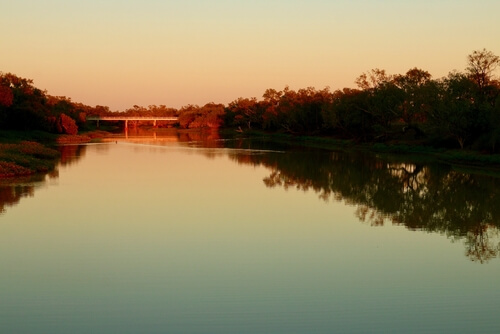 Longreach is in Central West Queensland and is one of the Outback's larger towns. There's plenty to see and do in Longreach, as well as a number of accommodation options if you're planning on staying the night.
Longreach is rich in history, which you can uncover at the Australian Stockman's Hall of Fame and Outback Heritage Centre that tells of the Outback's history. It also includes shows featuring trick horses, dogs, sheep and other farm animals.[14]
The Qantas Founders Museum in Longreach has displays and exhibits featuring small artefacts and clothing to a host of aircrafts great and small for those interested in the history of this Australian icon. Guided tours can take you throughout the museum and onto the wings of a Boeing 747 and the chance to get behind the controls. For those wanting to test their skills, flight simulators are available for you to discover your inner ace.[15]
Eager to enjoy the outdoors? There is camping available along the Thomson River, as well as cruises for those wanting to spend some time on the water, including a paddle wheeler.[16] The area's rich history, plus diverse list of activities and sights, make Longreach a classic Outback Queensland road trip destination.
Simpson Desert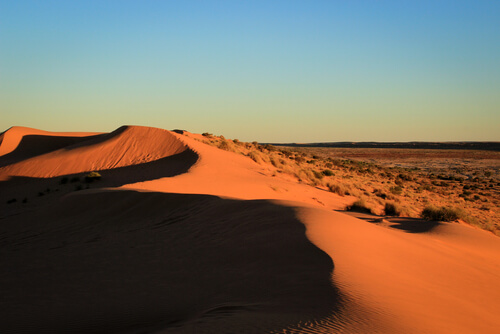 Far West Queensland, the state's final frontier. Also known as the Diamantina Channel Country, this region of Outback Queensland is where you can explore parts of the Simpson Desert, which spreads out over Queensland, South Australia and the Northern Territory. For those with the experience, right vehicle and preparation, the Simpson Desert is an Outback Queensland road trip destination unlike any other.
One of the toughest tests for 4WD owners, the rippling red sand dunes spread out across Munga-Thirri National Park and cover over a million hectares. Despite the harshness of the landscape, numerous mammals, reptiles and birds call the Simpson Desert home.
In the desert, you can stand across three different states at Poeppel's Corner, or visit the Simpson Desert's largest dune, Big Red. For those prepared for the occasion, you can camp out in the desert and be awestruck by the sunsets and starry night above.[17]
How to travel on your outback Queensland road trip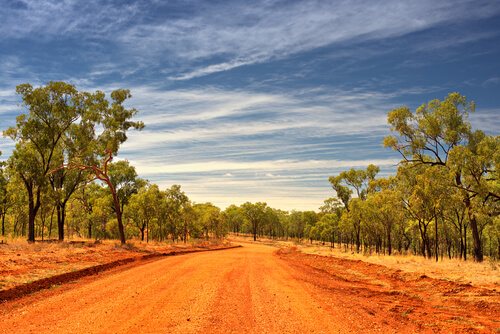 The Outback is a wide space, with huge distances between towns. However, there are multiple options to cover these great distances and reach different destinations:
More specifically, a 4WD, as not every destination has a bitumen road, and some areas will not be accessible in a regular two-wheel driven car. For those who don't have their own, rental cars may be a good option if you're eager to see everything the Outback has to offer.
Combining transport and accommodation together, campervans are another option to explore the Outback, and rental campervans are available to hire. 4WD models are also available so you're still able to go off-road.
Major Outback towns like Roma, Charleville, Longreach and Mount Isa have airports where the large distances that would take days of driving are only a couple hours away (or less) from Brisbane. Travelling by plane does mean you'll probably have to hire a taxi to your accommodation or a rental car if you want to head out of town.
For an old-school method of transport, why not take the train? There are trains that leave from Brisbane and Townsville to some Outback towns such as Charleville, Longreach or Mt Isa. They don't leave every day of the week, so be sure to take departure dates in mind when planning your trip or booking accommodation.
Coach lines might be slower than a car or train, but they offer a way to enjoy the scenery in comfort, and many include in-transit entertainment and onboard toilets. They won't head to all destinations, so be sure to see what routes are available from different charter companies.[18]
Tips for your Outback Queensland road trip
No matter how you get there or where you're headed, travelling to the Outback is a big undertaking and it pays to be prepared to avoid looking like an inexperienced city-slicker.
An important step is to get travel insurance. Tour operators highly recommend travel insurance for the Outback due to unpredictable weather, hazards and dangers of the Outback and the sheer remoteness of destinations.[19]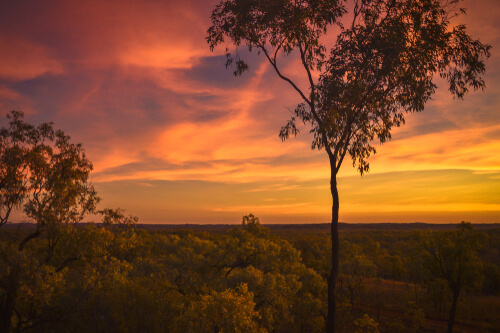 Be sure to read the details of your insurance policy to see what you are and are not covered for. To learn more about domestic travel insurance, you can read our handy guide.
Even with travel insurance in hand, there are some key bits of advice when exploring the Outback.
Plan your drive ahead. Long roads mean you're going to need to fuel up constantly when driving. Also, make sure you plan alternate routes, as rainfall can flood roads and tracks. Make sure your 4WD is well equipped with extra water, spare tyres, fan belts, radiator hoses and a good toolkit so you can perform maintenance to get yourself moving again if you break down.
Watch out for road trains. Some roads are only wide enough for a single lane, and heavy-duty road trains drive all over the Outback. When you see one behind you or one that's headed down the other way, slow down and pull off to the side to make way. Keep moving slowly and try to keep your wheels on the side of the road to avoid getting bogged in soft soil. Only overtake a road train on a straight road when you have clear line of sight and plenty of room to do so.
Leave the environment as you found it. Many roads will cut across cattle station properties. General courtesy is to leave a gate as you found it, so don't forget to close a gate before continuing on your way if it was closed when you got there. Furthermore, make sure you carry a garbage bag for your rubbish to help keep the Outback clean.[21]
You can view more travelling tips for the Outback from the Queensland Government's Outback Queensland webpage.
Sources:
[1] $10 million tourism boost for Queensland's outback. Premier and Minister for Trade, The Honourable Annastacia Palaszczuk, Minister for Innovation and Tourism Industry Development and Minister for the Commonwealth Games, The Honourable Kate Jones, Department of the Premier and Cabinet, Queensland Government. 2018.
[2] Queensland Outback Tourism projects underway. The Honourable Annastacia Palaszczuk, Premier and Minister for Trade, Department of the Premier and Cabinet, Queensland Government. 2019.
[3] Tourism Industry Development. Department of Innovation, Tourism Industry Development and the Commonwealth Games, Queensland Government. 2018.
[4] Hard Time Mine. Mount Isa Entertainment & Tourism Venues. 2018.
[5] Outback at Isa. Mount Isa Entertainment & Tourism Venues. 2019.
[6] 10 Things to do in Mount Isa. Outback Queensland. 2018.
[7] Cobbold Gorge Tours. Queensland Tourism & Events, Queensland Government. 2018.
[8]Waltzing Matilda Centre Winton. Winton Shire Council. 2018.
[9] Tours. Australian Age of Dinosaurs. 2018.
[10] Activities. Adels Grove. 2016.
[11] Tours. Adels Grove. 2016.
[12] What are Queensland's Mysterious Floating Lights? Lulu Morris, National Geographic. 2017.
[13] Min Min Encounter. Queensland Tourism & Events, Queensland Government. 2018.
[14] Australian Stockman's Hall of Fame and Outback Heritage centre. Outback Queensland, Queensland Government. 2018.
[15] Welcome to the Qantas Founders Museum. Qantas Founders Museum. 2018.
[16] Cruise the Thomson River. Longreach Region Tourist Information. 2018.
[17] Munga-Thirri National Park (Simpson Desert). Tourism and Events Queensland, Queensland Government. 2018.
[18] 9 Ways to Get Around the Australian Outback. Travel Outback Australia. 2017.
[19] Travel Insurance. Wayoutback Australian Safaris. 2018.
[20] Traveller's Tips. Outback Queensland, Queensland Government. 2018.
Did you find this article interesting or helpful?