How climate change is killing your travel plans
Home > Blog > How climate change is killing your travel plans
People across the world are travelling more than ever before. We're also in the midst of climate change, which is seeing sea levels rise and ocean temperatures increase. This isn't just going to give the fish more room though; some of the places we look to for natural beauty could be damaged…or lost.
According to Climate Hot Map, sea level rises are caused by two factors – melting of the large polar ice caps and expansion of sea water caused by warming temperatures. During the twentieth century, sea level averages have risen by 1.8 millimeters per year, but from 1993 to 2003 this rate almost doubled to 3.1 millimeters.
With that in mind, here are several locales that may be seriously impacted over the coming decades.
Alaska
Alaska is just a little smaller than Queensland by area and accounts for around 20% of the land in the USA. According to the United States Environmental Protection Agency (EPA), temperatures across the state have increased by 3 degrees Fahrenheit, and will likely increase by another 2-4 Fahrenheit by 2050.
As the EPA explains, permafrost is a frozen layer located below the soil, and 80% of Alaska's surface is below this layer. Problems arise when this underground layer starts to melt, as it can cause the ground to sink. This can damage roads, homes and other structures, creating a mounting repair bill and unstable land.
Ecosystems take a big hit when it comes to climate change. Some lakes in Alaska are shrinking due to increased evaporation, draining from melting permafrost, and increased plant growth. In other areas the permafrost layer is melting, adding to the lakes surface area and flooding areas that were once dry.
"I've been trying to make the rest of the country more aware of the changing climate but you're already living it. What's happening here is America's wake-up call." President Obama: The Daily Banter
Sea ice floats along the coastline of Alaska, storing millions of litres of fresh water. In 2012, there was around 700,000 square miles less sea ice than the historical average. Climate models predict that the Arctic could be almost ice free by 2030.
If you'd like to find out more about the changes happening in Alaska, this page from Globalchange.gov is a great place to start.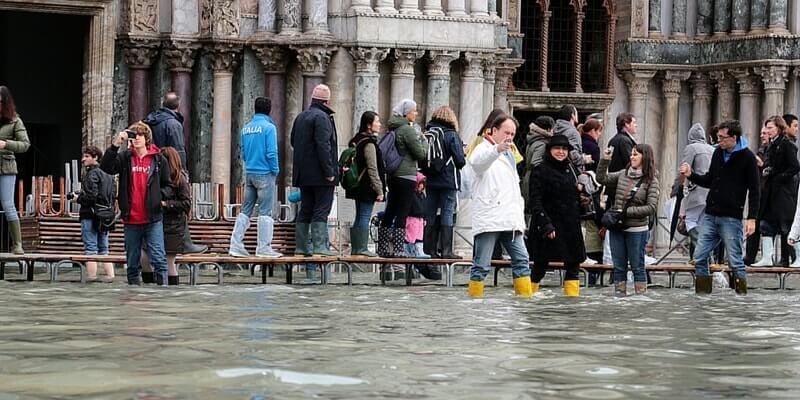 Venice
According to Live Science, Venice is suffering from sinking and rising sea levels. A study in the Journal of Geochemistry, Geophysics and Geo Systems reports that that city is subsiding at different rates in different places, and even tilting a millimeter or two eastward per year.
"Venice is one of 136 UNESCO World Heritage Sites that would be swallowed by rising seas if temperatures rise 5.4°F above pre-industrial levels." Brian Khan, Climate Central
Flooding has always been an issue with Venice, and the people are certainly resilient with solid management systems in place. As reported in the Guardian, in 2015 a flood defense system was completed on the three inlets whereby water passes through the lagoon with the tides. Operators will now have full real time control of the water flow from the tides, which should go some way to protect the city.
Venice has always flooded as seen in these pictures from the early twentieth century and it has always experienced some sinking (even if its rate is still being debated). The rising sea level has put added pressure on this city and with sea levels uncertain the city will have to stay on its toes and keep innovating to future-proof itself.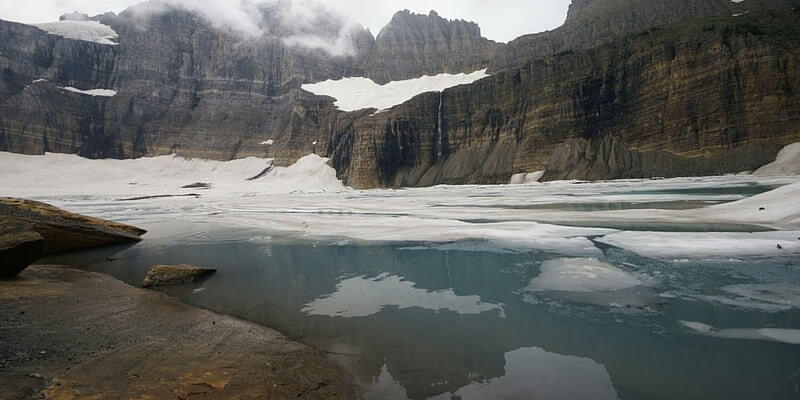 Glacier National Park
As one of the most Instagrammed places in the US, Glacier national park is full of stunning vistas, unique wildlife and diverse flora. Often referred to as the 'Crown of the Continent' a glance at just a few pictures of this beautiful wilderness could have you itching to book flights.
There's no talking about this national park without mentioning the glaciers. The glaciers are formed when snow compacts over many years, creating a slowing-moving ice river. These glaciers are the sculptors of the national park that have been shaping the landscape for thousands of years.
The glaciers in the park are disappearing at an alarming rate as a consequence of climate change. In 1850 there were 150, and now there are only 25, with many of these growing smaller by the year. The National Park Service website points to global warming due to human activities as the cause of this rapid decline.
"Over the last century, we have lost nearly three-quarters of all the glaciers in this park."  Al Gore, source
This remote destination is slowing losing the glaciers it was named for. Soon it's likely that there will be none left, and all that will remain of the glaciers will be the park's name – a constant reminder of global changes and the repercussions of human activity.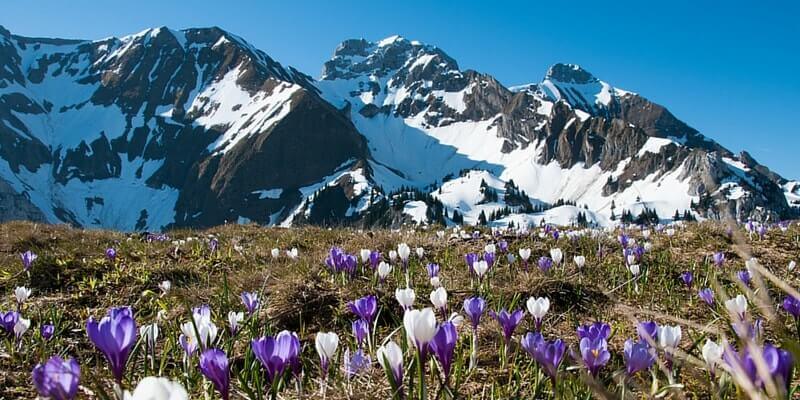 The Alps
Spanning 1,200 km in 11 countries, the Alps are the highest mountain system in Europe. Famed for their ideal skiing conditions, the Alps rely on heavy snowfalls each year to support the growing tourism industry in the mountain resorts.
The ski season in 2014 saw one of the worst snowfalls for 25 years. Many of the slopes were closed, and even artificial snow cannons could not be used as the temperature was not cold enough to maintain it. The resorts that could open had to restrict use of their ski lifts to avoid unmanageable crowds, meaning that many people had to miss out on snow for their holiday.
"People […] tell us we haven't had a winter with so much snow for 15 years. But they also say there is much less snow now than there was, […] and there are places that don't get snow at all any more. In the long term it's very worrying." François-Régis Bouquin, a director in the mayor's office in Chamonix
There is still debate over the effect of global warming on the Alps, but what is clear is that if global temperatures do continue to increase, ski seasons around the world may indeed shorten.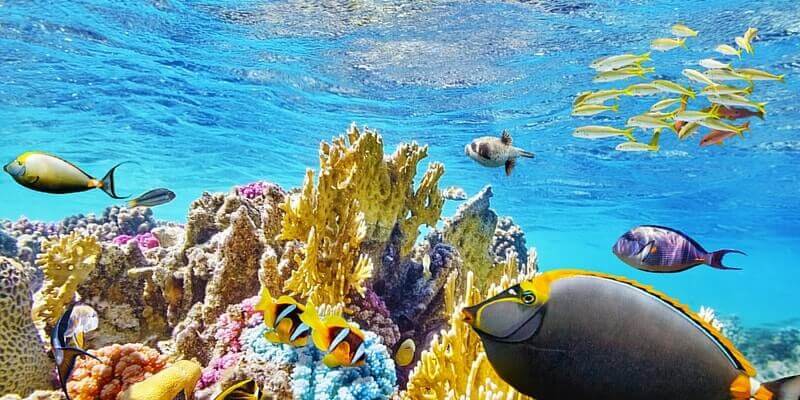 The Barrier Reef
There's need to tell most Aussies about the unparalleled beauty of the reef and the wildlife is supports. At 2,300 kilometers in length, it's the world's largest reef and a natural wonder of the world.
The Centre for Coral Reef Studies state that coral bleaching threatens the very existence of the reef. In a mild form the corals can recover, but prolonged exposure means the death of the coral altogether. As the building blocks of the reef, not much can survive without it.
Over recent months scientists have been assessing the health of the reef, and the verdict isn't good. Only 7% of the reef has escaped any bleaching, 60-100% of 316 reefs surveyed have suffered severe bleaching, and all in the northern 3rd of the reef is affected.
"We've already lost 50% of the corals on the Great Barrier Reef in 30 years." – Sir David Attenborough, source
"Rising sea surface temperatures from climate change are already affecting the Great Barrier Reef and have the potential for significant effects across the whole ecosystem."
Great Barrier Reef Marine Park Authority
As this article from The Conversation says, some argue that corals can adapt to warmer waters, and that some species elsewhere in the world thrive in warmer seas. This is indeed true, but in this instances where corals have adapted the change was gradual over thousands of years. The changes reported here are over a few decades, so the coral will not have time to adapt.
If you'd like to know more about how the reef could change in the next decades, David Attenborough's interactive journey is a good place to find out more.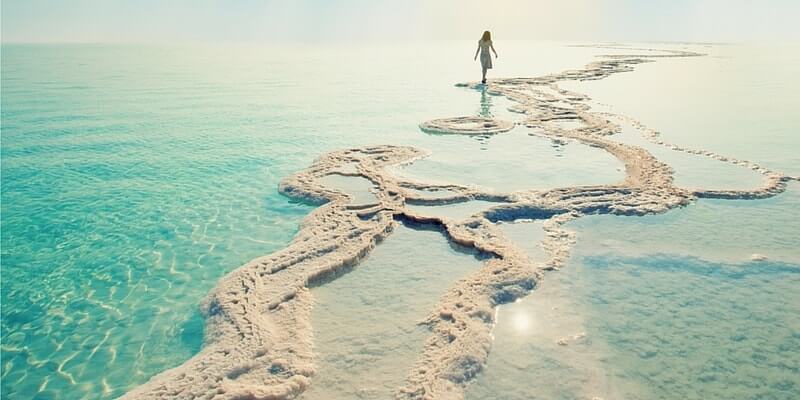 The Dead Sea
According to mapsoftheworld.com, the Dead Sea sits at the lowest point on earth if you don't count the sea floor. It is located in west Asia and acts as a border between Jordan, Israel and the West Bank. Rather than a sea, it's actually a lake, and a salty one at that. As the water doesn't flow anywhere, the level of the lake rises and falls as water flows from surrounding springs and then is evaporated, concentrating the salt water to extreme levels.
"In the north and west side of the Dead Sea, there are springs, very special habitats, including endemic species, and all of them are under threat" Eli Raz, researcher at the Dead Sea and Avara Centre
According to Live Science, the Dead Sea could have dried up without human intervention, but with man-made climate change any natural changes are accelerated. Arid areas are warming, putting more pressure on fresh water resources, so less water is making its way to the Dead Sea. Another issue facing the Dead Sea is that it's sinking at over 1 meter per year. This creates unstable ground, under which roads can be literally sucked into the ground.
There are various plans being formulated to save the Dead Sea, such as transporting water from the nearby Red Sea or restoring flow from the Jordan River. However, with an evaporation rate of 1.3 billion cubic meters annually, the Dead Sea needs more than a few drops to survive.
Maps taken from climatecontrol.org show what will happen to Australia's cities if sea temperatures rise by 2 and 4 degrees respectively.
Melbourne: If we experience a temperature increase of 4° degrees, the majority of land in the Docklands, Port Melbourne, Footscray and Middle Park will be entirely underwater. Albert Park will experience flooding in some areas, and parts of St Kilda and Elwood that are perched close to the coast will become submerged.
Sydney: Botany Bay will be devastated by a temperature increase of 4 degrees, Kingford Smith airport will be underwater, and most of the coast will be chipped away by the sea. The iconic Bondi beach will experience severe erosion, and the city of Parramatta will experience flooding.
Brisbane: The Brisbane River near the mouth will flood under extreme temperature changes of 4 degrees. The airport will be underwater, the Boondall Wetlands will flood and all roads and industrial space in the surrounding areas will become inaccessible. Areas such as Rocklea Windsor and Scarborough will flood, as will the towns of Bongaree and Victoria Point.
Adelaide: In Adelaide the city itself remains intact, but the airport and coastal suburbs of Plypton, Seaton and Birkenhead will experience severe flooding. The Torrens Island Conservation Park will be largely underwater and all along the coast beaches and land will be lost.
Perth: The outlook is good for the city of Perth itself, but more low lying areas to the south such as Safety Bay, Rockingham and Warnbro will be mostly submerged. The entire coastline in WA will experience erosion, and how much of its stunning beaches will survive is unclear.
Hobart: Tasmania's capital survives and is largely unscathed, but visitors and locals will struggle to leave for the mainland with the airport underwater. The land connects Sanford to the mainland will be lost, creating an island.
Darwin: the land surrounding Port Darwin will experience significant flooding if temperatures increase by 4 degrees. The Charles Darwin National Park will be submerged, as will large parts of the Shoal Bay Coastal Reserve. Most of the urban areas will survive, though the sea will be much closer, leaving property and infrastructure exposed.
<CTA>
Republic of Kiribati
With most of its land only a few meters above sea level, Kiribati has already seen growing damage from storms and flooding. Some of the nation's uninhabited islets have even vanished beneath the Pacific.
According to their government, Kiribati and its people are experiencing extensive erosion of the beaches and land. People are losing their crops, and some have to relocate from their homes. Kiribati has more than 100,000 inhabitants, and the mainland is now suffering overcrowding due to displacement from smaller islands. An article in Business Insider reports that the president has been in talks with the Fijian government to buy up to 5,000 acres of land in order to relocate the 102,697 people that live in the country.
Sea levels are expected to continue rising. By 2030, under a high emission scenario, this rise is projected to be in the range of 5-14 centimeters. Even under a low emission scenario, sea levels are still anticipated to rise by 4-13 centimeters. The sea level rise combined with natural year-to-year changes will increase the impact of storm surges and coastal flooding.
Republic of Maldives
The Maldives are an idyllic tourist destination drawing over 600,000 visitors a year. However, with a chain of over 1,000 islands that are on average only 1.3 meters above sea level, and being the flattest country on earth, it's at extreme risk from rising sea levels.
According to Climate Hot Map, based on mid–level scenarios, the Maldives is projected to experience a sea level rise of 50 centimeters by around 2100. The country would lose 77% of its total land area by the end of the century. If sea levels were to rise by 1 meter and the Maldives did not pursue further coastal protection measures, it would be nearly completely lost by about 2085.
Republic of Fiji
Being made up of volcanic islands rather than the coral based Kiribati and Maldives, much of Fiji is more mountainous than elsewhere in the Pacific. That isn't to say that rising sea levels are not causing significant impacts. Inhabitants of coastal towns are already being relocated to higher ground due to rising tides damaging houses and crops, and government officials are reporting that more than 600 villages across Fiji have been identified as threatened by rising sea levels.
It's anticipated that more than 40 settlements will be relocated within the next 10 years. An Australian government report predicts that sea levels will continue to rise between 16-47 centimeters by 2090, even when based on a low emissions scenario.
Republic of Palau
According to an Australian government report, satellite data indicates the sea level has risen in Palau by about 9 millimeters per year since 1993. This is larger than the global average of 2.8–3.6 millimeters per year. Sea levels are expected to rise further, by an additional 14-59 millimeters by 2090.
Palau's coasts are being eroded, its local farmlands tainted by seawater, and its valuable reefs threatened. According to this article in Grist, Johnson Toribiong, president of Palau, calls the damage he's witnessing "a slow-moving tsunami."
Federated states of Micronesia
Business Insider reports that Micronesia is made up of 607 mountainous islands and low-lying coral atolls that are being eroded away by rising sea levels. Even cemeteries are being washed away, with Micronesia's Ambassador to the UN telling the ABC News: "Even the dead are no longer safe in my country."
The islands are located east of the Philippines and have a population of 102,624. Ocean water is washing up the beach and lapping on to coconut trees that were once safe from the tide. Food crops are being damaged or lost altogether because of the sea water, so living there is becoming unsustainable as time passes. A small 1 meter rise would make the island uninhabitable, but scientists say there could be 3 more feet to come in less than 90 years.
Republic of Cape Verde
Cape Verde is an island off the northwest coast of Africa that faces various threats brought about by climate change. According to the United Nations Environment Programme, annual temperatures have increased by 0.6 degrees since 1960, and higher averages are predicted.
Cape Verde is in the Sahel region, which is a zone sandwiched between the Sahara desert and the north of Africa. As a result it is particularly dry and fresh water is scarce, and the pressure on this resource is increasing. 80% of the population lives by the coast, and as people removed sand from the beaches to build homes, the town's natural defense from increasing sea levels gradually declined.
Solomon Islands
Erosion, rising sea levels and coastal flooding has already claimed 5 islands according to this article from The Conversation. 6 more are experiencing severe erosion right now too. Coupled with accelerated sea level rise in the region, tectonic movements add to the problem. Ocean waves also accelerate the erosion, with the worst affected islands suffering the most damage. The population of the Solomon Islands is over half a million, and some of these people are already relocating to the larger islands. Many of these are people moving their own villages as the sea reaches their homes, rather than as part of government action.
The Solomon Islands are a popular spot for tourism, and much of this activity takes place on the larger islands that have not yet felt the effect of rising sea levels. However, these low lying beaches and delicate coral reefs are vulnerable to climate change, and these islands may not be around in their current form for much longer.
Torres Strait Islands
The Torres Strait lies off the northern tip of Cape York and is home to around 7,000 Australians. As stated by this article from the ABC, scientific reports have stated that sea levels could rise by 50-100 centimeters in the next 100 years. The tide already rises over the sea wall on a few of the islands though. Another issue from rising sea levels is the contamination of drinking water. As water rises, there is a risk of sea water contaminating the supply, which spells disaster in isolated islands.
Seychelles
The Seychelles is a group of 155 islands in the Indian Ocean. It's a mecca for travellers due to its beaches, coral reefs, diving and unique wildlife. For the 90,000 that live there, life on the islands is becoming ever more uncertain. As reported by Seychelles News Agency, In 1998 El Niño weather patterns caused coastal erosion, and in 2013 a tropical storm caused flooding and millions of dollars in damages.
If sea levels continue to rise, all the uninhabited islands would be lost, along with the airport on the main island. With no way of getting in or out, the tourism industry would collapse which would spell and end to the economy of the small island nation.
Tegua
Part of Vanuatu's Island chain in the Torres Strait, Tegua has already felt the effects of rising sea levels. Around 100 villagers have already relocated to higher ground as the sea creeps towards the land. All the islands are low-lying, so the other islands in Vanuatu are also at risk of losing, beaches to the incoming water.
Tourism is a large industry in Vanuatu, so missing beaches and flooding homes will likely have a dramatic impact on the country's economy.
.instagram-media {margin: 0 auto!important;}