Dining with top food bloggers across the planet
Home > Blog > Dining with top food bloggers across the planet
"Eat well. Travel often." The quote exemplifies the life we many of us daydream about. Whether you're into Michelin Star restaurants in the delicate laneways of Paris or prefer to test your taste buds in the hustle and bustle of Hong Kong, there is a treasure trove of foodie secrets waiting to be uncovered.
Let Amber from With Husband In Tow, Cassie from Ever In Transit, Laura from The Culinary Travel Guide, Justin and Lauren from Justin Plus Lauren , Noel from Travel Photo Discover, and Tim and Nat from A Cook Not Mad provide you with the inside scope on some of the best food destinations, peculiar cuisines, and tricks to finding the best eateries around the globe.
Top image courtesy of everintransit.com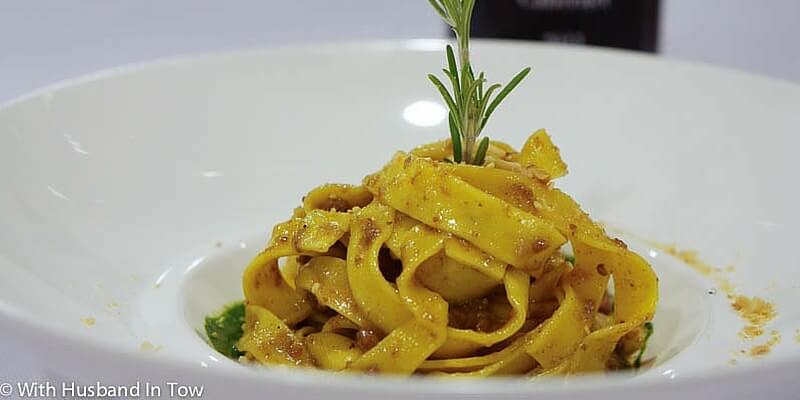 Image courtesy of withhusbandintow.com
Top 3 foodie destinations
While closing your eyes and pointing to a mystery location on a map to choose your next holiday might sound like a fun idea in theory, we have a better way. We asked our favourite food bloggers to tell us their ultimate food destinations…and they didn't hold back.
Emilia Romagna, Italy
If you once thought of Italy as 'that country with the pizza, pasta and the Colosseum'  (in that order), think again. Our bloggers have fallen head over heels for Italy – specifically the hidden gem of Emilia Romagna.  Located between mountain ranges and the sea to the north of the country, the diversity of geography not only makes it breathtaking in beauty but also a haven for food connoisseurs. Amber says, "Emilia Romagna Italy is the tops. It's so hard to have a bad meal there, and it is easily the best place to go for Italian food!"
It's truly about the ingredients in Italy. Nothing compares to homegrown produce, handmade pasta and traditional (straight from nonna's kitchen) recipes. Cassie explains, "You'd be hard-pressed to find any place on Earth where the food brings you so close to the culture […] the noodles are handmade, the cheeses are aged, and the sauces have been simmering on the stove for hours with the freshest, local ingredients imaginable.
"And then there [are] the wines!"
Forbes wrote a fantastic piece about Emilia Romagna that will get you salivating, and provide plenty of ideas on where to eat.
Paris, France
Some refer to the beautiful French city of Paris as the "City of Love" but we much prefer the title "City of Cuisine". If the smell of freshly baked pastries on every corner doesn't lure you in, the baked brie, savoury crepes and soufflés will have you hooked. "If you want to get off the plane and drink incredible wine, eat incredible bread, pastries or cheese, try new foods or indulge in time honoured classics, go to Paris," Tim and Nat explain.
If you're visiting Paris and feeling adventurous, perhaps try your hand at cooking French cuisine. Even if the only word of French you speak is 'oui', the memories you take away will be priceless. Laura wasn't afraid to get her hands dirty in the kitchen.  "I've had so many remarkable culinary experiences in Paris! One of the absolute best was a cooking class I took at the Ecole Ritz Escoffier […] once we finished with the cooking; we sat down to eat this incredible feast. We ate on plates rimmed in gold, drank bottle after bottle of exquisite wine, and shared plenty of laughter […] It was the best day ever." Bon appétit!
Take a look at these cooking classes here.
San Francisco, USA
With its unthinkably steep hills, infamous fog and eye catching landmarks (including Golden Gate Bridge, Fisherman's Wharf and Alcatraz) the coastal city of San Francisco is a haven for the modern day foodie. There is no cuisine untouched in the multicultural city spreading only 7×7 square miles. "The city is so diverse that you can go there and try authentic food from just about any place on earth. And of course, the local West Coast craft beers and Napa/Sonoma wine are some of the best in the world. Food-loving travelers should visit the Ferry Building Marketplace where you can try a lot of the hottest food trends in one place," explains Cassie.
But San Fran's diversity isn't the only thing helping reel in the title – there is true sense of innovation and 'weirdness' when it comes to food.  Wandering the city, you can indulge your sweet tooth with a cone of balsamic and strawberry gelato, or grab a late lunch at sushirito – a Japanese and Mexican fusion (yes, we're talking about sushi burritos) that will have you lining up around the block.
Some might even classify San Fran as the new foodie capital of the United States. "A foodie destination with international cuisine offered throughout the city, amazing outdoor markets and street food, food truck culture, locavore sourced eateries to Michelin star restaurants, San Francisco offers so much to visitors and locals," says Noel.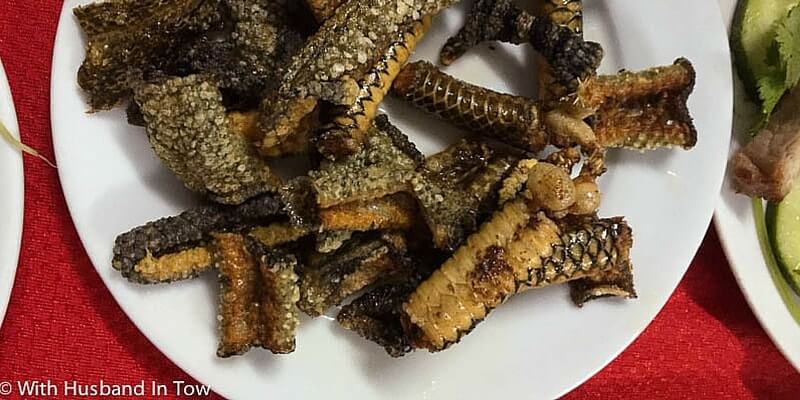 Image courtesy of withhusbandintow.com
Eat like a local
Deep fried tarantulas? Snake blood soup? Golden berries? Whether you believe the weirder the better or prefer to stay on the safe side, our food bloggers uncover ways to navigate the local cuisine like a local.
Creepy crawlers
For some, half the fun of travelling is diving head first out of your comfort zone and tasting foods you have never tried (or possibly even heard of ) before. Even if the idea of eating deep fried arachnids gives you the heebie-jeebies, it's all about the experience, right? Noel says, "I'm up for a challenge with unusual foods including street food that you will find in many destinations around the world. Strange fried insects like beetles, scorpion and larvae, snails and even horse meat are fair game for me and if I like it, I'll even try it a second time."
If you were blessed with an iron stomach, it might come in handy when ordering something unusual off a menu. Also, if reading the menu is an impossible feat because you don't speak the local language, our bloggers suggest you remember one thing – not everything tastes like chicken! "While in Central Vietnam, we had a night out with a local friend, and some fellow travellers that [were] certainly unique. We sat down around a big table for a full snake dinner in Vietnam. It definitely did not taste like chicken!" says Amber.
I Was So Hungry I Could Have Eaten A Fourth Stomach https://t.co/HKTwh0WG9o #food #travel #culinary

— Tim & Nat (@acooknotmad) February 25, 2016
Delicacy
The term delicacy most commonly refers to a highly desirable or distinctive dish that originates from a specific culture. So when you're travelling, perhaps skip the burger and opt for something traditional just like Tim and Nat do. "We are not into shock value eating like crunching on a scorpion but will indulge in dishes that have stood the test of time. Lampredotto is definitely one of those dishes dating back centuries and a delicacy from the streets of Florence. It is a sandwich made of the slowly braised cow's fourth stomach, sliced thinly and splashed with a pungent salsa verde. It's pretty darned good," says Nat.
Munching on bizarre fare is a life changing experience in itself. Many travellers find themselves feeling closer to the culture and traditions of the native people while others arrive home with fresh perspectives. Although strange foods are a common affair in Cassie's travels, she found her food explorations in South America more difficult to digest. "My most difficult food experience was eating a guinea pig, a traditional food in Peru. It was delicious, but eating it was an emotional roller coaster that made me realise how detached I am from the food I eat," says Cassie.
Exotic
Think durian fruit. Think frog legs. Think kombucha. Stepping into the world of odd and exotic foods doesn't necessarily mean consuming the creatures that stalk your nightmares. Perhaps try beginning your food journey with items that are native to the place you are visiting, but not totally off limits, like unique fruits and vegetables. "My favorite exotic foods are the tropical fruits that are hard to find […]. My personal favorites are passionfruit and physalis (sometimes called "goldenberry" if you are lucky enough to find it here)," says Cassie.
Vegan food bloggers Justin and Lauren use their lifestyle choice to select 'peculiar foods' to grub on. "I'm actually not terribly adventurous with food as most unusual foods tend to be made out of strange parts of animals or bugs […] For a food you may not have tried before, I highly suggest eating a meal made with tempeh – a fermented soy food that originates from Indonesia. It's very delicious and super healthy. Tempeh is commonly used as a protein in a stir fry, sandwich, or burger," says Justin and Lauren. The Huffington Post lists some great recipes made from tempeh you should try.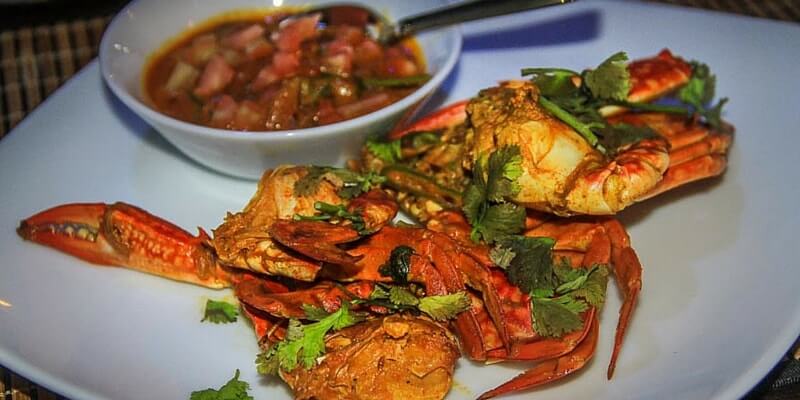 Image courtesy of travelphotodiscovery.com
Finding the best food and drink in town
One of the most exciting parts of arriving in a new and unfamiliar city is the endless options of cafes, restaurants and even food stalls to pick from. But, knowing which to choose can often become overwhelming and a bit stressful (especially if you've been on two planes, a train and a bus). Stick to these 3 simple rules put together by our expert food bloggers to ensure your next meal doesn't leave you with a sour taste.
Image of Fresh Ingredients
Seasonal, local and sustainable
Sticking to the loose guide of dining local, seasonal and sustainable will ensure that both parties (the diner and chef) leave the experience happy. Eating local and seasonal food can greatly impact the local producers and production of crops in a positive direction for the country you are visiting.  "Tourists have a big impact on the types of foods available in a place […] so whether it's something like bush meat in South America or Africa, or whale meat or Bluefin tuna in Japan, I don't pay money to support the harvest of those foods. […] You can have a big impact on a place by being careful about where you spend your money," says Cassie.
Making smart food choices is all about eating what's grown and produced locally. After all, you probably haven't traveled 8 hours to Thailand to try the goulash. Doing a bit of research or visiting a nearby farmers market can give you a better understanding about what is grown and produced in the region.  Tim and Nat have a pretty simple ethos; "If the food doesn't belong in the place we are visiting like sushi from a street cart in Budapest or linguine vongole in Barbados, we steer clear."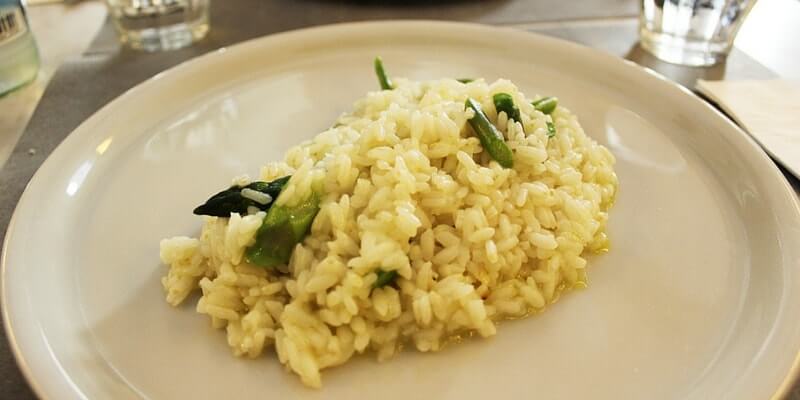 Image courtesy of justinpluslauren.com
Keep an open mind
They say travelling to a new country is a fantastic learning experience, and the only way to soak up the knowledge and wisdom of the culture, language, and traditions is to constantly maintain an open mind. This can be especially true when it comes to trying new food. "How will I know if I like it if I don't try it? So far, there are only two things I've eaten that failed the taste test. […]  I even use the iTranslate app in restaurants to make sure I don't accidentally order either one of them" says Laura. Keeping Laura's advice in mind; don't knock it till you try it.
Street food is the food of the people, plus it's cheap, traditional and more often than not flavoursome. Additionally, you're likely to be moving around a lot while travelling, which means you'll probably want something 'on the go'. Being aware of the types of food that are safe and the ones that might land you a case of 'Bali belly' is important. Amber says, "I'm often hesitant about eating some seafood and fish, unless I can guarantee it's fresh. We've had some amazing seafood meals; including one recently at Cervejaria Ramiro in Lisbon […] We've also had some great seafood beach side in the Gili Islands." Do your research, and then ditch the hesitation..
Three block rule
The best advice we received comes from food blogger Amber, who tells us to use the 'Three Block Rule'.  She explains, "(Just) walk three blocks more. We often see tourists going to the heart of the most tourist-filled part of town, eating mediocre food at high prices. If they would just walk three blocks away from that location, they are more likely to find amazing meals at better prices," The best food in the whole city might just be 3 blocks from where you stand!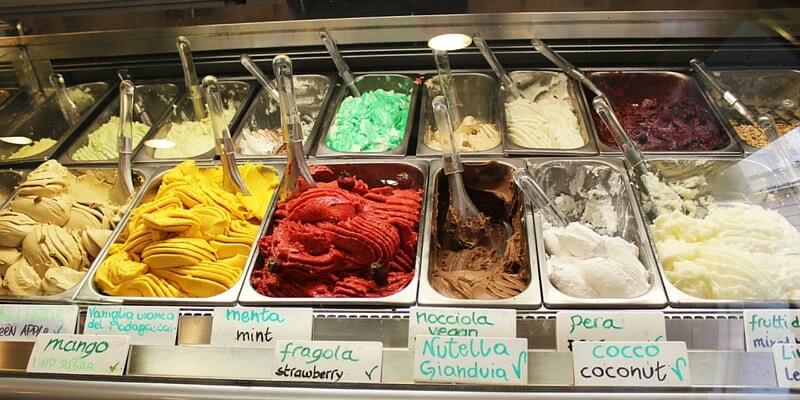 Image courtesy of justinpluslauren.com
Follow your stomach
Our final tip? Follow your heart and follow your stomach when it comes to trekking on a food adventure. Justin and Lauren say, "If there's one particular cuisine that you truly enjoy, I recommend going to the actual country next and dining there to experience the real thing" and try to remember, "your first food travel trip will be a success wherever you choose to go!" Bon Voyage!