How to get to Australia's biggest airports on a budget
Home > Blog > How to get to Australia's biggest airports on a budget
A survey conduct last year put Sydney, Melbourne and Perth in the top 10 most expensive cities around the world when it comes to getting to the airport by taxi. So, if you'd like to make some savings before getting on the plane, cabs are probably out. Most Australian cities have buses and train services that are less expensive than a taxi, but the costs of these can also mount up quite easily. However, there are ways to make significant savings on airport travel; they might take a little longer, and be a little trickier, but they sure save cash.
If you want to save some extra dollars before making it off the runway, take a look at the cheapest ways to get to 4 of Australia's busiest airports.

Sydney Airport on a Shoestring
Sydney Kingsford Smith Airport sits only 8km south of the city, but a taxi ride there will probably set you back $50. However, it's probably the easiest to access cheaply as there are so many options. So close to the city, the journey can be walked if you're located nearby. However, with suitcases and little ones, this could be more effort than it's worth.
If you do feel like a little walking, there is a way to combine legs with wheels.
Take the train to Wolli Creek Station 12 minutes away from Town Hall.
From there, Sydney International Terminal is picturesque stroll through Cahill Park and over the Marsh Street Bridge.
The walk is just over a kilometre, making the total journey from the CBD roughly 40 minutes, and the cost is only $3.80 for the train. Of course this journey is reliant on pleasant weather and travelling relatively light. If walking just isn't practical, perhaps give this second route a go to make some good savings:
Catch a train from Town Hall, Central, or Wynard, to Mascot, which lies conveniently on the airport route.
From Mascot, the 400 bus towards Burwood drops off at the airport. If you prefer to walk, it's around 20-25 minutes to get to the Airport from Mascot; it's a flat route and relatively suitcase friendly.
Other stations that cross the 400's airport route include Burwood, Campsie, Bexley North, Rockdale, Banksia and Bondi Junction. With the $3.80 train ticket, and between $2 and $5 for the bus depending on where you board it, this journey costs under $10. Departing approximately every 20 minutes, the 400 bus runs from 5am to 11pm daily. Beware though; you need to purchase a ticket before boarding the bus if travelling between 7am and 7pm on weekdays.
Comfort route: taxi $50
Public transport route: under $10 per adult
Budget: Legs are free!
Related Post: Smart and Easy Ways to Save On Your Holiday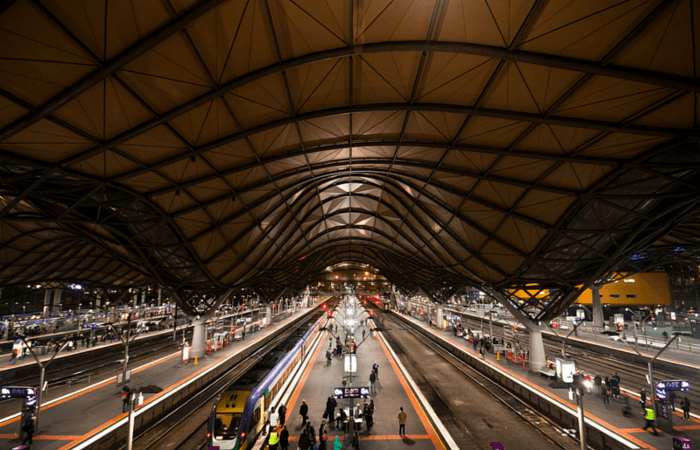 Make Melbourne Airport Cost Less
Melbourne Airport is located about 20km North West of the CBD, so it's certainly not walkable, especially with suitcases or children in tow. A taxi will take around 20 minutes in non-peak traffic and set you back around $50, so certainly not a cheap option. There are no trains to the Airport, so the bus is the most popular way to hitch a ride to Melbourne Tullamarine. The 20 minute Skybus is quite convenient as it leaves every 10 minutes from Southern Cross Station, but at $36 for an adult return, it certainly isn't cheap. In fact, if you are travelling as a family, it could be cheaper to book a cab.
Melbourne's airport transport is certainly expensive, but there is a way to save big if you have some extra time to spare. The journey will likely take 60-70 minutes:
Head for Broadmeadows by hopping on the Craigieburn Line from any train station in the CBD.
At Broadmeadows, swap to the 901 bus taking you directly to Melbourne's Domestic T1, from there you can get to the other three terminals.
You'll need a Myki card for this trip, and at full fare it will set you back only $3.76 each way if you complete the journey within 2 hours. The bus runs 5am to midnight on weekdays, 6am to midnight on Saturdays, and 7am to 9.30pm on Sundays, departing every 15 to 30 minutes.
Comfort route: Taxi $50+ one-way
Common route: Skybus $18 adult one-way
Budget: $3.76 one-way
Going on holiday?  Compare travel insurance from a range of our providers.

Perth International on a Budget
Perth international is only 11km from the CDB, so depending on where you are coming from it could be a short walk, or a long ride. With taxi fares from the CBD costing around $40, it's a little cheaper to get to Perth's airport than Sydney or Melbourne.
The CONNECT Shuttle bus is a slightly better deal than the Melbourne Skybus at $15 each way, but it does take a little longer, usually between 30 and 45 minutes. This shuttle picks up at 5 points throughout the city on route, which makes it quite convenient.
For the cheap seats, Transperth operate two bus routes that take you directly to the airport. Bus number 40 drops off at Perth's T3 and T4 for $5. These are domestic terminals, so you'll need to catch a free shuttle to T1 if you're flying internationally. This takes just over 15 minutes, so it's best to factor in transfer time if necessary.
Comfort route: Taxi $40+ one-way
Common route: Connect Bus $15 each-way
Cheap route: Transperth bus $4-5 one-way
Budget : Legs are free !

Grab a Bargain to Brisbane's Airport
The international airport north of Brisbane is just short of 15km from the city. It's not easy to walk to, but there are ways around the high fares if you're travelling on a budget.
Brisbane's Airtrain will burn a $17 shaped hole in your pocket for a one way fare booked on the day, and $32 for a return. Booking online more than 7 days before travel saves 15%, which is certainly something worth considering if you're planning to take the train.
Getting to Brisbane airport cheaply involves a few modes of transport, but it can be worth persevering for the savings.
First, jump on the Shorncliffe or Caboolture train from Brisbane Central Station and head for Toombul.
Then, take the 590 bus towards Garden City, which drops you at the Skygate shopping centre within 10 minutes.
From the Skygate there is a free shuttle called the TBus to take you to the airport terminals.
The buses run every 30 minutes from 6.30am (8am on weekends) until 7.30pm. Also, it's worth being aware that the TBus doesn't run after 6.20pm so you might need to taxi this last bit. Total cost? $7.20, but if you have a Translink Go card it's a bargain price of $4.91!
Comfort route: Taxi: $45+ one-way
Common route: Air Train $17 each-way
Budget: $4.91-$7.20
So now you know the options for getting to Aussie airports a little cheaper, all that remains is to work out how to spend your holiday budget on the other side. One thing it's certainly not wise to scrimp on is travel insurance, so try to make sure you are property covered for every part of your travels.