How to pack the perfect suitcase
Home > Blog > How to pack the perfect suitcase
"Simplicity is making the journey of this life with just enough baggage," Mark Twain's friend and fellow novelist Charles Dudley Warner once mused. In our case, "just enough baggage" means well-packed carry-on when we set out on a trip.
Packing smart means you're more likely to avoid luggage fees. Even if you buy prepaid baggage, fees will usually start from $35 per bag (if you're flying with a major airline like Qantas). Budget airlines are known to be less generous: Qantas's 2015 annual report had estimated its daughter company Jetstar's 'ancillary revenue' comprised over 1/5 of its $230 million total profit, while its Virgin-owned counterpart Tigerair hauled in $164 million extra revenue.
You might be able to sort out your own in-flight entertainment, snacks and drinking water like an expert, but what about luggage? Many of the best flight deals only include carry-on luggage, which means you need to perfect the art of packing the essentials into one bag. We've put together a rulebook for you.
In this article we cover:
The best ways of packing for air travel
Get the right bag for the right occasion: Perfecting the art of packing starts with getting the right luggage. As the rule of thumb, the lighter the bag, the more weight you'll have for your things. Invest in a compact modern suitcase and confine your creaky old one to storage. You would have seen flight crews strolling with their little suitcases at airports – they pack all their items in those, and they know the value of space like few do!
Check weight restrictions: Before you start packing, check your bag's dimensions, as every airline has different carry-on baggage restrictions. 7kgs is a rather common limit for carry on, however it's well worth checking with your carrier first. Remember that whatever the limit is, you can work with it – a little packing ingenuity always goes a long way!
Tip: Weigh your bag before heading to the airport. You never know whether you could be even slightly over the limit!
Lay out everything you think you need before packing: Let's be honest; there are two types of packers. Over-packers and under-packers. The middle ground is fairly scarcely populated. By laying out all the items that you think you'll need to take, you'll be easily be able to see what is missing and what isn't (do you really need five jumpers?!).
Tip: We recommend using the 'the rule of 3' when choosing basic garments – 3 shirts, 3 pairs of underwear and 3 pairs of socks. This is usually enough to get you between washing machines when travelling!
Put together your toiletry bag: You want to include the following personal items in your carry on:
Toothbrush
Toothpaste
Hair comb
Lip balm
Eye drops
Moisturising cream
Sunscreen
Roll-on deodorant stick
Feminine hygiene products
Tip: Your product sample/tester collection is a brilliant source of travel cosmetics. Complimentary hotel toiletries from your past travels are likewise excellent for taking on a trip. Also, you can save yourself time and anxiety by packing your liquid toiletries/cosmetics in Ziploc bags.
Make a sleep kit: If you're taking a lengthy/overnight flight, it's a great idea to have a handy sleep kit in your carry-on. You would usually need to have the following items in it:
an eye mask (some airlines offer complimentary ones, but having your own never hurts);
earplugs (disposable foam ones will do); and
a travel pillow (or a neck cushion).
Pile the items you want to put into your carry-on bag on one side:
Jumper, hoodie or blazer
Scarf or shawl
Mobile phone/tablet
Wallet
Headphones
A spare t-shirt
A change of underwear
Mini umbrella or a rain poncho
Tip: Wear your jumper/hoodie/sports jacket and walking shoes on travel day. It will not only save space and weight in your bag, but also keep you warm in the plane cabin.
Pack heavier items first: By placing shoes and other bulky items at the bottom of your luggage, you save space and ensure your suitcase is properly balanced.
Tip: Only pack dress shoes or trainers if you absolutely need to. Pack lightweight footwear like sandals or thongs/flip-flops if you're flying to warmer climes – the latter also make for great 'hotel shoes'. Ladies, remember that you can always opt for a nice pair of flats instead of high heels!
Pack fragile items in the middle: Now that your shoes are at the bottom of your bag, your toiletry bag or any other fragile items will need to go in the middle, where they'll have plenty of padding.
Tip: Use bubble wrap or travel pouches/inflatable travel bags if you're packing fragile gifts or souvenirs. Be mindful that the latter can expand at altitude!
A layer of rolled clothes: On top of your layer of shoes, you will want to lay down your bulkier items. Roll up items like jeans, towels and jumpers and you'll save a lot more space.
Lastly, don't stress! If pre-travel panic hits you, refer to the golden rule of packing experts: don't pack frantically. There's no use in stuffing everything at hand into your luggage, as you'll most likely overpack.
CTA
How to pack a suit in a suitcase in 8 easy steps
If you need to pack a suit for your trip and ensure it doesn't come out crinkled beyond recognition, you might want to follow the steps below:
Hold the suit jacket upright.
Smooth out the sleeves to ensure there are no wrinkles.
Pop in the suit shoulder and pull it inside out.
Tuck the other shoulder into the one popped inside out, until you line up the entire length of the lapel.
Fold the jacket vertically to line everything up to the width of one shoulder.
Hang the jacket on your arm and fold it in half – ensure the top of the shoulders is lined up with the jacket's bottom edge.
Fold the suit pants in half.
Place the pants on the table (or other hard flat surface) and fold them in half again.
How to fold a shirt for travel in under a minute
It's always a good idea to pack a nice shirt in your luggage regardless of whether you're travelling for work or holidays. Here's how to do it properly so it doesn't get all wrinkled up:
Button up the shirt.
Lay the shirt face down on your bed.
Fold the arms inward.
Fold the shirt in half.
Place the shirt on top of other items in your suitcase, face up.
Tip: Pack the shirt around a piece of cardboard and pop a rolled-up belt into the collar to keep it firm.
How to fold a dress for packing in 6 quick steps
Save yourself the annoyance of dealing with a crinkled dress when you take it out of the suitcase. Here are some excellent, crease-preventing, folding techniques:
Hold the dress by the shoulders and fold them back-to-back.
While holding the dress shoulders with one hand, find the seams along the sides of the dress and match them side-by-side.
Flap the dress to shake out any wrinkles.
Lay the dress on your table or bed and smooth out the top and the skirt portion of the dress.
Fold the bottom part of the skirt portion towards the middle and smooth it out with your hands.
Fold the top part of the skirt down and smooth.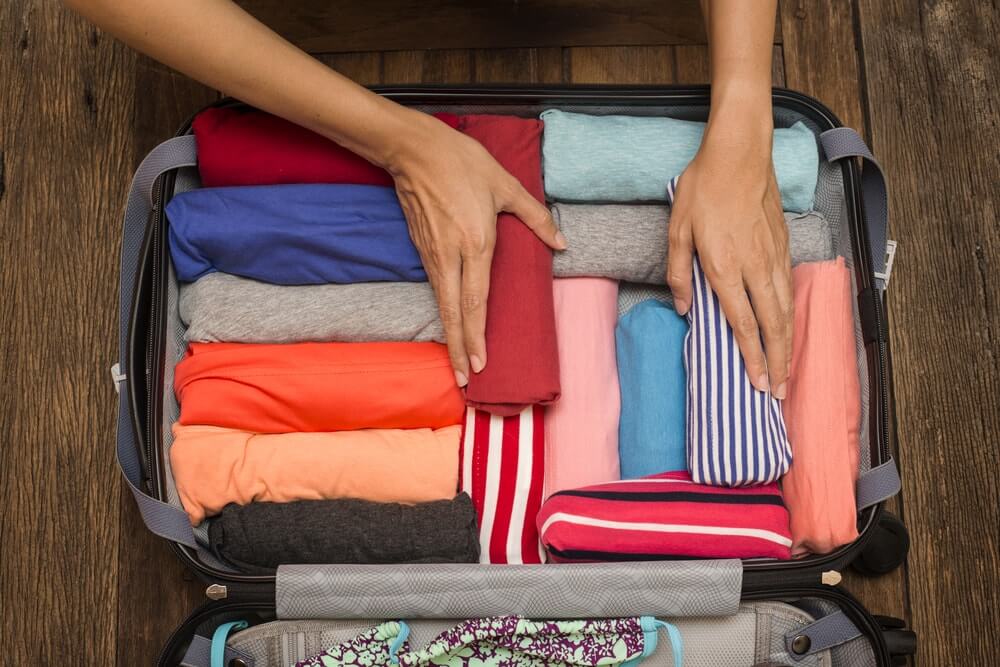 How to roll your clothes for packing
Rolling your softer garments will save you plenty of valuable suitcase space. You don't have to be an ex-army serviceman to efficiently roll clothes for packing!
Place your shirt or blouse on the bed.
Fold the bottom of the shirt.
Fold the sleeves in.
Fold the shirt from the sides.
Roll the shirt going from the top to the bottom.
Finish the roll by taking the end of the shirt and tightly wrapping it around.
How to pack a suitcase to maximise space
Your travel bag might already look pretty full, but there is a number of ways to give you more packing space. This is what you can do:
Pack your socks and products that won't leak inside your shoes.
Stack your bras and then fill the last cup with underwear before folding them over. This will save space and help the bras keep their shape.
Wrap belts around the edge of the bag.
Place your jewellery like rings, pendants and earrings in a pill container.
Plug any gaps with your remaining underwear, rolled up. There's no need to twist your knickers in a knot over this!
Put your dirty clothes in a compression bag instead of a plastic or a tote. It will give you valuable extra packing space.
5 reliable tips for wrinkle free packing
It might seem like there's no way your packed clothes will stay wrinkle-free for the length of your journey, yet there's a range of solutions for that.
Always layer your clothes at the top of your suitcase, so that nothing compresses them.
Try to pack some of wrinkle-resistant items – cotton/polyester shirts, for example, don't crimple as hard as 100% cotton ones.
When folding shirts, crease them carefully and smooth out the arms as much as you can.
Get some garment folders for your wrinkle-prone clothes.
Don't stuff your suitcase – the more clothes in your bag, the wrinklier they'll get.
Do you consider yourself a master packer? Share this story on Facebook and comment with your own tips (or mishaps)!