About to travel overseas? You might want to check that your passport is in good condition.
The West Australian reported that Indonesian border authorities, in particular, are starting to crack down on travellers with damaged passports, with fines up to US$5,000 (AUD$7,000+).1 These passengers will also be denied entry into the country.
However, it's worth noting that Indonesia isn't the only country with strict laws on faulty passports. According to the Department of Foreign Affairs and Trade, passports with significant damage 'could be impounded by border officials on entry or departure from Australia', which could have major implications on your travel plans.2
With your passport being your most important form of identification when travelling overseas, keeping it in order could save you a lot of grief. That's why we've broken down what could stop or delay your journey the next time you approach the customs counter.
Your passport's condition
If you've had your passport for a while, it's probably been in your pockets through various trips and isn't as shiny new as it was when first issued. General wear and tear is to be expected and won't render your passport defective. However, your passport might be deemed damaged if it has the following:
damage from liquids (including water)
torn or removed pages
alterations made to personal identification pages.
A replacement passport may only cost you $184.3 So, when you consider that a damaged passport might set you back more than $7,000 and could also deny you entry into your holiday destination, a new passport is a worthwhile investment if you're not sure your old one is up to standard.
After the application, it often takes around three weeks to receive your new passport, so it's worth applying for it well in advance.
Your passport's remaining blank pages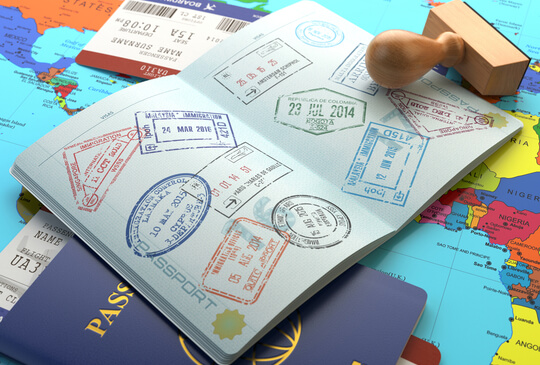 A lot of countries will use the electronic chip in your passport to check you through customs, but some will still use the old-fashioned stamp. Additionally, most travel visas will require at least one blank passport page.4 So, if you've had your passport for a while – and have done your fair share of travelling – chances are you're running out of pages.
The Department of Foreign Affairs and Trade states that you cannot simply receive additional pages for your current passport, meaning you'll need to apply for a new passport if you don't have the required pages for your next journey.5
Passport expiration date
If you've had your passport for a while, it might be worth checking the expiration date, since it could be the difference between a memorable holiday and a waste of your hard-earned money. According to the Australian Consulate, travellers looking to holiday in Bali require six months validity on their passports; otherwise, they will be refused entry into the country.6
With the prevalence of online travel agents, the expiry date can be easy to overlook – particularly if you book well in advance. Take care when booking online and ensure there's plenty of time before your passport expires.
Where should you go to receive a new passport?
Online
You can apply for, or renew, your passport through the Department of Foreign Affairs and Trade online passport office. Here you can also lodge urgent passport applications (subject to your eligibility) and report lost or stolen passports.
Post office
You can bring your completed application to participating post offices and they can send it to the Australian Passport Office on your behalf. Visit Australia Post for more details.
At your local passport office
We've compiled a list of the passport offices for each capital city:
City
Address
Adelaide
Allianz House

Level 5, 55 Currie Street

Adelaide SA 5000

Brisbane
Level 17, 150 Charlotte Street

Brisbane QLD 4000

Canberra
R.G. Casey Building

Sydney Avenue

Barton ACT 2600

Darwin
5th Floor Northern Territory House

22 Mitchell Street

Darwin NT 0800

Hobart
Level 1, 111 Macquarie Street

Hobart TAS 7000

Melbourne
Tower 3, Collins Square

Level 2, 747 Collins Street

Docklands VIC 3008

Perth
Level 1, 140 William Street

Perth WA 6000

Sydney
Level 7, 26 Lee Street

Sydney NSW 2000
Travel insurance
Along with a functioning passport, having an adequate level of travel insurance could also be vital for your trip. Numerous policies may allow you to claim money back on passport applications if it's lost or stolen during your trip. However, cover for your passport isn't the only compelling reason to purchase travel insurance.
Smartraveller states that 'travellers without travel insurance are personally liable for covering any medical and associated costs they incur'.7 Overseas hospital bills can tally up to the thousands, especially in countries that don't have universal healthcare systems, so taking out cover could lessen the blow to your travel budget.
You can find policies from numerous providers by using our free travel insurance comparison service. It only takes minutes to complete a quote and when you do select a policy, you will pay the same as going directly to the provider. So, why not see if you can find a great deal?
Sources
Did you find this article interesting or helpful?