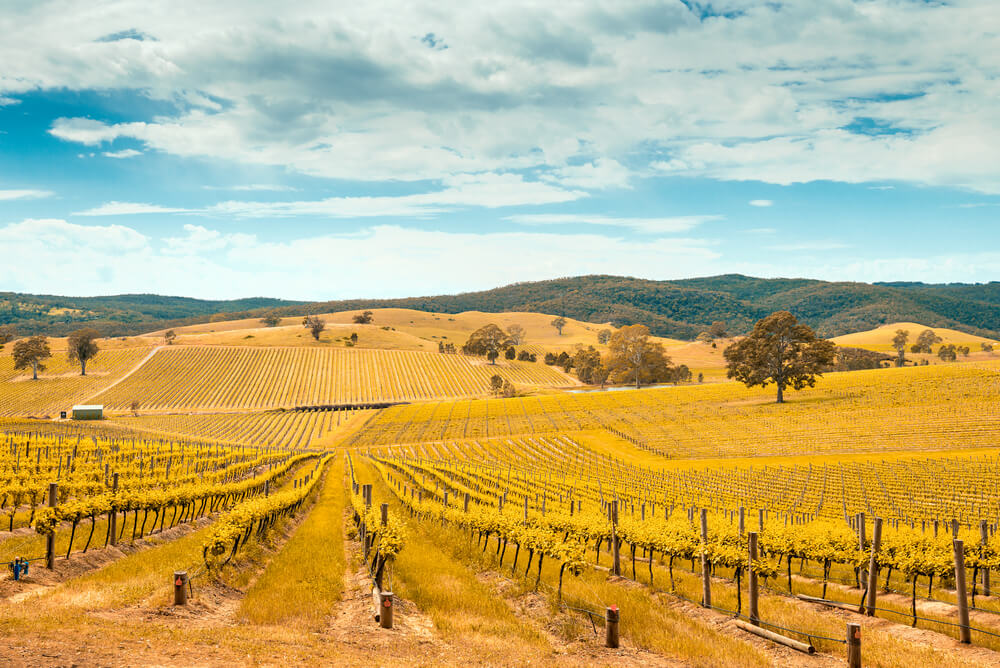 "You have an important choice: eternal wedded bliss, or the ability to buy food."
That's what you may be led to believe when trying to save up for your honeymoon.
A honeymoon is your celebration of marriage and can be a blissful way of starting your journey together as newlyweds. Your honeymoon allows you to leave all that routine and stress behind. It sets a pace unlike any other holiday you'll experience and provides you with memories that will last a lifetime.
But are you torn between celebrating one of the most exciting moments of your life, and your affection for not being bankrupt?
We can help you out.
From floating bungalows to tucked-away retreats, we've picked five romantic, affordable honeymoon destinations for you to consider. Whether you prefer relaxing ocean-side or exploring the sights, this list will conjure enough inspiration to begin planning your ultimate post-wedding getaway.
Are you ready to explore five cheap honeymoon destinations that'll keep your budget intact?
Port Douglas, Australia
Why Port Douglas?
Starting our list of budget honeymoon destinations is Port Douglas. Located in far north Queensland, Port Douglas is a tropical haven that'll steal your heart and leave your budget intact. Stretched along the region's captivating Coral Sea, this small town packs a big punch for value. Life's a beach in Port Douglas with the Great Barrier Reef on its doorstep, as well as a few world-class national parks.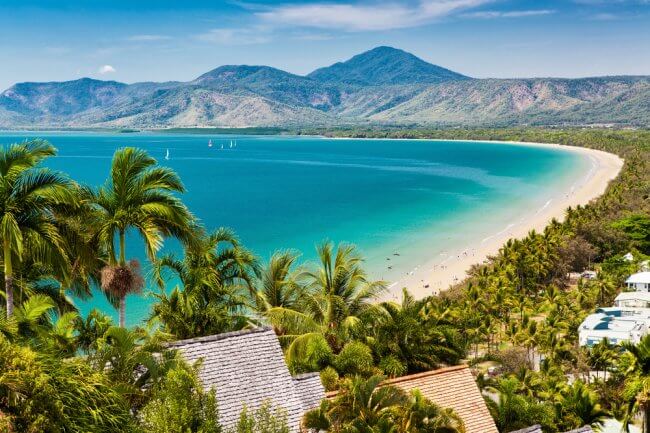 What can you do?
Unlike busier tropical hotspots in Queensland, Port Douglas is revered for its intimate setting and laidback pace. At this affordable honeymoon destination, you can:
dip your toes in the balmy waters of Four Mile Beach;
trek neighbouring Mowbray or Mount Lewis National Park;
stroll through quirky boutiques;
dine in comfort by ocean's edge; and
go scuba diving, snorkelling, swimming, sailing, sunbaking or hiking.
Where can you stay?
Accommodation in Port Douglas is reasonably priced given its proximity to the Great Barrier Reef. While it may not be an island destination, this seaside town has all the sun, sand and surf you could dream of. Our pick is the 4.5-star Sheraton Grand Mirage Resort, which features 12 outdoor pools, multiple room configurations, air conditioning, free Wi-Fi and your very own private beach!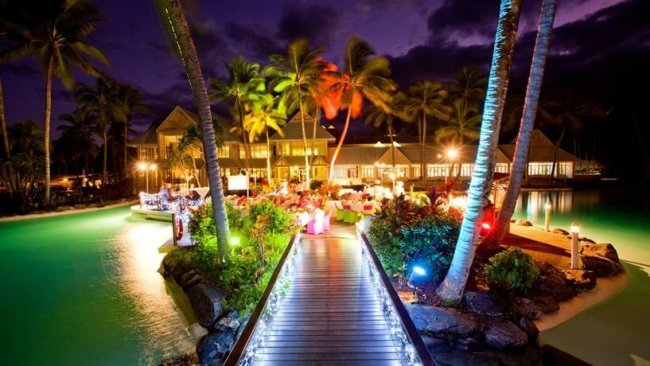 Three romantic tips for honeymooners in Port Douglas
Drive to Flagstaff Hill to witness a view from the lookout that'll leave you in awe.
Wander down to Rex Smeal Park during sunrise right on the water's edge for that perfect couple's photo.
Visit the Port Douglas Markets, open every Sunday from 8am to 2pm, and pick up a locally-made keepsake.
Melbourne, Australia
Why Melbourne?
Arguably the cultural hub of Australia, Melbourne is famous for trendy urban laneways, gorgeous architecture, history, world-renowned restaurants and a thriving arts scene. Don't let that put you off though; Melbourne can still make for a cheap honeymoon destination. A huge drawcard for honeymooning in Melbourne is the smorgasbord of things to do, like riding the old City Circle tram through the centre of town or indulging in a cocktail overlooking the Yarra River.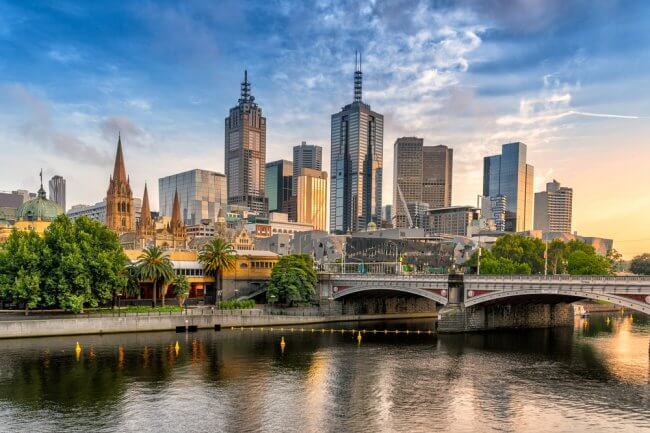 What can you do?
Planning a honeymoon to-do list in Melbourne will never be a tough ask. We suggest getting amongst the liveliness of Hardware Lane, Centre Place and Degraves Street for all your culinary delights, like gelato and coffee. Venture out of the CBD towards St Kilda and Brighton where you can wander down St Kilda Pier and Port Phillip Bay. Head further south to discover the beautiful Mornington Peninsula, or take a day or two to explore the Great Ocean Road.
See Melbourne a little 'differently' by hopping on board The Colonial Tramcar Restaurant, a luxurious tram providing three to five-course meals.
Where can you stay?
Finding that perfect night's sleep in Melbourne may involve a little research. You'll need to narrow down your accommodation search by figuring out which part of Melbourne you'd like to stay, like Southbank, the CBD or Docklands. If Victorian charm is what you're after, you can't overlook The Hotel Windsor in East Melbourne, which is a mere walking distance from famed restaurants and the Princess Theatre. There aren't too many hotels in the world with a 9-star rating from over tens of thousands of reviews, as of September 2019!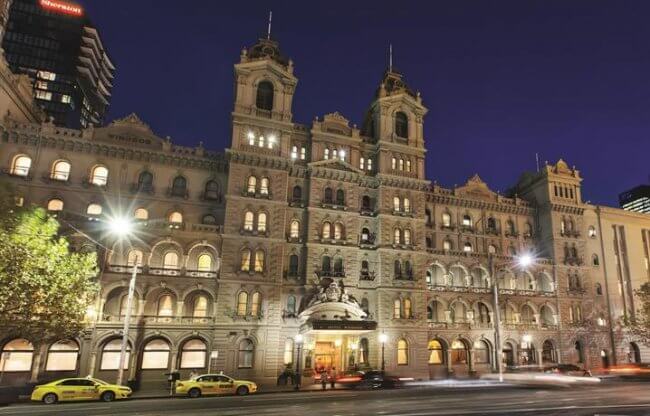 Three romantic tips for honeymooners in Melbourne
Make good use of the Free Tram Zone throughout Melbourne's CBD.
Head to the St Kilda Esplanade Markets on a Sunday from 10am to 4pm and pick up some quality goods.
Cool off after a big day with a cocktail from Madame Brussels – a rooftop garden bar overlooking the city.
Margaret River, Australia
Why Margaret River?
Margaret River, a gemstone of Western Australia, is one of our top picks of cheap honeymoon destinations thanks to its turquoise waters, rolling wineries and divine culinary experiences. The Margaret River region is packed with stunning hiking paths, cellar doors, restaurants, and limestone caves and formations. Watching a sunset over the Indian Ocean with a glass of local chardonnay and a cheeseboard while hand-in-hand is a must-do.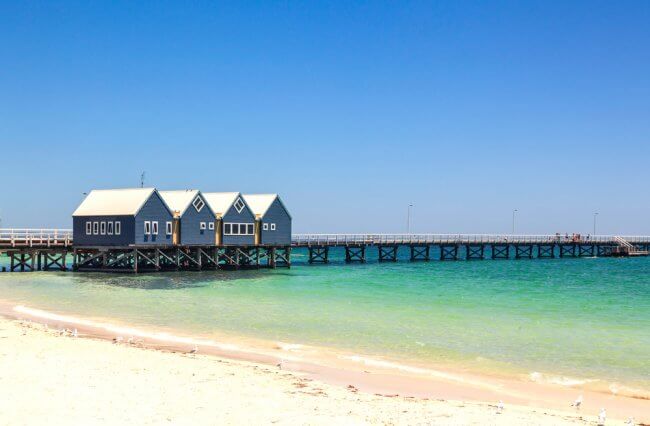 What can you do?
An ideal budget honeymoon destination, Margaret River offers the quintessential relaxation experience. Best toured by car and foot, you'll fall in love with the region's award-winning wineries, including Cape Mentelle and Vasse Felix. Take a day to explore the vineyards with a private winery tour, head out to gorgeous Busselton Jetty, hike inside Mammoth Cave and dine at one of the town's best restaurants.
Where can you stay?
Your ideal accommodation in Margaret River can vary depending on what type of honeymoon you're interested in. To unwind a little off the beaten track, the Riverglen Chalets could be your best option, while the Central Avenue Apartments might be up your alley if you want to be centrally located. If you prefer to be closer to the beach, then accommodation in Dunsborough may be the ideal setting for your romantic getaway.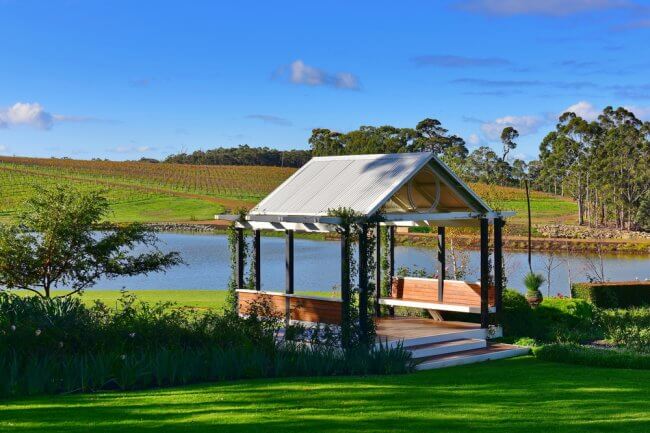 Three romantic tips for honeymooners in Margaret River
Don't just go for the wine! Check out local breweries like Brewhouse Margaret River and The Beerfarm.
Treat yourself at Gabriel Chocolate in Yallingup with award-winning sweets like gelato and rich chocolates.
Take a trip to Cape Leeuwin Lighthouse for a captivating view of Australia's most south-westerly point.
Barossa Valley, Australia
Why Barossa Valley?
Picture yourself by your partner's side in a quaint cottage nestled among rolling pastures that resemble a Tuscan backdrop. The Barossa Valley is South Australia's premier wine region, making for a perfect, affordable honeymoon destination to spend time exploring award-winning wineries, galleries and restaurants, as well as flocking to local markets for all your shopping needs.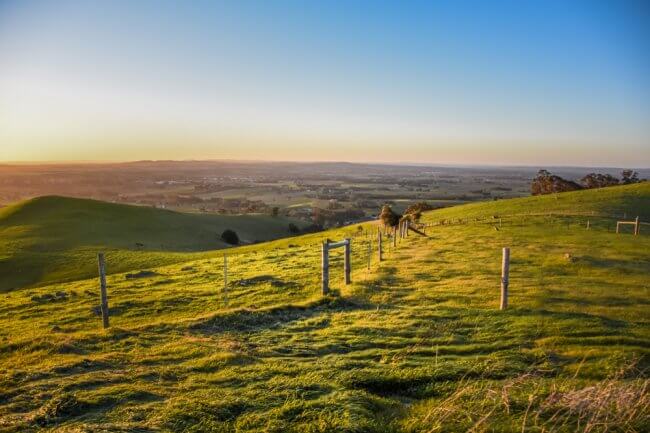 What can you do?
Aside from tasting various bottles of Barossa Valley Shiraz, the region offers newlyweds fabulous heritage walking trails, awe-inspiring lookouts and the Whispering Wall – a large dam where your voice eerily travels from one end to the other. You'll be spoilt for choice between winery tours dropping you off at some of the most well-renowned vineyards in Australia and – if you don't mind a bit of a drive – a road trip to the eloquent township of Hahndorf, a German enclave with impressive Bavarian architecture, beer halls and a museum.
Where can you stay?
Fancy a glass of bubbly with a view? Then the Seppelts View Cabins could be what you're yearning for. The cabins are locating on a farm, and all feature an en suite bathroom, kitchenette, air conditioning and a spa bath, plus it's within walking distance to Seppeltsfield Winery. A stone's throw away is the sleepy town of Tanunda, another picturesque option when selecting your Barossa Valley accommodation.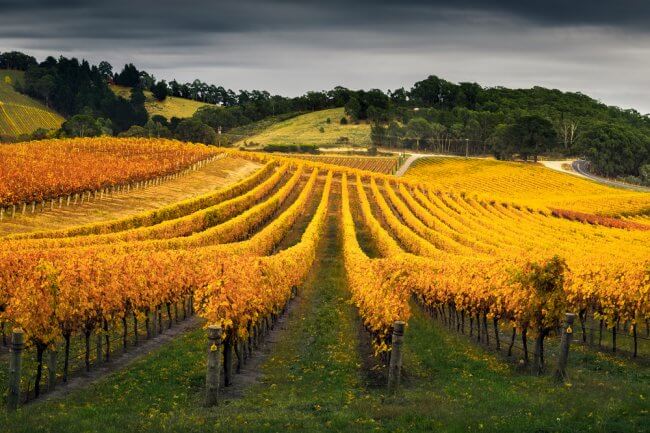 Three romantic tips for honeymooners in the Barossa Valley
Give the car a rest and hire a bike to ride around Barossa's many cellar doors.
Kick-start your day with a champagne breakfast or a delicious brunch at a café, hotel or restaurant.
Venture out to Heritage Wines, a boutique family-owned vineyard with unspoilt views of the Barossa ranges.
Bali, Indonesia
Why Bali?
Bali is unquestionably one of Australia's favourite getaway destinations and for a good reason too! While many holidaymakers choose this tropical paradise for its lively party scene, it's also well known for its seclusion and intimacy, perfect for couples looking to get away from the grind and enjoy a honeymoon on a budget.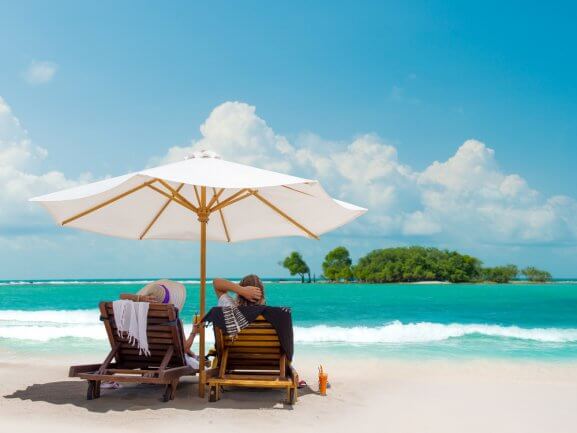 What can you do?
As a cheap honeymoon destination, Bali has something for every honeymooning couple. Whether it's resting poolside with a cocktail or exploring the local temples, your time in this island paradise will have you mesmerised. Spas are all the rage in Bali, with picturesque backdrops and treatments that'll soothe your entire body.
If you're looking for a knockout view, book a table for two at The Edge – a luxurious cliff-top resort with unparalleled views of the coastline. Other couples activities include snorkelling, visiting the primates in Ubud Monkey Forest and trekking around the tranquil Tegallalang Rice Terraces.
Where can you stay?
Booking that perfect honeymoon suite is easy in Bali, but you'll need to have an idea of what you're after. For those in pursuit of their very own floating metropolis, the Melia Bali offers superb dining options, serene views of gardens and pools, a spa and wellness centre.
If you want to be closer to the action, then the five-star Grand Mirage Resort & Thalasso Bali might be your best choice, providing guests with marvellous ocean views and your very own private beach.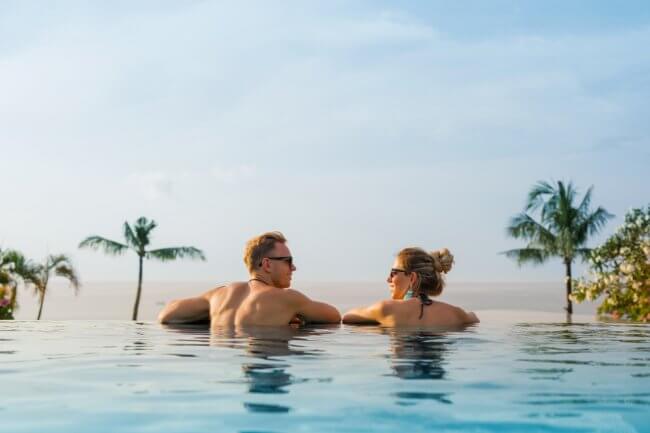 Three romantic tips for honeymooners in Bali
Visit Tanah Lot at sunrise and Ulun Danu Beratan Temple during sunset for two equally incredible spectacles.
Spend an afternoon indulging in fresh food and specialty cocktails while unwinding at Finns Beach Club.
'Swing' high above the tropical canopy during an Ubud Jungle Swing Tour and swim in a local waterfall.
Are you heading to one of these cheap honeymoon destinations?
Travel insurance may be one of the last things you think about when you're planning a wedding and a honeymoon on a budget, but it's important you do think about it. You don't want to be enjoying your first days as a married couple only to have something go wrong and potentially have to fork out even more money.
Fortunately, arranging travel insurance is simple. It's even simpler if you use our travel insurance comparison service, where you can compare and choose from a selection of policies in only minutes!
Did you find this article interesting or helpful?