Perth's 3 best escapes for you and the family
Home > Blog > Perth's 3 best escapes for you and the family
Planning on packing up the car and hitting the road these holidays? Come and uncover some of the best family holiday destinations outside of Perth.
We've chosen three destinations all within five hours driving distance that will have you and the entire family planning your next trip away. With the busy December-January period fast approaching, these spots are perfect for families who don't want to spend the earth on their next holiday, or visit the same old places everybody knows and loves.
Enjoy the natural wonders of Cervantes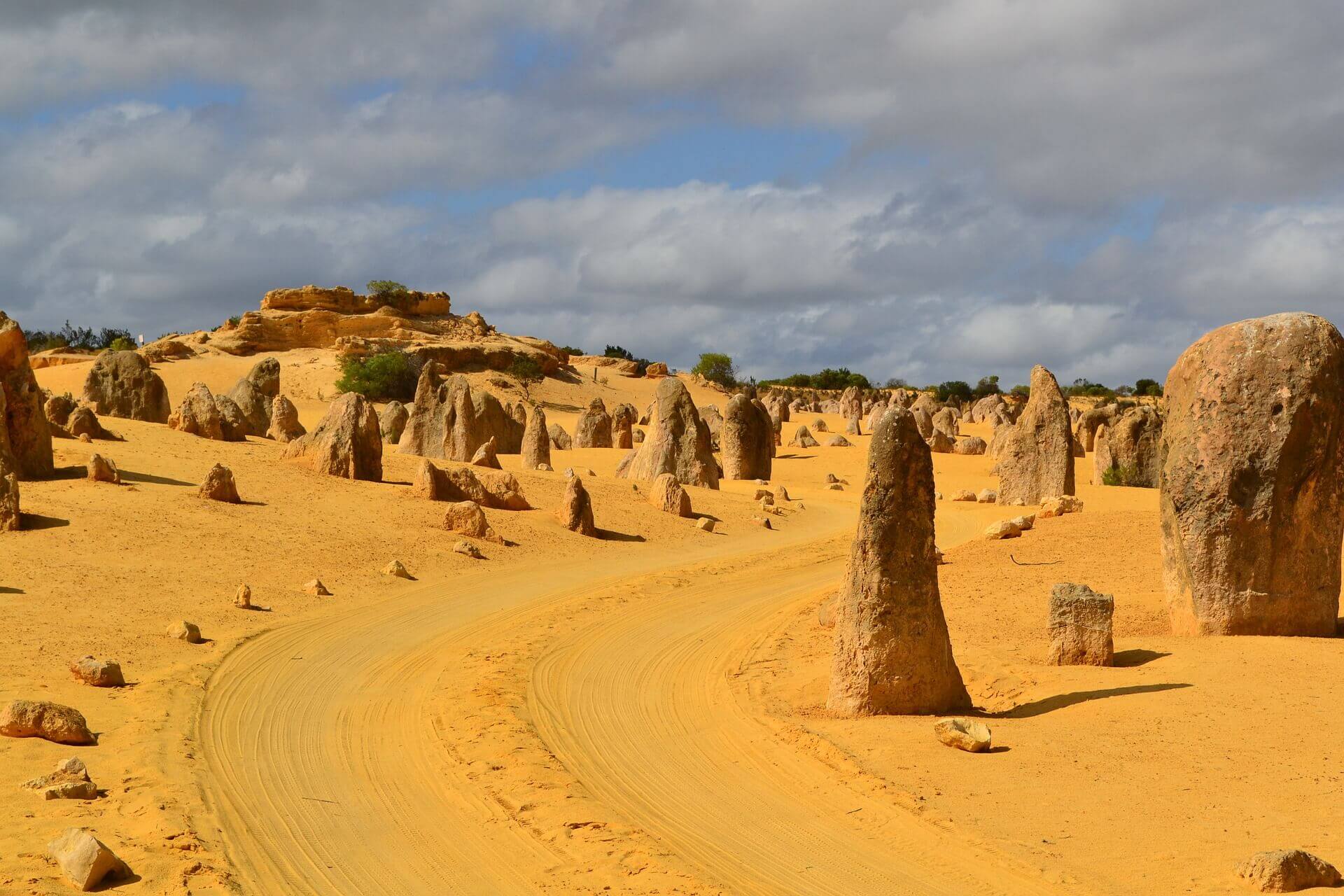 Situated on Western Australia's Coral Coast, Cervantes is home to roughly 465 residents, and is an ideal setting for families craving a quick and simple getaway. Like many coastal townships along the Indian Ocean Drive, Cervantes' principle industry is fishing. Not only is Cervantes a small laidback fishing village, it is also used as a launching pad to some of the region's marvellous natural attractions.
Cervantes offers almost everything for families who want to unwind or explore the sights – keeping any visitor busy (or relaxed). There are a variety of activities, scenery lookouts, and walking tracks to ensure your stay at Cervantes is nothing short of exciting and memorable.
Distance from Perth
Cervantes is located 200 kilometres north of Perth, which is approximately two hours and 10 minutes by car. Given the length of the drive, be sure to compare car insurance and roadside assistance to help protect you against any unexpected emergencies.
Attractions and places to visit
Nambung National Park
Within 15 minutes from town is the Nambung National Park and the Pinnacles – an absolute must-see! The Pinnacles is renowned for its thousands of limestone formations, some reaching five metres in height. The Pinnacles have formed naturally over thousands of years as a result of Tamala Limestone build-ups in the area, and a combination of rain, wind, and calcium.
The limestone pinnacles are so visually spectacular that Dutch sailors in the 18th century mistook the landscape for ruins of an ancient city and civilisation. There's a reason it's known to locals as 'walking on the moonscape"!
Drive, walk, or skip around a four kilometre loop of the Pinnacles Desert, where you can bask in sweeping views of the rugged coastline along the way. An entry fee into the Pinnacles Desert Discovery Centre is $13 per vehicle and is open daily from 9:30am until 4:30pm. There is also an effortless 1.5 kilometre bush walk from the centre's car park to Kangaroo Point – ideal for bird watching and sightseeing.
Hansen Bay
To the South of Cervantes is Hansen Bay, a semi-sheltered cove full of beauty and charm. With 2.6 kilometres of unscathed beachfronts, the bay is located a short drive from the town's centre or roughly 30 minutes by foot. Hansen Bay is situated along a stretch of pristine reefs, epic lookouts, and crystal-blue waters. There are also the ruins of a jetty in the middle of the beach, with direct car access at the southern end.
Lobster Shack
Cervantes has countless fishing tours for everything nautical in the vicinity. The Lobster Shack provides fishing charters, sea lion tours, sightseeing adventures, and a fish shack serving their famous steamed lobsters, available for dine-ins or takeaways. Months of operation coincide perfectly with the upcoming holiday season, so make sure you check them out for an unforgettable dining experience.
Other attractions in the area include sand dune four-wheel driving, swimming, canoeing/kayaking, snorkelling, and various water sports.
Places to eat
Lobster Shack
As mentioned earlier, the Lobster Shack is a seafood lover's delight, who also take bookings for tours around their lobster factory – an experience well worth it according to reviews! The Lobster Shack offers guests a variety of menu options, including half-grilled lobsters with salads or rice, lobster burgers, and traditional fish and chips.
Cervantes Bar & Bistro
Cervantes Bar and Bistro specialises in "fresh-off-the-boat" produce, offering a wide variety of food and beverages. Their motto of locally caught sustainable seafood includes some of the freshest items on the menu. Open seven days, and serving 11am to late, Cervantes Bar and Bistro could be a sure thing for mum and dad to unwind over a few glasses of wine. The venue is also equipped with a fully secure outdoor play area for the kids.
Other places to eat
Moreover, there are a number of corner stores to satisfy the kids' ice cream and gelato cravings, which should help restore some of those exhausted energy levels.
Accommodation options
There are multiple family-friendly accommodation choices available at Cervantes. Below we've listed a few examples, but for more choice and to discover competitive rates, compare accommodation with Compare the Market.
RAC Cervantes Holiday Park
The RAC Cervantes Holiday Park offers a range of accommodation and site options from three-bedroom villas to unpowered camping grounds. The two bedroom villas comfortably sleep six people, while the three bedroom villa can sleep up to eight. Each property gives you access to a kitchen, a veranda with a BBQ, air conditioning, a TV and views of the resort's pool area. If you're looking for a more authentic camping experience, there are powered and unpowered sites suitable to caravans, motor-homes, and tents.
Cervantes Holiday Homes
The Cervantes Holiday Homes might be the setting you're looking for, with affordable prices and centrally located properties. There are one, two and three bedroom units to choose from, with access to a kitchen, air conditioning, linen, towels, BBQ areas, and laundry facilities – perfect to come home to after a long day of exploring!
Camping Sites (various locations)
For those families in the search of roughing it in the wild and going off-grid, there are plenty of camping grounds for fully self-contained travellers. These sites are free (for up to 72 hours), and require no booking. But be aware that most of these camping sites have no toilet or water facilities, and are strictly fire banned. The nearest campsite is at Tuarts Reserve, only a 10 minute drive from North of Cervantes.
Soak up the serenity of Molloy Island
40 minutes South of Margaret River lays Molloy Island, an inlet destination that is fantastic for families escaping the more popular areas of the region. You can access the island by boat, barge, or ferry, while soaking up the surroundings this magical place has to offer.
Molloy Island gives families the opportunity to kick back, relax, and really take advantage of this quiet and stunning spot.
Distance from Perth
Molloy Island is located 320 kilometres south of Perth, which is approximately three hours and 40 minutes by car. To avoid any bumps along the way, it might be wise to look at and compare car insurance and roadside assistance.
Attractions and places to visit
On the island
Molloy Island gives you the impression that you're in the middle of nowhere due to its idyllic and secluded location. Nestled amongst a stunning array of flora, there are many reasons why Molloy Island should be at the top of your list these coming holidays.
One of the great things to enjoy here is the eloquent surroundings while spending quality time with your family. Molloy Island makes up for its lack of commercial attractions with its charm and peacefulness. That being said, having your own island is pretty exciting and unique!
The island has bush walks, a tennis court, a basketball hoop, swimming and playground areas for children, plus various boat ramps for access to all nearby waterways. Most of the privately operated accommodation spots have bikes and kayaks for visitor use.
There is also an abundance of native birds and wildlife on the island – wonderful for those afternoon kayaks downstream! So put your feet up and crack open a bottle of the region's best knowing the kids are in safe hands at Molloy Island.
Alternatively, you can board the hourly ferry to the mainland and head to nearby Augusta for a day-trip.
Places to eat
Augusta
While there isn't exactly a smorgasbord of eateries or restaurants on the island, there are places nearby (a literal hop, skip, and jump away) that are worth checking out. After you've boarded the ferry, you can take a short 20-minute drive west towards the town of Augusta.
With a 4.5 star rating from 185 reviews on Trip Advisor, The Blue Oceans Fish and Chips in Augusta is a local favourite. Reviews tend to compliment the range, service, price, and quality of food. So whether it's calamari or whiting, make sure you head down to one of the jetties for a delicious fish and chips experience.
If you're sick of eating out (even on holidays), there's plenty of supermarkets in neighbouring Augusta and Margaret River, depending on how far you want to travel. Just be sure to stock up on the essentials as Molloy Island's isolation means there's limited access to shopping centres and supermarkets.
Accommodation options
Molloy Island Holiday Home
Molloy Island Holiday Home is a privately operated short-term rental property. This modern and spacious house has all the essentials (and more), including air conditioning, wood fire, three bedrooms (sleeps up to eight guests), two bathrooms, a laundry, an open plan entertainment area, a large TV, plus all the necessities for the rug-rats (i.e. baby changing table, pram, highchair).
There are many more privately-listed accommodation options varying in price, size, and availability. To view these, compare hotels at no cost through Compare the Market.
Molloy Caravan Park
Molloy Caravan Park is situated on the banks of the Blackwood River (not on Molloy Island, but right next to it). The park is a great family holiday destination, with cabins or powered camping sites. Located right on the water yet still in the bush, Molloy Caravan Park caters to the entire family. There is a private boat ramp, a kiosk (supplied with ice, food, and bait), stand-up paddle boards, canoes, and fishing rods. The facilities include a disabled bathroom, a fully-equipped camp kitchen, washing facilities, a kid's playground, games room, and a large BBQ area with free gas.
Come and see Australia's largest inland wave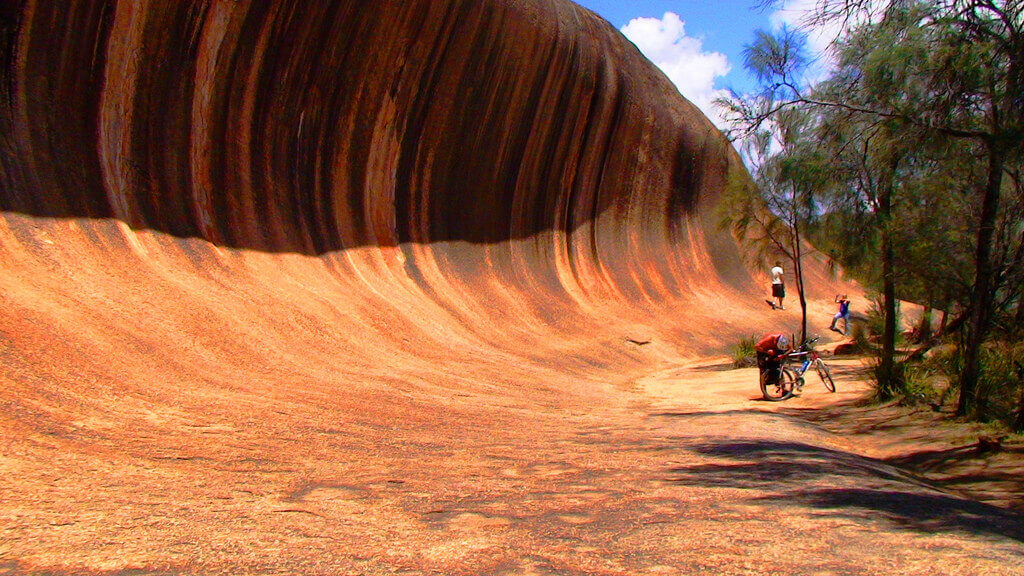 We all know Australia is famous for its surf, yet one of the country's largest waves can be found hundreds of kilometres away from the nearest beach! Wave Rock rises 15 metres above the arid plains of the South Western Australian desert, and is a sight well worth the drive.
At 110 metres in length, this granite cliff-face resembles a giant wave that is about to break onto nearby bushland and its visitors. Not only is this natural attraction visually incredible, the land is also home to a local Aboriginal legend, with a collection of 450 ancient rock paintings in the nearby Mulka's Cave.
Distance from Perth
Wave Rock is found 340 kilometres east of Perth, which is approximately three hours and 45 minutes by car. Give yourself the peace of mind before your next trip and compare car insurance or roadside assistance with us.
Attractions and places to visit
Wave Rock
Clearly, the main attraction of the area is Wave Rock, where visitors can pose for photos around, or even on top of the rock! There are walking and hiking tracks on and around Wave Rock ideal for families navigating this magnificent piece of outback Australiana. There are a wide range of tours and guided walks you can book to learn about the region's colourful history. There are various tour operators who can cater to families seeking an active holiday – just the thing to tire the kids out for bedtime!
Wave Rock is home to an extensive list of native flora and fauna – short-beaked echidnas, numbats, bobtail lizards, emus, thorny devils, and colourful orchids to mention a few.
Hyden
In neighbouring Hyden, the family can uncover the region's rich Aboriginal heritage at Mulka's Cave and Hippo's Yawn – each believed to be over 27 million years old! You can even escape the aridness of the plains by taking a trip to the Hyden Swimming Pool.
Places to eat
Due to the remoteness of Wave Rock, there are limited eateries in the vicinity, but that doesn't necessarily mean quantity is better than quality.
Wave Rock Bistro
The Wave Rock Bistro is regarded as the place to eat for Australiana barbequed food based on 78 TripAdvisor reviews. Menu options include steak (which you can cook yourself on an open grill), fish, vegetarian meals and snacks.
The Bush Bakehouse
The Bush Bakehouse offers coffee and freshly-made pastries, as well as salad rolls and sweets – great for those about to venture out on a walking tour. Hours of operation are from 6am to 3pm on Monday, Tuesday, Wednesday and Friday, Thursday from 6am to 5pm, and Saturday from 7am to 12:30pm.
The Wildflower Shoppe and Wave Rock Cafe
The Wildflower Shoppe and The Wave Rock Cafe are conveniently positioned eateries, located only 500 metres from Wave Rock itself. Here you can devour a tasty meal while enjoying your favourite espresso coffee, with indoor and outdoor seating (think alfresco dining with a view of a pond inhabited by black swans). You may also purchase a Gold Pass ($15 per adult, $7.50 per child), which entitles you entry to the Pioneer Museum, the Lace Place, the Miniature Solider Museum, and the Wildlife Park. Opening times are 9am to 5pm daily.
Accommodation options
Wave Rock Motel
Located three kilometres away in Hyden, Wave Rock Motel offers 55 well-maintained units, as well as executive suites (equipped with bars, spas, and private gardens). All units consist of private bathrooms, air conditioning, tea/coffee facilities, microwaves, fridges, free Wi-Fi, telephones, and TVs. Choose between room configurations that suit the number of guests you require (sleeps up to six people). Relax by the pool in the leather lounge chairs and quench your thirst at the bar which serves snacks, local wine and icy cold beer daily from 12pm to 11pm.
Wave Rock Caravan Park
For those families wanting to camp, the Wave Rock Caravan Park has powered and non-powered sites in a natural bush setting, within walking distance of Wave Rock. The caravan park provides visitors with a camper's kitchen, swimming pool, laundry facilities and a children's playground (equipped with a cricket pitch, kiosk, and undercover eating area). The park is strictly a fire-free zone, with rangers patrolling regularly. Hours of operation over the summer period are from 8:30am to 6pm daily.