A Taste of Sicily – A Food Lover's Guide
Home > Blog > A Taste of Sicily – A Food Lover's Guide
Nestled against the tip of Italy's boot, the island of Sicily sits off the South-Eastern coast of the country, in the heart of the Mediterranean Sea. While Sicily may have been brought to infamy by The Godfather films, it's famous as more than just a mafia stronghold.
Often thought of as just an independent outpost of Italy, bypassed by travellers wooed by the romance of Venice, the shopping in Milan or the architecture in Florence, Sicily is a thriving food-lovers paradise. The weather is sublime, the beaches internationally recognised and the terrain varied and lush.
The Cuisine
Influences on Sicilian cuisine are broad – from traditional Italian to Greek, Spanish, French and Arab flavours. A deeply sensory exploration of taste and texture, the rich tapestry of Sicily's past reemerges in its cuisine. Sicily is known for a few famous dishes, cannoli and arancini chief among them, but dig a little deeper and you'll find a dazzling array of unheard-of dishes to delight your palate.
Given that Sicily is an island, it's unsurprising that seafood plays a significant part in local cuisine. Spaghetti ai ricci (sea urchin spaghetti), pasta con le sarde (sardine pasta), and pesce spade (grilled swordfish and wilted greens) are all traditional local dishes.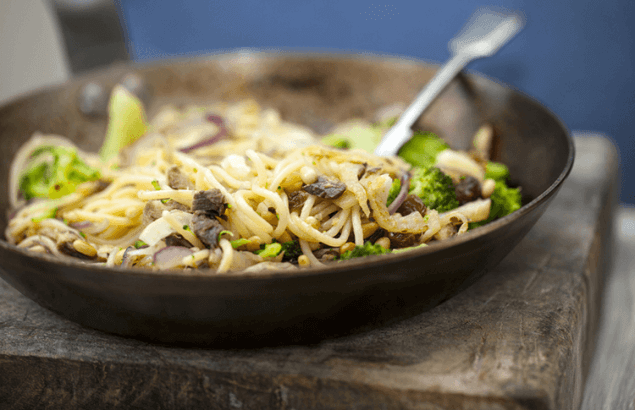 Street, or peasant food, is widely available and cheap! Sfincione, like pizza except more delicious (if that's even possible), is a popular street food. So are stigghiola (barbequed lamb intestine – not for the faint-hearted Westerner), pana ca' meusa (veal spleen bun – see previous comment!) and polpo bollito (boiled octopus); like anywhere, to truly experience the local culture, you should embrace the local cuisine! When in Sicily…
If you're looking for more upmarket fare, try one of the two Michelin-starred restaurants on the island. La Madia in Licata, Pino Cuttaio, puts a modern twist on traditional recipes and Ciccio Sultano, at Duomo in Ragusa, turns traditional dining into a culinary spectacle. Both restaurants offer degustation menus matched with wines that show off the sumptuous delights of the region.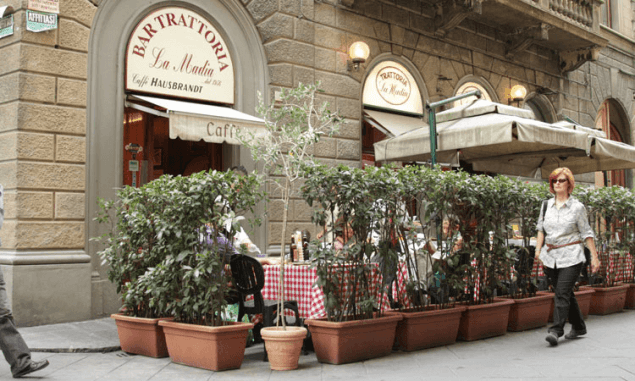 The Markets
Sicily is blessed with bountiful growing regions. Fruits like mandarins, oranges, strawberries, medlars, peaches, grapes and watermelons are plentiful when in season; wild fennel, asparagus, artichokes, tomatoes and aubergines grow in abundance, and create a colourful tapestry of produce in the street markets. Sicily is renowned for its sheep ricotta cheese, which features in a variety of dishes, especially desserts like the famous cannoli (tubular pastry filled with ricotta custard cream) or traditional cassata (a layered sponge and cream cake with marzipan and fruit glaze). Both are readily available in delis and from street vendors.
The best place to experience Sicily's edible abundance is at a local market. Vucceria market in Palermo is popular with visitors, although you'll find the locals at Ballarò and Capo markets. In Catania, you can't miss a visit to the Piazza Carlo Alberto market; don't forget to duck around the corner to the Pescheria (fish market), just near the Piazza Duomo to see the fisherman unloading the freshest fish in all of Sicily.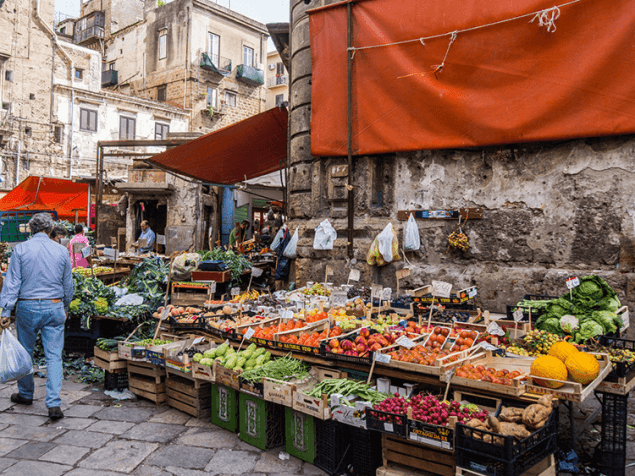 Where to Stay
Accommodation is plentiful in Sicily, however standards of accommodation vary greatly. Bed & Breakfasts are great choice for travelling foodies and are usually lighter on the wallet as well. For those looking for an immersive food-lovers experience, try a farmhouse stay where you can pick, prepare and eat your own produce. Try Baglio Spano or the four-star Gigliotto Agriturismo.
Get Around
Self-drive itineraries are often the best way to see the sites, both popular and off the beaten track, so if you're thinking about hiring a car to get around Sicily, remember a few things. Australians will need an International Driver's Permit to both hire a car and drive in Sicily. Sicilians, like most of Europe, drive on the right-hand side of the road. Roads in the north are better maintained than roads in the south, so slower speeds may be necessary when driving on the south side of the island. Trains are a popular mode of transportation around the island, and busses are also available to more remote routes.

The Final Word
Whatever mode of transport you choose, consider taking comprehensive travel insurance as your travelling companion. Just like road conditions and cuisine across Sicily vary widely, so too do travel insurance policies. Make sure you compare providers to find one that suits your travel needs and budget. Buon appetito!