The best airports for everything
Home > Blog > The best airports for everything
Some airports are nothing but a drag, while others can feel like part of the holiday. Check out these top airports from around the globe, and see why they beat the rest.
Although you probably don't plan your trip around which airport you'll pass through, it can be worth noting which provide the best services. Here are some advantages of arriving in the world's best airports, where being there can be an adventure in itself.
Best airports for:
Sleeping
If you're facing a long flight, or an extended layover, you can try and shake off your jetlag with a good nap. Most airports will have nearby hotels, but some have sleeping areas you can book in advance.  
Changi, Singapore: One of the busiest terminals in the world, Changi has been voted number 1 in the World Airport Awards for the last three years, with their Crowne Plaza winning Best Airport Hotel for 2015. If you don't want to exit the airport there are three transit hotels where you can book a napping room close to your departure lounge.
Incheon Airport, Seoul: runner up in this year's awards for best airport, Incheon offers dedicated rest areas as well as luxurious private lounges you can pay for. They'll even provide you with a blanket so you can drift off to sleep in a large padded recliner after a nice shower, having taken advantage of the free wifi.
Helsinki Airport, Finland: Helsinki boasts the use of Europe's first sleep pods in an airport. The comfy and peaceful Go Sleep pods are available 24 hours a day at a charge of €5 or free at Gate 37. Pillows and blankets are available and you can shower before to wake up fresh in order to meet the next leg of your flight. Conveniently there are also power points available so you can recharge all your devices.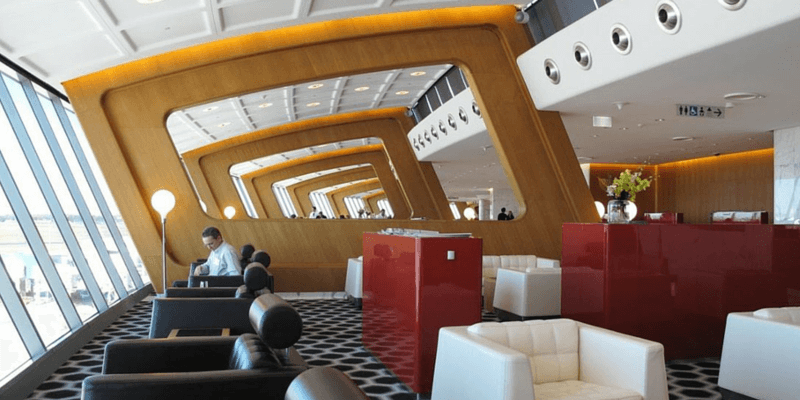 Lounges
With an increase in travellers, many international airports have stepped up to the plate in providing comfortable lounges for short or long stops. Most still incur a fee or require you to be a member, but you can usually buy a pass in order to gain access.
Dubai: Dubai lays claim to the longest lounge in the world. Lounges are open 24 hours with two offering shower facilities. The sense of luxury is somewhat heightened in the terminal with the Qatar lounge offering a sweeping staircase and tranquility pond, which might be useful if you've just played a frantic game on the squash court. The Emirates lounge offers a children's play area that caters to a variety of ages. If you're travelling through Dubai and want to find out more, click here.
Sydney International Airport: Qantas opened a number of well-received lounges in 2014. The large area provides a good amount of privacy and personal space. If you're feeling in need of some TLC you can book into the spa for a 50-minute massage whilst admiring a living wall of lush foliage. More understated than Dubai, the lounge has a modern and functional design that is somewhat reassuring as you peruse the Neil Perry menu. Unfortunately, unless you can get in as a guest, you'll need Qantas Club membership for access.
San Francisco International Airport: This airport greets weary travellers with low-level lighting that is gentle on the eyes. They also provide pod-like seating areas that are cosy and private. As a bonus, there is free Wi-Fi and power access to charge your devices and hydration stations to fill up your water bottles. Airline lounges are also available for a small charge which you can pay as you enter.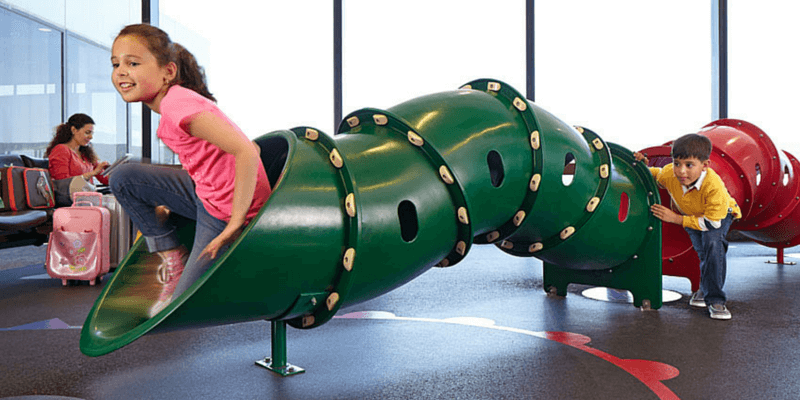 Image source
Leisure
Whether you want to stretch your legs or do some shopping, the best airports around the world have got you covered. Here's three of the best.
Incheon Airport, Seoul: If you're feeling a bit flat after a long flight, Incheon offers numerous activities to get the blood pumping as well as catering to the cultural side of things. The airport has both a golf course, which can be accessed via a short shuttle ride, and a skating rink. You can also check out some local history in the Korean Culture Museum or learn to make traditional artifacts at the Traditional Culture Experience Zone.
R. Tambo International Airport, Johannesburg, South Africa: When thinking of shopping as a leisure activity many think of Changi or Hong Kong airports, but Johannesburg wins on their selection of reasonably priced local goods. There are four different franchises to choose from featuring beautiful hand-made arts and crafts. If you're in town for a sporting event why not drop into the flag store and show your support? You can even buy a vuvuzela!
San Francisco International Airport: Got kids in tow? This airport offers a Kids Spot with an interactive play area with exhibits from the Exploratorium of San Francisco. It's open 24 hours so if the children are restless you can get them onto the crawling apparatus to let off some steam. If you feel like a stroll there's also some great galleries and historical exhibits on offer (40 all up), including an aviation museum and library.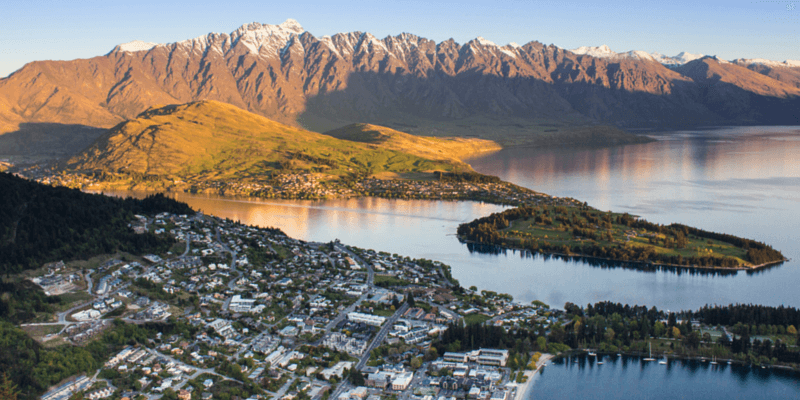 View
It's said that pilots get the best views, but from a window seat you can also enjoy the scenery and experience some natural wonders – here's three airport locations that give a great view.
Harry Mwanga Nkumbula International Airport, Livingston, Zambia: The approach to this airport takes in the magnificent Victoria Falls. The Falls are considered to be the largest in the world, with a width of 1,708 metres.
Queenstown Airport, New Zealand: Situated in the Wakatipu Basin, Queenstown offers breathtaking views of surrounding lakes and mountains. Make sure you nab yourself a window seat and get your camera ready as the approach is one of the best in the world, showcasing the area's natural beauty. Click here to read Patrice Dougan from the New Zealand Herald describe it.
Lukla Airport, Nepal: Flying in through Lukla, which resides at 10,000ft on a cliff face, is probably more suited to adventurous types as it's known as world's scariest airport. Whilst the views may be spectacular, the end of the runway cliff drops off to 9,200 ft.
Layover
Changi Airport, Singapore: Again Changi comes up trumps. As well as the usual food, shopping and spa options, there's a Balinese-themed swimming pool in the airport. So if you feel like a quick swim in Singapore's warm weather or want to grab a cocktail, Changi has you covered with entry at about $15. Annabel Candy from getinthehotspot.com agrees saying: "…the airport has green spaces, a butterfly garden and artworks galore so plenty to see and do for adults and kids. If you have at least 5.5 hours to spare you can take a free Singapore city tour. It's a fascinating place so if you can swing a stopover in Singapore that's a great option.
Heathrow, London: For luxury goods and fancy food it doesn't come much better than Heathrow. If you're feeling indulgent they have a caviar and seafood lounge with a 15-minute menu so you have more time to shop at the mini-Harrods.
Munich Airport, Bavaria: Beer lovers rejoice, for Munich is the only airport in the world with its own microbrewery. If you need a break from recycled air, Airbräu has a beer garden. However, if you want to do something a little more cultural and kid-friendly on your layover, the city of Munich isn't far from the terminal.
Heading away soon? Compare travel insurance here for a great deal.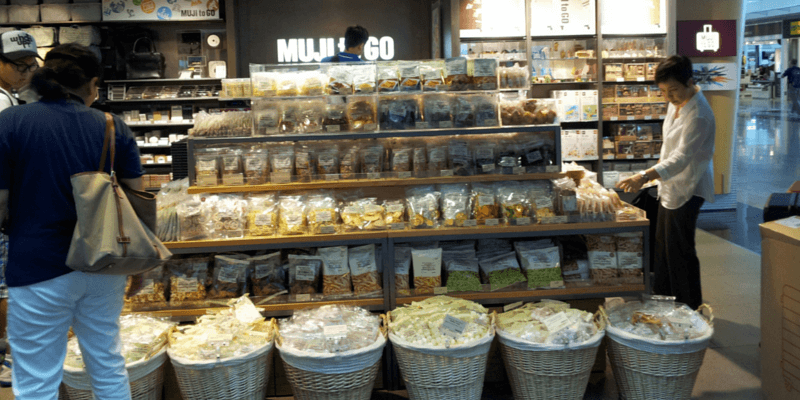 Image source
Food
Here are three top picks for the world's greatest airport food halls.
Hong Kong International: This airport has something for everything from Western style food to a slew of vegetarian choices. The food hall offers familiar big brands with some local names thrown in. If you're wanting something simple like a sandwich there are at least two bakeries.
Heathrow, London: The diversity of food available at Heathrow reflects that of the British people. There's everything from traditional bangers and mash to home style Lebanese cooking. After you've lined your stomach there's always the Fortnum & Mason champagne bar for some delicious bubbles. If you're stocking up on British confectionary, Heathrow is your last chance to stock up on those Jaffa Cakes!
Kansai International, Japan: Like Hong Kong, Terminal 1 in Kansai offers the usual mix of fast, local and Western food. Servicing Kyoto and Osaka, on the local side there's a slew of the best Japanese dishes such as ramen, soba noodles, udon and teppan curry. If you're a fan of sushi conveyer belts then you'll be well catered for too. For final photos before your flight, checkout the robot beer dispensers!
Parking
Many airports now either have public transport to and from the terminal, or provide cheap shuttles from central points.
Los Angeles Airport: LAX, the hub to enter the US offers the cheapest parking of all airports at $83 per week, or if you are looking short-term, $12 per day. Once parked cheaply and safely you can enjoy the gateway to the US.
Canberra: The airport for our nation's capital has, per hour, the lowest parking rates in the country. Per hour it's $4 for indoors and $3 for outside. The outdoor parking per day is $19, pipping Hobart to the post in price. Great news for our public servants looking to get away for a weekend.
Hobart Airport: Flying into Hobart always holds promise of nights by the fireside with artisan whisky. But, if you're flying out and need to park your vehicle Hobart Airport offers some of Australia's cheapest short-term parking for $20 a day. Wherever you travel, it's a good idea to check if there are parking deals related to your airline, as this could save you money.
The best modern airports have become more in tune with travellers' needs and offer a wide variety of services. Competition is fierce for airline customers, and airports are beginning to take more and more opportunities to capitalise on millions of people who are passing through one location. Hopefully, airport services will continue to improve, giving more passengers the opportunity to enjoy their layover, and access services that make their journey comfortable.