Experience the top 3 family holidays from Brisbane
Home > Blog > Experience the top 3 family holidays from Brisbane
While holiday time with the family is supposed to be the perfect opportunity to build memories together and enjoy a break from everyone's schedule, it's not uncommon to feel slightly (or majorly) overwhelmed by the cost of going away and keeping everyone entertained.
But it doesn't have to be that way.
Why not save money and experience invaluable adventures and sights by exploring your own backyard? To take the pressure off your shoulders and snuff out any "we're bored" whinging, we've compiled a comprehensive guide of the three best family holidays from Brisbane that won't break the bank, don't require hours on a long-haul flight (or hours stranded in airport terminals), and are a little different to the norm.
Montville: The "creative heart of the Sunshine Coast"
Escape the hustle and bustle of Brisbane City and its surrounding suburbs by heading north towards the delightful artisan village of Montville. While it may feel like you're stepping back in time with its quaint handicrafts and surreal rainforests, Montville doesn't miss a beat with its endless opportunities for excitement, reconnecting with nature, and delicious food and drinks.
Distance from Brisbane: 99.6km
Montville is centrally located on the Sunshine Coast, and is around a one-and-a-half hours drive from Brisbane's city centre.
Experiences and attractions
Baroon Pocket Dam (Lake Baroon):
Are you craving a day of fun by the water? Baroon Pocket Dam/Lake Baroon, located a 10-minute drive south from the centre of Montville (the Northern Recreation Area), or a 25-minute drive (the Southern Recreation Area, north of Maleny) offers a soothing yet fun-filled day for the entire family. Hugged by walking trails and hinterland scenery, Baroon Pocket Dam is the perfect location for your family to enjoy picnicking, barbequing, and simply relaxing on the grassy banks with a well-deserved drink.
You can take your boat out on the water (as long as it's electric), with boat ramp access on Narrows Road on the northern side of the lake, and access via Baroon Pocket Road on the southern side. Other, non-fuel-powered watercraft, including stand up paddle boards, canoes, and kayaks, are permitted, as is fishing (with a fishing permit).
Cool off from the summer heat by swimming within the permitted areas on the southern side of the lake. As swimming is only permitted on this side of the lake, it's recommended you stop by the southern side on your way up to Montville to ensure everyone can take a dip.
Once you've soaked up your fill of water, dry out on land by exploring one of the surrounding walking trails. On the northern side of the lake, you can take in a short walk to enjoy views of the Obi Obi Creek and the spillway. Martin Williams Walk is a longer walk on the south side of the lake, accessible off Baroon Pocket Road. This walk was created and built by Martin Williams himself, the lake's first ranger.
No matter which side of the lake you choose, your family is guaranteed a fun and inexpensive day.
Please note:
The dam and its facilities are open seven days, from 5:30am to 6:30pm (September to April), and 6:00am to 5:30pm (May to August).
Be sure to observe all signed boating and cautionary guides to ensure your safety in the water.
Remember to dispose of all rubbish correctly, as Baroon Dam forms part of South East Queensland's drinking supply.
Water skiing, jet skiing, tubing, and wakeboarding are not allowed on Lake Baroon.
Kondalilla National Park
Kondalilla National Park resembles a real-life fairytale – stunning valley views, sunlit tree foliage, pristine water streams, and refreshing rock pools.
Located on the scenic Blackall Range, around a three-minute drive north-west from Montville's village centre, Kondalilla National park is a fantastic and affordable experience you can tailor to suit each member of your family.
When you park your car at the end of Kondalilla Falls Road, there is a large picnicked area. Feel free to sit on a blanket under a shady tree with some sandwiches, or head to a nearby table and cook up a hot meal at one of the barbeque facilities. There are also toilet amenities here to stop by before heading out on either a leisurely or more involved walking circuit.
Picnic Creek Circuit is a formed walking track that doesn't require much bushwalking experience. The track is clearly signposted, has some gentle hills, and a few steps – ideal for any family member. This is the shortest circuit, with 1.7 kilometres of fun for both adults and small children, and only takes around 45 minutes to complete. This circuit crosses Picnic Creek and showcases brilliant views of the valley from numerous vantage points. Skene Creek gathers into a refreshing rock pool with a four-metre waterfall – quite a sight if you visit during the summer wet season.
If you have enthusiastic teenagers in tow, why not try out one of the longer walking circuits? Kondalilla Falls Circuit is a more strenuous walk. It's still a formed track, but is comprised of short, steep hills and many steps. Some bushwalking experience may make this walk easier, as it is 4.7 kilometres long with over 300 stairs. Take the track heading towards Narrows Lookout for fantastic views, which is a 2.2 kilometre return walk accessible via Narrows Road. Another lookout accessible here is Baroon Lookout, with a 4.4 kilometre return.
Please note:
The walking circuits are not wheelchair accessible due to the stairs and inclines.
Some creeks may not be suitable for small children.
View the Kondalilla National Park Map.
Montville Markets
Try to plan your trip to Montville where you'll be in the village on the second Saturday of the month; this is where locals showcase all things handmade and fresh at the Montville Markets. Located at the Montville Village Hall from seven in the morning to around midday, the kids can slurp on natural juices while you wake up to the richness of locally-roasted coffee. The welcoming smell of Montville's famous pancakes washes over the stalls, which tout everything quirky and wonderful, from home-made jams, fresh local produce, and contemporary Cornish pastries to gardening products, handmade gifts, and local honey. These markets occasionally hold kids art workshops with local artists as well.
Be sure to bring some cash just in case certain vendors don't have EFTPOS facilities.
Places to eat and drink
The Edge Bar Café, Bar and Restaurant
Bask in stunning, hinterland views and breathe in the crisp mountain air (with a peek at the Pacific Ocean on a clear day) at the Edge Café Bar and Restaurant. With its spacious deck hovering on the edge of an escarpment, you need to force your eyes away from the panoramic views so you can browse through the menu, which is just shy off a five-star rating on TripAdvisor at the time of writing.
Situated on Montville's Main Street, The Edge's menu can be tailored to suit the needs and tastes of your whole family, with vegan and vegetarian options available, as well as gluten and dairy-free alternatives. Breakfast is served 8:30am to 10:30am daily, while lunch is served from 10:30am to 4pm.
If you're looking for just a small bite to eat, you might like to try one of their lighter meals, or test out their range of cakes or sip on a coffee, milkshake, or even a sneaky cocktail for those of age.
Fudgyboombahs
Where can you find fudge that gets the balance between decadent dark chocolate and buttery macadamias just right (and then some)? What about fudge that is swirled with blues, yellows, pinks, and tastes like bubblegum?
Fudgyboombahs has grown to hold the reputation for the finest fudge for miles. Customers love the product so much that they submit flavour ideas to the owners, who seek to make their dreams come true.
Located along the Main Street in Montville's village centre, you can find something for everyone's palate; salted Dutch liquorice, old-fashioned lollies, and chilli-coated, honey-roasted, and plain macadamia nuts also available for purchase. You can also ward off any post-holiday blues by taking advantage of their online shop, where you can purchase straight from the cabinet.
Accommodation
Montville is home to comfortable and quirky accommodation options for the whole family. Below are a few examples of family-friendly places you and the kids can stay, but you can find more options quickly and at no cost by comparing accommodation with Compare the Market.
Montville Holiday Apartments
These holiday apartments are located around a three-minute drive from Montville's village centre. It features spacious, air-conditioned apartments that revere panoramic views of the Blackall Ranges. The pool will be a hit with the kids, and both the communal barbeque and each apartment's kitchen facilities are a great way to save money on take-out meals. The Loft Apartment in particular features an additional sleeping area for two, which is accessible by a ladder – something the kids will love!
Lilyponds Holiday Park
Lilyponds Holiday Park is situated just north of Montville (about a 10-minute drive) and is nestled in neighbouring Mapleton. This park offers affordable accommodation where you can choose to stay in a modern, self-contained cabin, or a budget bunk room, or you can choose to pitch a tent or park your caravan in the designated sites.
The little ones and teens will love the park that backs onto the holiday park. It features a skate bowl, flying fox, swings, fields, and barbequing areas. On site, there is a swimming pool and fire pits if some summer nights are on the cooler side. Well-behaved pets are also welcome.
The camping and caravanning sites are powered and offer a fully-equipped kitchen, an undercover barbeque area, a coin-operated laundry, and a toilet dumping point.
Stanthorpe: Produce fresher than its sights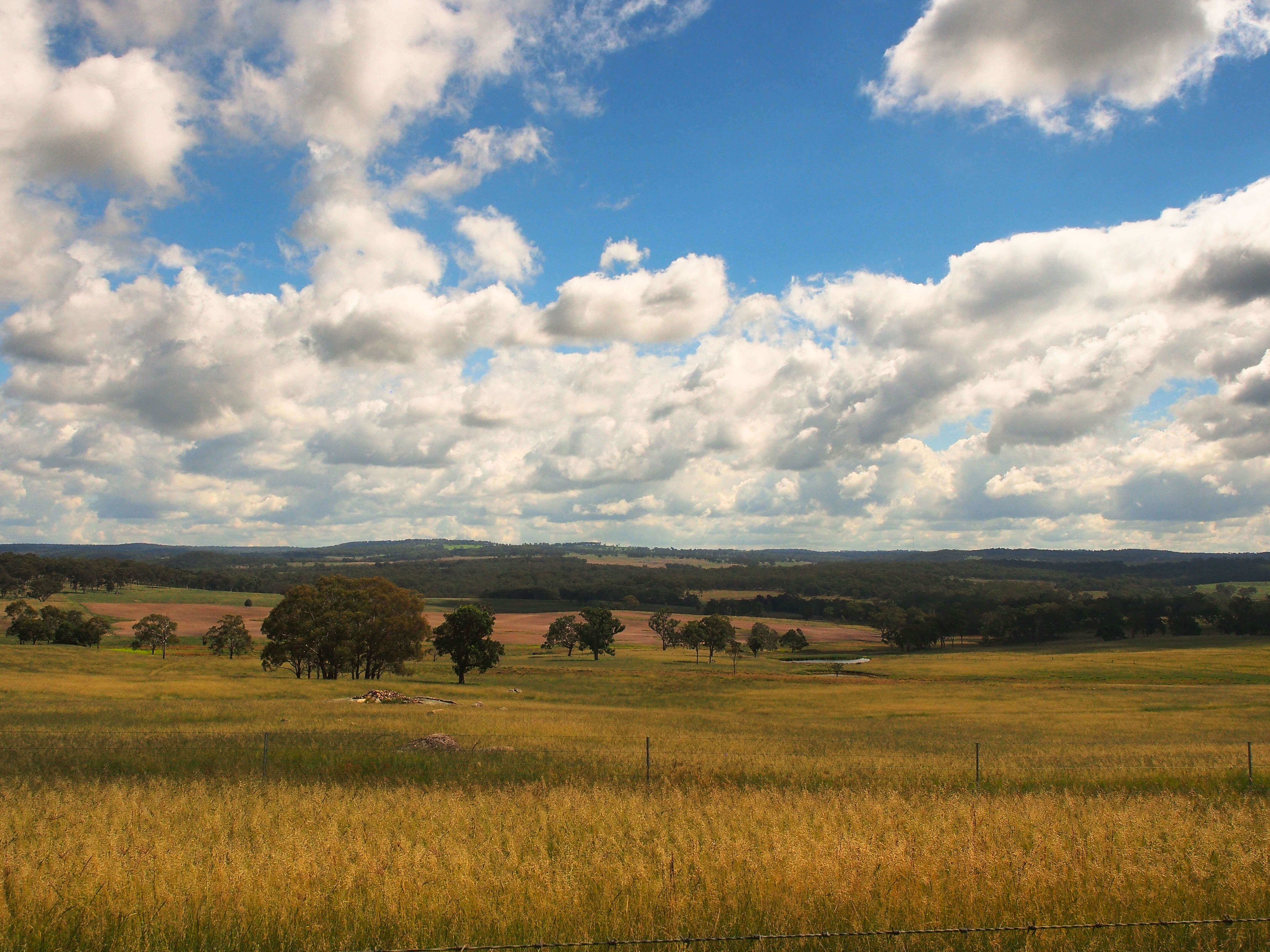 Located in the heart of the Granite Belt and home to precariously balanced boulders, beautiful farms, and worth-the-drive apple pies, Stanthorpe is a wonderful, family-friendly destination for your summer holidays. Its unique microclimate and granite soil has put this country town on the map for its winemaking and diverse, fresh produce.
Distance from Brisbane: 218km
Stanthorpe is located on the New England Highway, right near the New South Wales border. Heading through Warwick, the drive takes around two hours and 40 minutes from Brisbane City, but the drive is made much easier along the way with picturesque country sights. Be sure to compare fuel prices before leaving home to ensure you're getting the best-priced petrol on your way to your destination, and safeguard against the unpredicted by comparing and selecting the most suited roadside assistance.
Experiences and attractions
The Granite Belt Maze
Care to lose the kids for a while? The Granite Belt Maze, located around 10 minutes north of Stanthorpe's centre, is an exciting, child-friendly maze, where you can either join the kids as they explore the timber maze's twists and turns to find clues for their riddle, or watch their adventure from the sidelines; the maze's timber walls have slats large enough so you can keep an eye on your children's progress.
After all that running around, the family can enjoy a cold drink and some sausage rolls or pies at the maze's kiosk, before heading out to play some mini golf or jumbo chess, which are included in the admission price ($12 per adult, $10 for children aged five to 16). You can also take a look at the gardens, which are designed to withstand Stanthorpe's frigid winter months and its hot summer days.
Please note:
The maze is closed on Wednesdays, but is typically open from 9am to 5pm, except on Christmas, Boxing, and Anzac Day. Be sure to call ahead for availability to avoid disappointment.
Most areas of the maze are wheelchair accessible.
Lawdogs Australia Enforcement Dog Show
The Lawdogs Australia Enforcement Dog Show is an exciting experience for each member of the family. You and the kids can join an hour-long "Dog Show With Bite" live show to see both puppies and adult dogs go through their law enforcement training and develop their skills for future arrest scenarios. You'll also see how they're trained to control suspects, move swiftly through agility equipment, and find hidden scents. These dogs are trained with the hopes of becoming family guard dogs, security patrol dogs, and even truffle detection dogs.
Occasionally, a daring onlooker can elect to try on a safety sleeve for the patrol dogs to bite on command, under the supervision of their trainers. You can also partake in hiding training odour packages for detection dogs to sniff out.
Show times are typically held on Wednesday and Saturday, from 11am to 2pm, however it's recommended you call ahead to confirm times and book your ticket (although according to the venue's website, they do accept walk-ins). Try to arrive early, as entry includes alpaca feeding and viewing farm animals, as well as chatting to the trainers and taking photos with the dogs. You can also buy some treasures at the gift shop.
You can also join a guided tour at the Truffle Discover Centre for five dollars, where you will see the newly planted Truffiére, and enjoy interactive exhibits.
Please note:
There is mobility access.
Some loud sounds, like the cracking whip and barking, may scare young children.
There is parking available for caravans and trailers.
Places to eat and drink
Sutton's Farm/ Juice Factory, Cidery, Distillery and Shed Café
No visit to Stanthorpe is complete without indulging in Sutton's Farm signature experience – that is, enjoying a piece of their apple pie, which features cooked apple lightly sprinkled with cinnamon, crisp, buttery pastry, a scoop of apple-cider ice cream, and whipped cream.
Sutton's Farm extends over 30 acres, with around 10,000 apple trees growing 30 varieties, including both French cider apple varieties, and more traditional types, like Granny Smith. The orchard is a 10-minute drive north of Stanthorpe, and is open seven days, from 9:30am to 4:30pm, except Christmas and Boxing Day, and the Stanthorpe Show Holiday (which occurs at the end of January). Apple picking season starts during February at an extra cost.
Drinks-wise, the kids can enjoy freshly pressed, 100% pure apple juice, free from any preservative or additives, while you down some Merlo coffee or perhaps something stronger. Try some sparkling apple cider, which Sutton's Farm handcrafts based on traditional English and French cider techniques. If you'd like a drop later, why not purchase a bottle and have a glass with some cheese back at your accommodation or when you arrive back home?
Granite Belt Brewery and Restaurant
Five minutes from Stanthorpe's town centre, the Granite Belt Brewery and Restaurant offers a variety of food to satisfy any picky eater. Beer-battered onion rings with chilli aioli, cracked pepper battered fish, and a kid's meal featuring crumbed barramundi, pizza, and dessert will make this restaurant a winner for lunch or dinner.
If you're staying at one of the restaurant's self-contained houses or one of the 19 private cabins, treat yourself to some local wine or beer, and if you're game, you can even take on the Beat the Brewer Challenge, which involves devouring a one kilogram Brewers Burger. This burger encompasses an Irish Red Ale beef patty, bacon, eggs, cheese, grilled peppers, salad, and chips with aioli.
Lunch is served daily from 12pm until 2:30pm, and dinner is served from 5:30pm. The menu may change depending on season.
Accommodation
Apple Blossom Cottage
Only a short walk to the centre of town and Stanthorpe's restaurants, Apple Blossom Cottage is truly a home away from home. This three-bedroom cottage accommodates up to six people, with a self-contained kitchen, laundry, and television for more relaxed nights. A large deck is perfect for the family to gather together and play your own board games or cards.
Top of the Town Tourist Park
Top of the Town Tourist Park is perfectly suited to those who want to get to know other travellers with cabins, units, and powered and unpowered sites.
Top of the Town has plenty of facilities for your family to enjoy, including three camp kitchens, eight barbeque areas, camp pits, an outdoor theatre, and a shaded swimming pool. There are game facilities, ensuites in cabins and in powered sites, WiFi access, and wheelchair-accessible amenities. Well-behaved pets are allowed in the camping sites and cabins as well, which is handy if you can't find a sitter.
For further information and to discover other hotels within Stanthorpe, take advantage of Compare the Market's free hotel comparison service.
Bribie Island: The paradise you can drive to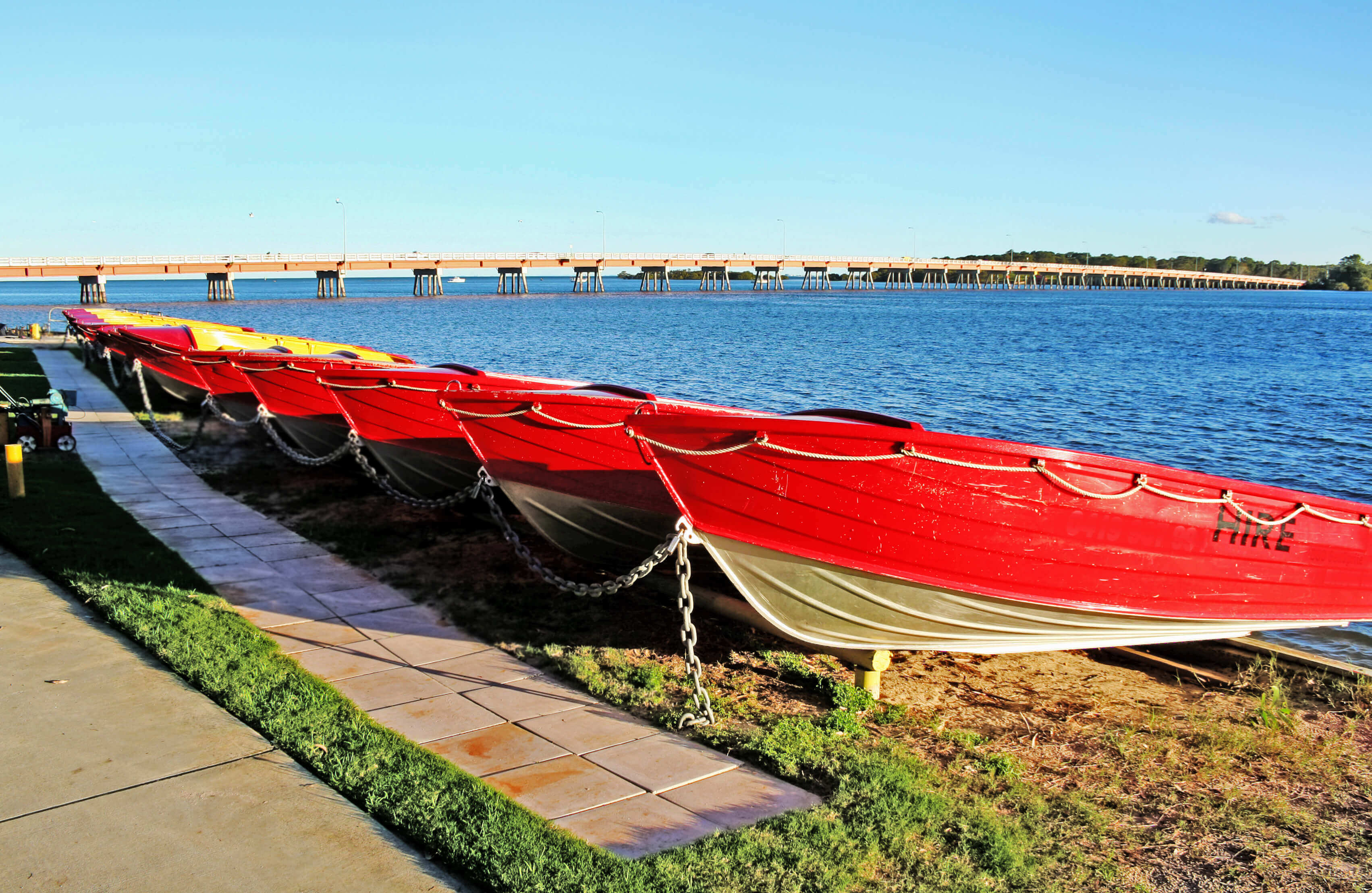 If you're dreaming of an island getaway without the hassle of jumping on a boat, look no further than Bribie Island. This 34-kilometre long and eight-kilometre wide island features white sandy beaches (with calmer and moderate conditions), and a stunning national park. Whether you'd like a long walk on stretches of unspoilt, empty beaches or catching waves with the locals, this holiday will tick every box for mum and dad, the kids, and, depending on where you go, even the family dog.
Distance from Brisbane: 65.2km
It takes around one hour to reach Bribie Island from Brisbane's city centre.
Experiences and attractions
Enjoy Bribie Island's beaches
It's nearly impossible to visit Bribie Island and not explore its variety of beaches. Woorim Beach is a particularly popular patrolled spot on the island, with many families enjoying its smaller waves while soaking in the sun. Red Beach is another patrolled section where you can take your dog and play some fetch. It's best to explore this beach during low tide, as high tide brings water close to the trees, leaving little beachfront to stroll or run along.
Experience Bribie Island's pristine waters by hiring a kayak, a paddle boat, or a stand-up paddle board from the Bribie Island Hut & Tours, located in Bongaree. If you're keen to catch some fish, you can also hire a fishing kayak as long as your bring your own bait and gear.
Visit the Bribie Island Seaside Museum
Squeeze some education into your holiday in a unique way by paying a (free!) visit to the Bribie Island Seaside Museum. You can learn about how Matthew Flinders first reached Bribie Island in 1799, study a preserved fish collection up-close from the Amateur Fishing Association of Queensland, and let the little ones run wild in the Kids Zone. You can also purchase some souvenirs by shopping at the gift shop, which features a range of wares by local artisans.
The Child's Play exhibition is running from the beginning of December until the fourth of February, 2018, where children can learn about and play the traditional games of yesteryear, including hopscotch, knuckles, tin toys, and spinning tops.
The museum is located in downtown Bongaree in Melsa Park, and is open from 10am to 4pm Tuesday to Friday, and 10am to 3pm Saturday and Sunday. Be sure to check opening hours around Christmas time and New Years.
Bribie VIBE Arts and Craft Market
Get a taste of Bribie flavour by heading to its VIBE Arts and Craft Market at the Bribie Island Community Arts Centre, near Banksia Beach. With the money saved from free entry, you can support the local community by purchasing carefully crafted goods, woodcraft, art, and ceramics, as well as organic and local produce, which are pesticide-free.
These markets occur on the last Sunday of each month, and market stalls open from 8:30am to 1pm, so you can either enjoy fresh scones and home-made jam for morning tea, or a barbeque lunch with vegetarian options available.
Places to eat and drink
Scoopys Ice Creamery and Sidewalk Café
Beckon nostalgia by enjoying a thick shake that lives up to its name (you need to practice patience and let it melt a little before enjoying its incredible flavour). Scoopys Ice Creamery and Sidewalk Café is close to the Bongaree Jetty, which means you can enjoy an old-fashioned burger or a serve of fish and chips while taking in views of the sparkling blue water, fishermen pulling in their catch, the young and young-at-heart jumping from the jetty into the water, and stealthy seagulls stealing chicken-salted chips.
Sandstone Point Hotel
Sandstone Point Hotel, located on Bribie Island Road, features a seasonally driven menu of local produce, with a particular focus on seafood, wood-fired pizzas, burgers, and steaks cooked to your liking. You can dine inside or alfresco, with cooling breezes and starry views on hot summer nights, or large, striped umbrellas providing shade during the day.
The hotel's Oyster Shed fish chippery is a great option for lunch as well, especially when you need sustenance to get back to your adventures in the water or on land.
Accommodation
Fairways Golf and Beach Retreat
Fairways Golf and Beach Retreat is a great option if you're looking to step away from any crowds to enjoy some peace and quiet, and yet still remain close to child-friendly beaches and restaurants. Located on the Woorim beach-side of Bribie Island and only a 400-metre walk from the beach, Fairways Retreat features fully self-contained, air-conditioned apartments. There's a heated swimming pool and barbeque, as well as another barbeque on the roof, where you can take in panoramic Moreton Bay, Brisbane, and Sunshine Coast views.
Camping in Bribie Island National Park and Recreation Area
After watching the sky turn a deep shade of pink over an ocean horizon and eating dinner around a campfire, drift off to sleep in your tent to the gentle sound of crashing waves. Camping in Bribie Island National Park and Recreation Area affords a great opportunity for you to immerse yourself both in coastal and bushland settings, while still having amenities close at hand.
Ocean Beach is one of few designated camping areas in the national park, which is located 16 kilometres north of the beach access point on North Street, Woorim. The camp sites are situated right behind the sand dunes, and are reached by defined track entrances.
The Ocean Beach campsite has toilet facilities and screened cold showers, and while there are water taps, you must treat the water before drinking. It also has a waste dump location for portable toilets. Pets are not permitted here.
Other camping sites on Bribie Island include Mission Point, Poverty Creek, and Gallagher Point. Lime Pocket is another campsite, however please take note of its upcoming closure dates – the campsite experiences inundation due to its location on the tidal flood plain.
View the Bribie Island National Park and Recreation Area map
Please note:
You must obtain a vehicle access permit before driving in the National Park and Recreation Area.
Be sure your insurance provider covers off-track and beach driving by either comparing car insurance or talking to one of our experts on 1800 456 981.
Camping permits are required, with tag and booking numbers to be displayed at your campsite. You must book your site before visiting.
Generators are not permitted.
Fires are only permitted in fire rings in group trailer and camping areas, and you must only use clean, milled firewood.
Those arriving via boat can gain access to the camp sites at Mission Point.
So there you have it; three unique, affordable, and memorable destinations every member of the family can enjoy these summer holidays.
Which will you explore first?