Turning Japanese: Tokyo's Craziest Sights
Home > Blog > Turning Japanese: Tokyo's Craziest Sights
Yoking the past, present and future (and everything in between!), Tokyo has much more on offer than just temples and sushi. The sprawling metropolis initially catered for overworked salarymen ready to party after a hard day on the job, but their crazy pastimes have gathered international attention, attracting millions of tourists each year. From themed restaurants to animal cafes, we've compiled a few of Tokyo's craziest sights so you can have a true modern Japanese experience next time you travel.
Robot Restaurant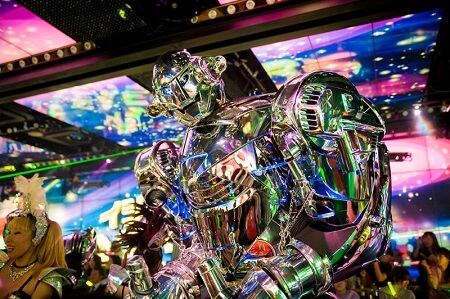 Costing over $100 million dollars to fit out, the Robot Restaurant is the stuff of dreams. Literally. You'll be left feeling like you've fallen down the rabbit hole and into a giant, fluro, neon megaland, complete with dancing robots and bikini-clad women riding on top of bright silver tanks throughout this show. Most reviews say the meal provided is pretty average, but for one of the weirdest shows you'll ever experience in your life, you probably wouldn't be focused on your food.
Café Little Zoo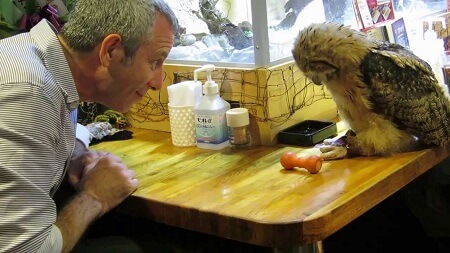 Image source
We've all heard of Japan's famous cat cafes, but Tokyo's Café Little Zoo offers the chance to sip a hot chocolate while a snake dangles off your arm. Yep, this café houses snakes, iguanas, owls, falcons and other creepy crawlies guaranteed to make you squirm. But hey, if you're not a cat person…
Meguro Parasitological Museum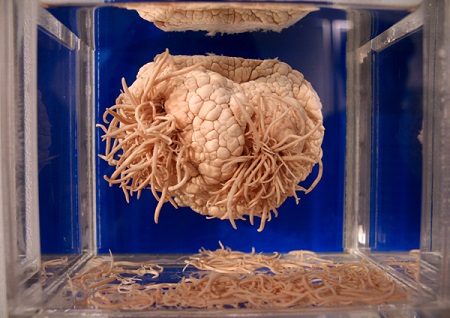 On the subject of creepy crawlies, the Meguro Parasitological Museum has been described by one TripAdvisor user as "Disgustingly Awesome". That's one way to sum up the weird and wonderful parasites on display! The museum looks like something out of a deranged sci-fi/ horror film, with strange jars holding some of the most ghastly looking parasites in the world. Most reviews say the 'highlight' of the museum is the display of an 8.8 metre tapeworm taken from the body of a 20-year-old man. The artefacts on show are nightmare-inducing, but if you're a fan of the grotesque, then this one's for you.
Tokyo Sewerage Museum "Rainbow"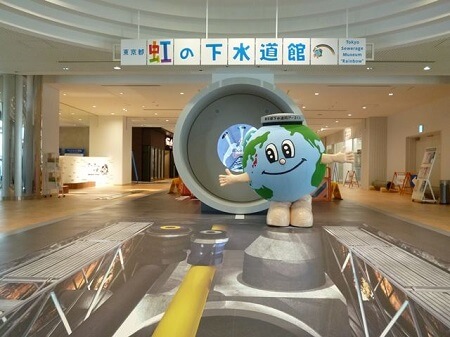 Ever wondered how a city with 12 million residents manages its sewerage? Of course you do! The Tokyo Sewerage Museum describes itself as "hands-on" (umm…okay!), full of "Awesome!" "Interesting!" and "Useful!" exhibits. If you're having second thoughts, the museum is free to enter and free of sewerage (you can breathe a sigh of relief now). The museum also has a quirky and completely unrelated mascot who is so *kawaii* you may just want to take him home with you (there's a gift shop which sells toy versions).
Kayabukiya Tavern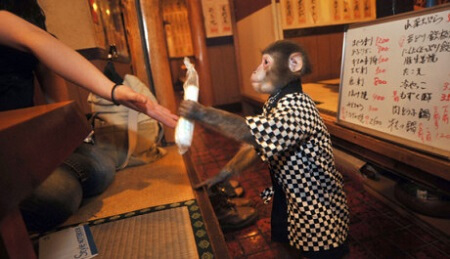 This traditional sake house seems to offer an authentic Japanese experience at first glance, but stay for just ten minutes and you'll realise there's one slight twist: your food and beverages are served by monkeys. Japanese macaque Yat-chan and his younger colleague Fuku-chan eagerly deliver hot towels and drinks to surprised customers.
The tavern is located about two hours away from Tokyo. You will need to book ahead – try to get someone who speaks Japanese to book for you, as the owner does not speak English very well. Due to animal rights regulations, the monkeys are only allowed to work two hours a day – so make sure you factor in when they will be working as part of your visit. You wouldn't want to monkey around (pardon the pun) with booking as the tavern has become quite popular of late!
The final word
Tokyo has comparable medical facilities to those in Australia; however health care can be quite expensive. Payment in full is usually required upfront at time of treatment.  It is recommended to acquire comprehensive travel insurance that will cover any medical costs. Having travel insurance will ensure peace of mind, so you can concentrate on the more important parts of Tokyo; like giant robot dinosaurs, monkey waiters and giant parasites…of course!