What can you bring into Australia?
Home > Blog > What can you bring into Australia?
There are rarely few things more satisfying than experiencing the best a country has to offer when you're on holiday. Whether it's sampling Belgian chocolate, quaffing champagne in Champagne, drizzling honey flavoured by local wildflowers on fresh bread, or visiting markets and buying things from the stalls, it can be hard not to  bring those experiences home with you.
It is so very tempting to fill your suitcase with wonderful food and souvenirs so you can share them with friends and family when you get home. Even more tempting is to stock up on items at duty free, especially alcohol. But if you've ever holidayed abroad or even interstate, you know that bringing certain items through Australian airports can be problematic.
So that all your lovely purchases don't end up in a quarantine bin and to avoid getting slapped with a fine, it's a good idea to know before you leave what you can bring home with you. Here's what you need to know when you're packing your bags at the end of a holiday.
Don't get caught – penalties for not declaring
When you touch down in an Australian airport, you'll find that there are a lot of safeguards in place to make sure that nobody is bringing in anything they shouldn't. Your baggage will be screened, x-rayed and there are also quarantine dogs that are adorable, but also very efficient at sniffing out undesirable items.
Are you heading to the airport soon? Compare travel insurance here
If you get caught with an undeclared item that is not allowed in Australia, you could end up with an on the spot fine of over $200 or, if prosecuted, you could end up with a fine of over $60,000 and possible imprisonment. Declaring items is important, as described in this fact sheet from World Baggage.
Declaring items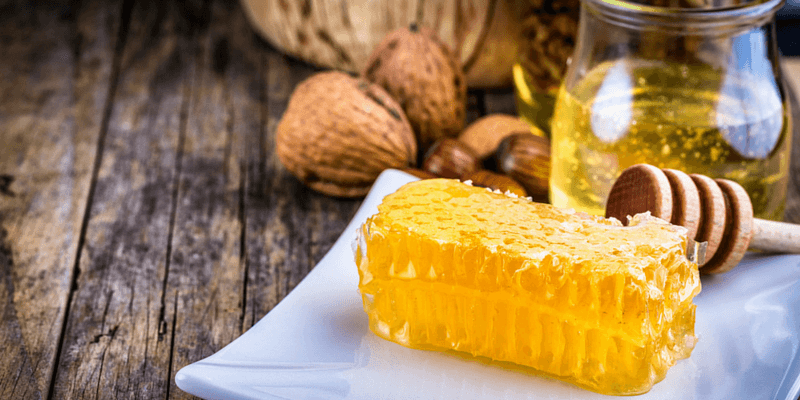 If you bring food, plant materials or animal products into the country, they can l be seized and destroyed depending on what they are or are made from. These categories are more comprehensive than you might initially realise.
Food doesn't just mean fresh items – snack items and any traditional medicine or spices are also not allowed. Prohibited animal products include items like honeycomb and beeswax. Plant materials doesn't just mean things like dried flowers, it also means mats and baskets are a no-no. You aren't allowed to bring in shells, dairy products, and even items of clothing that you've been fishing in need to be declared. For a comprehensive list on what is considered prohibited, please refer to helpful this fact sheet.
What about duty free?
Visiting duty free shops is always a fun shopping experience, but restrictions do apply. Because there is a limit to how much liquid you are allowed to take with you in your carry-on luggage on International flights, you can end up having to leave a few bottles behind, which loses you cash rather than saving it.
The safest bet may be to buy your duty free items at your last destination – either in the airport when you've arrived at your destination or even on your way home. The Australian government provides a detailed list of restrictions here.
Related: Transport to the airport can be pricey. Here's how to get to your nearest airport on the cheap!
What do I need to do?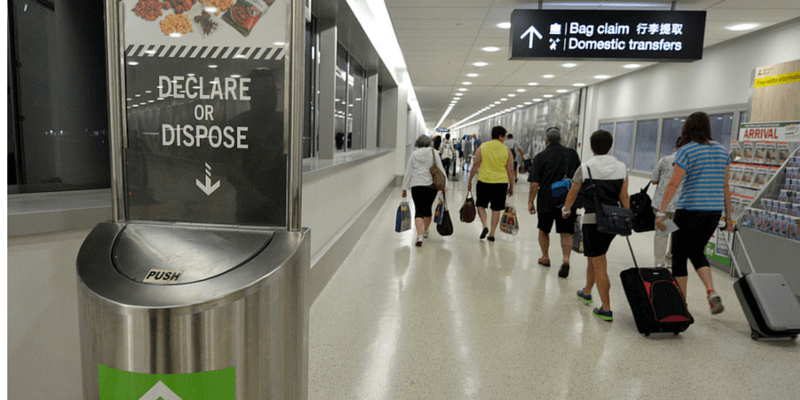 Image source
When you're coming in from overseas you will get an Incoming Passenger Card. If you think there's anything in your suitcase that shouldn't be coming into Australia, declare it on this card. If you're not sure, the safest course of action is to declare it, or throw it away.
Here's a tip: Consider a hotel room picnic before you get on the plane home. If you eat up all the food items and drink up any leftover duty free wine, there'll be no problems in customs. Just be sure not to go overboard and miss you flight!
The final word…
The strict nature of Australia's quarantine laws may seem strict, but there are 24,000 species of native plants and 147, 579 species of animal in Australia, so preventing people from bringing in pests that could threaten them is important to conservation. The rules are numerous, but for good reason and protection, so try to remember the basics when you travel so you have a good understanding of the rules and regulations and potentially avoid penalties.