There are four words car weary parents dread. They're usually intoned in a high-pitched whine from toddlers in the backseat or with an emotionally charged sigh from sullen teenagers. They make every parent's toes curl in contempt and exhaustion. 'Are we there yet?'  This much maligned phrase is usually followed by 'I need to pee', 'I'm hungry', 'This seat's uncomfortable' and 'I'm bored!'. Your dream road trip could turn into a car bound nightmare with feral small humans clawing at the back of your seat. A simple trip to the shops may turn hostile and require advanced negotiating tactics to get said small human into or out of the car. Angry, exhausted or uncomfortable toddlers take aim at absorbent surfaces with juice, milk and other consumables as punishment for their vehicular incarceration – soon your seats are sodden and your footwells covered in crumbs of milk arrowroot. Your car, once a place of solitude, is now a passive aggressive war zone, littered with toys and empty juice boxes.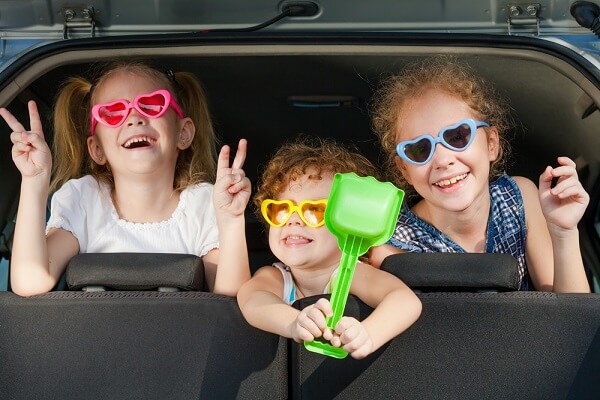 Or you may be coming out the other end, with teenagers itching to get behind the wheel of your pride and joy, revving the engine, burning the clutch and forgetting to release (or set) the handbrake. You'll be living drive to drive in nail-biting, stomach-lurching fear as your teenage offspring lurch from stop sign to stop sign with you in the passenger seat. Suddenly those toddler tantrums in the backseat pale in comparison to taking your life in your hands to pick up milk from the shops…
Now, you may be thinking that these experiences are inevitable rights of passage suffered on the path of parenthood, however, there are a few things you can do to smooth the journey like choosing the right family vehicle, child proofing your car, keeping kids entertained and planning your trips.
Choosing the Right Vehicle
As much as you love your V8 monster, soft top convertible or Vespa, bringing home that bundle of joy usually means bringing a new car into your driveway. The first of many lifestyle choices you will make, choosing the right family vehicle is crucial to keeping your family feud free on short and long car trips. Obviously, there are a few things to consider when looking at a family vehicle including size, safety, comfort and fuel economy.
Size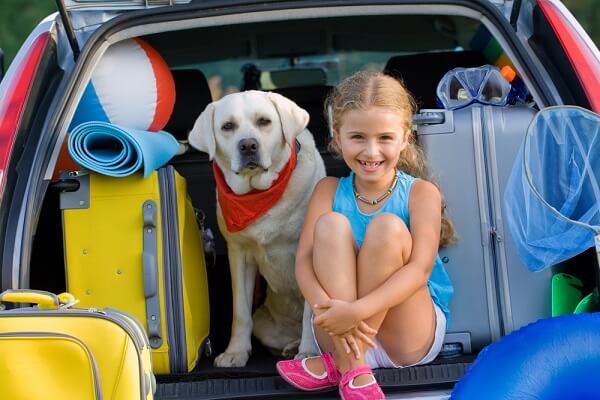 The size of the car you choose is important; think about the size of your family (or the intended size of your family). Don't make the mistake of choosing a car that is just big enough – you may end up regretting that decision when additional children arrive. If you're a one or two child family, a sedan may suit your needs. Make sure you check the boot to ensure there's adequate space for all of that child related paraphernalia (like prams, nappy bags, soccer kit, school bags and science projects). Always check legroom in the backseat. Although many vehicles purport themselves to be 'family cars' think about how your family will grow, not just in age but in height. Teenagers squashed into the backseat with their knees up by their ears are going to be uncomfortable and vocal about their discomfort. Think about how your car will transition as your family grows up and your needs change. Popular sedan models include the Toyota Camry Hybrid, Mazda6 and Volkswagen Jetta.
Many families opt for a small SUV (Sports Utility Vehicle); although these used to be the domain of off-road enthusiasts and campers, in recent years these vehicular beasts have been tamed for the suburban domestic market. Small SUVs offer more space, more storage, more seats and more power than your standard sedan, making them a good choice for families. They're usually easier to load and unload, have good fuel economy and some even offer 'entertainment' packs to keep the kiddies occupied on those longer road trips.

Popular models in this category include the Toyota RAV 4, Suburu Forrester, Mazda CX-5 and the Nissan X-Trail. These vehicles usually offer five seats with ample boot space but if you're looking for a few more seats, you'll need to look at the large SUVs or 'people-movers' like the Mazda CX-6, Toyota Landcruiser or Nissan Patrol.
Once you've decided on the type of car you need, it's time to think about kitting it out to make it family friendly.
Climate Control
Consider cars with front and rear climate control – kids are notorious for complaining about the temperature (hot or cold) in their part of the car and being able to adjust their air conditioning/heating while leaving the front seats alone is a great option.
Cup Holders
This may seem like a silly thing to consider but having enough in-built cup holders will keep spillages to a minimum. Having at least enough cup holders for the number of passengers is a good start.
Window Tint
Window tint is an optional extra on most cars in Australia but it's an important extra to take out. Window tint not only reduces the amount of heat entering your car (which reduces the load on your air conditioner and helps with fuel efficiency) but it also reduces exposure to harmful UV rays. If you've ever driven with a toddler screaming 'the sun's in my eyes', you'll appreciate the benefit of window tinting!
Storage

Storage isn't just limited to boot space, although this is the first place to start when looking at storage in a car. Cars with clever in-built storage like extra dash compartments, door storage and pouches on the back of the driver's and passenger seats are handy places to store books, toys and baby wipes.
Anchor Points

Although most cars designed for the family market come with anchor points, it's definitely an important thing to check before purchasing a family car. Anchor points allow you to anchor car seats and child boosters onto your existing car seats. All children in Australia need to sit in/on an approved in-car safety seat until the age of 8 or until the reach the minimum height requirement; recommendations now indicate that children should be in an approved in-car safety seat up until the age of 12 or until they reach the appropriate minimum height. Make sure you take this into account because you may need to have an anchor point for each of your children (e.g. if you have three children aged 2, 5 and 7 they will all need an anchored safety seat).
Entertainment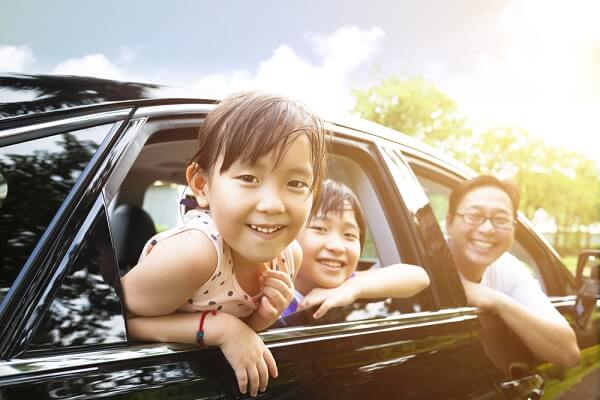 Many cars offer optional 'entertainment' packs with in-built DVD players for those sitting in the backseat. If you have the budget, these are a great option for families who drive long distances on a regular basis.
Interiors
Although a bit more expensive, leather seats are a fantastic option for family cars; they're impervious to liquid and easy to wipe down after an attack of sticky, messy fingers. If leather's beyond your budget, look into aftermarket seat covers that can be removed and thrown into the wash periodically. They will lengthen the life of your seats and save you the hassle of expensive car detailing.
Safety

Checking the safety rating on any car you buy is important but never more important than when you're trying to protect your precious loved ones. Make sure you check the fine print on safety ratings, as some cars only receive the highest safety ratings with optional additional safety extras like airbags. Other safety extras to consider are ABS (Anti-Lock Braking System), ESC (Electronic Stability Control) and Traction Control. To check on the safety rating of a particular car, visit the How Safe Is Your Car website.
Other Tips
Child Proof Your Car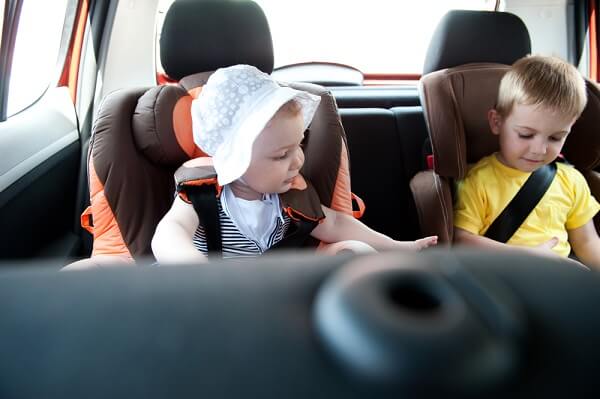 Kids equal chaos – there's no way around that; it's part of the joy and part of the terror. However, there are a few things you can do to child proof your car.
First, if you don't have leather interiors, invest in seat covers. You should also get floor mats for your footwells, especially in high-impact zones like the back seat. Although fabric mats are good, there are aftermarket rubber mats available to suit most cars that are easy to put in and take out; rubber mats can be hosed down periodically, making them super easy to clean!
Keep an emergency kit in your car; what you put in this emergency kit will vary based on the age of your kids but common things include a standard first aid kit, bottled water, wet wipes for sticky messes, paper towels for soaking up spills, toilet paper (for those emergency roadside wee stops), spare nappies/change of clothes (especially important for those toilet training toddlers), tissues, child friendly music (yes parents, you will need to sacrifice your ears to Dora the Explorer or The Wiggles for a period of your car trip), gum/sugar free lollies (for older children) and non-perishable snacks (like muesli bars or dried fruit).
Keep Them Entertained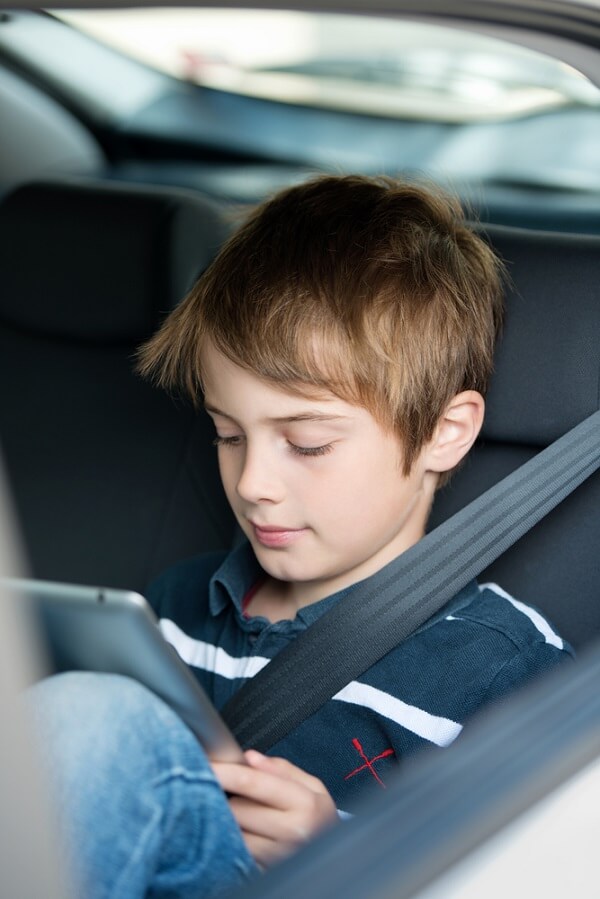 Whether five or fifteen, kid's attention spans are never as long as the car trip. Try to keep them entertained; this may be easier with an iPad but books, conversation, car games and sing-along tapes work as well. If you're desperate for a small slice of peace and quiet, we recommend 'The Quiet Game' – a favourite of car-tripping parents worldwide; as a refresher, the point of the game is to find out who can be silent for the longest. There's now a smartphone app called The Quiet Game, if you need some assistance keeping older offspring shushed in the backseat!
Plan Your Trip

It should go without saying but if you're taking a trip with young passengers – plan it in advance. Know where you are going and the shortest way of getting there. If you're opting for the scenic route (at your own peril), make sure you schedule periodic stops. On these stops prompt frequent bathroom breaks and always leave time for a final wee break before hopping back into the car.
Keep passengers occupied. Bored passengers means increased whining and the inevitable chanting of 'Are we there yet?'.
Always pack snacks. If you're worried about banana being mushed between the seat cushions, pull in at rest stops for combined snack and bathroom breaks.
Never, ever get stuck. Make sure your car is serviced before long trips and is regularly maintained. Check your tyre pressure and engine oil frequently. Make sure you have a useable spare tyre and appropriate jack. Better yet, invest in Roadside Assistance insurance to make sure you're always covered if your car breaks down or blows a tyre mid-trip.
The Final Word
Although you won't be able to avoid every backseat brawl and teenage tantrum, by choosing the right car, planning for common in-car mishaps and keeping kids entertained, you'll be able to make most drives in (relative) peace! It's also important to make sure you protect your car and family with comprehensive car insurance. Like cars, there are many options available on the market, so consider your family's lifestyle and compare policies that match your family's needs.