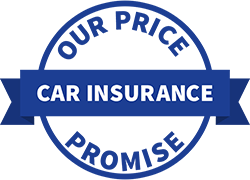 At comparethemarket.com.au we like to put customer savings first and our money where our mouth is. So here's our promise to you: buy Comprehensive, Third Party, Fire & Theft or Third Party Property car insurance through comparethemarket.com.au and if you then find a better price on the same policy from the same insurer within 30 days of purchase, we'll give you a $50 Eftpos Gift Card.
Now that's a promise.
Terms and Conditions
To qualify for the $50 Eftpos Gift Card you must within 30 days of purchasing your policy:
Find an identical policy from the same insurer at a better price (lower annual premium), with identical:-
Policy details such as risk, driver details, address etc
Car Modifications, Factory and Dealer Options
Additional drivers, NCD protection, and claims/loss history; and

Notify us of your claim as follows.
How to Claim
To claim the $50 Eftpos Gift Card:
Within 30 days of purchasing your policy you must send us your contact details, reference number and confirmation of the cheaper quote and the associated details printed on the provider letterhead or equivalent. These can be emailed to email@comparethemarket.com.au or posted to PO Box 301 Toowong, 4066.
The quote must prove that the cheaper policy is identical to the purchased policy, in every respect including the method in how it was purchased. For example, if an online or call centre discount was applied to the price, there must be parity in how the quote was obtained.
If we are satisfied you have meet the criteria in accordance with these Terms and Conditions, we will send the $50 Eftpos Gift Card to you.
 Other Terms & Criteria
If we are satisfied you have met the criteria, the $50 Eftpos Gift Card will be sent to postal address you nominated. The card may take up to 60 days to be issued. Comparethemarket.com.au takes no responsibility for delay in delivery or for lost cards and a replacement card will not be issued.
Each customer is eligible for one $50 Eftpos Gift Card only.
Comparethemarket.com.au reserves the right to substitute the $50 Eftpos Gift Card with another incentive to the same value.
Cards will be distributed by Gift Card Planet. By claiming the $50 Eftpos Gift Card, you agree that comparethemarket.com.au will provide Gift Card Planet with your name and postal address details for the purpose of distributing your card if eligible.
Once you have met your eligibility criteria and comparethemarket.com.au have authorised for your card to be dispatched all enquiries should be directed to Gift Card Planet.
All administration and/or maintenance of your gift card is the responsibility of Gift Card Planet.
Use of the $50 Eftpos Gift Card will be subject to the Cardholder Eftpos Terms. To view these terms, visit www.giftcardplanet.com.au/terms.php.
Cards can be used Australia-wide at any store that accepts Eftpos Cards – that's over 600,000 stores.
Cards cannot be redeemed for cash, reloaded, returned for a refund nor can they be used to withdraw cash from an ATM.
The cards must be activated within 3 months by the end recipient (this information is detailed in the cover letter sent with the card).
The card will expire 12 months from activation date.
The Car Insurance Price Promise promotion can be ended at any time at Compare the Market's discretion.